Ares Capital (NASDAQ:ARCC) offers a dividend yield of around 9%. I consider the recent finalization of the American Capital (NASDAQ:ACAS) merger a positive factor in the long-term outlook for ARCC and believe that the merger improves ARCC's competitive position.
Readers should note that certain figures in this article are calculated on the basis of the pro-forma statements issued for the ARCC/ACAS combined company after the completion of the merger. It is for this reason that information such as the price to NAV may not correspond entirely with the information contained on most major BDC databases, which largely calculate the information on the basis of the 10Q for the period ending 30 September 2016.
Rising Rates
It is a widely held belief that most BDCs perform well in a rising rate environment as it enables the company to collect higher interest payments. The prospect of rising rates has, however, also seen some expressing concerns that BDCs' cost of funding would increase or that the increasing interest rates will lead to greater defaults.
With regards to the greater potential of defaults, I would recommend considering a recent comment by Nicholas Marshi in which he discusses the deterioration in interest coverage. Within the context of a 1% rise in interest rates he points out that "The deterioration would be in the borrower's interest coverage (that's EBITDA divided by interest expense) which would drop from 2.14x to 1.92x. Not nice but not yet alarming."
ARCC's cost of funds should also not rise substantially as about 82% of ARCC's outstanding debt at the end of September was borrowed at a fixed rate. It is, however, worth noting that ARCC has announced that its borrowing capacity on its senior secured credit facility has significantly increased after the merger. This credit facility is linked to the LIBOR rate, and should ARCC increasingly make use of this facility it may be more exposed to rising credit costs.
The LIBOR rate is also an important consideration within the context of earnings as a large number of loans are linked to the LIBOR rate. The first 1% increase in LIBOR usually provides BDCs with the greatest upside potential as a number of loans are subject to a LIBOR floor. In the case of ARCC there is no indication of a LIBOR floor in its SEC fillings, but a number of ACAS loans are subject to a LIBOR floor of between 1%-2.75%.
(Source: St Louis Fed)
I foresee that LIBOR and rates in general will continue to rise in the near term and will lead to increased earnings. There has also been a lot of talk about the potential of new legislation that will allow BDCs to increase their leverage, this potential has not been considered in this article but would be beneficial to ARCC and BDCs in general should it materialize.
Important post-merger considerations
The pro forma combined NAV has shown significant improvement, since the merger was announced, and is a mere 0.6% below ARCC's standalone NAV per share. ARCC has also indicated that it expects the NAV to improve further as ACAS had continued to build retained earnings prior to the closing of the transaction.
ARCC also has a history of maintaining its loans on nonaccrual status, an indicator of asset quality, below the average for BDCs. ARCC's loans on nonaccrual status on a standalone basis amounted to 2.3% at cost at the end of September compared to ACAS where non accruals are close to 10%. If the more prudent ARCC legacy approach is applied post-merger, asset quality should improve and further enhance the long-term investment prospects of ARCC.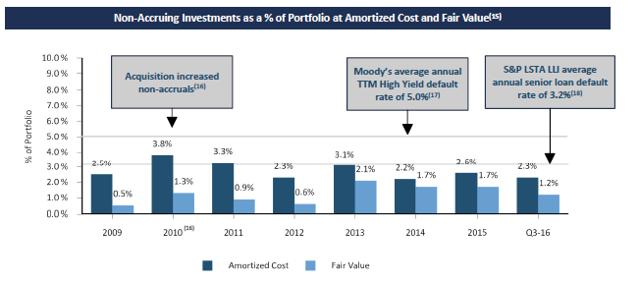 (Source: ARCC Wells Fargo Middle Market Opportunities Forum Presentation)
ARCCs statement that it expects a "continued repositioning" of ACAS' legacy portfolio seemingly indicates that a number of riskier loans may yet be offloaded. The expectation of rising rates has seen demand for adjustable rate loans for resale increase and will offer ARCC opportunities to continue offloading these riskier loans at reasonable prices.
The fee waiver offered by Ares Capital Management is likely to be consumed by the costs of integration in the near term. The integration and repositioning phase is, however, likely to be completed before the end of the 10-week period, for which the fee waivers apply, at which time the fee waiver will boost earnings.
ARCC is currently trading at a 2% premium to the pro forma combined NAV. This is slightly below ARCC's 3-year average premium to NAV of around 3.94%. ARCC's debt to equity ratio also declined from about 0.72 to 0.7 after the close of the transaction.
ARCC has also continued to express the belief that the merger will be accretive to EPS and lead to increasing dividends over time. I consider ARCC fairly valued at current levels, though short-term price movements are likely to be dependent on ARCC's ability to integrate ACAS in a cost effective manner. I am confident in management's ability to complete the integration effectively in light of their strong history of integrating large acquisitions.
Disclosure: I/we have no positions in any stocks mentioned, and no plans to initiate any positions within the next 72 hours.
I wrote this article myself, and it expresses my own opinions. I am not receiving compensation for it (other than from Seeking Alpha). I have no business relationship with any company whose stock is mentioned in this article.