Bristol-Myers Squibb (NYSE:BMY) surprised investors with more disappointing Opdivo related news on Thursday after the bell which sent the stock plummeting more than 11% on Friday. The company announced that it "has decided not to pursue an accelerated regulatory pathway for the combination of Opdivo plus Yervoy in first-line lung cancer in the U.S. based on a review of data available at this time." It was news of Merck's (NYSE:MRK) Keytruda being given first-line status for non small cell lung cancer treatment that inspired much of the weakness that BMY experienced during the second half of 2016 when shares traded down from $75 to $50. During this sell-off, I made several purchases on the way down, at $63.45, $60.02, $55.86, and $50.06. For a while I was worried that I was attempting to catch a falling knife. Then, sentiment changed and BMY shares traded back up to the $60 level. My stake turned positive, and I began to think that I was a pretty smart guy. Well, I held onto all of those shares looking forward to years of growth and strong dividends, and then today's negative Opdivo related news happened and now I'm back in the red. Feeling slightly less-smart, I did what any disciplined value investor would do (or, at least I hope I did), I bought more shares for $49.29, lowing my cost average to $55.61 and increasing my yield on cost to 2.8%.
This Opdivo/Yerboy press release was bad news for investors, like me, who were bullish on the prospects of this combination treatment. I talked about this combo as a short-term savior for the company's falling share prices back in October. Many believed that it would be more effective than monotherapy, though it appears that the data doesn't support this claim. Today's news pushes this thesis back another year or so (if the combo is ever given first-line status). According to a Seeking Alpha news item, Goldman Sach's response to the news was slightly more bullish than the market's -11% reaction; GS analysts factor in a 2018 launch of the combo and potentially $1b in first-line sales by 2020 (with a 25% risk adjustment). In the report GS "adds that Bristol's current price reflects no value for Opdivo in lung cancer and any weakness represents a buying opportunity."
I agree with this GS analysis. Opdivo is BMY's driving force right now with mega-blockbuster status at its peak. With that said, these extremely high expectations aren't solely based upon NSCLC performance. According to Morningstar, Opdivo is still well positioned in the immuno-oncology space where it maintains massive potential in the fight against a number of cancers: (melanoma, renal cancer, glioblastoma, small cell lung cancer, and liver cancer, amongst other, smaller indications with regard to projected sales).
Longtime BMY bull Jim Cramer had very bearish things to say about this company often heralded on his show on the news. He says the investors were bullish on BMY as a major player in the lung cancer space and focused on the changing story line with regard to NSCLC over the last 6 months or so, on Friday saying "that story was taken away from us." And, it seems that to a certain extent, he may be right. However, I haven't been buying shares of BMY strictly because of its success, or lack thereof, in the lung cancer space. BMY is a large company, with a market cap of over $82b (even after the double digit sell-off), and a diverse product portfolio and pipeline.
Yesterday's news regarding NSCLC caused Morningstar analysts to reduce their peak sales estimates of Opdivo by $1b, but the firm still expects over $10b in annual sales at its peak. M* analysts still expect BMY to gain ~20% of the NSCLC market due to first mover advantages in the second-line setting, plus any combo potential that still exists with Yervoy. The NSCLC market is currently worth more than $15b, so while it's disappointing to BMY investors that MRK seems poised to dominate the space, this 20% estimate isn't chump change at approximately $3b.
In the trailing twelve months, BMY has produced almost $18.5b in revenues. So, without a doubt, the fact that Opdivo's peak estimates hover around $10b makes this a very important piece of the puzzle; but, it's important to remember that this recent news has only caused analysts to slash ~$1b or so off that figure, or ~5.5% or ttm sales. This isn't great, but I'm not certain if a reduction of future sales estimates that represent ~5.5% of sales today should trigger an 11% sell-off.
Speaking of Merck's growing strength in NSCLC, I think now is as good of a time as ever to discuss why I believe retail investors should maintain well diversified portfolios. You see, while I often invest in healthcare/bio-tech companies due to long-term bullish sentiment on the space, I admit that I'm no expert. I never attended medical school. I don't have any sales or professional experience in the medical field. I read a lot of copy published by those with much more expertise than me and use this information combined with traditional value based fundamental analysis to make my decisions. As a part of this decision making process I like to take steps that ensure that just about all of my bases are covered. With regard to the lucrative NSCLC market, I knew that either BMY and MRK would likely arise as the power player in this space. Being that both companies are of top notch quality and meet many of my portfolio standards with regard to value and dividend income/growth, I decided months ago that it would be in my best interest to simply buy shares of both companies. Right now my BMY position is much larger than my MRK position due to multiple purchases while averaging down throughout recent share price weakness, but the willingness to hedge my bets a bit by having exposure to both companies definitely helps on days like this when BMY is down double digits but MRK is up ~4% based upon the news.
Over the long-term, I expect both companies to grow their sales, earnings, and dividends, though in the short-term, I think examples like this help to show why I believe it makes sense for investors on main street, without highly specialized understandings of these complex industries, to spread out their capital within diversified industry specific baskets.
But now, back to BMY. I spoke in the last paragraph about fundamental value, so let's move on to that. At Friday's closing price of $49.23, BMY trades for 17.3x 2016 EPS expectations. Obviously this negative combo news makes forward guidance a bit tricky, but right now the average analyst estimate for 2017 EPS is $2.97/share, meaning that at $49.23 BMY is trading for 16.5x forward estimates.
This is why I bought more of the stock of Friday. Even if Cramer is correct and the lung cancer story (at least with regard to first line status) is over for this company, I'm still happy to buy shares with a well covered 3.17% yield for 16.5x 2017 EPS. BMY's growth on both the top and bottom lines during 2016 was fabulous. I don't expect to see similar strong double digit figures again in 2017, though over the long-term, I like the chances that both revenues and EPS will increase for this company. I don't think shares are incredibly cheap at this current valuation, though they are trading below the market multiple and anytime that I can add what I consider to be a reliable 3.17% yield with the growth prospects that BMY offers, I'm happy to do so.
BMY's dividend yield is impressive, but the company's dividend growth is not. BMY currently has an 8 year annual dividend increase streak. But, the company's 5 year DGR is just 2.9%. The current dividend is well covered; based upon 2016 EPS estimates, the company has a 54% payout ratio. The company recently increased its quarterly dividend by 2.63% from $0.38/share to $0.39/share. I don't expect another increase announcement for another 11 months or so and 2017 EPS growth is projected to be in the low-mid single digits, meaning that the company's DGR won't likely increase anytime soon. Investors focused primarily on dividend growth should probably look the other way when it comes to BMY.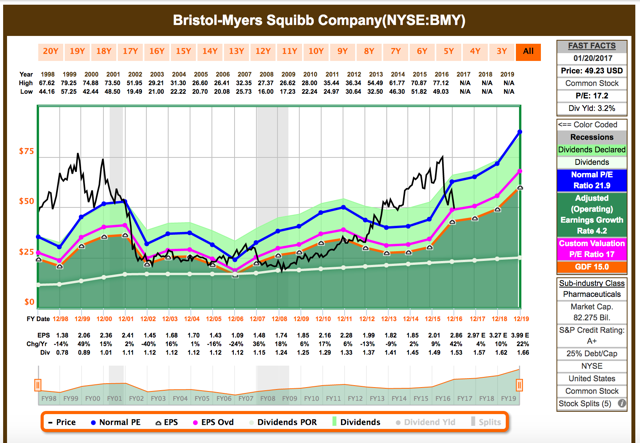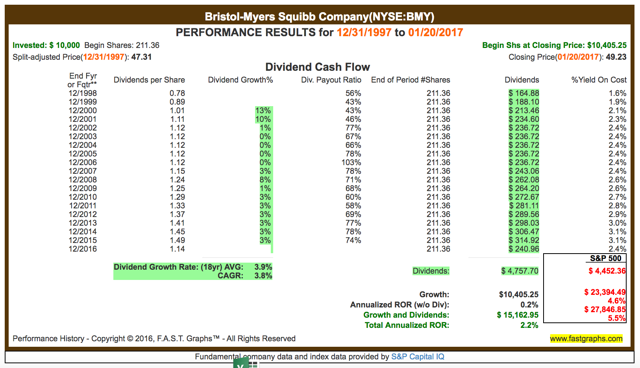 Source: F.A.S.T. Graphs
BMY investors did get a bit of good news after the bell on Friday; it was announced that Merck will be paying $625m and future royalties to BMY and Ono Pharmaceutical Co. to settle patent litigation regarding Keytruda. The settlement deal means that all patent litigation regarding Keytruda will be dismissed, with the companies granting certain patent rights to one another. The future royalties will be split 75/25 between BMY and Ono.; the royalty rates go as such: 6.5% on sales between 2017 and 2023 and 2.5% between 2024 and 2026. BMY will be recording the $625 payment into its Q4 and FY16 earnings, though it will be excluded from non-GAAP results. Now, obviously this payment/royalties are a smidgen of what certain investors hoped for regarding first line NSCLC sales, as a fan of passive cash flows, I have to admit that they're better than nothing.
Don't take my word for it, because this is highly speculative, but I can't help but believe that BMY shares are very close to a bottom at these $50 levels. This is exactly where the stock formed its current 52 week low and bounced back in October. Sure, the stock could fall further, but I have a hard time seeing the market slap at 15x multiple on this company with the oncology assets that it's built. Oncology is a hot spot in the bio-tech/pharma space right now and if BMY's shares sink lower I wouldn't be surprised to see M&A chatter arise, potentially propping them up (or even sending them much higher). It's hard to imagine a deal getting done for this company due to its market cap, though financing is still cheap and I'll never say never because there are several cash rich companies out there right now that need to buy revenue.
Right now BMY is a top 10 weighted position within my portfolio at 2.06%. After making 5 purchases last week, four big banks and BMY, I'm still sitting on 32.4% cash. I would be happy to put more on this cash to work, increasing this weighting to the 3% area should continued weakness occur, lowering my cost basis and increasing my yield on cost even further.
Conclusion
The company's current valuation figures, alongside with Opdivo's non-NSCLC outlook, lead me to believe that today's 11% sell off is an irrational move. It's not as if Opdivo grow is going away because of the decision, it just means growth won't accelerate as quickly as some suspected it might. At 16.5x 2017 EPS expectations, I don't think the stock requires sky high growth to justify its multiple. The company's dividend growth and relatively low Chowder Number do concern me, but this pick is more about a share price rebound and capital gains than it is about income. Sure, the 3% dividend helps me to remain patient while waiting for sentiment to shift, but if I'm being honest with myself, I know that BMY isn't is the same ball park as more established healthcare DGI names like Johnson and Johnson (NYSE:JNJ) (which is also trading around 16.5 forward EPS and sits near the top of my watch list right now).
Due to the rising weight of my BMY position, should shares begin heading higher sometime in the short-term, I may well take some profits off the table. All of my BMY shares are held in an IRA account and therefore, I don't have to be concerned with capital gains taxes. I will keep followers updated as always via real time stock talks here on Seeking Alpha and future articles surrounding trade news. Until then, best wishes and good luck to all!
Disclosure: I am/we are long BMY, MRK, JNJ.
I wrote this article myself, and it expresses my own opinions. I am not receiving compensation for it (other than from Seeking Alpha). I have no business relationship with any company whose stock is mentioned in this article.