Investors who have been following Chevron Corporation (NYSE:CVX) and the oil industry as a whole know that the balance sheets of the oil majors have taken a beating while trying to manage hefty dividend payouts and the cost of bringing major developments online that were sanctioned during the boom. However, in light of the recent developments that carnage may begin showing real signs of winding down. On January 27, we will get to see if that is true or not when Chevron reports its fourth quarter results.
Chevron Corporation is spending around $8 billion a year on dividend payments and has guided for its 2016 capital expenditures to come in between $25 billion - $28 billion, when including expenditures from its affiliates. By the third quarter, Chevron had spent $17.2 billion on capex and $6 billion on dividends yet generated just $9 billion in cash flow (includes working capital changes). Debt issuance was the primary way Chevron covered the shortfall.
To help mitigate some of the pain the company sold off $2.2 billion YTD as of Q3 2016, with plans to sell up to an additional $7.8 billion in assets by the end of this year. Investors should look out for commentary around the divestment of Chevron's geothermal unit in Southeast Asia, which was announced at the end of 2016, to see how much cash that sale raised. Which wasn't mentioned in the press release. Updates on the planned divestment of some of its downstream assets should also be kept in mind, with an eye of Hawaii, Canada, and South Africa.
Shifting cash flow situation
Chevron's dividend isn't getting cut and the company has no real control over energy prices. To cope management is cranking down capex as the oil giant's big projects come online. This year, Chevron is guiding for $19.8 billion in capex when including $4.7 billion in affiliate expenditures. A large portion of which stems from its decision to move forward with the massive expansion at Kazakhstan's Tengiz oilfield.
That, if truly realized, will go a long way when also factoring in rising energy prices. How much so will be hard to gauge until the numbers for the fourth quarter of 2016 and the first quarter of 2017 come in, which is the single biggest thing the market will be waiting for.
For Chevron the plan over the past couple of years is $52-ish Brent would generate enough operating cash flow to cover dividends and capex. Unfortunately that includes $5.7 billion in planned proceeds from divestments, making that guidance not very useful on an ongoing basis.
It's more realistic to assume a $60 Brent environment is where Chevron would really thrive, and luckily for shareholders that number is finally on the horizon. As of this writing Brent is hovering around $55 a barrel, natural gas liquids prices have bounced back up, spot LNG prices and LNG prices tied to Brent via long term contracts are moving up, and domestic natural gas prices have also sharply risen.
This is a common theme but is one that when combined with Chevron's spending cuts will finally provide the relief shareholders have been aching for in regards to dividend security. Investors should look out for any concrete commentary or updates on Chevron's cash flow situation in light of stronger energy prices in Q4 2016 and heading into 2017.
Specifically, it's worth looking for what level Chevron is cash flow neutral not including asset sales or how much its cash flow generation increases for each $1/barrel increase in Brent & WTI prices (or $0.25/Mcf increase in Henry Hub).
Permian position
Chevron's favorite unconventional asset is its roughly 2 million net acre position in the Permian Basin, 1.5 million net acres of which are in the Delaware and Midland basins that are prospective for top tier plays. $2.5 billion of its 2017 capex budget is being allocated to "shale and tight investments", most of which will be deployed in the Permian located in Texas and New Mexico.
Oil majors like Chevron aren't as nimble as a EOG Resources Inc (NYSE:EOG) or Pioneer Natural Resources (NYSE:PXD). Corporate overhead for these massive firms makes incremental well returns (which already are loaded with caveats) far less relevant. This means Chevron's Permian development strategy should be looked at in a different light.
First off, relative flexibility. Chevron can crank up Permian production growth a lot faster than it can bring a major oilfield online in Central Asia or the Gulf of Mexico by simply deploying more frac crews and horizontal rigs to its acreage. The short cycle nature of unconventional projects means Chevron can adjust its capex plan accordingly to market conditions in the moment.
More broadly, Chevron can quickly capitalize on higher domestic oil & gas prices by churning out larger Permian production streams but also retains the ability to easily scale back in the event energy prices move lower.
Secondly, mineral rights, scale, and general industry trends. Across 85% of its acreage Chevron has either has "low to no royalty" payments to make as this was a position built up since the beginning of Texas' oil industry. Direct lease operating expenses, ongoing production costs, had almost been cut in half by Q3 2016 from 2015 levels. G&A per BOE costs have fallen by $3.50/BOE YTD (as of Q3) as well.
On top of increases in well productivity leading to higher estimated ultimate recovery rates and sharp reductions in completed well costs, Chevron estimates 600,000 net acres of its Delaware and Midland position has a NPV (net present value) of over $50,000/acre. That assumes flat $50/barrel WTI, $25/barrel NGLs and $2.50/Mcf Henry Hub pricing. In other words, its core Permian division as a standalone entity could yield well over $30 billion in discounted cash flow over the coming years.
Investors should look out for what Chevron's Permian plan will look like this year, with a focus on drilling activity and any operational improvements over the past year.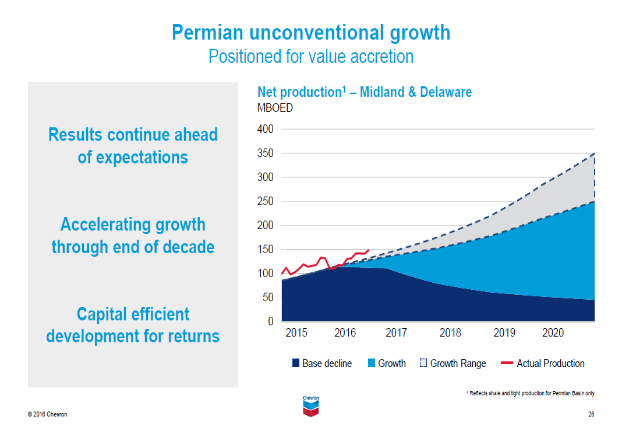 Source: Chevron Corporation November Presentation
Eye on Kazakhstan
Investors should be on the look out for commentary around Chevron's Tengiz oilfield expansion, which is set to consume a significantly larger portion of the firm's cash flow in 2017 & 2018. The expansion will recover an additional 2 billion BOE of crude weighted resources and add 260,000 BOE/d in production capacity to the TCO (Tengizchevroil) venture, which Chevron owns half of.
With a project development cost of $18/BOE and an estimated production cost of $6.50/BOE, this could pan out to be a very economical endeavor as production out of the Tengiz field is heavily weighted towards crude oil. Along with some dry gas, NGLs, and sulfur production (which is processed out of the sour crude output streams) as well.
Beyond just expanding production capacity, Chevron and its partners need to boost takeaway capacity as well. The Caspian Pipeline ships out crude from Kazakhstan through Russia to the Black Sea, and was set to see its capacity increased from just over 700,000 bo/d in 2013 to 1.4 million bo/d by the end of 2016. A large portion of that additional capacity is for the Kashaghan field in the Caspian Sea that recently restarted in late-2016, and some will be utilized for increased Tengiz oil output.
Final thoughts
Chevron Corporation needs to deliver on improving its operational execution so this strategy can be fully realized. The continuous problems at its Gorgon LNG development (even after the first train came online), the delays in the Gulf of Mexico (Big Foot) and at the Wheatstone LNG project, the boondoggle that was its Angola LNG strategy (a picture that hopefully has since shifted since operations started up again), and other missteps seriously damaged the firm from both an operational and financial viewpoint.
If Chevron Corporation truly learned from its many past mistakes and is able to incorporate that into its business strategy going forward, its 3.8% yield should be secure as cash flow neutrality becomes increasingly likely. Updates out of OPEC indicate a compliance rate of at least 80%, which if maintained will lead to Brent rising to $60 this year as record high storage levels move back to their five-year averages. That's the level where Chevron Corporation can fully cover its spending levels with organic cash flow.
When the company reports its Q4 2016 results later this week, shareholders and interested investors alike should look out for any updates on these fronts. This should be an uplifting quarter in light of stronger energy prices, but operational execution remains a major hurdle for Chevron Corporation.
Disclosure: I/we have no positions in any stocks mentioned, and no plans to initiate any positions within the next 72 hours.
I wrote this article myself, and it expresses my own opinions. I am not receiving compensation for it (other than from Seeking Alpha). I have no business relationship with any company whose stock is mentioned in this article.