Now that I have started contributing to Seeking Alpha, I believe that the best way to test my ability to analyze stocks is to create a portfolio, in which I will discuss all new additions to the portfolio, and the reasoning's behind the decision. Also, every month, I will discuss the best performer and worst performer for that month. It is very difficult for a small-time DIY investor to diversify their portfolio. Thus, I tried my best to have a wide diversity of industries displayed in my portfolio. I wanted to construct a value-focused portfolio, and I will quantify this by the average P/E of the portfolio. The average P/E ratio of my portfolio is 17.06 compared to the P/E ratio of 25.49 for the S&P500.
Originally, I was going to analyze all 10 picks that I was putting in the portfolio. However, the article would have just been too long, so I decided to break it into a 2-part article. The first article will discuss; Citigroup Inc. (NYSE:C), CVS Health Corporation (NYSE:CVS), Ford Motors Inc. (NYSE:F), Kroger Co. (NYSE:KR), and Medical Properties Trust Inc. (NYSE:MPW). The second article will contain AbbVie Inc. (NYSE:ABBV), Duke Energy Corporation (NYSE:DUK), U.S. Bancorp (NYSE:USB), Wal-Mart Stores, Inc. (NYSE:WMT), and Exxon Mobil Corporation (NYSE:XOM)
Citigroup Inc. Highlights:
For most of 2016, the U.S. Banks Index (DJUSBK) lagged the SPDR S&P 500 ETF (NYSEARCA:SPY). A prolonged low-interest rate environments had cut into the revenues that money lenders were able to gain. However after Trump won the presidential election, banks went on an run to eventually eclipse the returns of the S&P by the end of 2016, and in the time frame of Jan 4th 2016 to Jan 17 2017, the returns of DJUSBK are 22.74% vs. 14.97% for the SPY. There will still be room to run for large U.S. banks throughout 2017, with their earnings potential increasing as the Federal Reserve institutes their suspected 3 rate hikes in 2017. The bank sector as a whole will see increased revenues from raising rates, as they will have the ability to raise their prime lending rates, while they will be able to be "stickier" with their deposits rates, which will increase revenue and margins.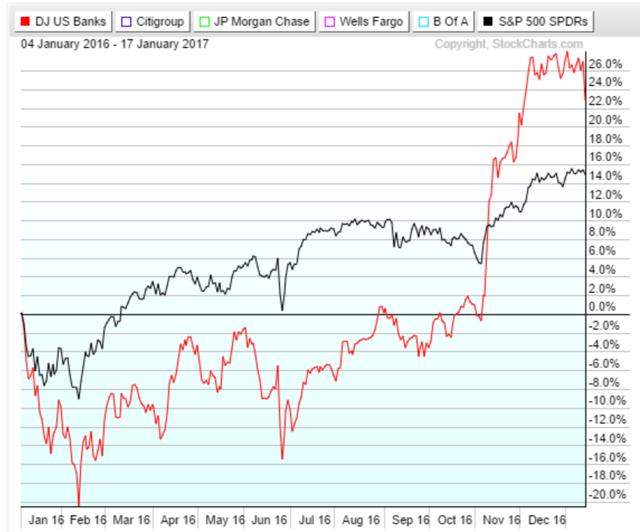 Source: stockcharts.com
Citi has received a lower valuation compared to other major banks, while also lagging the returns that the rest of the major banks have seen. Since Jan 1st, Wells Fargo (NYSE:WFC) has seen 4.9% returns, C has seen 15.24%, JPMorgan (NYSE:JPM) has seen 35.04%, and Bank of America (NYSE:BAC) has seen 36.30% returns, these are all against their industry index returning 22.74%.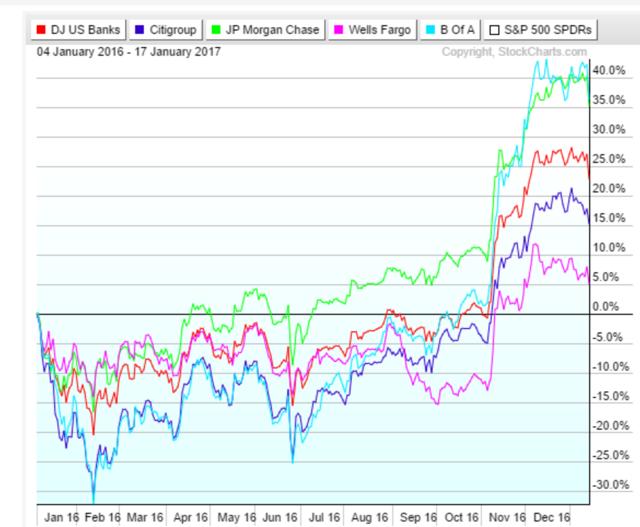 Source: stockcharts.com
| | | |
| --- | --- | --- |
| Ticker | P/E | P/B |
| BAC | 16.36 | 0.92 |
| C | 12.59 | 0.79 |
| JPM | 14.4 | 1.32 |
| WFC | 13.33 | 1.54 |
Source:finviz.com
Using the comparables of P/E and P/B, Citi still trades at a discount compared to their peers, which I believe will be corrected in 2017. Although Citi has seen a great run up since the election of Trump, using both fundamental ratios and past returns, it seems that there should still be room to run for C in 2017 and beyond.
Risks:
I believe that there are two main risks that have faced Citi more so then the rest of the industry, and is the main reasoning their stock has traded at a deficit to other stocks in their industry. I believe that one of these issues should be a non-factor in 2017, where as the second may be something investors should be wary of when making their own research on Citgroup.
Their first big risk is their exposure to energy related companies. Historically, Citi has been a large player in this sector, and with depressed prices in recent history it has many investors reticent. However, with the recent oil recovery it should put investors at ease, and could boost the returns for Citi in the new year.
Their second big issue is their exposure to foreign markets. Unlike banks like BAC and WFC, Citi is a true international bank with ties all over the world. is their large exposure to foreign markets. For example within their consumer banking unit, $421M out of $1265M, or 33.28% was from areas outside of North America. Thus, uncertainty in the global economy is a headwind for Citigroup. Especially with the recent election of Donald Trump and Brexit, investors may want to keep an eye on the global economy, because it will be a large factor in stock price of Citigroup.
CVS Health Corporation Highlights:
CVS is a household name, and is the second largest retail pharmacy chain in the United States. Although CVS isn't trading at as such a favorable as when it was at its 52-week lows, it still trades with a strong dividend yield, and a palatable P/E ratio.
I believe that the aging population in the United States will be a great catalyst that will continue to allow CVS to maintain its growth rate. I will put forward the assertion that an aging population needs more medication then a young one, and CVS is perfectly placed to continue to reap the rewards from these prescriptions, with its retail pharmacy and its PBM business.
CVS has a strong history of returning cash flows to investors, through both share repurchases and cash dividends. I personally prefer cash dividends to share repurchases, but I will not stick my nose up to a shareholder friendly policy.
Since 2012, CVS has boasted an average annual increase of dividend payouts of 26.6%, and at the end of 2016, CVS announced they would be increasing their dividend payout by another 18% in 2017. This brings their dividend to a $2 in 2017, with a solid yield of 2.39% (at the time of this writing). Also, CVS will spend ~5B dollars on share buybacks this year.
Risks:
Investors are feeling a lot of uncertainty around the new Trump administration and how he will eventually handle the Affordable Care Act. The complete abolition of Obamacare could cut into the growth rate that the retail pharmacy market and PBMs were hoping to see from a larger group of insured patients and increased drug spending. With this hanging over investor's heads, and investors in-general disliking uncertainty. CVS has significantly underperformed the market in 2016, down almost 16% vs. an 8.6% rise in the S&P.
CVS will still face considerable competition from its competitors in 2017.A good example from 2016, is Walgreens (NASDAQ:WBA) taking Tricare from CVS. This competition will continue in 2017, and CVS will hopefully be able to compete more effectively in 2017 than it did in 2016.
Second largest national retail pharmacy chain, superseded by Walgreens.
And, nevertheless, a stock that has badly underperformed the market in 2016 (down almost 16% vs. an 8.6% rise in the S&P) and now trades near the low-end of its 52-week range.
Medical Properties Trust Highlights:
I will keep this one more short and sweet. It is going to be almost impossible to find as good of a yield on a security from anything except for a REIT. MPW owns and operated medical facilities that are inhabited by healthcare companies.
The price of MPW has been under pressure from two main forces. First, the concern of rising interest rates has harmed REITs in general. Also, near the end of 2016, investors began to worry about Adeptus Healthcare (NYSE:ADPT), which is one of their largest tenants.
Addressing the first issue, the interest rate risk has been overblown. Even if the Federal Reserve raises interest rates 3 times this year, that shouldn't make a security that offers a 7.24% yield any less attractive for income investors. Also, a significant rate hike will not destroy MPW's bottom line. This is because MPW's debt isn't a whole very rate sensitive. As of September, 30th 2016, in MPW's 10Q they stated that,
Our outstanding debt totaled $2.7 billion, which consisted of fixed-rate debt of $2.5 billion (including $60 million of floating debt swapped to fixed) and variable rate debt of $250 million… if market rates of interest on our variable rate debt increase by 1%, the increase in annual interest expense on our variable rate debt would decrease future earnings and cash flows by $0.1 million per year.
Source: Medial Properties Trust Investor Relations
In that quarter alone, MPW reported a net income of $70.358M. Thus, for the income of MWP to even be effected by 1% the interest rate on their debt would have to be increased by 7%. I just don't see that happening.
The second issue, which is inherent in all REITs, they are very dependent on the financial stability of their tenants. Near the end of 2016, Adeptus Health ran into liquidity problems caused by decreased revenues from their non-HOPD markets (Houston, San Antonio, and Austin). Also, in 3Q 2016 Adeptus's DSO continued the trend of increasing. In 3Q 2015 the DSO was 54, by same time 2016 the DSO had more than doubled to 119 days. This is forcing Adeptus to burn cash to stay afloat. How does this effect MPW?
If Adeptus goes under into bankruptcy it could cause all the revenue from these facilities to be lost for MWP. However, this issue was overblown when it was priced into MWP security price, because Adeptus only accounts for 6.7% of MPW's total revenue, the smallest of MWP's five largest tenants. Also, it seems that Adeptus will be able to access emergency debt funding, and will be able to escape the liquidity crunch they faced at the end of 2016.
Separate from the two forces listed above, Medical Properties Trust is a healthcare REIT that makes them less susceptible to a recession then other REITS, who may special in purchasing housing or hotels. I believe this is an important fact because the attractive yield on the security should be slightly more protected if the economy sees a downturn soon.
Risks:
A risk that may not be priced into MPW's security price is the Brexit vote. As MPW states in their 3Q 10Q, they currently own real estate in the United Kingdom and Europe, and are continuing to look purchase more in the future. Not all the aftershocks of the Brexit vote can be seen yet. Whether it be regulatory, governmental, or foreign exchange effects, there can be many obstacles soon that could hurt the earnings and stock price for MPW in the future.
Ford Motors Highlights
Let's keep this choice simple. The main reason to purchase Ford is receive the significant yield on the stock. Although Ford is not a dividend aristocrat, it is one of the best yields that can be found on the market place, with a solid global business structure to support it. At the time of writing, the dividend yield for Ford is 4.83%, whereas the yield for the S&P 500 is 2.09%. Even with this large yield, Ford's dividend coverage ratio is 3.53, based off TTM earnings. Thus, at present conditions it will be very easy for Ford to continue their 15 cents per quarter dividend. However, I would argue that Ford still has space to grow within both the U.S. and Chinese marketplaces.
In the U.S. market, Ford's F-Series had the best December for sales since 2005. Obviously, the new aluminum F-150 has been a huge success in the new market. This should be a catalyst for growth in the years to come.
Sales in China were 1.27 million vehicles for 2016, an increase of 14 percent from 2015. The 1.27 million vehicles in China is compared to the 2.64 million vehicles that were sold in the United States. As the Chinese middle class begins to grow and their economy grows, there should be an increased number of cars. If this trend continues, Ford could see increased growth, which will be reflected in its stock price.
Using the Gordon growth model, I could calculate the intrinsic value of Ford's equity is $15.06. This calculation was made using a few assumptions. First off, I calculated Ford's required return by using CAPM, and it gave a return of 8.32%. The next assumption that I had to make was the expected growth, which I assumed was 4%. Over the last 5 years, since Ford reinstated their dividend, Ford has averaged 32% annual increase in their dividend. That growth rate is completely unmaintainable, and 4%, although high, is a reasonable growth rate if the growth in China can continue.
If the growth rate in China is not sustainable and/or the market in the United States turns sour. My growth rate is not sustainable. However, even if Ford is not able to put together a significant dividend growth play, just sit back and enjoy the 4.82% yield and DRIP for if you can. This dividend isn't going anywhere.
Risks
The biggest risk facing Ford would be a collapse of the auto loan market. For that last few quarters, delinquency rates have been creeping up. In 3Q 2016, .87% of auto loans were 30 days' delinquent, up from .82% in 2Q. The New York Federal Reserve reports, 2% of subprime loans are at least 90 days, up .4% from the same time last year. The increased stress in the auto loan market has even the led the New York Fed today to say, "The increased level of distress associated with subprime loan delinquencies is of significant concern." The fact that this delinquency rate is happening in a supposedly strong economy is worrisome. However, in an article from September 30th, 2016 in the Detroit Free Press they state that out of the big lenders, "Ford Credit is not among the more active lenders in the subprime market." With their lack of exposure to this market, even if these trends continue, it shouldn't hamper Ford's ability to pay their dividend.
The second risk big risk that Ford faces is their underfunded pension plan. In a recent 8-K release, Ford states that they're underfunded by ~$8.9B for their pension plans. The increased deficit can be attributed to the lower interest rates in Europe, specifically. This problem may hurt capital gains for this stock in the short term, but as interest rates rise across the world it shouldn't be significantly damaging in the long-term
Kroger Highlights
In my opinion, Kroger Inc. is the best in class in the grocery store industry. Kroger and the entire grocery industry have struggled throughout 2016, because of prolonged deflation in the price of food prices. For example, in September, food prices had fallen for the longest period in row (9 months), since 1960. This trend has squished margins and, not surprisingly, have hurt their equity prices. In 2016, Kroger Inc. had a -16.98% return compared to the SPDR SP500 ETF , which returned 14.46% across the same time period. However, per Scott Mushkin, an analyst at Wolfe Research, "the severity of what we're seeing completely unprecedented."
Another factor that has hurt Kroger is the increased competition from cut-rate discounters, which have pulled consumer dollars away from traditional grocers. In response, Kroger has decreased their prices to try to gain back shares from wholesalers. This along with the decreasing food prices have greatly decreased the margins that Kroger has seen. This strategy has been effective though and Kroger has increased revenue. For the first three quarters of 2016, Kroger reported a 5.91% increase of revenue compared to competitors who reported a decrease of -.04% on year over year revenue. Although, they did report a net margin 1.44% lower than their competitors. Also, per William Kirk, a RBC analyst, "Kroger is gaining share across nearly all regions and in all markets against Walmart." This is a huge positive going forward. If they can maintain this gained market share it will be great for same-store sales.
This amount of steep deflation has rarely been seen before, but in the opinion of Kroger's CEO these trends usually last 3 to 5 quarters. With this in mind, the food market is in the middle of this trend, but is getting near the end of a difficult time. A Consumer Edge Research report may be forecasting the end to this trend saying that grocery deflation was only 2% versus the 2.2% drop in November. Although this isn't the best news, it is better news that have been seen in recent months.
With their growing market share against wholesalers, and hopefully increasing food prices Kroger is perfectly poised for 2017. They will be able to increase prices to be in line with other competitors as price increase to both increase margins and their earnings.
Risks:
The main risk facing Kroger is that if market prices for grocery do not turn around in the near future it will be a huge drag on Kroger's stock price. If market prices do not increase, Kroger must raise prices eventually and that will cause most the share they have gained from Wal-Mart and other competitors to be given back.
Although, this isn't a complex risk factor, like some of the other members of this portfolio, Grocery stores are a very commoditized business, and if their single input is devalued their earnings will be hurt and so will their equity value .
Disclosure: I am/we are long ALL SECURITIES MENTIONED.
I wrote this article myself, and it expresses my own opinions. I am not receiving compensation for it (other than from Seeking Alpha). I have no business relationship with any company whose stock is mentioned in this article.