Wouldn't it be nice to find a long-term hedge opportunity for your portfolio, that also can generate plenty of regular income? Most money managers dream of finding such an investment vehicle. Believe it or not, one does exist. Writing covered call options on the VanEck Vectors Gold Miners ETF (NYSEARCA:GDX) can generate tremendous income of 10%-20% upfront annually on your initial investment, on top of allowing considerable upside when things go wrong in the world.
Selling Covered Calls
There are a number of strategies investors can use in writing covered GDX calls (alongside the large gold mining equities individually). Here is a basic Wikipedia article describing covered call writing. Statistically, highly volatile gold mining stocks over history and expectations of this volatility continuing have translated into a regular one year at-the-money time premium for calls of around 20%. Friday's 18% premium for a January 2018 $23 strike price going for $4.00 is on the low side vs. its own trading history, but still DOUBLE the average S&P 500 company equivalent. The premium is discounting a below normal stock market volatility backdrop [VIX] in addition to muted Wall Street expectations for gold prices in 2017.
Depending how far above the present GDX equity price your option strike price is sold, investors can retain a little or a lot of future profit potential form the underlying gold mining security. The strategy I like to execute is to write 6-12 month out-of-the-money calls to "earn" 5-10% upfront. After selling the calls I reinvest the proceeds in other regular portfolio ideas. The June $27 call is going for $1.15 or 5% of the current GDX $23 price. Investors can grab 5% every five months to either use as income, a regular stream of new investment capital, or a way to reduce their gold hedge's total cost. If gold prices spike between now and June, your $27 price may be exercised on the underlying security, netting $1.15 on the call and $4.00 in regular capital gains, before commissions. +22% in profits over five months, not bad. The positive return works out to about +50% annualized.
When is this income producing strategy a bad idea? When gold prices are moving straight up or down is the simple answer. If gold is spiking higher, you would prefer this diversified gold mining security to do its job without selling out your position too soon. A 5% or 10% upfront number is problematic if you are passing on 50%-100% in gold mining gains during a bull market move. For example, this gold miner ETF exploded from a multi-year low last January under $13 to $31 in August 2016, a +135% price return. Selling a $14 or $15 strike price call option for a $1-$3 profit in February, theoretically locked you out of $10-$15 or more in upside. The good news in this trade scenario is you still earned money, and you may have even reinvested the upfront gain in another security that advanced extra profit the rest of the year.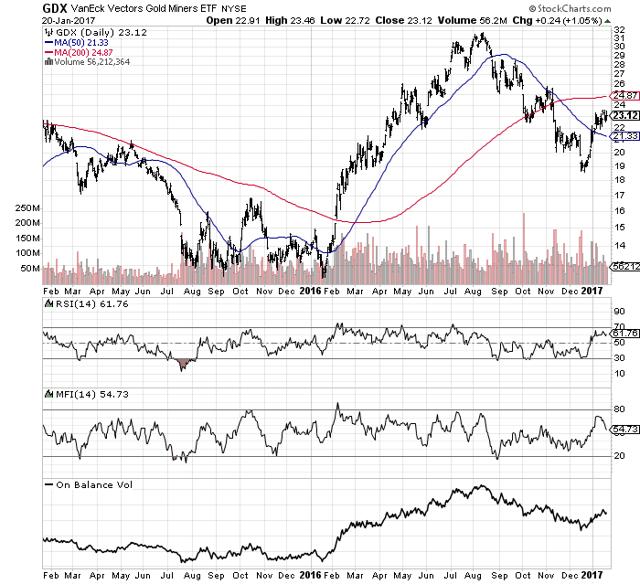 The worst time to engage in covered call writing on GDX is when gold prices are cratering. The loss in the underlying ETF will more than outweigh the smaller gain engineered in the initial call writing trade. If GDX tanks $10 and you get just $2 at the beginning for income, an investor is still a large net loser (although $2 better than not selling an option). In other words, if you are incredibly bearish on gold's prospects, do not sell covered calls. Just sell GDX and find another investment idea.
Gold's 2017 Outlook
Having traded gold and gold stocks for over 30 years, my opinion and positioning for gold during 2017 is relatively bullish. I have written stories and blogs on gold and related miners on Seeking Alpha in the past. This 2014 blog post explains my long-term research and thinking on the benefits of hard money and a gold standard for our economy. Most all of America's current economic problems are directly or indirectly a result of the U.S. Dollar's exchangeability for gold status ending in 1971. Without a gold backing for money printing, inflation rates have averaged +4% per annum according to government CPI reporting vs. +7% compounded annually for gold prices the last 45 years. No other period in the nation's history has encountered such inflation, when we used gold as a foundation for confidence in our money and financial institutions.
The gold quote drop from August has largely been a function of the stronger U.S. dollar exchange rate vs. other paper currencies in Europe and Asia. Gold's sell-off ended in December, and seasonally January to April have witnessed many strong gold price rises. Sentiment measures of gold trader/expert bearishness in November-January became overly pessimistic, with some surveys getting down to historically low levels of sub-10% bullishness. Past pessimism extremes usually set up a reversal like the decent gold bounce now underway. Hebba Investments on SA does a wonderful job of following gold traders. Here was an article on the low number of traders expecting gold to rise in late December, coinciding with an important price bottom.
The reasons for inflation to make a big comeback in 2017 are mushrooming. Commodities in general look to have bottomed in early 2016, and may have several years of cyclical upswing remaining. Oil especially is set to rise back toward the long-term cost of production in the $65 to $70 a barrel range, all else being equal (assuming we do not have a President Trump induced trade war demand recession on the planet). Plus, inflation wage pressures at the bottom of the pay scale will be incredibly juiced if Trump roadblocks immigration into the U.S.
With our economy so dependent on imports to keep prices for goods low, a trade war created by Trump with Mexico, China and perhaps even Japan and Europe will mean dramatically HIGHER prices for most everything American's buy. By the way, the last major cycle of protectionism globally occurred during the 1930s depression. Guess what was the best investment asset class to own in the 1930s? Gold. Now imagine stagflation in 2017-18, the rare situation of rising inflation rates DURING a fall-off in economic output. Not owning precious metals as a hedge could turn out to be a huge mistake over the next 12-36 months.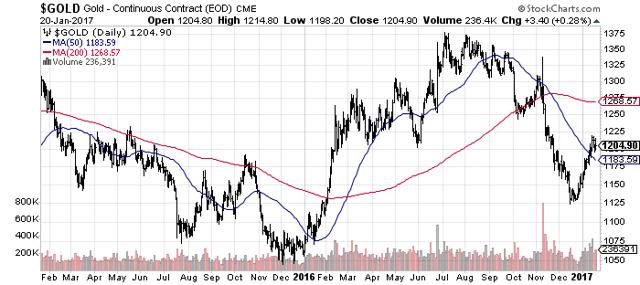 Conclusion
As an example, I will explain my current GDX position and option call writing for income decision. I bought GDX when it was trading just above $20 in November, then sold January 2018 $22 covered call options when the GDX price was above $21 for $3.75. With the proceeds upfront, I purchased a long option position on another regular non-gold company for my portfolio. This second position is already ahead 50% over a month, financed entirely from the GDX call writing income. I used somebody else's money basically to create a secondary gain. Not bad if it stays. Plus, I will gladly part with GDX at $22 in a year from my original low $20 buy price. Last, but not least, I am hoping to roll over the second purchased option into other positions and possible gains the rest of the year.
As long as my bullish gold forecast of $1300-$1400 an ounce by year-end plays out, investors can still write GDX out-of-the-money covered calls in a similar manner the next few months. You can devise a monthly or bi-monthly expiration strategy also, instead of a 6-12 month one. Pocketing even greater short-term time premiums on an annualized basis could double your upfront income stream percentage if a little lucky on the gold price swings. As a bonus, the faster GDX and gold prices rise, the smaller your time premium spread becomes on the options sold. If you want to buy back to close the written call position and move on to another investment idea, your GDX gains will offset more and more of the loss on the calls into expiration. You will likely earn some sort of profit on a quick jump in gold prices.
Please do your own research and due diligence before entering any investment position or strategy. Hedging a hedge, or limiting your upside in a hedge can work against your overall portfolio design if not executed correctly. Consult a financial adviser first if new to options trading.
Disclosure: I am/we are long GDX.
I wrote this article myself, and it expresses my own opinions. I am not receiving compensation for it (other than from Seeking Alpha). I have no business relationship with any company whose stock is mentioned in this article.