Schlumberger (NYSE:SLB), the world's leading oilfield services company, has seen its shares decline after the company released its quarterly results which failed to impress Wall Street. But I believe this is one stock investors should be buying on weakness.
The Houston, Texas based Schlumberger reported 8% year-over-year decline and 1% sequential increase in revenues to $7.1 billion and an adjusted profit of $0.27 per share, down 58% on a year-over-year basis but up 8% sequentially. The profit was in-line with analysts' consensus estimate while revenues were ahead of market's expectation of $7.07 billion, as per data from Thomson Reuters. But it was disappointing to see that the pretax operating margin fell on a sequential basis after posting gains of 119 basis points in the third quarter. The company's shares dropped almost 1% on Friday.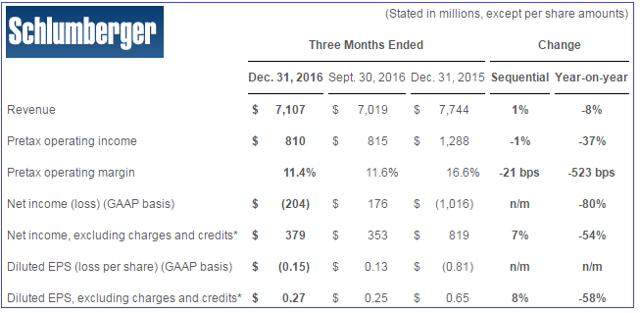 Schlumberger has now reported sequential improvement in earnings for the second consecutive quarter. The company's adjusted earnings fell to $316 million in the second quarter from $501 million in the first, but since then, profits climbed to $353 million in the third quarter and $379 million in the final quarter. This firmly establishes that Schlumberger is starting to turnaround. However, this will likely be a slow recovery, even in North America where drilling activity has improved sharply.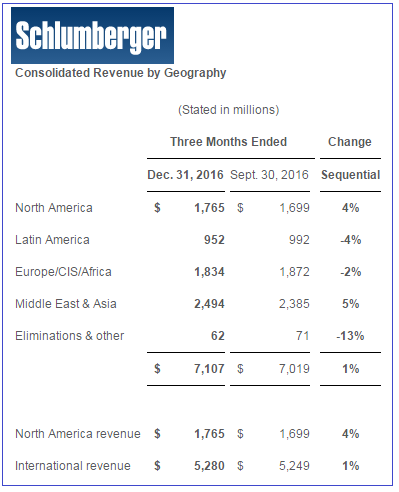 For the first time in a long while, Schlumberger has managed to grow its revenues on a sequential basis in North America and international markets. However, the company's growth in North America, where onshore drilling activity has been largely climbing since last summer, was negatively hit by continued weakness in offshore market. Schlumberger has significant exposure to the offshore market, primarily the US Gulf of Mexico, through Cameron Group. In offshore, Schlumberger said that its revenues dropped as recon declined again and pricing remained weak.
But it appears that Schlumberger's performance in onshore North America in the fourth quarter was also not great. In final three months of 2016, the US and Canadian markets witnessed 22.1% and 47.9% growth in rig counts, respectively, from the preceding quarter. But instead of giving an exact figure like it usually does, Schlumberger said that its land revenues experienced "double-digit" growth on a sequential basis. I am assuming that this growth was smaller than the above-mentioned rig count gains. This could be an indication that the company may have failed to gain any market share in the fourth quarter. This is disappointing since I was expecting the company to increase its position in North America's hydraulic fracturing market, which I discussed in detail in my previous article.
Schlumberger is an international-markets-focused oilfield services company and does not have significant exposure to North America from where it gets less than a quarter of its annual revenues. That's put the company in a difficult spot since unlike North America where shale drillers are putting rigs back to work, drilling activity in most of the international markets, with the exception of Middle East, remained weak in the fourth quarter. Consequently, the company posted lower revenues in all geographic regions, except in Middle East which drove the overall 1% growth in international revenues.
Schlumberger, however, is getting some positive signals from key international markets. For instance, the activity Sub-Saharan Africa and Asia regions seem to have bottomed out. Activity in Russia and Europe was also largely flat and could begin to improve from 2017. But Paal Kibsgaard, Schlumberger CEO, said that the recovery is going to be a slow, lengthy process. Its impact might not become apparent until late 2017.
This means that North America focused oilfield services companies like Halliburton (NYSE:HAL), Schlumberger's biggest rival, will start to see the benefits of the surge in US drilling activity, Schlumberger's growth will likely remain modest. This could negatively impact Schlumberger stock which could underperform in the short term. But for long-term oriented investors, this weakness could result in buying opportunities.
Remember, however, that one bad quarter doesn't make Schlumberger a bad company. In fact, no oilfield services company has pulled off a better performance in the downturn than Schlumberger. The company has reported more quarterly profits than losses in the last two years, which is in contrast to most of its peers, including Halliburton, whose earnings have largely remained in the red. Schlumberger's operating margins did decline significantly due to pricing pressure, but it is the only oilfield services major company that continued to generate double-digit margins throughout the down cycle.
On top of this, Schlumberger has managed to generate strong levels of cash flows, enough to fund its entire capital budget as well as most of its dividends. In 2016, the company generated $6.3 billion of cash flows from operations, even after making $850 million of severance payments and $100 million of acquisition related payments. That was enough to fund the total capital budget of $3.7 billion as well as almost all of the dividends of $2.65 billion. Its cash flows were particularly strong in the fourth quarter when Schlumberger not only fully funded the capital budget of $949 million, but also all of the dividends of $696 million and buybacks of $116 million, even though it made $250 million of severance and transaction related payments.
Note from author: Thank you for reading. If you like this article, then please follow me by clicking the "Follow" link at the top of this page.
Disclosure: I/we have no positions in any stocks mentioned, and no plans to initiate any positions within the next 72 hours.
I wrote this article myself, and it expresses my own opinions. I am not receiving compensation for it (other than from Seeking Alpha). I have no business relationship with any company whose stock is mentioned in this article.
Additional disclosure: I own shares of funds that may hold a long position in SLB, HAL