LMNX Inc. (NASDAQ:LMNX): Current Price: $19.91, Market Value: $903.93M
A buy with the following target price appreciation:
Bear: 3.05%
Base: 20.9%
Bull: 30.2%
Investment Thesis and Recommendation
Broadening its leadership in infectious disease assays and constantly pushing for innovation, Luminex is poised for fundamental growth through rising revenue generation and multiple expansion. With a price target of $24.07, Luminex offers an attractive 20.9% upside from its current share price.
Company Overview and Business Model
Luminex is a leading developer, manufacturer, and seller of biological testing kits, specializing in molecular diagnostics. Luminex continues to aggressively modernize and expand every touchpoint of its operating model:
Assays: Luminex sells its xMAP technology and multiplexed PCR assays to life sciences researchers, offering 500-plex testing systems markedly superior to traditional 1-by-1 assays.
Royalties: Partners pay to incorporate xMAP-based assays and microspheres into diagnostics products sold to end users; 52 of Luminex's 73 strategic partners have released commercialized reagent-based products utilizing xMAP (including ThermoFisher, Bio-Rad, and M).
System Revenue: Derived from the sale of xMAP analyzers, Luminex will begin to sell its new ARIES technology in this quarter.
Consumable Revenue: Comprised of the sale of microspheres and sheath fluid, Luminex cultivates consumable revenue by packaging bulk sales for up to $1.8 million dollars per purchase.
Service Revenues: Luminex maintains strategic relationships with partners after warranty expiration through service contracts for use of proprietary technologies.
Exhibit One: The Partner Process
Courtesy of Luminex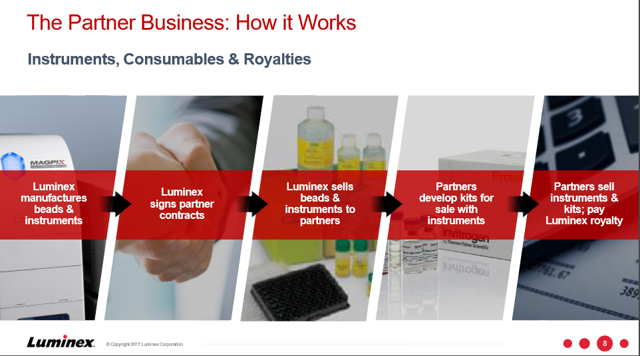 Industry Overview
Research and Development: The average cost to develop one new approved drug has skyrocketed 105% in the past two decades to $2.6 billion. Since the turn of the century, the R&D market has grown at a CAGR of 10.2%, surging to over $150 billion in expenditures. The explosive development of the global R&D market serve as fundamental drivers for demand for assays and testing modules.
Molecular Diagnostics Market: The molecular diagnostics market is expected to experience CAGR of 9.3% until 2020, growing to over $100 billion. The major factors fueling market expansion are the high prevalence of infectious diseases, the increasing acceptance of personalized medicine and companion diagnostics, and the development of biomarkers. More importantly, the medical industry is experiencing a paradigm shift as microbial resistance rises, and healthcare firms will increasingly turn to molecular assays to combat bacterial infection.
Value Drivers
1. The development of the ARIES system taps into the most profitable niche of the diagnostics market while offering unique opportunities for economies of scale.
Innovation: Luminex recently released the ARIES® molecular diagnostic platform, which performs real-time polymerase chain reactions (PCR) to detect multiple signals generated by a target probe. PCR is a Sample-to-Answer platform, able to undertake complex molecular tests on the spot without transport to a remote testing site. Moreover, the introduction of the ARIES model is applicable to a variety of key diseases, including HSV (Herpes), Influenza, and Group B Strep (GBS). GBS alone affects 1 in 4 pregnant women, while the while 5% to 20% of the U.S. population will be infected with flu every year [60 million individuals]. As a result, Luminex plans ARIES to cover up to 6,500 new hospitable labs, representing a 13-fold increase over their current available U.S. customer base [2015]. Luminex currently forecasts that Sample-to-Answer MDx and PCR revenue growth for 2016 will register at a massive 61% increase.
Market Segmentation: The market is currently lumping Luminex's operations with the all-inclusive 5.5% CAGR of the $60 billion IVD market. However, the ARIES application as well as Luminex's leading xMAP assays specialize in PCR platforms with DNA-sequencing capabilities. The DNA sequencing and PCR segment is forecasted to grow at a lucrative 16.0% CAGR from 2016-2020, fostered by PCR's high accuracy and high throughput screening. Understanding this crucial segmentation of Luminex's key target market elucidates a clearer picture of future growth potential and the current market's misevaluation.
2. Luminex's acquisition of Nanosphere expands the product portfolio into key revenue-generating markets which investors should reward with higher valuation multiples in the future.
Bloodstream Infectious Diseases: The acquisition of Nanosphere on June 30, 2016 enveloped Nanosphere's own proprietary diagnostics, which enable rapid and accurate detection of respiratory, gastrointestinal and bloodstream infections. Nanosphere pioneered growth in the bloodstream infection testing segment after receiving FDA approval for Verigene Gram-Positive Blood Culture test panels. While traditional detection of pathogens associated with bloodstream infections could take several days, Verigene identifies resistance markers within 2.5 hours after positive blood culture. Vendors such as BD, Roche Diagnostics, Cepheid, and Thermo Fisher all project an 8% CAGR growth in demand for blood stream infection testing, again emphasizing that the market cannot cluster Luminex's operations with general IVD testing.
Revenue Generation: In fact, Nanosphere already accounts for 26% of the 32% increase in assay revenue to $32.4 million for the three months ended September 30, 2016. Revenue specifically from the infectious disease segment increased a staggering 53%. Hence, Luminex's conscious pursuit of its most profitable segments (MDx and infectious disease testing) warrants greater appreciation for the company's future revenue generation.
3. Luminex's proprietary diagnostics business offers unique competitive advantages and opportunities for growth while remaining fundamentally protected by conservative debt levels, resulting in high ROA.
Partner Stickiness: A key differentiating factor for Luminex is its ability to maintain partner relationships beyond the expiration of warranty. Luminex provides testing systems to customers through reagent rental agreements involving commitments to purchasing minimum quantities of disposable products; these contract agreements typically persist for 2-3 years, contributing to a 13% rise in partnership agreements in 2016. As of September 30, 2015, Luminex already had 1,682 systems covered under extended service agreements, demonstrating their ability to lock in strategic partnerships beyond initial sales.
Government Regulation: Naturally, Luminex is able to entrench its leading position in diagnostic technology by constructing high barriers to entry through patents of proprietary systems. Just in the past year, Luminex has obtained FDA approval for HSV 1&2 , Flu A/B/RSV, and GBS under its ARIES system, and the aforementioned $2.1 billion in development costs per disease will prevent competitors from quickly responding. Luminex's primacy in the PCR marketplace and ability to strategically maintain clientele has led to its impressive ROA [9.12 versus the peer average of 1.57]. Nevertheless, Luminex's revenue generating abilities are clearly being overlooked by the market, evidenced by its high free cash flow yield of 13.6%.
Liquidity: Nonetheless, despite growing at a CAGR of 12% in 2010-2015, Luminex currently has no long term debt. Since 2009, Luminex has maintained between 20-40% liquid assets relative to total assets. Despite being a Medical Instruments and Equipment company, Luminex's conscious cash management has withered its beta down to 0.53, nearly half of the industry beta of 1.04. Luminex's liquidity hence commands a valuation premium.
Potential Catalysts
Release of the ARIES M1 Platform: The current ARIES system requires two computing frames. With over 90+ partner placements of the ARIES system, the release of the new platform which consolidated functions into one computer will further heighten revenue generation.
courtesy of Luminex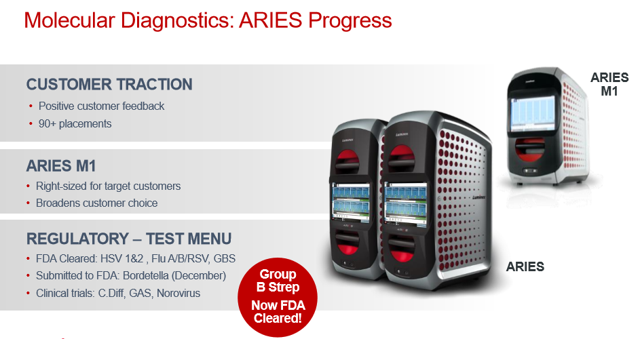 FDA Approval for Bordetella: Bordetella cause respiratory disease through pathogenesis, leading to whooping cough. The FDA approval for ARIES testing of Bordetella is due within the first few months of 2017.
Clinical Completion of Trials for C.Diff, GAS, and Norovirus: Luminex will be finishing ARIES testing in these three diseases, where Norovirus infects 7.7 million individuals and causes 2 million deaths per year, C.Diff leads to 200,000 cases of colonitis per year, and Group A Strep continues to be one of the most common throat infections in the U.S.
Rapid Completion of Project ATLAS: As critical as ARIES has become relative to the future growth of Luminex, ATLAS represents an even greater opportunity for expansion into molecular diagnostics. The machine further provides Sample-to-Answer solutions through high plex assays capable of rapidly simplifying clinical diagnostics.
Key Risks And Mitigants
Risk: Revenue Concentration in Key Partnerships
Mitigant: Luminex has continuously grown beyond its core customer base, increasing to 73 strategic partners in 2016 [13% yoy growth]. Over a third of partner revenues [$49M/$141M] stem from consumable products, which are generally purchased through bulk orders. In 2016, Luminex received 22 bulk orders, representing a clear diversification of revenue beyond 5 core clients.
Mitigant: Luminex's acquisition of Nanosphere critically offered a pipeline and relationship to over 240 customers within the molecular microbiology market; effectively, this triples Luminex's current partnership structure and offers new platforms for growing revenue streams.
Mitigant: Luminex is decreasing reliance on its largest customer, LabCorp. Labcorp will still acquire no less than $63.1 million in additional women's health products during 2017 and the first six months of 2018 per the November 1st, 2016 10-Q. This is in comparison to anticipated 2016 purchases of approximately $36.0 million. While Luminex locked in these contracts for the future, it will be able to expand partnership opportunities beyond its largest buyer for the next two years.
Risk: Bordetella fails to obtain required FDA Approval
Mitigant: This scenario is remote, as the Luminex has explicitly stated in December of 2016 that Bordetella is nearing the final stages of approval and is expected to officially release in early 2017.
Comparables and Valuation
| | | | | |
| --- | --- | --- | --- | --- |
| Company | Operating Margin | ROA | Current Ratio | PEG |
| Luminex | 12.10 | 9.12 | 5.22 | 1.59 |
| Merit (NASDAQ:MMSI) | 5.19 | 2.32 | 2.71 | 4.84 |
| Glaukos (NYSE:GKOS) | 1.74 | 0.89 | 5.11 | 12.71 |
| NuVasive (NASDAQ:NUVA) | 13.57 | 2.49 | 2.20 | 5.51 |
| 3M (NYSE:MMM) | 23.47 | 14.84 | 1.90 | 3.41 |
| Stryker (NYSE:SYK) | 19.78 | 8.96 | 2.43 | 5.54 |
| Becton Dickinson (NYSE:BDX) | 11.46 | 3.74 | 1.45 | 12.77 |
| Baxter Int (NYSE:BAX) | 6.13 | 27.29 | 2.53 | 1.43 |
| Industry Average | 4.66 | 1.57 | 2.44 | 2.68 |
Comparatively, Luminex conspicuously maintains the best relationship between performance through operating margins and ROA while simultaneously maintaining a strong current ratio. Although various competitors offer marginal improvements in product performance, their balance sheets contain a markedly higher degree of leverage. In a rising interest rate environment, capital structuring cannot be rationally ignored.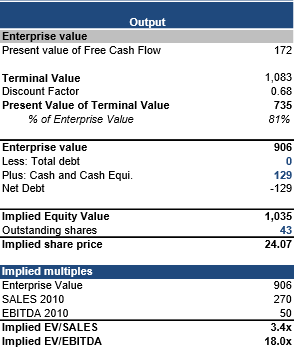 With a projected share price of $24.07, Luminex provides an expected upside of 20.9%.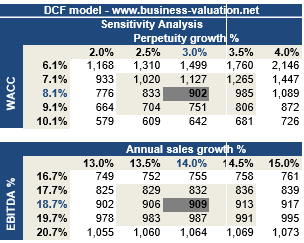 The above sensitivity analysis demonstrates the impact of various changes to annualized sales growth on Luminex's enterprise value. The bull case for higher annualized sales growth through the contributions of the ARIES, Verigene, and ATLAS systems will offer potential price appreciation of up to 30.2%. However, should headwinds including higher loss of key clients and difficulties encountered with FDA approval prevail, the downside risks will draw down returns to the zero bound. Nonetheless, with Luminex's expanding portfolio of niche diagnostic products and their coming regulatory approvals, Luminex truly offers appealing opportunities for future growth.
Disclosure: I/we have no positions in any stocks mentioned, and no plans to initiate any positions within the next 72 hours.
I wrote this article myself, and it expresses my own opinions. I am not receiving compensation for it (other than from Seeking Alpha). I have no business relationship with any company whose stock is mentioned in this article.