Alcoa (NYSE:AA) reports their first stand-alone quarter after the Arconic spinoff on November 1, 2016, with Street consensus (per Thomson Reuters I/B/E/S) expecting a loss of $0.36 per share on $2.46 billion in revenue.
Using Thomson Eikon's financial statement history for the stand-alone giant, the Q4 '15 quarter was $2.4 billion in revenue, generating a loss of $4.53 per share.
What has struck me about Alcoa since the spin-off:
1.) AA was spun-out of Arconic at $22.90 - $23.00 per share and the stock has rallied to $36 on very little fundamental news;
2.) EPS (earnings per share) estimates are scattered, with the street looking for a $0.36 loss in 2016, but $0.84 and $0.83 gains in 2017 and 2018.
3.) Using the above estimates, AA has a 20(x) and 32(x) multiple on 2017 and 2018 estimates.
4) Price targets for Alcoa are all over the map:
Morningstar: $15
Trefis: $29
Deutsche Bank: $26
5.) Ever since Alcoa announced the separation of the bauxite and smelting businesses from the supposedly "value-added" downstream business of specialty aerospace, it has been the commodity business that has performed relatively better, while the Arconic-related businesses saw a slowdown in the aerospace business and continued weakness at Firth Rixson.
Reviewing some of the Street research on Alcoa post the separation, the biggest worry is about the longer-term trend in aluminum prices, which Morningstar expects to weaken to $1,440 by mid-cycle. Morningstar also expects just a 3.5% operating margin on Alcoa's business longer-term.
Technical analysis: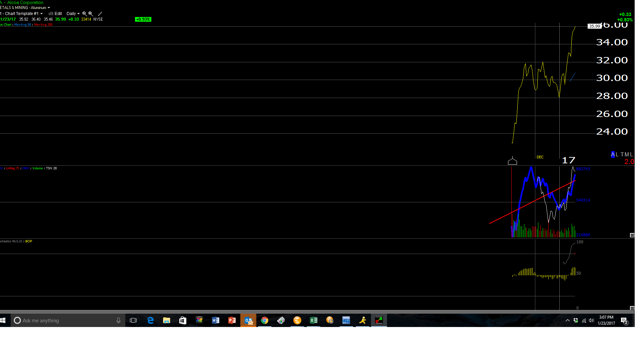 As readers can see from the short history of the chart, this looks like Arconic, not Alcoa, even though this is in fact the unwanted commodity business now Alcoa Corp.
Valuation:
From looking at a couple of sell-side models on Alcoa, there is no positive free-cash-flow projected for 2016, and not that much for 2017.
Since the quarter is to be reported Tuesday night, January 24th will be the first full quarter of Alcoa Corp. where readers will get a good look at the full cash-flow picture.
Arconic has a stake in Alcoa that needs to be sold - 20% per one source, so there could be pressure on the stock price eventually, from this selling. The old Alcoa (combined Arconic and AA ) diluted the previous shareholder base from just over 1 billion to 1.365 billion shares as of the Sept. 30th '16 quarter. Perhaps that was done to improve liquidity and float. Alcoa currently has 453 million shares outstanding as of 9/30/16 (a reverse split of 1-for-3).
| | | |
| --- | --- | --- |
| | Newco | OldCo |
| Rev's | $2.46 bl | $5.2 bl |
| net inc | $86 | $166 |
| shares o/s | ? | 453 ml |
| EPS | $0.19 | $0.32 |
Source: internal spreadsheet from earnings reports, 10-Q's
Readers can quickly see that new Alcoa is about half the revenue of the combined company, at a far lower margin that I suspect (and we'll know more Tuesday night.)
Conclusion: Since early 2016, there has been a bottom in many commodities, and thus emerging markets, as the two are tied at the hip, but the outlook for aluminum pricing remains subdued. Looking at the investmentmine.com charts, we've seen a little bounce the last few months, but aluminum remains 20% below its $1.00 peak 5 years ago. Alcoa was bought for clients in 2010 - 2011 on a "return-to-global-growth" basis that never materialized with very low interest rates, as evidenced that commodities were a losing proposition after crude oil started to collapse in late 2014.
What to watch for Tuesday night:
1.) cash-flow and free-cash flow generation for new Alcoa
2.) Operating margins
Alcoa has been left for dead for years. Despite all of Klaus Kleinfeld's protestations, the company was typical of commodity businesses, maybe even worse. Even with the commodity boom from 2003 - 2007, Alcoa went nowhere, as US Steel traded up from $10 to $180, etc.
Clients wouldn't own the stock unless Alcoa pulled back to the mid to low $20's, which it might do since it is exhibiting typical spin-off type action.
The game plan now is to give it some time. However a "return-to-global-growth" trade could see a lot of the commodities participate in that theme.
Today, I'd be hard pressed to think Alcoa could earn $2 per share in any environment, and judging by the above estimates, $1.00 - $1.50 may be the "peak normalized earnings". At one point, in the late 1990's and early 2000's, Alcoa earned $3 per share.
Disclosure: I/we have no positions in any stocks mentioned, and no plans to initiate any positions within the next 72 hours.
I wrote this article myself, and it expresses my own opinions. I am not receiving compensation for it (other than from Seeking Alpha). I have no business relationship with any company whose stock is mentioned in this article.