In my previous article, I had explained that oil prices can remain on the upside if OPEC and non-OPEC members like Russia remain committed in their actions on supply cuts. While most of the analysts believed that OPEC will cheat on its commitment on production cuts, the January 22nd joint committee meeting of the key- OPEC and non OPEC members revealed that the group had in fact succeeded in sticking to its commitment. This bullish factor supported oil prices at a time when the U.S oil production is increasing at a steady pace. Oil prices (NYSEARCA:USO) (NYSEARCA:OIL) (NYSEARCA:UWTI) (NYSEARCA:SCO) (NYSEARCA:UCO) increased by almost 1% on Wednesday, with WTI and Brent trading at $53.19 and $55.71 respectively at the time of writing this article. I had stated in my earlier article that oil may stay between $53 and $58 during the first half of 2017. Interestingly, the Russian Energy minister -Alexander Novak made a similar statement on Sunday, "Oil prices are likely to go higher as producing countries have been "successfully" implementing a production reduction deal. Oil prices still have potential to increase. In my view, the price will reach about 50 to 60 U.S. dollars this year". In my opinion, there is one factor that investors must closely track in 2017. It is China's oil imports.
Is China's future oil demand growth at risk?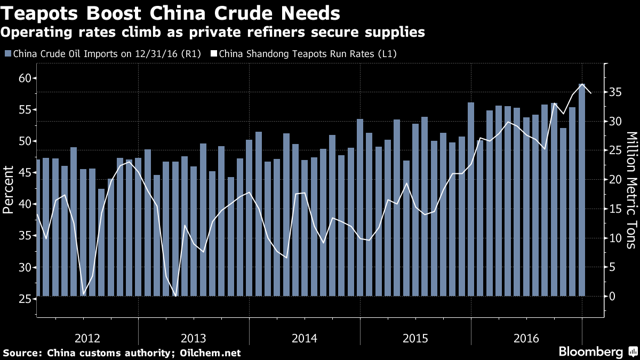 China has an average crude oil demand of more than 11 million barrels per day and is the second biggest global consumer of crude oil after the United States. So it is obvious that China's future oil demand can have a significant impact on oil prices. According a recent report published by Bloomberg, China's oil demand may slow down in 2017. That's because the Chinese government is cutting the import quotas for some of its 'teapot' refiners. The government will basically reduce import quotas of those refiners who did not utilize all of their quotas in 2016. It must be noted that these teapot refineries make up almost 15% of China's total crude oil imports and any reduction in their import quotas will have a significant impact on China's overall demand. "All these uncertainties around the teapot quota will weaken the nation's oil demand in the first half of the year. China's oil imports hinge on one single big factor, and that is the teapots. And right now, they are facing policy risks", said an analyst from China International Capital Corporation.
Takeaway for investors
Investors must note that oil import demand of China's teapot refineries were so high in June 2016 that China's Qingdao port became heavily congested because of 'unprecedented tanker traffic'. This shows that China's oil demand growth depends heavily on these teapot refiners. So, any policy that reduces their import quotas will have a significant impact on China's overall imports and its oil demand growth. In my opinion, there is another factor that can affect China's import demand -it is the country's strategic petroleum reserves ((SPRs)).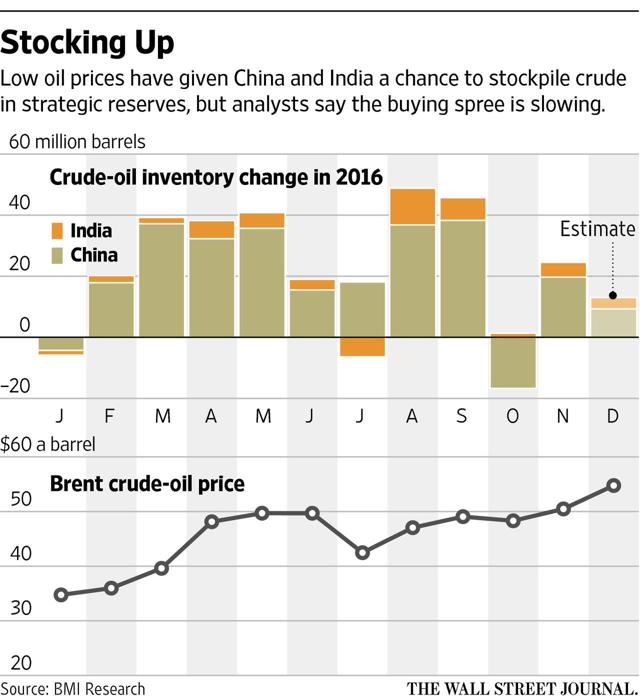 Although I had stated in my earlier article that China's national oil reserves are almost four times less than the U.S and that China will keep building its strategic petroleum reserves to support 100 days of oil import by 2020, there is a possibility that China may slow down its oil purchase for its SPRs (when oil prices are high). According to a study made my BMI research, China may slow down purchases for its SPRs in the near future. "China has been very, very strategic in its purchase of crude. We've already started to see a marginal softening. It's something we're keeping a close eye on in 2017. We don't expect China to completely stop increasing their stockpiles. But even if they reduce by 300,000 or 400,000 barrels a day, that's a pretty significant impact on global markets," said Christopher Haines from BMI Research. If China does reduce its crude purchases for its SPRs in the near future, then its future oil demand growth is definitely at risk and this factor ( combined with the import curbs on teapot refineries ) will be extremely bearish for oil prices in 2017. Investors must take note of this.
Disclosure: I/we have no positions in any stocks mentioned, and no plans to initiate any positions within the next 72 hours.
I wrote this article myself, and it expresses my own opinions. I am not receiving compensation for it (other than from Seeking Alpha). I have no business relationship with any company whose stock is mentioned in this article.