Due to my belief that we are close to the uranium market turning around, I decided to start looking at uranium mining companies for my own potential investment interest, as well as for the benefit of my audience. So far I covered the obvious uranium giant Cameco (NYSE:CCJ), which is one of the safest plays in my view, pending a Canadian court decision in regards to a tax issue. I also covered Denison (NYSEMKT:DNN), which is a far more risky investment proposition, but which also has far more upside potential in case that one gets the investment call right, based on uranium market trends. The company I decided to cover this time around is in some ways similar to Denison in terms being a higher risk investment option. There is also an intriguing difference, which in my view has the potential to multiply the potential rewards if everything will fall into place.
Uranium Resources Inc. (NASDAQ:URRE) is not a pure uranium play. It includes lithium as well as uranium. It is also a stock which has seen its value plummet from a high of over $1,500/share a decade ago, to just over $2/share currently. This drop in stock price alone is reason enough to put off thoughts of considering it as a serious investment position. Then again, it is sitting on two resources, both of which in a way play a large role in the global efforts to limit carbon emissions. Both of these resources may be set to rally in price significantly. Uranium is set to rise, not so much because of exploding demand, but rather because a steady, relatively strong demand growth trajectory is not currently being met by an equally strong outlook for mined supplies.
Lithium on the other hand is set to see demand explode in my view. EV batteries in particular are likely to drive demand beyond what the mining industry might currently be prepared to supply. The way I see it, given estimates of as many as two billion cars being on global roads by 2035, which is about twice the number of cars on the roads today, we need to see a few hundred million EV's on the road by then, in order to prevent a liquid fuel crisis from derailing the world's economy. In order to make this happen, massive amounts of lithium will be needed.
Uranium Resources Inc is sitting on over 24,000 acres of prospective lithium deposits in two locations. Both sites are still at evaluation stage, with samples showing promising concentrations. According to company's latest presentation, 2017 will still see both projects in further evaluation mode, therefore it is by no means a foregone conclusion that it is sitting on viable deposits, nor is it clear how much, if any of the resource is economically recoverable. This is where the risk/reward factor comes into play. If the deposits are technically and economically viable, Uranium Resources Inc.'s value is set to soar together with lithium demand. If these deposits will turn out to be unviable, it will be a further blow to a company which cannot afford too many. The Columbus Basin project is currently showing lithium concentrations of 70-170 ppm, while the Sal Rica project is currently yielding samples with lithium concentrations in the 22-81 ppm range. It is not entirely clear what the current average lithium concentration needs to be for a project to break even, but it seems that the samples of Uranium Resources hover around the lower end of the viable range, especially in the Sal Rica case.
In the case of lithium, there is very little doubt of the fact that demand is set to keep prices relatively high in coming years. In fact, I think demand growth, as seen by companies like Uranium resources, is greatly under-estimated.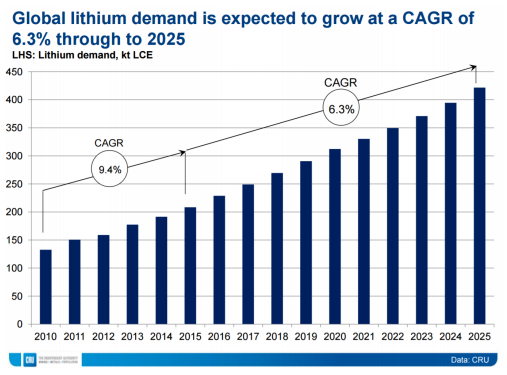 Source: Uranium Resources Inc.
I am basing my assumption of a booming lithium price on the theory that global lithium demand is likely to explode beyond current expectations, making any viable lithium deposits very viable in the longer term. EVs and hybrids are likely to become dominant sources of demand, in addition to other sources of demand for batteries and other applications, which are also growing.
It is this explosion in electric vehicle sales which suggests to me that electrical power demand is also under-estimated for the longer term, which is in part what leads me to believe that there is an imminent turnaround in uranium prices in the cards, after a decade of decline.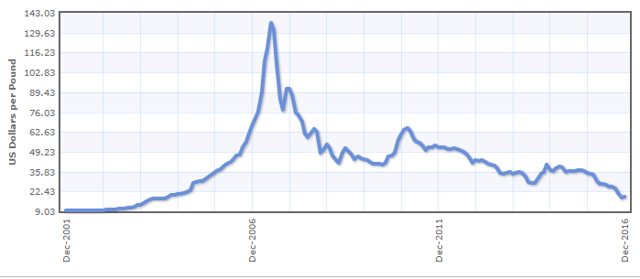 Source: Index Mundi.
It is impossible to foretell whether the price turnaround we have seen since the latest bottom in November is permanent, or whether it is just another of the many small market bounces along the way of the long downward slide since the price peak of $136/pound reached in June, 2007. We will only be able to confirm a sustained turnaround perhaps in 2018, if it is real, because we have seen periods of months where the price improved before, only to later return to the longer term trend. Regardless of whether this is it, or perhaps it will only happen months from now, or even next year, I do believe that the turnaround is relatively close now, given a widening gap between supply and demand.
This turnaround is far more important to the value of this stock than the lithium plays it is sitting on, because unlike with lithium, its uranium resources are already proven. The most important uranium project which is now in the permitting phase is in Turkey, where there is an estimated reserve of over 13 million pounds that are recoverable.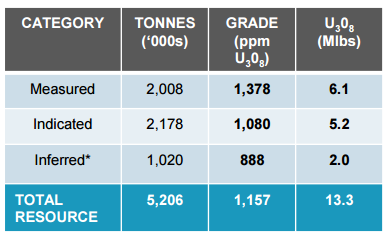 Source: Uranium Resources Inc.
The success of this project will be instrumental in Uranium Resources being able to bring into production any of the other potential plays it has in its portfolio. The only project that is not dependent on the success of the project in Turkey is the Rosita project in Texas, which can be brought back on line as soon as the price of Uranium will make it profitable again. The Rosita project is too small to provide Uranium Resources with the revenue stream necessary to provide a base to support potentially larger projects, such as the building of lithium extraction facilities in its above-mentioned concessions. The Turkey project is therefore key.
Lack of revenue is the main problem facing this company. At this point, investing in this stock comes down to whether one believes that it will be able to continue to hold on until the point where production will commence in the plays within the company's portfolio, which within the context of a potentially improving uranium and lithium market outlook may lead to this stock rallying significantly in coming years. The alternative is that it will either sell its assets piece by piece in order to stay afloat, or will be bought outright, which means that the stock will no longer reflect the company's current long-term potential. There is also a chance that it will eventually fold, if I happen to be wrong about a uranium market turnaround being on the horizon. The Q3 report mentioned that it has enough cash for the start of 2017. Recent asset sales, stock offerings which tend to be negative for the company's stock price are a way to hold on, but eventually, the company can run out of room. It is the classical high stakes investment story, with potential returns potentially being spectacular, if a number of factors will fall into place. On the other side of the coin, it is a potentially risky bet, with the probability of significant losses much higher compared with much safer options in the Uranium mining business. For those looking for more risk/reward, it is most certainly an interesting company to keep an eye on or invest in, as a way to play the emerging lithium and uranium stories simultaneously.
Disclosure: I/we have no positions in any stocks mentioned, and no plans to initiate any positions within the next 72 hours.
I wrote this article myself, and it expresses my own opinions. I am not receiving compensation for it (other than from Seeking Alpha). I have no business relationship with any company whose stock is mentioned in this article.
Editor's Note: This article covers one or more stocks trading at less than $1 per share and/or with less than a $100 million market cap. Please be aware of the risks associated with these stocks.