In a Bloomberg View column on January 18, Professor Tyler Cowen wrote an article entitled, "This Economic Phenomenon is Making Government Sick." It is one of the best articles on the relationship between economics and government I have read in a long time, but it only describes half of the problem. This economic phenomenon is indeed making not only the government but the entire body politic sick, yet it was the government that caused the economic phenomenon in the first place. Professor Cowen does, in fact, note that the government contributes to the malady, but the particular effect he identifies merely exacerbates the illness. In this article, I intend to show that the government has created this problem virtually out of thin air, and that problem is "price stability."
The economic phenomenon Professor Cowen is referring to, however, is "cost disease," the tendency for costs in labor-intensive sectors (e.g. services like education and medical care) to rise faster than costs in capital-intensive sectors (e.g. in the production of goods like cars, computers, and commodities).
Why is this making government sick? It is simple math.
First, since prices for the service sector have persistently risen faster than prices for goods, this has transformed the very nature of the global economy. Services now comprise about 80% of the American economy, whether measured by employment or GDP. At the same time, the old agricultural and manufacturing jobs are being replaced by automation or shifted to workers in peripheral economies (either by importing immigrants or exporting factories).
This puts a strain on the domestic labor force (which, coincidentally, largely overlaps with the electorate). On the one hand, jobs are disappearing; on the other, medical care and education are becoming more expensive. This not only tests individuals and families, but it can undermine communities, cities, and entire regions. Somewhat ironically, these are often places that may have initially profited from an earlier technological (and thus capital-intensive) boom - places like Detroit and the rest of the Rust Belt. Even for those who can hold on to their jobs or find new jobs in the services, they still feel the price pressure.
The most prominent economic theorist on the cost disease is William Baumol, who argued that the reason prices rose faster in labor-intensive sectors was because of the gap in productivity growth between those sectors and capital-intensive sectors. Automation (and globalization), all else being equal, would tend to raise productivity and therefore raise wages. In order for the sectors of low-productivity growth to even merely maintain their stock of labor (teachers, lawyers, doctors, etc), wages would have to keep pace, but those wage increases could only be passed on to the consumers as inflation.
This was a phenomenon that he noted as far back as the 1960s, and he pointed to two serious consequences. First, he noted that this was having a deleterious impact on the urban environment, and that ultimately the national government would have to prop the cities up to keep them from being swamped by the combination of deindustrialization, social breakdown, and surging costs. Second, that cost disease was an unstoppable force, and that services would eventually become 99% of the economy. As Baumol described it in his June 1967 article, "Macroeconomics of Unbalanced Growth: The Anatomy of Urban Crisis":
There are some economic forces so powerful that they constantly break through all barriers erected for their suppression.... It helps us to understand the prospective roles of a wide variety of economic services: municipal government, education, the performing arts, restaurants, and leisure time activity....[I]nherent in the technological structure of each of these activities are forces working almost unavoidably for progressive and cumulative increases in the real costs incurred in supplying them. As a consequence, efforts to offset these cost increases, while they may succeed temporarily, in the long run are merely palliatives which can have no significant effect on the underlying trends.
Now, if our economy is to become almost entirely services, and service prices are to continue rising as manufacturing jobs evaporate, and the government has to, in some form or another, take up the burden, then the inevitable result is that the economy must be gradually nationalized through a series of populist and technocratic steps. (That is to say, in one political cycle, government intervention might be advanced as a merely technocratic correction to a failure of the "free market"; in another cycle, it might involve a populist demand to restore America to her former greatness, to coin a phrase).
For example, if an economy were 20% services, and the government controlled (through nationalization, regulation, or price-controls) 10% of the service sector, while everything else was free of government control, any expansion of the service sector would result in an expansion of government's role in the economy. In this example, the government initially takes up 2% of the national economy (i.e. 20% x 10% = 2%). So, if the service economy were to become 100% of the national economy, then the government's share of the economy would become 10% (since 100% x 10% = 10%).
But, the cost disease not only disproportionately expands the size of the service sector, it expands the demand for government intervention. If we took the same scenario above and assumed that the service sector had taken over the entire economy (that is, went from 20% of GDP to 100%) and that the government would also expand from 10% to 50% of the service sector, we would see the government's role in the economy increase from 2% to 50% (100% x 50% = 50%).
Under such a scenario, we would see ballooning government, spiraling social costs, high labor costs, an apparent diminution of the manufacturing base, a high degree of technological innovation, and an increasingly cutthroat competition for power and resources.
Or, in Professor's Cowen's description:
At a further margin, government's contribution to the health care, retirement and education sectors will…seem inadequate, because at such high prices a government really cannot pay for everything. A heated political debate will ensue. Progressives will argue that significant human needs are being neglected, and they will be able to point to numerous supportive anecdotes. Conservatives will argue that the fiscal path behind such policies is unsustainable, and they will be right, too. Because it will feel to voters that government isn't doing a good job in these high-cost areas, the conservative view will get further traction. Libertarians may promote radical spending cuts, hoping for much higher productivity growth, but the government interventions are built in so thickly that that strategy could take a long time to pay off, and in the meantime it won't look like a political winner.
(Professor Cowen omits right-wing populism as an ideological player in his analysis).
So, to reiterate, the first part of the equation is the effect the cost disease has on the economy (not to mention demographics and the social fabric); the second part of the equation is the effect the cost disease has on the demand for political action.
As far as Professor Cowen's analysis (which I have embellished a bit here) goes, he is right on the money. And yet, he also missed a deeper process that is causing the cost disease. And that is, the government.
As I alluded at the beginning of this article, that is not a totally fair criticism of the professor's column. As he points out, "To make matters worse, the very expansion of government, and thus third-party spending, may itself contribute to waste and thus lower rates of productivity growth, creating a vicious circle."
But the tendency of the government's foot to lie heavy on the cost disease accelerator is not the government's chief contribution to this disease. That is, the problem is not government in general; it is our government, the modern form of government, and particularly modern American government, that is causing the cost disease.
The question one must ask is, when did the cost disease begin? Baumol, one recalls from his quote above, describes a process that is relentless and inevitable, but if that were true, not only the American economy but the global economy would already be entirely service-oriented. Or, more generously, the cost disease was always there but was so faint that it was virtually undetectable, and then became so powerful that it transformed the US economy in a matter of generations.
If we look at the US economy, we can see that, according to data provided by the Bureau of Economic Analysis (BEA), services went from 60% of GDP to 80% in the second half of the twentieth century (about 0.4 percentage points per year). This appears to have been something of a global phenomenon (where it is known as the Balassa-Samuelson Effect), and this suggests that productivity gaps widen at uneven rates and that we have lived through a period of exceptional change. Baumol states explicitly, and Professor Cowen implicitly, that this expansion in the productivity gap is not yet over. Using the latter half of the 20th Century as a rough guide, the service sector might consume the entire American economy between 2050 and 2100.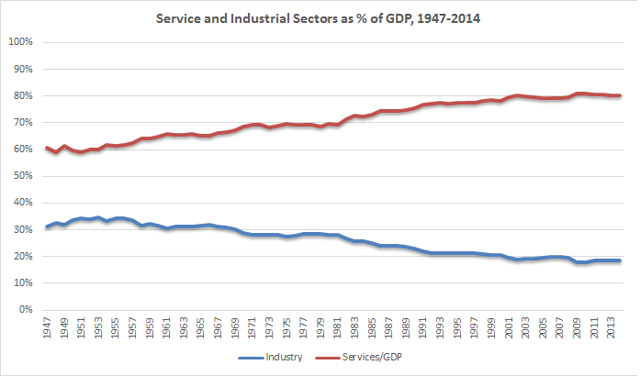 (Source: Bureau of Economic Analysis)
So, when did this acceleration begin? We are somewhat strapped for data, but by my estimation, this began sometime around the 1910s. Prior to that, it was limited, at best. In other words, something caused a sudden but sustained surge in productivity growth in the capital goods sector (thus causing a surge in service prices) a century ago and has not let up.
This argument is based on a lot of circumstantial evidence, which I recapitulate below.
1. National employment data.
The following two charts show, at least from 1870, a fairly steady ratio of service sector (also called tertiary sector) employment to industrial- and manufacturing-sector (or, secondary sector) employment up until the 1910s, after which it clearly jumped.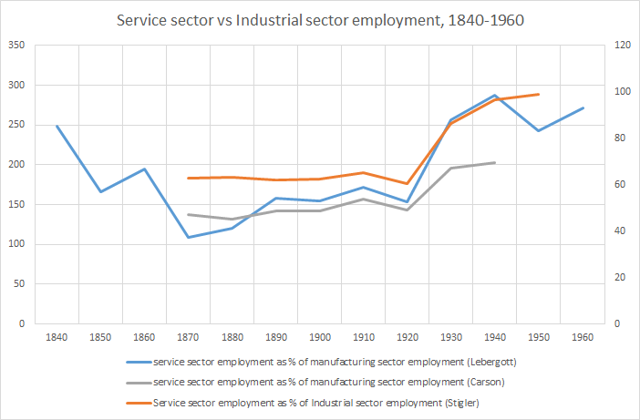 (Sources: Daniel Carson, Table 1; Stanley Lebergott, Table 1; George Stigler, Table 3)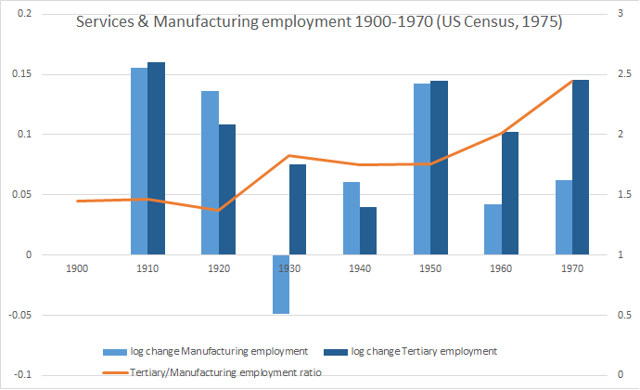 (Source: US Historical Statistics from Colonial Times to 1970, Series D127-141)
The following chart shows a similar relationship. At least since 1850, secondary- and tertiary-sector employment has increased relative to primary sector (agriculture, primarily) employment. Secondary- and tertiary-sector employment shadowed each other from 1850-1890, and then the tertiary sector expanded relative to the secondary until 1920. From the 1920s, the tertiary sector expanded much more rapidly.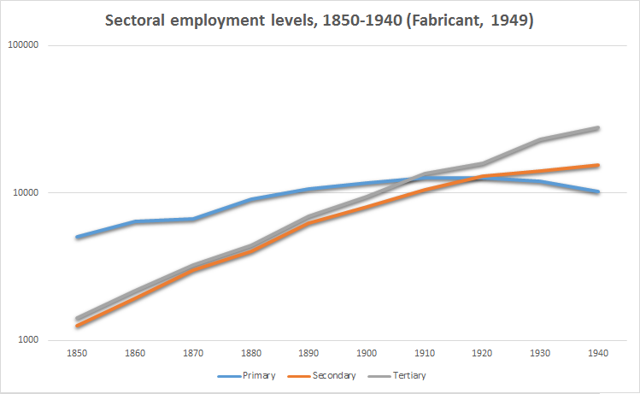 (Sources: Solomon Fabricant, Table 2)
In short, there is a clear break in the relationship between the secondary and tertiary sectors from at least 1920, one that has only grown since then.
2. GDP data
There is a shift in the GDP data at the same time, although it does not perfectly overlap the employment data. According to what I have found, the service sector occupied about 55-65% of American production between the Civil War and the 1960s. It did not escape that range until the late sixties. It seems marginally higher from around 1920, but that would not have been apparent at the time.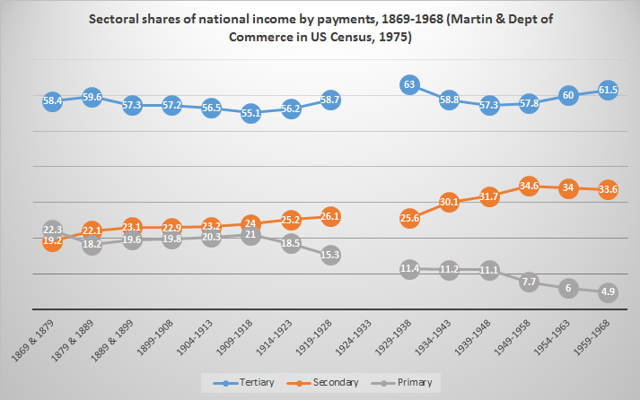 (Sources: US Census, Series F216-225)
The clearer shift at that time, specifically in the 1914-1923 period, was the proportions of primary- and secondary-sector production, as the US entered an industrial boom.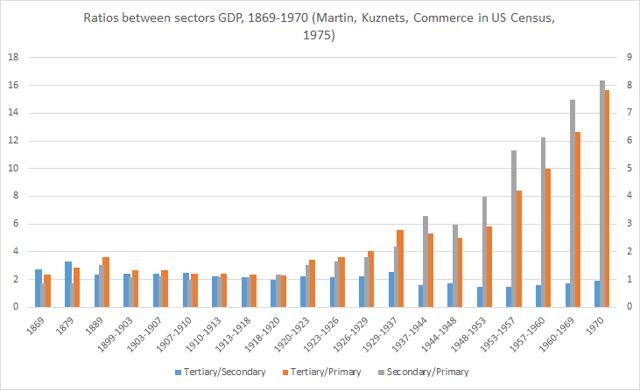 (Sources: US Census, Series F250-261)
If we use Professor Louis Johnston's data from 1840-2010, he calculates that, similar to what we found in the employment data, GDP was evenly split between the secondary and tertiary sectors until 1910, after which service-sector production (as a percentage of GDP) opened up a major gap, and then really exploded after 1950.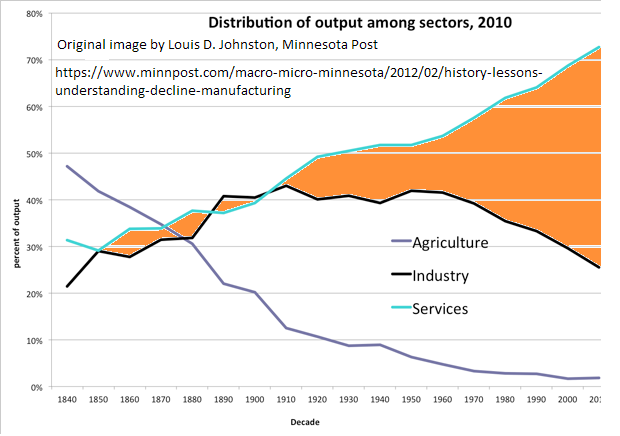 (Source: Louis D. Johnston, Minnesota Post)
For the purposes of this article, it is not necessary to determine which set of data is more correct; it is only necessary to illustrate that the sectoral shifts occurred primarily around the 1910s. However, my suspicion is that technological innovations disproportionately benefitted the industrial (secondary) sector beginning in the 1910s and '20s, thus setting in motion the cost disease, but that once that disease had effectively matured, perhaps as early as the 1960s, it began to deindustrialize the US economy. Thus, the Rust Belt.
3. Service sector prices
The cost disease is, of course, first and foremost a price phenomenon. The cost disease has been with us at least since the late 1940s, but sectoral price data only go back to 1936, as best I can tell.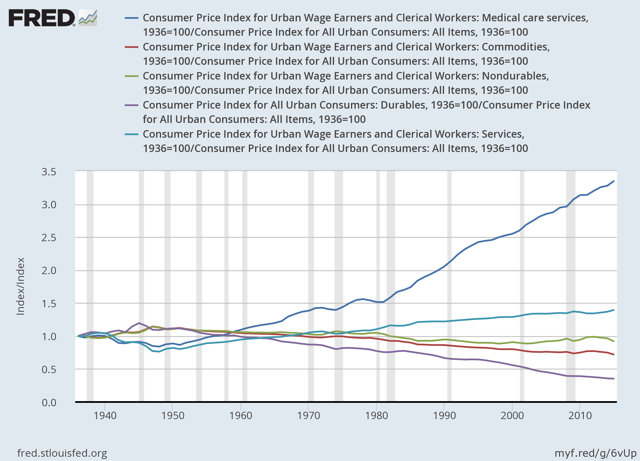 In short, we just do not know from the price data when the cost disease began.
4. Labor demographics
The demographic evidence is anecdotal, but the anecdotes all point to a shift in the 1910s and 1920s. Specifically, there is the professionalization of certain classes of work, changes in the patterns of female labor, and the deindustrialization of American cities. (Data in this fourth section come from George Stigler's Trends in Employment in the Service Industries).
4a. Education
Between 1900 and 1920, there was a total of 26000 new college teachers, but in the 1920s alone, there were 33000, and in the 1940s, 72000. In 1900-1930, about one-third of those teachers had PhDs. In the 1930s-'40s, 60% had PhDs. There was a surge in enrollment beginning in the 1910s. In 1900-1910, less than 5% of college-aged youth were in school. By 1920, it was over 8%; in 1930, over 12%, and by 1950, it was nearly 30%. This was, at first, a peculiarly American phenomenon.
Even if we assume that the education sector was growing (or growing disproportionately to other economic sectors) before the 1910s, it seems rather apparent that there was a dual revolution in education from that time: much larger numbers of teachers and students and much higher rates of specialization and accreditation (as evidenced in the PhDs awarded).
4b. Medicine
In the chart below, one can see two interesting phenomena with respect to medical school graduates. First is that even at the post-1920 peak in 1950, there were still fewer medical graduates than there were at the peak in 1905. Having just looked at education trends, one might have expected to find that there were significantly more doctors showing up from the 1910s and '20s, but that is only partially true. There were more AMA-approved graduates than in 1915, but that appears to be due to a dip in the overall numbers in 1905-1920.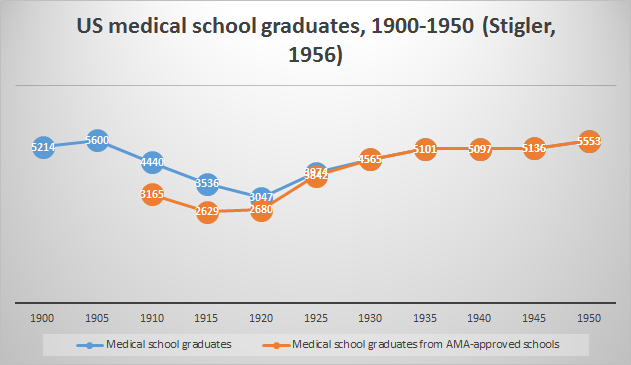 (Source: George Stigler's Trends in Employment in the Service Industries)
The second notable phenomenon is the increased professionalization of medical education. Up until 1915, 75% of graduates were AMA-approved. By 1920, it was nearly 90%, and by 1930, 100%.
In addition to a relatively stable number of medical grads and increased professionalization were two other phenomena not on the chart above: skyrocketing costs for medical school and increased specialization. As early as the mid-1950s, a debate had emerged as to whether tuitions should be raised or the government should step in to relieve the costs borne by the schools. Medical education was estimated to be four to eight times more expensive than for other students, although tuition levels were roughly the same. Such an unsustainable situation could only have arisen if this had been a relatively recent development. In addition, keeping in mind the stability in the overall number of medical school graduates and the rising costs, as of 1929, 26% of physicians were "full specialists," but by 1949, 46% of doctors were.
4c. Military
Prior to World War I, about 1% of the US population was in the military and about one out of every twenty soldiers was an officer. After the war was over, 2% of the population remained under arms, and one out of ten soldiers was an officer. In other words, there was a permanent quadrupling in the size of the officer class from the 1910s.
4d. Female labor force
Female laborers have consistently entered the workforce at a higher rate of growth than have males since at least the 1870s, but it is only from the 1910s that that growth has come solely from females entering nonagricultural work. Before that decade, there was a rough parity in the growth rates of females who were going into agriculture and those who were going into nonagricultural labor. In fact, females (historical labor data at times included children as young as ten) simply began to abandon farms starting in the 1910s and virtually ever looked back. The only comparable change was a significant reduction in growth rates of men joining the labor force.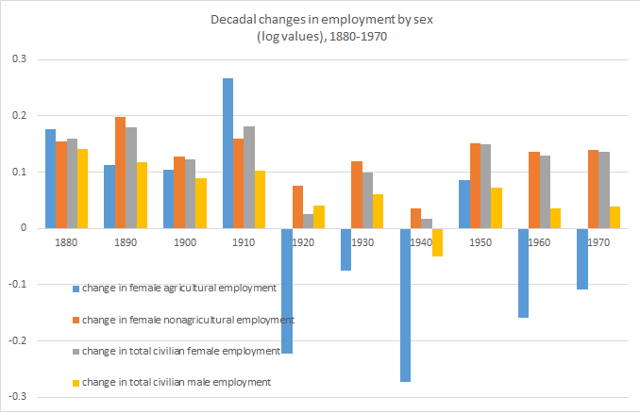 (Sources: US Census, Series D11-25)
Were females being drawn into factories and the service sector or being pushed out of agriculture? Was this related to a demographic shift to urban or suburban America? Was this due to an acceleration in technological innovation? Those are all plausible explanations, but the question we are really asking is, Why then? Why, suddenly in the 1910s, did this begin?
4e. Urban manufacturing
We see a similar thing happen in urban manufacturing. From at least the 1880s, and probably before, we see a steady increase in the percentage of Americans who were working in the urban manufacturing sector, but that came to a halt sometime after 1920, and has remained at about half the 1920 rate since.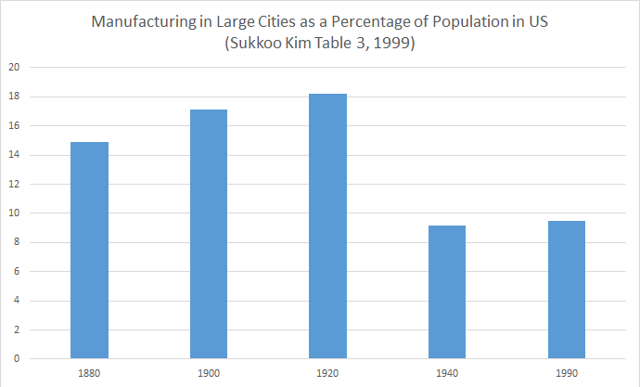 (
Sources: Sukkoo Kim)
If women were leaving the fields, it was not for urban factories.
5. Prices
Although I do not know how service prices behaved before 1936, we do know how prices more generally behaved. In short, prior to the establishment of the Federal Reserve, prices for consumer goods and services (CPI), commodities and producer goods (WPI or PPI), and stocks remained relatively stable. The rate for very long-term inflation was effectively zero. After the Fed was established, however, the underlying rate of inflation rose. By mid-century, consumer inflation had become persistently positive.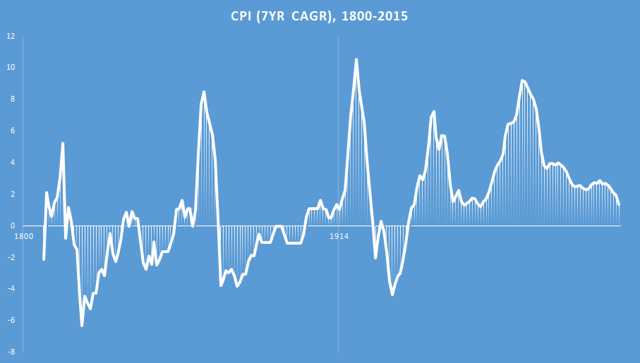 (Sources: University of Michigan Historical Consumer Price Index)
How did the Fed achieve the amazing feat of persistent positive price pumping (more commonly called "price stability")? It was not through deliberate planning. Rather, it was through the cost disease itself. Services increasingly replaced goods in consumer baskets, and we already know that services experience higher rates of inflation. Commodity prices have collapsed in recent years, yet overall inflation remains positive.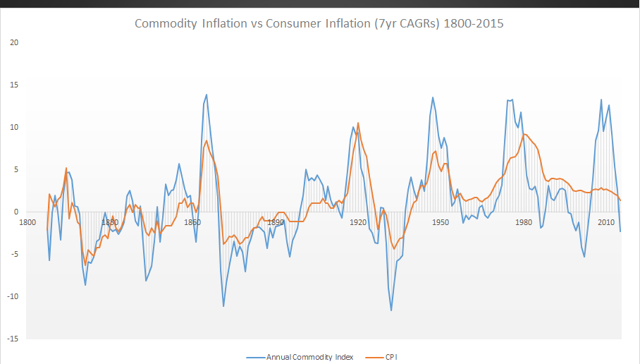 (Sources: University of Michigan Historical Consumer Price Index; own calculations from US Historical Statistics from Colonial Times to 1970, US Census, Grilli-Yang Commodity Price Index, World Bank)
Now, that leads us to the critical question. If we know that the Fed created the phenomenon of persistent positive price pumping (call it "price stability" if you must), and yet persistent positive price pumping is a consequence of the cost disease, what relationship might the Fed have with cost disease?
Odds are that the Fed has caused it. "Cost disease" and "price stability" are one and the same thing, and they were both caused by the establishment of the Federal Reserve. Not by the policies of this or that Fed chairperson, but by the existence of the Fed itself and its role in the banking system. To take this a step further, the Fed is behind the increased productivity of the capital-intensive sectors, because it is boosting investment in the durable goods sector, as well as encouraging consumer debt, government spending, and corporate profits.
The circumstantial evidence presented above supports the notion that the Fed created the cost disease, and therefore, is causing the social, economic, and political upheaval that Professor Cowen alluded to in his article. The Fed, of course, is a government institution, and thus the professor's formulation is only half right. It is true that the cost disease will, if unchecked, continue to undermine American society and politics, but it is politics that created the cost-disease monster in the first place.
Professor Cowen closes his article by admonishing us:
I suggest spending less time on the candidates and more time studying productivity growth. I also suggest spending more time thinking about how to make working with human beings as easy and as fruitful as manipulating physical capital. Often the real political problem is not the people who disagree with you, but rather the empirical regularities of economies and the humans who inhabit them.
This is an excellent set of suggestions, but as long as the Fed continues to send jobs to China, churn out 22-year-old debt slaves, and make it too expensive to take one's kids to the doctor, the time for such civilized niceties as thinking about economic principles will run out, if it has not already.
The gap between President Trump's America First "economic nationalism" and President Obama's Affordable Care Act "socialism" is not as large as it seems. Both are attempts to nationalize problems caused by the Fed-created cost disease. So, why all the partisan rancor and identity politics if we are all reacting to the same phenomenon? Because we have to fight over a pie that can no longer be grown, and because the problems of urban-vs-rural, technocrats-vs-workers, and foreign trade-vs-domestic jobs are social problems exacerbated by cost-disease-induced stagflation and deindustrialization.
We do need to study productivity, as Professor Cowen insists, but we also need to study how the Fed has impacted the economy. It seems unlikely that we have enough time to avoid the kinds of crises that a century of mistakes has stored up for us, but we should start thinking about how we can rebuild after the next crisis hits.