"I always associated planes with escape and freedom…" - Steve Hazy.
Buying into leasing companies makes sense with today's economic environment providing borrowing costs at record lows and aircraft demand firming. Air Lease (NYSE:AL) in particular looks to be a compelling growth story with solid management and an existing portfolio of high-quality assets. I would recommend accumulating more AL shares on any dips in its price going forward.
People tend to define the aviation industry by the airlines and airports. The danger of painting an industry with a broad brush is that you miss out on opportunities. I believe Air Lease is one name that has unjustly flown below investors' radars.
The company was initially funded through a $1.3 billion private placement transaction, which was completed in July 2010. Subsequently, Air Lease completed its IPO in April 2011, netting the company $868 million for its strategic growth plans. At the time of the IPO, the fleet consisted of 46 aircraft with an average age of 3.5 years. Today, the fleet consists of 239 owned aircraft and 29 managed aircraft with a weighted average age of 3.6 years.
Why Buying Into Leasing Companies Makes Sense
The leasing business model is fairly straightforward - purchase commercial aircraft and turnaround and lease the aircraft (~1% of asset value per month depending on aircraft type and age) to commercial airlines around the world. Depreciation and interest expense are the vast majority of a lessor's cost structure. Between these two, interest expense is the more volatile line-item.
Lessors thrive in an environment where - 1) they enjoy access to low cost capital, 2) firming aircraft values, 3) improving lease rate factors, and 4) robust global demand for aircraft. Another way to look at the leasing model is as a spread business - borrow low, lease high. The leasing model is well equipped to deal with pockets of volatility. Fleets are large, they are diversified by aircraft type, customer, geography (see the geographic diversity of AL's customer base below), and lease term.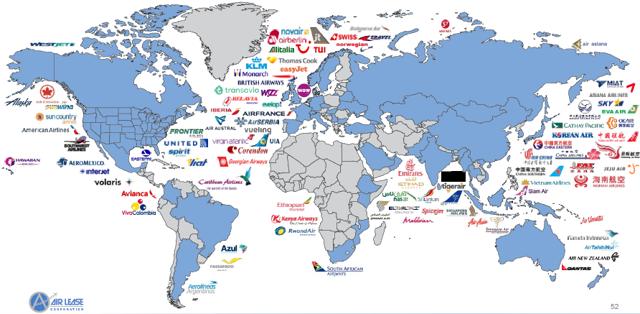 AL as a leasing company would benefit from today's environment with borrowing costs at record lows and strong aircraft demand. AL is well positioned to weather the cycles. AL as a lessor, is very flexible, for instance, if air travel demand in a particular region softens, it can take back aircraft and re-lease them elsewhere.
The Steve Hazy Effect
In the aircraft leasing community, Air Lease Corporation has become a household name, thanks to its founder, Steve Udvar-Hazy. Hazy was arguably the industry pioneer as the founder of the world's largest aircraft leasing company then, ILFC (which he sold to AIG in 1990). Steve left ILFC and began Air Lease in 2010 from a clean slate. His ILFC track record was unmatched - from 1984 through 1990, ILFC created shareholder returns of 428%, and during Mr. Hazy's tenure at AIG, ILFC increased its profitability by tenfold.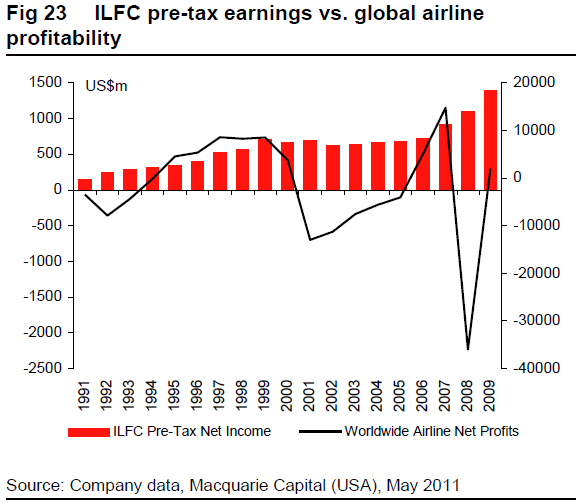 From there, Hazy recruited second in command John Plueger from ILFC, plus much of the former sales team, which has longstanding relationships with more than 200 airlines in over 70 countries. Because of their experience, AL provides its salesforce with greater decision-making power, enabling AL to respond more quickly to opportunities. In a sense, the legacy ILFC still lives on within Air Lease.
The company owes its rise largely to Steve Hazy's legacy at ILFC as management benefited from favourable credit ratings in its early days and is often intimately involved with Boeing/Airbus development decisions. To be fair, Air Lease's management team is filled with Hazy's best lieutenants, creating a "deep bench" (70-75% ILFC) which remains critical to the success of AL. Their network of business contacts in the airline business is unmatched, and it would be extremely difficult to find qualified available executive talent to fill their shoes were either to depart the company.
Management quality plays a particularly critical role in this industry given that lease equity IRRs is highly sensitive to small changes in sale price (which is an outcome of negotiations). Hence, aircraft leasing is largely a relationship business and I think there is an argument to be made that AL commands a premium thanks to Mr. Hazy.
AL to Benefit from Favorable Lease Rates vs. Financing Rates Spread
Let's review the lease side. The single biggest driver of lease rates is naturally, demand. Robust growth for aircraft coupled with lack of capital drives lease rates higher, likewise, slowing demand coupled with an influx of capital drives lease rates lower, i.e. supply and demand trends drive lease rates. Outside of supply/demand, the cost of the plane and financing are the two biggest factors that drive lease rates.
Therefore, what drives profitability is the lessor's ability to access capital cheaper and the ability to acquire assets at lower prices than the competition. In a more difficult financing environment, lessors with the highest quality assets (young, fuel efficient, popular aircraft) and room to add leverage typically drive ROE improvement.
Considering AL's fleet profile - 268 aircraft (239 owned and 29 managed) with a weighted average age of 3.6 years, AL looks to be best in class in the aircraft leasing business.
AL to Outperform if Taxes Are Lowered
With AL, it is important to use a pretax earnings multiple rather than after-tax because AL does not expect to be a cash tax payer for many years as a result of its heavy capital spend. Many countries allow for accelerated depreciation on aircraft for tax purposes. However, given that few airlines are consistently profitable, it can be hard for many airlines to monetize these benefits. Lessors who can monetize these tax benefits can effectively "split the benefit" with the operator and reduce airline ownership costs. Since Air Lease is allowed an accelerated depreciation under its tax books and it will be growing its aircraft portfolio in the next several years, it will likely have no cash taxes. Therefore, it is appropriate to view its cash earnings as the basis of its profitability at least while the company is growing its asset base. The IRS allows an aircraft to be depreciated over an 8- to 12-year period, but under U.S. GAAP, the lessor depreciates the aircraft over a 25-year useful life. Under cash purposes, aircraft lessors typically pay very little in taxes, if any, but under GAAP, recognition of taxes is required.
AL could outperform peers in the short term if U.S. corporate taxes are lowered as AL accrues U.S. corporate taxes at a 35% GAAP tax rate but leasing competitors e.g. AerCap (NYSE:AER) and Aircastle (NYSE:AYR) already pay lower foreign taxes of 10% to 15%.
AL Has Favorable Fleet Composition
Air Lease's differentiated strategy relative to many of its peers is to build-out a fleet of newer and more fuel efficient aircraft. Based on net book value of AL's owned fleet, the weighted average fleet age is ~3.6 years. AL has 239 owned aircraft and 29 managed aircraft with $11.2 billion aggregate fleet net book value.

The key differentiator in terms of fleet composition between Air Lease and other public aircraft lessors in the market is that Air Lease primarily engages in aircraft that are at the first one third. This allows AL to increasingly tilt its portfolio towards emerging markets (which tend to have lower credit standing and are more likely to default). Having a newer fleet of aircraft mitigates this issue to some extent, as new aircraft can be placed more easily of their economic life.
While growth on an absolute basis is not necessarily always positive from a rating agency perspective, we think that rating agencies view size as an enabler of portfolio and lessee diversification in this business, as well as an insulator during difficult times in the market.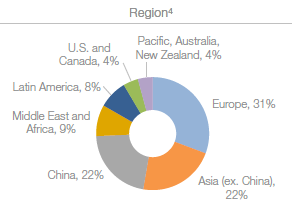 AL to Benefit From The Replacement Cycle
Aircraft demand can be divided into two basic segments: aircraft acquired for growth and aircraft acquired for replacement. Historically, aircraft acquired for growth have been the primary driver of aircraft demand; however, as the global fleet ages across most geographies in the face of rising fuel prices and new product cycles from manufacturers, replacement demand is becoming an ever more important source of demand for new aircraft.
Historically, the need for replacement has been growing in importance as a source of demand for new aircraft and, at present, the fleets operated in Africa and North America stand out as having the highest average aircraft ages, though only North America's replacement cycle has the potential to be a major demand driver given the region operates the largest fleet in the world (simply because Africa is one of the world's smallest aircraft markets). The fact that >30% of aircraft in North America are greater than 15 years old represents a meaningful cyclical tailwind for aircraft demand. Additionally, an on-going replacement cycle and outsized aviation investment/a developing middle class out of Asia set the foundation for sustained aircraft demand.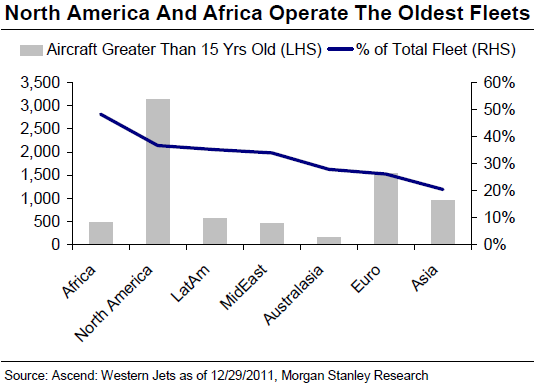 Moreover, rising oil prices are an important catalyst for replacement demand as the cost of fuel is a major component of the cost of operating an aircraft. Thus, not surprisingly, rising fuel prices have been highly correlated with replacement demand.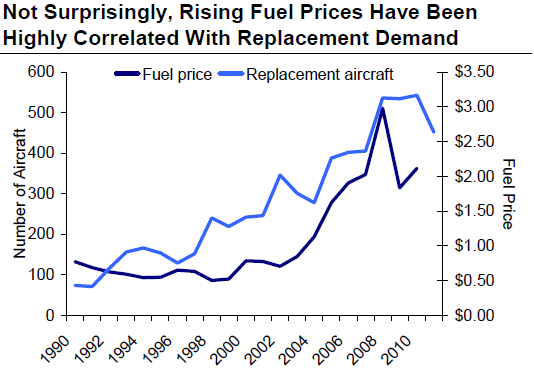 Approximately 80% of Air Lease's forward placements to be replacement aircraft, which should be less subject to deferral in the face of low fuel costs. AL being levered to the replacement cycle also has the following implication - rising production rates at the OEMs do not represent a risk and that the volatility of the cycle is now diminishing.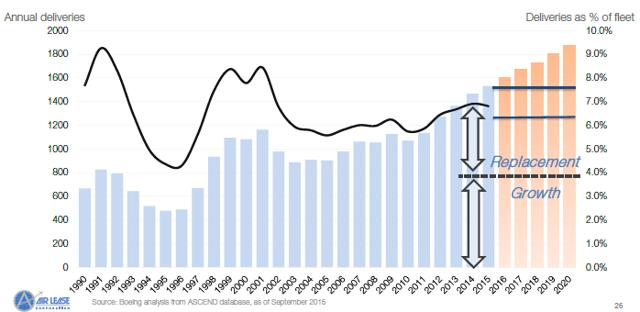 Management has pretty much reinforced this through talks with airlines who are broadly experiencing strong traffic growth and high load factors while most are anticipating a modest increase in oil over the next 2-3 years with regards to fleet planning. This implies the growth stage in the replacement cycle remains intact.
Blackbird To Support Future ROEs
Toward the end of 2014, AL announced it would enter into a joint venture, Blackbird Capital I with Napier Park Global Capital, whereby the JV would purchase aircraft of up to $2 billion in value and AL would manage them. The entity would be financed with approximately $500 million of equity and $1.5 billion of debt with AL owning a 9.5% equity stake and investors owning the remaining 90.5%. In other words, the JV allows AL to lock in a 12-year management fee revenue stream (higher ROEs) while offloading some residual value risk as it manages Blackbird's fleet with only a 9.5% economic interest. The JV gives AL the opportunity to not only earn management fees for its in-depth industry knowledge and relationships, but to also allow the company to grow its earnings in incremental leasing activity that might have potentially impacted its conservative credit and customer risk metrics.
They are not selling to Blackbird at large gains, implying that their aircraft sold to airlines and leasing companies are generating gains higher than AL's average of 8-10%.
The higher margin managed fee base should grow and provide support to ROEs going forward. Blackbird is a differentiated venture for the lessor that allows it to maintain focus on newer technology aircraft (vs. JV's at peers with deviating asset focuses) and could become a more meaningful revenue source going forward albeit small as of now.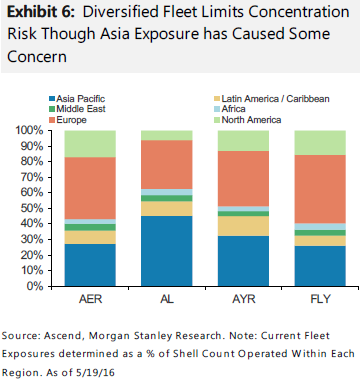 Valuation
Air Lease's valuation remains relatively attractive on a price to book basis (currently trading at 1.22x of book - today's ~$36 share price and ~$29.70 of diluted book value per share). Note that when Air Lease IPO'd, management emphasized that accelerated depreciation and their growing fleet will reduce cash taxes significantly. Given that the company pays little to no cash taxes, it makes sense to also evaluate AL shares on a price to pretax earnings basis.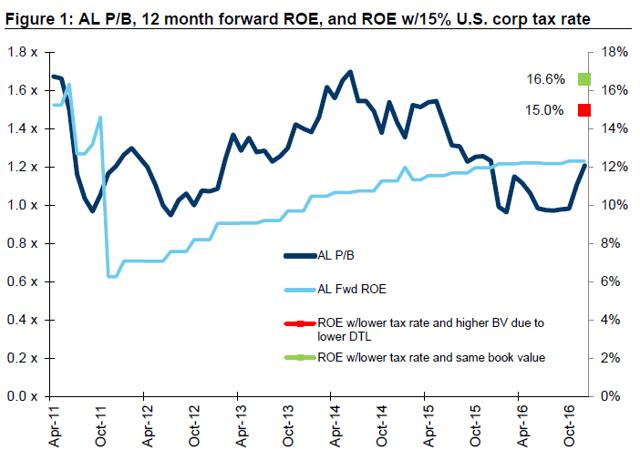 As the chart above shows, AL is trading at a discount on a P/B basis relative to historical values. Additionally, ROEs could be boosted going forward with lower tax rates and lower DTL which should in turn, boost book value.
Conclusion
Buying into leasing companies makes sense with today's economic environment providing borrowing costs at record lows and aircraft demand firming. AL in particular looks to benefit going forward for the following key reasons - 1) the Steve Hazy effect, 2) favorable lease rates vs. financing rates spread, 3) lower taxes, 4) favourable fleet composition, 5) replacement cycle, and 6) Blackbird to support future ROEs. One caveat though - given that AL is levered to the large expected growth of aircraft demand in emerging markets, any negative changes to economic conditions in those particular regions could cause an underperformance by AL. Overall, AL looks to be a compelling growth story with solid management and an existing portfolio of high-quality assets. I would recommend accumulating more AL shares on any dips in its price going forward.
Disclosure: I/we have no positions in any stocks mentioned, and no plans to initiate any positions within the next 72 hours.
I wrote this article myself, and it expresses my own opinions. I am not receiving compensation for it (other than from Seeking Alpha). I have no business relationship with any company whose stock is mentioned in this article.