Note: This article was originally published January 10th on Value Investor's Edge, a Seeking Alpha subscription service.
Overview
Maritime-traded liquid natural gas - "LNG" - is a crucial link in the natural gas supply chain for many nations where domestic demand outstrips available supply. These vessels transport natural gas, which has been reduced to a liquid state by cooling it to minus 162°C, achieving a volume reduction of approximately 600 to one. Upon delivery, this LNG can be stored in a liquid state until the market demands, whereupon it enters a re-gasification process.
Companies that engage in LNG transport include, but are not limited to, Dynagas LNG Partners LP (NYSE:DLNG), Golar LNG Limited USA (NASDAQ:GLNG), Golar LNG Partners LP (NASDAQ:GMLP), GasLog Ltd (NYSE:GLOG), GasLog Partners LP (NYSE:GLOP), Tsakos Energy Navigation Ltd. (NYSE:TNP), and Teekay LNG Partners L.P. (NYSE:TGP).
Background
Cheniere started exports from the Sabine Pass liquefaction plant in February last year with the majority of cargoes landing in Latin America. As more LNG export capacity continues to come online the USA is projected to become the world's third-largest LNG supplier by 2020 with an export capacity of 60 million mt.
Though northeast Asia is the world's leading importer of LNG, for most of 2016 spot LNG prices were too low to incentivize the journey from the Sabine Pass export facility in the US Gulf of Mexico to Asia, even after the opening of the expanded Panama Canal in July made the route more economic.
However, over the past six months Asian LNG prices are up almost 80% which has inspired a significant increase in chartering activity out of the USA which remains one of the cheapest sources of LNG.
Latest Developments
This sharp rise in Asian LNG price is behind much of the move. Mid-November to Mid-December saw the largest monthly increase for Asian LNG since February of 2013, rising approximately 30%.
That move can be traced to colder winter temperatures and issues at liquefaction plants including Gorgon in Australia.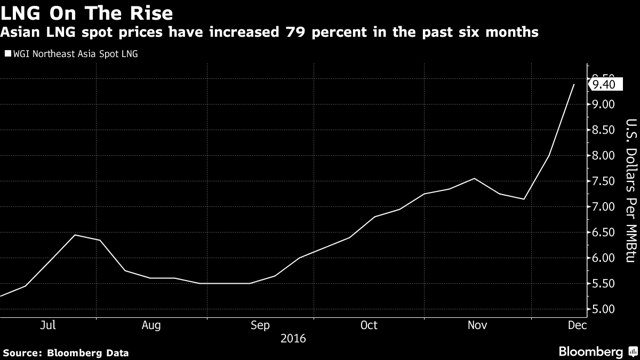 Source: Bloomberg
Before December, only one US LNG cargo had sailed to northeast Asia out of some 33 sailings from Sabine Pass. However, at least 10 of the 12 tankers departing from Sabine Pass in December are headed for Asian countries.
Bloomberg reports:
Asia's emerging as a bigger buyer as winter's chill stokes demand for the heating and power-plant fuel, fulfilling analysts' predictions that the region would eventually become a major importer of U.S. supply.
This move is a precursor of expected trade based on solidified agreements. Bloomberg reports:
More than half of the 42.9 million tons a year of U.S. LNG export capacity over the next three years is contracted by Asian buyers.
This development is important for LNG shipping due to the concept of ton mile demand.
Ton Mile Demand
Ton mile demand is just a fancy way of saying how far a ship must travel to deliver a specific cargo. The longer a ship is out to sea for a given cargo, the longer it is removed from the supply side thus reducing available supply.
In short, less supply given a constant demand will produce a supply side shift resulting in higher prices, which in this case is charter rates.
Imports/Exports
Therefore, with regard to ton mile demand, the geography behind the LNG trade is a key reason why LNG shipping is excited about the prospects of greater LNG exports out of the USA to East Asia.
To get a better understanding of why that is the case, let's take a closer look at top importing nations.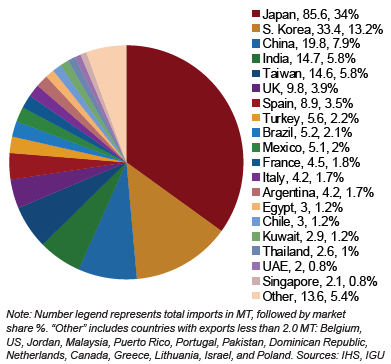 Source: IGU 2016 World LNG Report
Next let's look at the top exporters.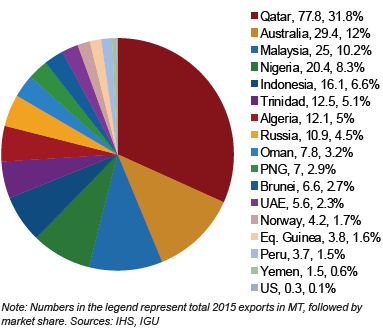 Source: IGU
Finally, the following table shows the LNG trade between basins.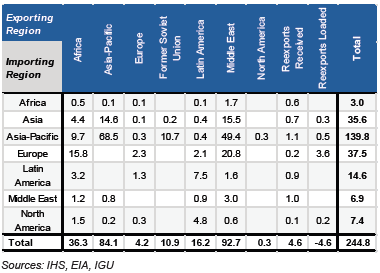 Source: IGU
Notice that much of the LNG trade occurs over what would be considered short to medium-haul routes.
To get a better picture of how the USA entering the picture, let's take a quick look at a few haul distances and times using a typical slow steaming speed of 12.2 knots.
Routes
Let's examine current export routes from key existing suppliers.
Qatar represents the longest haul of major suppliers to the East Asian market. :
From Qatar to Japan the voyage would take approximately 23 days covering approximately 6,700 nautical miles.
Qatar to South Korea would take just under 21 days covering approximately 6,100 nautical miles.
Qatar to Shanghai, China comes in at just under 20 days at approximately 5,800 nautical miles.
The next largest supplier of LNG is Australia and since that has several ports across the nation we will use the Gladstone port on the northeastern shore as an indicator.
Gladstone to Japan is about 14 days and 8 hours covering almost 4,200 nautical miles.
Gladstone to South Korea is a little over 14 days at a tad over 4,100 miles.
Gladstone to Shanghai, China is approximately a 14 day voyage covering 4,100 nautical miles.
Finally, rounding out the top three is Malaysia which represents the closest of the major suppliers to the East Asian region.
Malaysia to Japan is about 10 days 6 hours covering approximately 3,000 nautical miles.
Malaysia to South Korea is an approximate 8 day voyage covering about 2,300 nautical miles.
Finally, Malaysia to Shanghai, China takes about 7 days at just over 2,000 nautical miles.
Now, let's take a look at the USA keeping in mind the impact on rates as ton mile distance increases.
Sabine Pass to Japan, utilizing the Panama Canal, takes about 30 days 12 hours covering almost 9,000 nautical miles.
Sabine Pass to South Korea, utilizing the Panama Canal, takes 32 days 18 hours and covers about 9,600 nautical miles.
Sabine Pass to Shanghai, utilizing the Panama Canal represents an approximate 10,000 nautical mile voyage which takes 34 days and 10 hours.
If it's not already clear, the US-Asia routes offer the potential for ton-mile increases ranging from over 3x at the highest (vs. Malaysia) to 50% gains at the lower replacement range (vs. Qatar).
Conclusion
Since the U.S. started exporting LNG in February last year, vessels out of Sabine Pass had been mostly heading to South America, a relatively short-haul route. But with Asian LNG spot prices almost doubling in three months time, a shift has occurred which has allowed US LNG to penetrate the East Asian market.
While the long-run will witness increased exports from the USA to Asia due to contract arrangements, in the short-run skyrocketing prices in key demand centers have also allowed the USA to become an increasingly important part of the spot-trade equation due to its abundance of natural gas and the efficient Henry Hub market, which has kept prices low in comparison to many other parts of the world.
Over the past few years we have seen how the supply of vessels on the water has drastically changed market fundamentals and consequently shifted rate structures. In fact, the vast majority of changes in rates for the drybulk, container shipping, crude tankers, product tankers, LPG and even LNG can all be attributed to supply side shifts.
The voyage from the USA to key demand points in East Asia represents a significantly longer travel time, in many cases over 2-3x greater. This drastic increase in travel time to deliver a given cargo increases ton mile demand and therefore impacts the LNG vessel supply side.
Therefore, this short run development, if it continues to gain traction could provide a tailwind to the segment and act as a sort of bridge to the long run mostly-guaranteed trade shift of more USA LNG being shipped over to Asia.
Thank you for reading and I welcome all questions/comments.
If you would like to stay up to date on my latest analysis, I invite you to follow me on Seeking Alpha (click the "Follow" button next to my profile picture at the top) as I continue to cover all aspects of maritime trade.
Value Investor's Edge
Value Investor's Edge is a top-rated Seeking Alpha research service which focuses primarily on the volatile, and therefore potentially very profitable, shipping industry. Members receive a two week lead time on all reports by James Catlin alongside exclusive content by J Mintzmyer, a top tier deep value analyst who achieved a 75% accuracy rating in private speculative picks during 2016. This platform offers unparalleled coverage of shipping through Mr. Catlin's data driven macro analysis which often complements Mr. Mintzmyer's company-specific analysis. This combination frequently presents actionable trades and strategic income opportunities based on rigorous analysis and event-driven positioning. This winning team has developed a dedicated following of highly knowledgeable investors and industry professionals who also share their own thoughts and ideas on Value Investor's Edge.
Disclosure: I/we have no positions in any stocks mentioned, and no plans to initiate any positions within the next 72 hours.
I wrote this article myself, and it expresses my own opinions. I am not receiving compensation for it (other than from Seeking Alpha). I have no business relationship with any company whose stock is mentioned in this article.