In the first part of our two-part series on Maxygen (NASDAQ:MAXY), we discussed the company's history, its large cash balance, and the contingent payment it may receive from Bayer Healthcare (OTCPK:BAYZF). In this article, we will discuss Maxygen's G34 drug, our valuation estimates based on a downside, base and upside scenario, and our conclusion.
Maxygen's G34 Drug
The second source of value is Maxygen's MAXY G34 drug, the "bio-better" of Amgen's (NASDAQ:AMGN) blockbuster drugs Neupogen and Neulasta. In technical terms, MAXY G34 is designed to be an improved, next-generation pegylated, granulocyte colony stimulating factor, or G-CSF, for the treatment of chemotherapy-induced neutropenia. Sales of Neupogen and Neulasta were approximately $4.8 billion in 2010.
MAXY G34 is the most difficult of Maxygen's assets to value, given that it can be worth anywhere between a negligible amount to half a billion dollars. We assign a value of $50 million for the asset and will explain the rationale below.
In December 2008, MAXY completed a Phase IIa clinical trial for the drug for the treatment of chemotherapy-induced neutropenia in breast cancer patients in which MAXY-G34 was safe and effective in reducing chemotherapy-induced neutropenia with no serious adverse events, drug-related grade 3 or 4 adverse events or immunogenicity reported. Adverse events were consistent with known side effects of G-CSF molecules. Since then, MAXY has delayed both the Phase III manufacturing activities and the planned Phase IIb clinical trial until it could identify a partner who would share the costs.
Part of the delay was also due to certain patent disputes, which were favorably resolved in October 2011. Throughout 2010 and 2011, Amgen and MAXY were locked in a patent fight over certain of Amgen's patents underlying its neutropina drugs. MAXY first emerged victorious in November 2010 when the US Patent Office issued an "Action Closing Prosecution (nonfinal)" that overturned all eight of Amgen's claims in patent 7,381,804. AMGN appealed and MAXY responded until early October, when MAXY announced that the Patent Office had completed its re-examination of the AMGN patents and upheld its original ruling. This was an excellent outcome for Maxygen and boosts its ability to find a partner for the drug.
Furthermore, in the event that MAXY G34 is not commercialized as a branded drug, it could have value in the form of a bio-generic. As well, Amgen could be willing to pay a meaningful sum for the IP simply to take it off the market.
MAXY G34 also has some promise in treating Acute Radiation Syndrome, although a prior partnership with Cangene didn't bear fruit and the Company announced in November that the Biomedical Advanced Research and Development Authority (BARDA) had declined to give a contract award to fund the drug's development.
Valuation
Now that we have discussed MAXY's two sources of incremental value, it makes sense to update the valuation table discussed in our earlier article. Here is a table with our downside, base and high cases for investors.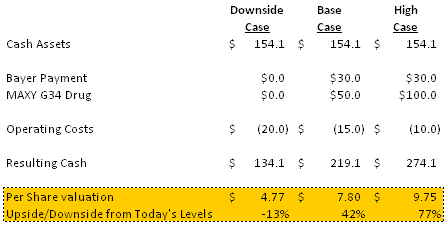 Below we provide a description of the assumptions underlying each scenario.
Scenario

Assumptions

High
Case

In the high case, we assume that (i) the Bayer payment is made, (ii) the MAXY G34 drug is sold / monetized for $100 million of value, and (NASDAQ:III) the company spends only one year of G&A costs prior to distributing cash to shareholders

Base
Case

In the base case, we assume that (i) the Bayer payment is made, (ii) the MAXY G34 drug is sold / monetized for $50 million of value, and the company spends 1.5 years of operating costs prior to distributing cash to shareholders

Downside Case

In the downside case, we assume that (i) the Bayer payment is not made, (ii) the MAXY G34 drug is not sold or monetized, and the company spends 2 years of operating costs prior to distributing cash to shareholders
As we can see, based on our analysis, MAXY has less than 15% of downside in our worst-case scenario, but substantial upside in our base and high cases. In our base case, investors would make a 40% return on their investment, while in the high case, the upside exceeds 75%.
Given this risk-reward profile, we think that MAXY is currently attractively priced.
Conclusion
As discussed above and in our previous article, MAXY appears attractively priced. The company's market capitalization is less than its cash balance, and management has demonstrated a willingness to return cash to shareholders instead of wasting it on overly ambitious R&D programs. The company has a strong chance of receiving an additional dollar per share in cash in the form of a contingent payment from Bayer, and could receive that within the next few months. As well, the company's MAXY G34 drug has some value, and its chance of finding a partner recently increased substantially after the U.S. patent office's final ruling on its competitor's patent claims.
Disclosure: I am long MAXY.