Tesla (NASDAQ:NASDAQ:TSLA) has begun pushing over the air (OTA) updates for cars built with the Nvidia (NASDAQ:NVDA) Drive PX 2 to enable "Enhanced Autopilot." Enhanced Autopilot amounts to a restoration of basic Autopilot features that were available before last October plus some new features. It also marks a critical milestone on the way to "Full Self-driving capability" which Tesla expects to start to deliver this year.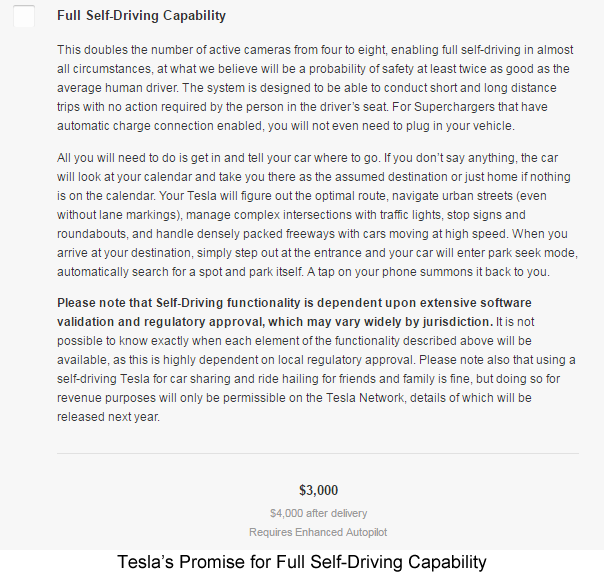 Source: Tesla
Better Late Than Never
When Tesla announced last October that it would be transitioning to a new Autopilot system based on Nvidia's Drive PX 2 system, it put the best spin possible on the situation by claiming that all Tesla cars would henceforth be equipped with hardware sufficient for "full self-driving capability." But in the meantime, basic Autopilot functions were put on hold until new software could be readied for the new hardware. Tesla promised to deliver Enhanced Autopilot by December. Not surprisingly, Tesla missed that schedule milestone.
Often, when Tesla has fallen behind schedule, or missed guidance on deliveries or profitability, this has occasioned Tesla bears to condemn Tesla's "dishonesty." Actually, Tesla is almost painfully honest about its plans and expectations. CEO Elon Musk, like so many engineers in perennially over optimistic.
The smart thing for Tesla to do would be to not make specific promises. When I saw the promise of December availability for Enhanced Autopilot in the Tesla custom configurator, it seemed quite possible that they wouldn't make it.
But after pushing an update that ran Enhanced Autopilot in a "shadow mode,"as I discussed in my article Self Driving Cars Will Succeed, the roll out of operational features began only about a week later on January 21.
Musk warned through Twitter that some cars might require servicing in addition to the OTA update. This also was not surprising given the new sensor suite. A total of eight video cameras are installed and some of these required physical alignment in order to work with the new software.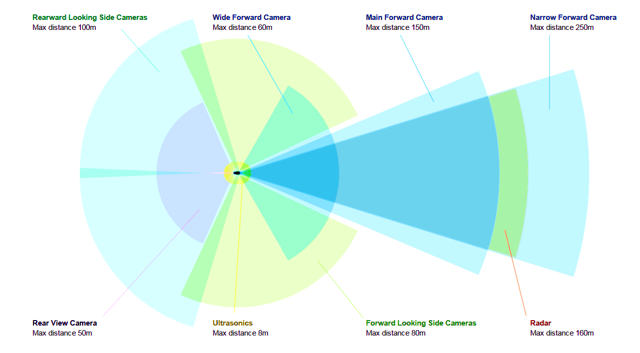 Source: Tesla
So there have been some bumps in the roll-out, and it's by no means complete. Many basic features of the previous Autopilot system have yet to be enabled. For instance, Autosteer is only enabled for low-speed driving and is labeled a "beta" feature. However, as the video shows below, it appears to work reasonably well.
Note that this video shows an early update from January 5.
The roll out of Enhanced Autopilot serves as a proof of concept for the roll out of full self-driving features to come. The update was preceded by a shadow mode update that allowed for testing and validation of the software as well as provided the machine learning algorithms a chance to learn from real world experience without putting Tesla customers at risk.
Onward to Autonomy
It will probably be another month or two before all Enhanced Autopilot features are enabled and out of "beta." This will pave the way for the roll out of Full Self-Driving capability, which could begin in about 3-6 months, according to Musk. Tesla will undoubtedly take the same approach of using shadow mode to test the software in the background, before enabling features in the somewhat piecemeal fashion we're seeing for Enhanced Autopilot.
And what of the horrific liability for the automaker that many have assumed will ensue when a self-driving car crashes? This just doesn't seem to be deterring anyone in the industry, let alone Tesla. And Michigan is falling all over itself to make it as easy as possible for automakers to deploy self-driving cars.
Undoubtedly at the behest of Michigan's automobile industry, the state has enacted what Fortune called "the most permissive self-driving car laws in the country." The Fortune article described the motivations behind the package of bills:
Michigan Gov. Rick Snyder signed a package of automaker-backed bills Friday that aim to clear the way for self-driving cars to operate on public roads and re-establish the state as the epicenter of automotive innovation in a time when much of the attention and praise has centered on Silicon Valley.

The four bills, 995, 996, 997 and 998, establish regulations for the testing, use and eventual sale of autonomous vehicle technology and are meant to more clearly define how self-driving vehicles can be legally used on public roadways. The new laws allow testing of vehicles without steering wheels, pedals, or needed human control-an important allowance that aims to propel Michigan ahead of California, a hotbed of driverless car development. (For instance, California rules prohibit the use of fully autonomous driverless cars that don't have a steering wheel or a brake pedal-like the prototype developed by Google.)
The Detroit big Three, together with Toyota (TM), Uber (UBER), Lyft (LYFT) and Google (NASDAQ:GOOG) (GOOGL) had a hand in fashioning the legislation. Apparently, the automobile industry agrees with me that self-driving cars will succeed.
I acknowledge that liability issues still need to be sorted out, but one has to ask why the industry isn't more concerned. Here's what I believe is the fundamental answer, and this goes back to my thesis that self-driving cars don't need to be perfect, but only significantly better than human drivers.
If it can be shown, as I think it will, that self-driving cars are safer per driven mile than human drivers, that will be widely acknowledged as having tremendous benefit to society. The number of accidents, property damage, injuries and lives lost will be reduced by the new technology. When a technology is socially beneficial, our society has generally found ways to shield the producers of that technology from liability for any harmful side effects.
Thus, the oil industry and the automobile industry have not incurred much liability related to environmental damage or product quality. The exceptions have been for anomalous accidents such as oil spills or negligence in producing obviously unsafe vehicles.
Most of the environmental damage that these industries have done and continue to do has simply been accepted as socially necessary. These industries have been effectively shielded by legislative action from the full scope of the damage they have caused.
I think the automobile industry is assuming that the same shielding mechanism will be put in place to protect them from liability for accidents caused by self-driving vehicles. Once again, the social benefits of reducing accidents, as well as reducing traffic congestion through ride sharing, will outweigh the harm done by the rare accident.
In the meantime, it appears that Tesla is taking the approach of putting the burden of responsibility squarely on the shoulders of the driver. In the Enhanced Autopilot upgrade drivers are required to remain alert and be ready to take control of the vehicle, as shown below in the Enhanced Autopilot release notes: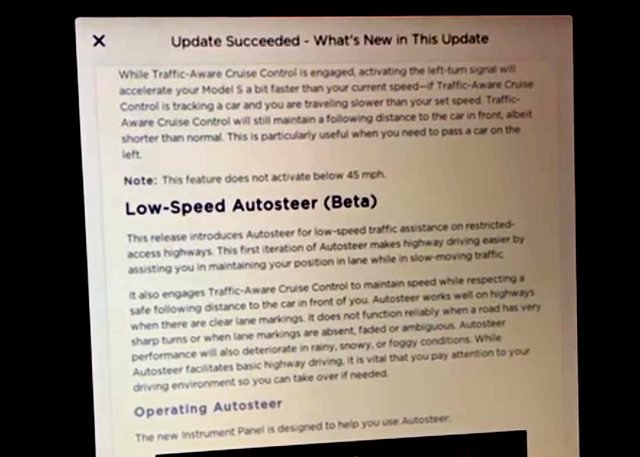 Source: YouTube
Investor Takeaway
While Michigan may have moved out in front of California legislatively, the fact is that Tesla is ahead of everyone. I continue to regard Autopilot as a key discriminator that will propel Telsla's growth, especially when the Model 3 becomes available with Autopilot.
I'm still a little cautious about Tesla because of the SolarCity merger and I'm waiting to see what the damage will be in the December quarter earnings report. I don't doubt that there will be some. Depending on how that turns out, I may upgrade Tesla from Hold to Buy and take a long position, as I discuss in the DIY Investing Summit.*
Nvidia I continue to rate a Buy based on its position in self-driving vehicle technology and GPU based machine learning and high performance computing. When Tesla begins to push the update for Full Self-driving capability, it will be a huge advertisement for Nvidia's Drive PX 2 and the planned successor, Xavier.
*The DIY Investing Summit is a joint project of Seeking Alpha and SA Contributor Brian Bain. The Summit brings together 25 of the top SA contributors, including myself, for in depth interviews with tips for successful investing in 2017. Normally, the Summit requires a fee, but you can get free access by clicking on the link here. Today is the last day to get access to my interview with Brian for free, although other contributors will be available through Friday. After that, the All Access Pass will be required.