"Our country, if you read the 'Federalist Papers,' is about disagreement. It's about pitting faction against faction, divided government, checks and balances. The hero in American political tradition is the man who stands up to the mob - not the mob itself." - Jonah Goldberg

Join me at the DIY Investor Summit going on all this week where I will share detailed tips on my core investment strategies, top advice for DIY investors, and specific ways I'm positioning my portfolio for 2017.

The market rallied nicely on Tuesday in the new administration's second full day in office on a rash of executive activity. Biotech did not participate in the market's rise, as investors seem to be awaiting clarity on if there will be any new regulatory or legislative measures that could negatively impact the industry.
Reuters reporting many fund managers are betting little will change around healthcare and even most of the Affordable Care Act will remain in place at the end of the day. I concur with this view. The fact is that any government program, even the bad ones; are very tough to repeal once they are implemented and have developed constituencies that would be affected if these policies changed. It is why such "temporary" government policies like "rent control" and Daylight Savings Time implemented due to WWII remain with us today.

It is early in the year, but M&A speculation is already picking up on a notable uptick in activity to begin the year. Early this week, TheStreet's Adam Feuerstein listed five reasons why Celgene (NASDAQ:CELG) should acquire Biogen (NASDAQ:BIIB). Although on the face of it, some of the reasons seem logical; I don't see this purchase happening due to its size. Celgene has been leaning for some time to doing myriad collaboration deals across numerous focus areas. I don't see that changing. More likely Biogen might do smaller deal as they have just spun off their hemophilia business. Acadia Pharmaceuticals (NASDAQ:ACAD) would make logical sense. It is around the same size with buyout premium as business Biogen just released and the company's drug Nuplazid would make a logical addition to the company's existing product portfolio.
Speaking of mergers, we did have one very small acquisition announced the other day. Intrexon (NYSE:XON) will buy Genvac (NASDAQ:GNVC) for just over a 50% premium. This micro purchase will close next quarter. Intrexon intends to integrate and expand upon GenVec's expertise in adenoviral vectors and cGMP drug product manufacturing with the aim of enhancing its gene transfer capabilities that encompass multiple viral and non-viral platforms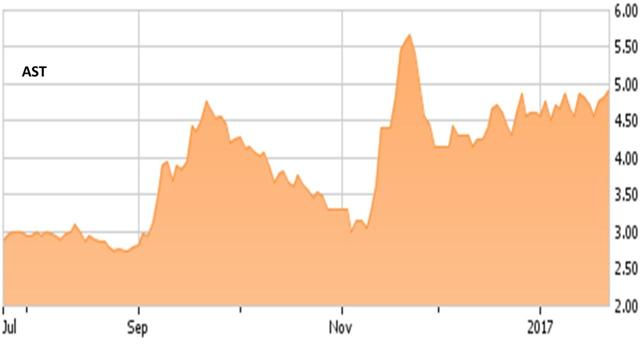 Asterias Biotherapeutics (NYSEMKT:AST) got a bit of lift on Tuesday and bucked the overall slightly negative trading action overall in biotech land as it announced that patients with complete cervical spinal cord injuries who received the company's 10M AST-OPC1 cells showed additional motor function improvement six and nine months following treatment. The data were generated within an ongoing Phase 1/2a SCiStar study. This interesting little small cap concern has had a big run since I highlighted it in July due to the insider buying it was seeing in its stock at the time.

Adamis Pharmaceuticals (NASDAQ:ADMP) was reiterated as a Buy over at Maxim Group with a $10 price target - three times the current price of the stock. It was only the second analyst action I can see on the shares in a year. The stock was initiated as a Buy with a $5 price target by little known B. Riley late in December. I recently profiled this "off the radar" play. More importantly for the company's prospects, the FDA just accepted accepted for review the New Drug Application for its epinephrine pre-filled syringe which previously had been delayed within a complete response letter according to Maxim.
Robert W Baird upgraded Amicus Therapeutics (NASDAQ:FOLD) to Outperform from Neutral and lifted its price target to $10 from $7 previously. The stock fell hard late in November after the FDA declined to consider accelerated approval for its compound galafold for Fabry Disease even though the drug had been approved for the same indication in Europe in the second quarter.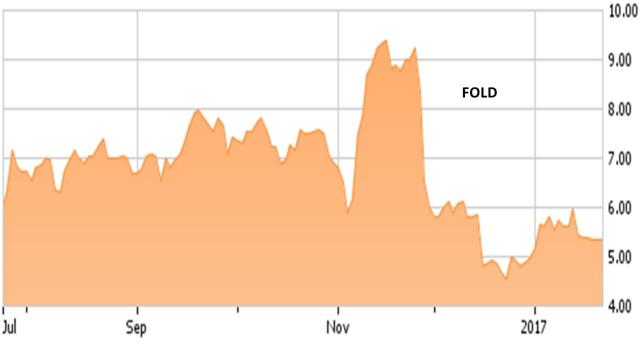 As I articulated in an exclusive Biotech Forum post, at that point the stock was probably undervalued for galafold's potential outside the United States not to mention the two other late stage compounds in Amicus's pipeline. The stock has also seen some notable insider buying of late.
Mr. Feuerstein may think Biogen is a good buy for Celgene, but the value of the stock at current levels does not seem to be very attractive to the analyst community at the moment. In the last week, Jefferies, Credit Suisse, Cantor Fitzgerald and Robert W Baird have all reissued Hold ratings on the shares. Cantor is the least optimistic on the stock with just a $293 price target. Cantor's analyst notes this as one reason for his pessimism "BIIB's MS franchise is apt to face market pressures that we believe the pipeline is not well positioned to mitigate".

In today's Spotlight feature we revisit small cap Paratek Pharmaceuticals (NASDAQ:PRTK) which was the only small cap Robert W Baird had on its recently issued top biotech picks for 2017 list. This is also a name I get asked about a few times each month it seems.
Company Overview:
Paratek Pharmaceuticals is a small biopharma concern out of Boston that focuses on the development and commercialization of therapeutics based upon tetracycline chemistry. The stock currently has a market capitalization of ~$330 million and the shares trade just north of $14.00 a share.
Pipeline:
The company has two compounds in development.
Sarecycline:
This is by far the lesser of the two compounds when looking an investment analysis of this small concern. This drug is aimed at one indication "Inflammatory Acne Vulgaris" and is in Phase III trials. The drug is partnered with Allergan (NYSE:AGN) in the United States and is wholly owned by Paratek outside the country.
Omadacycline:
This compound is the key to Paratek's future. This broad spectrum antibiotic is being aimed at multiple indications the most important of which are ABSSSI and CABP. Omadacycline has received QIDP & SPA designations for both indications. Phase III trials for ABSSSI are underway and enrollment into the CABP trial just completed enrollment. Paratek reminds me very much in the area it is targeting as Cempra (NASDAQ:CEMP). Hopefully the outcome for Paratek's shareholders will be the exact opposite to that imploded concern. If trials go well, the company plans to file a NDA on Omadacycline sometime in the first half of 2018.
Analyst Commentary & Outlook:
Since early November one analyst firm has initiated the shares as a "Buy". Four more have reiterated Buy ratings on the stock. The aforementioned Robert W Baird has a $40 price target on PRTK. Other price targets profferred range from $23 to $47 a share. The current median analyst price target stands at just over $34.00 a share on Paratek. Baird's analyst "continues to believe omadacycline is underappreciated with what is expected to be a transformational 2017 (Phase 3 data from oral-only ABSSSI 2Q17 and CABP 3Q17)". At the end of the third quarter, the company has approximately $120 million in cash against roughly $20 million in long term debt. At Paratek's current "burn rate" this should get it to the NDA filing estimation for omadacycline.
Outlook:
Paratek does not have the typical "shots on goal" I typically like to see before taking a small stake in a developmental biopharma concern. However, its key product should have a significant market. If omadacycline is successful, this stock seems significantly undervalued if the drug garners approval. It is also well-funded and well-liked in the analyst community. I have established a very small holding therefore in Paratek and watch the firm's progress. In addition, Paratek violates my "Ten Year Rule" so any investment is this name should be considered highly speculative despite the positive views of the analyst community and a potentially large market for its key product.

I am honored to partner with Seeking Alpha as a presenter at the DIY Investor Summit. In total, 25 of the best investors on Seeking Alpha have gathered to share detailed tips on our core investment strategies, top advice for DIY investors, and specific ways we're positioning for 2017. It is 20 to 25 hours of free investment insight from the top viewed contributors on SeekingAlpha that will be going on throughout the week. This is a unique event that you will not want to miss. Free registration is still open.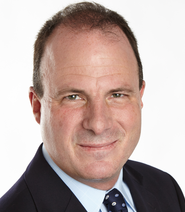 Thank you and happy hunting,
Bret Jensen
Disclosure: I am/we are long ACAD, ADMP, AGN,AST,CELG, CEMP, FOLD.
I wrote this article myself, and it expresses my own opinions. I am not receiving compensation for it (other than from Seeking Alpha). I have no business relationship with any company whose stock is mentioned in this article.
Editor's Note: This article covers one or more stocks trading at less than $1 per share and/or with less than a $100 million market cap. Please be aware of the risks associated with these stocks.