Based on the December 2016 data of Sensor Tower, Activision Blizzard (NASDAQ:ATVI) is getting decent return from its $5.9 billion bet on King Digital. King's Candy Crush Saga mobile game is still earning much more than Activision Blizzard's Hearthstone: Heroes of Warcraft mobile game. Candy Crush Saga therefore remains Activision's best hope in the mobile games front.
Last month's estimated global net sales (30% commission of app store owners were deducted) of Candy Crush Saga was $24 million from iOS devices, and $16 million from Android devices. Hearthstone made monthly net sales of $10 million from iOS/Android device users last month. Based on the chart below, Candy Crush Saga is also still generating a lot of downloads.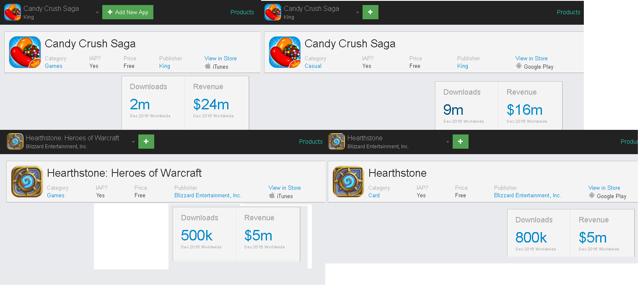 (Source: SensorTower)
The revenue from Android device users in China are not yet included. There's no official Google (GOOG) (GOOGL) app store in China. Sensor Tower has no access to the data of the many Chinese third-party app stores.
In the U.S., ThinkGaming ranked Candy Crush Saga as the 2nd top-grossing iPhone game. Candy Crush Saga is again making estimated six-figure average daily sales from American iPhone players. Earning $1 million or more every day from U.S. iPhone players can help sustain Candy Crush Saga's global iOS monthly net sales of $20 million-to-$30 million.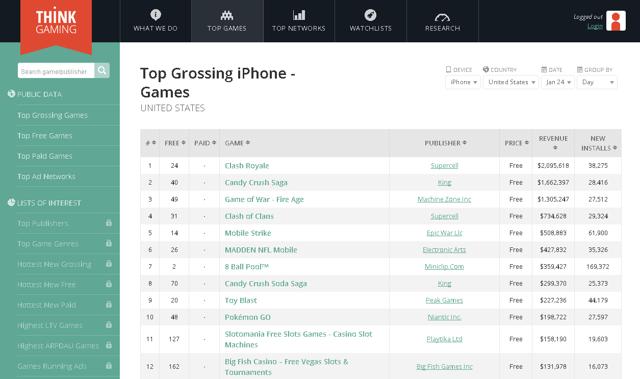 Source: ThinkGaming.com
Making an estimated $40 million in monthly net sales from an almost-five-year-old mobile game should be reassuring for long-term ATVI investors. The iOS version of Candy Crush Saga was first released in April 2012 and yet many iOS players are still spend big money on it.
Superdata Research estimated that people spent $41 billion in mobile games last year. Meanwhile, Newzoo estimated that 82% of the $44.8 billion spent last year on apps were for games. Activision's future clearly depends on how good it will perform in the mobile games arena.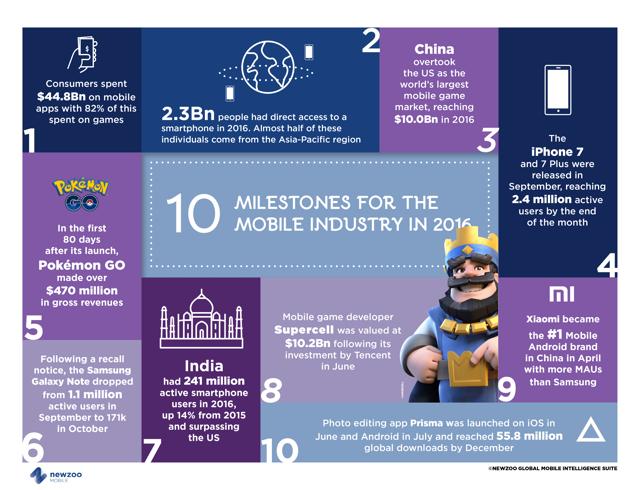 (Source: Newzoo)
Mobile App Analytics firm App Annie's published 2016 Retrospective report identified Activision as the world's fifth top-grossing mobile games publisher. As long as Candy Crush Saga generates $40 million or more global monthly net sales, I expect Activision to remain among the leaders in the mobile games industry.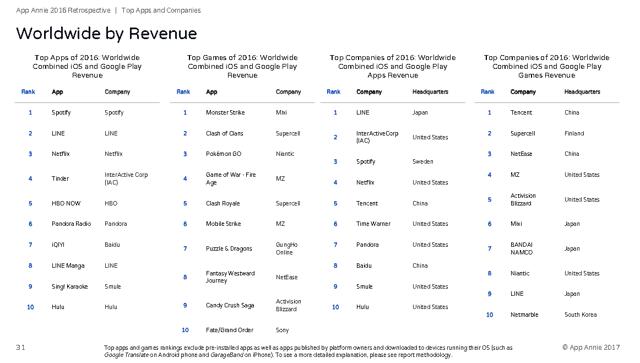 (Source: App Annie)
Of course, it is highly desirable that King Digital also come up with another hit mobile game franchise. The still-strong monthly sales from Candy Crush Saga should allow King Digital to experiment/ develop new titles.
Magmic also estimates that 40% of Candy Crush Saga players are male. King Digital will likely develop new titles beyond its puzzle genre comfort zone. King Digital will find it worthwhile to imitate the strategy games of Supercell or the social casino games of Big Fish.
Activision's access to the 394 million monthly active users of King Digital is also very important. Should Activision Blizzard decide to port its male-targeted World of Warcraft MMORPG, Starcraft, or Diablo PC games to mobile devices, they could be advertised to King Digital's male customer base.
Final Thoughts
I remain long ATVI. I do not expect Candy Crush Saga to generate $1 billion in annual sales anymore but I believe it can generate $40 million or more in average global monthly net sales for two more years.
This revenue stream will help Activision improve its share in the $41 billion/year mobile games industry.