One of the most enjoyable aspects of dividend growth investing is being able to see my income grow on a consistent basis. Between the reinvestment of dividends and the organic growth produced by dividend increases, my portfolio income has been on a steady march higher since it was built in early 2013.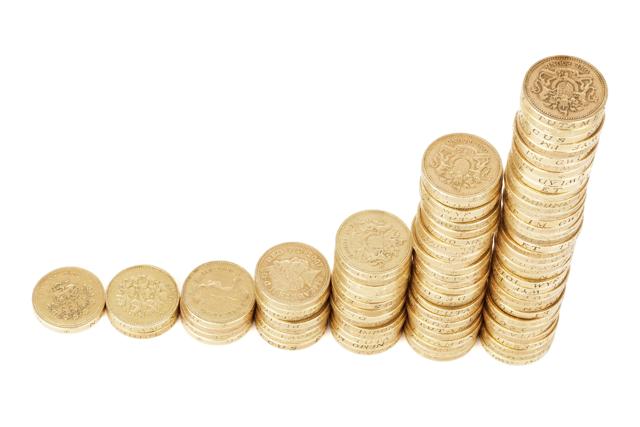 Watching this growth is a nice diversion from the volatility I see in the size of the portfolio, and is always a good reminder that I am making progress towards my goals whether it is an up day or down day in the market.
For those who don't know David Fish, he is a Seeking Alpha contributor and creator of the U.S. Dividend Champions List; a spreadsheet that he updates monthly and graciously posts for free to assist others in their research.
Last Friday, David posted one of his regular updates highlighting the Champions, Contenders, and Challengers (otherwise known as CCC List) that are expected to raise their dividends in the next 11 weeks. Whenever I see one of his articles posted, I quickly scan his spreadsheet to determine which of my companies are on the list.
This time I was able to find 10 companies on his lists that are expecting raises, and from my personal tracking sheet I identified another that will likely announce a dividend boost with its next declaration.
Here are the 11 companies that made the list, along with their historical dividend growth rate information from the CCC List: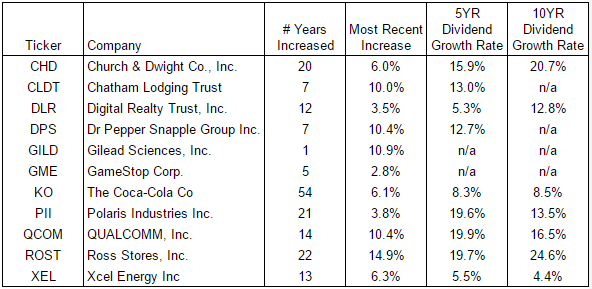 There are a wide variety of businesses represented, with members of the REIT, Consumer Staple, Healthcare, Consumer Discretionary, Technology, and Utility Sectors on the list. There is also a wide range of dividend history, as recent dividend initiator Gilead Sciences has just one year of dividend growth, while Coca-Cola is working on a 54-year streak of increases.
Many of the companies have had growth rates in the double-digits, but I'm skeptical that there will be many of those types of increases this year. This is due to several reasons, such as poor business conditions from GameStop, Polaris, and Chatham Lodging Trust; rising payout ratios from Coca-Cola and Qualcomm; and slowing EPS growth from Church & Dwight and Ross Stores.
Here are my predictions for each company, along with 2016 and 2017 analysts' EPS estimates, payout ratios, and my expected announcement date for the dividend declarations.

Church & Dwight Co. Inc. (NYSE:CHD) has a stated policy to target a 40% payout ratio for its dividend, so it is one of the easier ones on the list to predict. My expectation is for a raise to $0.19 per quarter, which is an increase of 7.04% and would be a 40.2% payout ratio based on current EPS estimates. I would be disappointed with anything lower than this, and think there is potential for $0.195, which would be a nearly 10% boost.
Chatham Lodging Trust (NYSE:CLDT) is expected to see a 3% decline in FFO in 2017, and the current 59.2% payout ratio is already above company guidance of 50%. My guess is a minimal increase to $0.1125 per month, which is a 2.27% increase over 2016. It wouldn't surprise me to see the same dividend declared now, with a potential increase to happen later in the year.
Digital Realty Trust, Inc. (NYSE:DLR) has seen smaller dividend increases the last few years as it has worked to lower the payout ratio, but management has hinted that the payout is at a comfortable level now and we could see room for increases going forward. My expectation is a $0.05 increase, which is a 5.7% boost and roughly matches FFO growth in 2017.
Dr Pepper Snapple Group (NYSE:DPS) is another company that provides payout ratio guidance, this time at 50% of earnings. Again, this takes some of the guesswork out of it, and leads me to predict a $0.06 increase to $0.59, providing a 49.9% payout ratio on expected earnings.
Gilead Sciences, Inc. (NASDAQ:GILD) is one stock that isn't yet on David Fish's spreadsheet, but I think will soon be announcing a dividend increase. This is one of the more difficult ones on the list, as it doesn't have a history to go by, nor has management provided any sort of guidance for future payout ratio targets.
My thinking is the company will at a minimum produce 10% growth to $0.52 per share, but I'm optimistic that we will see at least $0.55, which would be a 17% increase. Even at that rate, the payout ratio is just 20%, well below its peers. If management really wanted to make a splash it could do something like a 40% boost to $0.66, which would be a 24.6% payout ratio and would provide an attractive 3.6% yield on forward basis. Decreasing sales and questions about growth has caused share prices to stagnate, maybe a move like that would be something the market would notice and bring new buyers to the table.
GameStop Corp. (NYSE:GME) has been struggling of late as it works to transition its business from hardware to digital and tries to increase its percentage of sales from its technology and mobile brands. As a result it saw just a 2.8% increase in the dividend in 2016, and I suspect the next increase will be similarly small in 2017. Despite the struggles, the payout ratio is still a reasonable 40% of earnings, and appears safe despite the high 6.2% forward yield.
The Coca-Cola Company (NYSE:KO) has a 54-year streak of dividend growth, and is one of the most owned companies by dividend growth investors. However, it has seen a rising payout ratio in recent years as EPS growth has stagnated with headwinds from a strong dollar and declining soda consumption. Analysts are expecting just 3% in earnings growth in 2017, and I suspect the dividend growth this year will again be lower than in years past. I am predicting a $0.365 dividend, good for a 4.3% increase and 74% payout ratio.
Polaris Industries Inc. (NYSE:PII) has really struggled the last year and saw earnings fall by nearly 50% in 2016. While they are expected to rebound in 2017, the payout ratio is well above the historical ~30% rate, which will likely lead to another minimal increase in the dividend. I am predicting a penny increase to $0.56, which is just 1.8% more than last year.
QUALCOMM, Inc. (NASDAQ:QCOM) is a company with a lot going on right now. It is working towards an all-cash acquisition of NXP Semiconductors (NASDAQ:NXPI) that could close later this year, and it has also been hit by charges from the FTC and a lawsuit by Apple over its licensing practices. I may be a tad high on my projection of a 9.4% increase to $0.58, but I think it is reasonable based on expected earnings growth of 7.5% and its recent history of double-digit dividend growth. That said, I wouldn't be surprised if the increase is much smaller this year as they company appears to have plenty of other needs for its cash in 2017.
Ross Stores, Inc. (NASDAQ:ROST) has been pumping out 15%+ dividend growth for the last 22 years, but that might be coming to an end in 2017. I am predicting an 11.1% increase, roughly in line with EPS growth. However, I think this is the low end of possibilities, and wouldn't be surprised if the company expanded the payout ratio slightly to maintain the ~15% growth rate.
Xcel Energy Inc. (NYSE:XEL) has seen an increasing dividend growth rate over the last 10 years, as it allowed the payout ratio to come down from 2007-2013, followed by higher earnings growth in recent years. Going forward management has guided for 4-6% earnings growth and ~7% dividend growth. This leads me to predict a $0.365 dividend, which is a 7.35% increase, and provides a payout ratio of 62.9% on expected earnings.
Conclusion
In all, I am expecting an average increase of 7.28% for these 11 companies, which isn't too bad considering the lackluster expectations for a few of them. With an average forward yield of 3.48%, this would still generate roughly 10% income growth for the year when factoring in dividend reinvestment. This is below my long-term target of 12%, but still isn't too bad in this market.
I'm looking forward to seeing how these predictions play out over the coming weeks. While I'm fairly confident in some of the predictions like Xcel, Dr Pepper and Church & Dwight, there is a bit more uncertainty with the other names.
If nothing else I have some events to look forward to; it's always fun to get those income raises!
If you would like to receive notifications when my future articles are published, I kindly ask you to click the "follow" button next to my name at the top of the page. Additionally, you can follow my investment blog at www.DGIfortheDIY.com.
Disclosure: I am/we are long CHD, CLDT, DLR, DPS, GILD, GME, KO, PII, QCOM, ROST, XEL.
I wrote this article myself, and it expresses my own opinions. I am not receiving compensation for it (other than from Seeking Alpha). I have no business relationship with any company whose stock is mentioned in this article.
Additional disclosure: I am a Civil Engineer by trade and am not a professional investment adviser or financial analyst. This article is not an endorsement for the stocks mentioned. Please perform your own due diligence before you decide to trade any securities or other products.