Starbucks (NASDAQ:SBUX) is set to report earnings Thursday, 1/26, after the bell. We have said time and time and time again that shares of Starbucks are richly valued and have no upside. Since our first bearish article in May 2016, shares of Starbucks are up just over 1.5% and are considerably underperforming the S&P 500 and Dow. We believe this underperformance will continue as we maintain that shares are richly valued relative to long-term growth potential.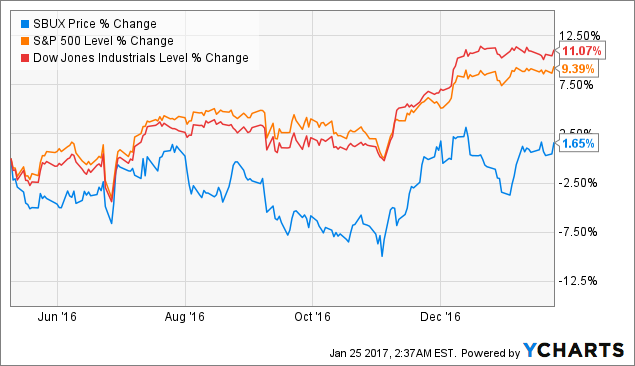 Here are some of our quick thoughts on the quarter and the stock's current position:
Lower growth but a higher multiple isn't a great combo. In Q3, it was a big deal that Starbucks broke a 25 consecutive quarter streak of 5% or higher comps. Q4 consolidated comps came in below 5% as well, and the 13% earnings growth analysts are looking for this quarter is the slowest in five years. It certainly feels like we are settling into an era of slower growth characterized by 5% or lower comp growth and low-to-mid teens earnings growth (versus 20%-plus CAGR since 2012), but the stock's earnings and EBITDA multiples have meaningfully expanded since the beginning of 2015. Even if the company manages to top depressed estimates on Thursday, we don't really see shares moving that much higher because the multiple is already stretched relative to growth.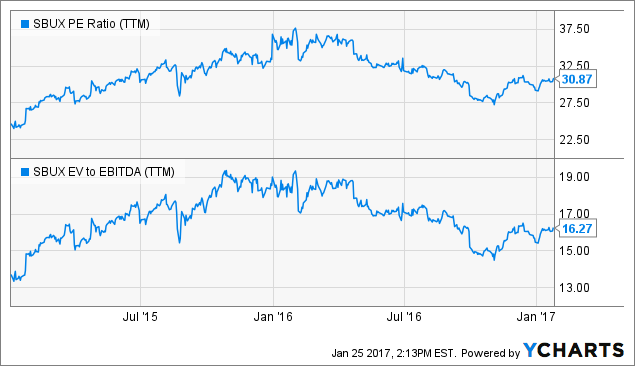 SBUX PE Ratio (NYSE:TTM) data by YCharts
Pokemon Go catalyst might have been a big boost in the quarter, but it isn't a long-term tailwind. Starbucks turned many of its US locations into Pokestops or Gyms in December. If the company beats estimates, higher traffic from the Pokemon Go craze could be the reason why. This, however, is a short-term boost that we do not see having a long-term, additive effect.
November's price hike likely sparked more customer churn than expected. Starbucks has had a price hike every summer since 2013, so the July 2016 price hike was largely expected by consumers. Unexpectedly, though, Starbucks proceeded to do a second 2016 price hike in November. Fortune, CNBC and Consumerist all sourced the Twitter (NYSE:TWTR) feed to find out that the unexpected price hike was an unwelcome surprise to consumers. Moreover, it came at a time when Starbucks was at the center of some controversy with the Trump Cup movement and the green cup uproar.
The US dollar's Trump rally will show up negatively in Starbucks' earnings. Starbucks results have recently been weakened by foreign exchange headwinds, and those headwinds markedly accelerated in the quarter. Per Bloomberg's Dollar Index, we can see that the dollar strengthened significantly in November and December. This will show up negatively in the quarterly report in CAP and EMEA numbers.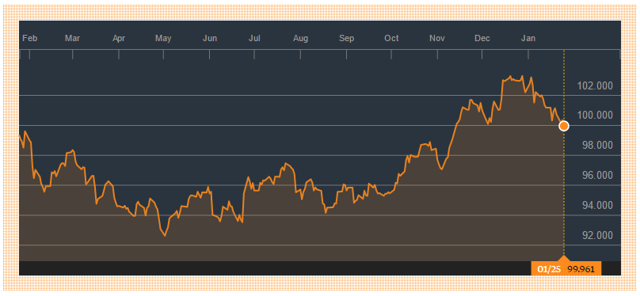 Starbucks is still the most popular coffee house in the United States, but its popularity isn't growing. Piper Jaffray's Taking Stock With Teens survey still shows that Starbucks is the most preferred restaurant among the teenage demographic, but mind-share has been flat since early 2015.
Overall, the stock continues to feel richly valued relative to its slowing growth. Management's long-term plan calls for MSD comps and 15%-20% earnings growth, and we think a more realistic outlook for the next five years is 5% or lower comps and 13%-15% earnings growth. The stock sports a trailing P/E multiple nearing 31x. We do not think many investors will rush to pay 31x earnings for mid-teens growth, regardless of how the quarter plays out.
Disclosure: I/we have no positions in any stocks mentioned, and no plans to initiate any positions within the next 72 hours.
I wrote this article myself, and it expresses my own opinions. I am not receiving compensation for it (other than from Seeking Alpha). I have no business relationship with any company whose stock is mentioned in this article.