Back on June 16, 2016, we highlighted a closed-end fund that had a "kicker" to it. In "High-Yield With A Twist: Activist Alert" we detailed the Pacholder High Yield Fund (NYSEMKT:NYSEMKT:PHF), a JPMorgan (JPM)-run fund that had activists swarming.
Activists typically attack orphaned, lone or smaller funds, and the best of the best of these players is Bulldog Investors run by Phil Goldstein. They have the process down to a science and can often produce the most material change in the shortest amount of time.
The first SEC filing noting any material ownership was June 8th, where Bulldog informed the regulatory agency that they owned over 11.8% of the shares. At the end of that trading day, the shares were at $7.00 and traded at a 6.54% discount to NAV.
Our conclusion back in June was the following:
We think the discounts will close over time as more 13Ds are released and Bulldog's true intentions are announced. Still, an investor looking for high-yield, especially high-yield of the safer variety with minimal triple-C rated securities, should take a hard look at PHF. The tighter duration and higher credit quality along with the 8.5% monthly distribution are very attractive on a standalone basis. The current 7.1% discount is likely to juice that return as the discount narrows. If one is going to have an allocation to high-yield anyway, either through ETFs, or open or closed-end funds, then it makes sense to add one with the high probability for additional upside potential should activists prevail in their efforts. That is pure alpha, which is what we are all seeking.
Timeline Of Events
June 8, 2016 filing showing 11.67% ownership, with item 4 noting that they "may communicate with management about measures to enhance shareholder value."
November 1, 2016 13D filing with letter

sent to Pacholder's board of directors by Phil Goldstein in regards to a shareholder proposal requesting that the board authorize a self-tender for all outstanding shares and, if more than 50% of shares submit for the tender, that it be canceled and to take the initial steps to convert the fund into an open-end mutual fund or be liquidated.

November 25, 2016 13D filing with a letter from Goldstein nominating 12 directors to the board.
On January 23, 2017, the board announced the liquidation of the Pacholder High Yield Fund subject to shareholder approval. The proposed plan of liquidation will be submitted to the fund's shareholders at the annual shareholder meeting in May. If approved by the shareholders, the fund will be slated to be liquidated on July 31, 2017.
On the day following the press release regarding the full fund liquidation, the shares jumped by approximately 6%. On January 23rd, at the close of the trading day and just prior to the announcement, the shares traded at $7.38 and a discount to NAV of 7.47%. The next day, the shares traded at $7.79 for a discount of 2.29%.
We held the fund since our original article on the 16th of June last year with an initial entry price of $7.07. Since then, we have collected $0.33 of monthly cash distributions and then had a sale price of $7.81 on January 24, 2017. The total return for our now closed trade was 15.1% (24.0% annualized). This compares with a total return of 5.38% for the high-yield benchmark, the iShares High Yield ETF (NYSEARCA:HYG). The alpha produced by the activism allowed the fund to crush the benchmark in total return.
What's Left?
Though we have sold and moved on, there is still an opportunity for alpha generation. At $7.75 (closing price on Jan 25, 2017), the fund has 2.76% of discount narrowing to go. Between now and July 31, that is a 5.39% annualized return possibility for investors to enjoy while still being exposed to high-yield factors.
Think of it as a merger arbitrage play with alpha left on the table (a spread if you will) that assesses some level of risk in case, for one reason or another, the liquidation does not go through. As we approach that date, the discount should slowly close - especially following the shareholder meeting in May.
In a published research piece from early November, we showed a playbook for alpha generation through activism in closed-end funds. The following is the discount chart of Nuveen Global Equity Income (NYSE:JGV), which Bulldog also successfully attacked and had open-ended into their similarly positioned mutual fund. A similar chart at the tail end of PHF's life is expected.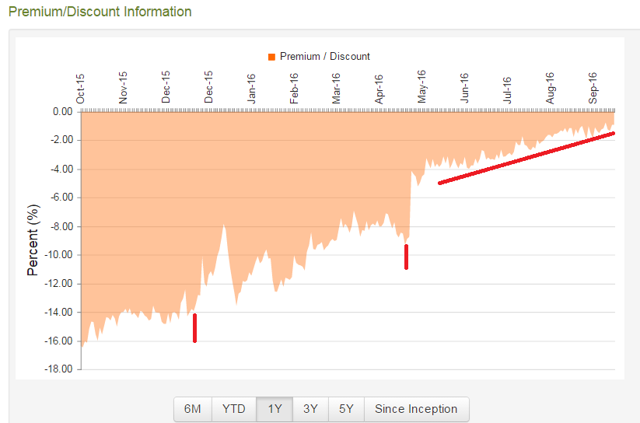 (Source: CEFConnect.com, AGC)
Bottom Line
This was a classic attack and victory by the best activist in the closed-end fund space, Bulldog Investors. There are many more opportunities available today, and our marketplace service makes it a habit to identify the current opportunities where we think there is a high probability of alpha-generation.
Note: To get these types of articles as soon as they are published, just click on the "Follow" button next to my profile and choose the "Real-time alerts" option.
Marketplace Service For Those Hunting For Yield
In April 2016, we launched our marketplace service "Yield Hunting: Alternative Income Investing" dedicated to yield/income investors who wish to avoid the froth associated with most of the equity market. We encourage investors to utilize the free two-week trial in order to benefit from our yield opportunities within closed-end funds, business development companies, and other niche areas. We have constructed easy-to-follow "low-maintenance portfolios" with a yield in excess of 9% on a tax-equivalent basis with capital gain optionality. The core portfolio was up 16.1% through December 31st and generates a high-single digit yield, while taking less than half the risk of the S&P 500 on price and one-quarter on NAV. For safe and reliable income streams, check out our unique marketplace service.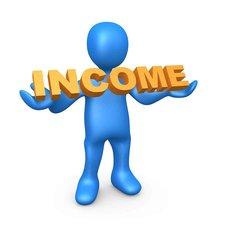 Yield Hunting Essential Reading:
New Website: