Fannie Mae (OTCQB:FNMA) and Freddie Mac (OTCQB:FMCC) will announce their plans to hand over several billion dollars to US Treasury unless something changes. This is all part of a Senior Preferred Securities Purchase Agreement that converted two private Fortune 50 companies into off balance sheet government agencies. Fannie and Freddie (the GSEs) were forced into conservatorship in 2008 and since then have had their earnings flushed to Treasury. Treasury injected itself into the capital structure between debt and existing equity in an attempt to zero out equity holders, satiate bondholders, and push profits to the TBTF banks.
Investment Thesis: The chief problem with running down the equity of the two Fortune 50 companies that run the mortgage market in America is that it puts agency mortgage backed securities at risk. The government has been making up its own rules about who gets paid first and has instituted a net worth sweep that effectively converted the economics of their preferred security to common shares. The government says that the bondholders are not at risk but that implies a willingness to stay out of receivership. A receivership after a multi-year period of paying out hundreds of billions of cash dollars to a controlling equity interest that systematically reduced the quality of claims by bondholders would be unprecedented and I'm not a lawyer but things could look similar to the GM (NYSE:GM) / Chrysler Restructuring. This outcome would lead to system instability and it would be difficult to find new money willing to invest into mortgage backed securities. More likely than not, this leaves some sort of recapitalization scenario to be the most likely outcome. As such, I own preferred shares, which I would expect to pay dividends upon the implementation of a recapitalization plan.
FHFA's Legal Noticing Parade
If the government is good at anything, it's certainly going the extra mile in noticing the courts about anything that they can construe in their favor. FHFA noticed several courts regarding a recent ruling in Florida regarding the outstanding accounting fraud lawsuit (1, 2, 3). More interesting, however, is the Fairholme response in the Perry Capital Appeal case to FHFA's notice: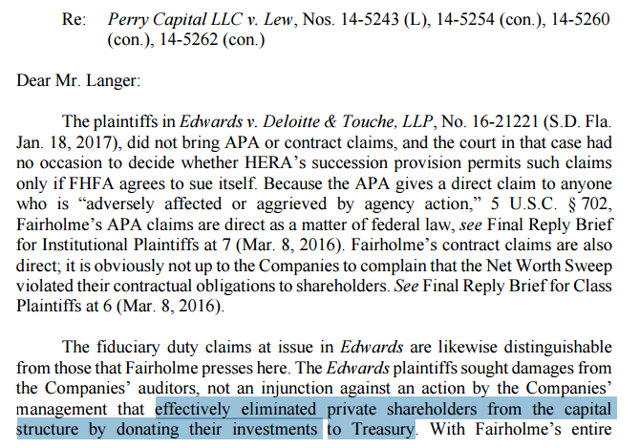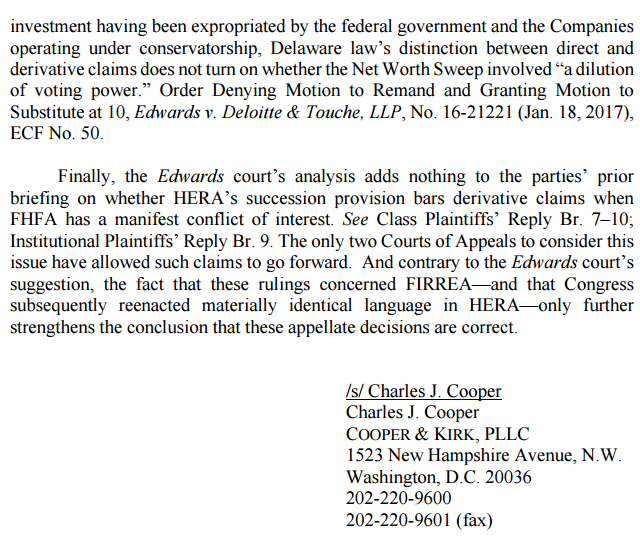 My interpretation is that the Edwards ruling heavily relied on the original Perry Capital ruling. I'm not a lawyer but it is my understanding that this type of lower court alignment is how things work until they are potentially fixed by higher courts and then the lower court rulings are appealed.
Incoming Treasury Secretary Nominee Steve Mnuchin
Considering that the Senior Preferred Securities Purchase Agreement is between two government agencies on behalf of two off-balance sheet government agencies, a new head of the one with the ownership claim may open the door for a change in terms. Mnuchin recently answered additional questions posed to him after his Senate Finance Committee Interview. Below are the relevant snippets: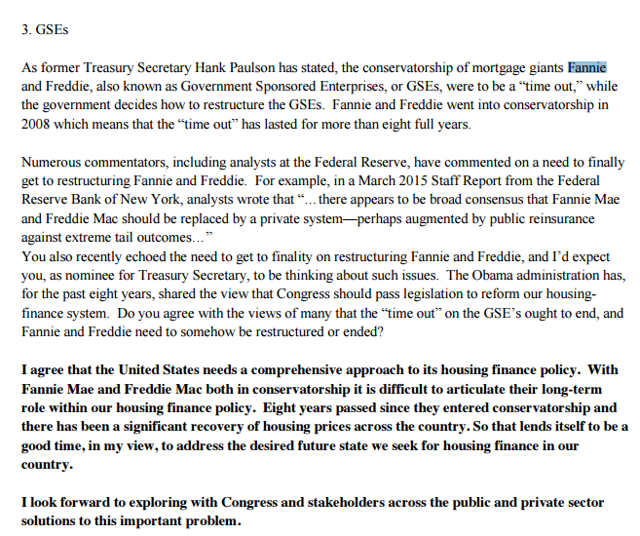 We know that housing prices have recovered and that Mnuchin is interested in increasing private sector participation and protecting taxpayers: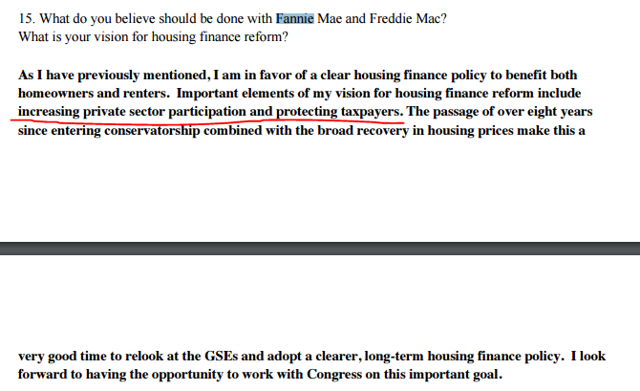 Lastly, we discover that Mnuchin wants the conservatorship to end during this presidential term: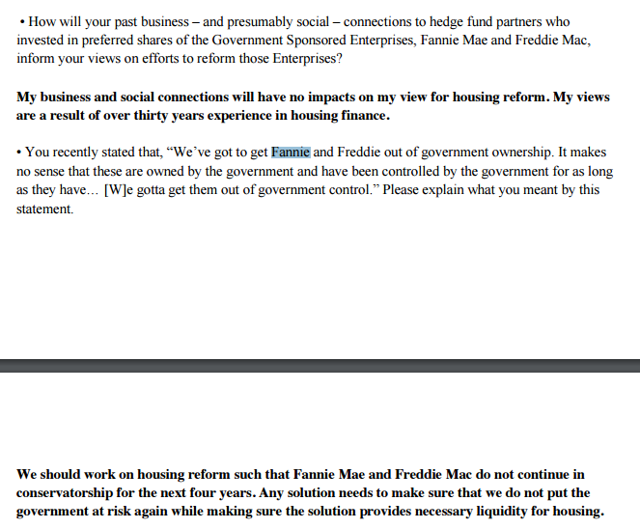 At the hearing, Mnuchin said that in the past Fannie and Freddie were well-run without creating risk to the government. Mnuchin also said that Fannie and Freddie were very important entities for the necessary liquidity for housing finance. Here's how this works if you ask me. First thing, Mnuchin has the power to end the net worth sweep which if eliminated will force Fannie and Freddie to begin retaining their earnings. Technically, once this happens, the hopes and dreams of the people who have been trying to systematically transfer their profits elsewhere will be put to bed. The only option left on the table is one of recapitalization. Considering that Mnuchin wants to protect taxpayers, reform will likely mean restricted business and higher capital requirements.
Summary & Conclusion
I have 4050 shares of FMCCH, 10860 shares of FMCCP, 8312 shares of FMCCT, 2600 shares of FMCKI, 1341 shares of FMCKO, 17585 shares of FMCKP, 17304 shares of FNMFN and 5 shares of FNMFO. That's a par value of over $3.5M and I have roughly $233K of debt.
I don't know what guarantee fees will be in the future but returning to historical norms wouldn't be a surprise. I also don't know if the capital is going to come from restating the financials upon a release of thousands of documents that the government has been withholding that likely prove that they've been misleading the public but in either scenario the outcome is the same for me as a preferred shareholder. The reason to believe that the government has been misleading the public is the hundreds of billions of dollars of inconsistency between their actual cash profitability and their public accounting statements during conservatorship.
The recent Deloitte ruling says that only the government can sue its auditors that it chooses when it places companies into conservatorship, which basically permits the government to literally do whatever it wants during conservatorship in spite of any stakeholder, debt or equity.
Disclosure: I am/we are long FMCCH,FMCCP,FMCCT,FMCKI,FMCKO,FMCKP,FNMFN,FNMFO.
I wrote this article myself, and it expresses my own opinions. I am not receiving compensation for it (other than from Seeking Alpha). I have no business relationship with any company whose stock is mentioned in this article.
Editor's Note: This article discusses one or more securities that do not trade on a major U.S. exchange. Please be aware of the risks associated with these stocks.