Digitimes reported that Nvidia's (NASDAQ:NVDA) growing success in selling its own brand of Founders Edition Pascal GTX 10-series GPU products is going to hurt the profit of its third-party partners. My own take is that it will be good for everybody. Nvidia ramping up its own brand of GeForce cards will inspire its GPU chip customers to improve their versions.
Yes, add-in board partners (like Asustek, Colorful, MSI, Palit, EVGA, and Zotac) already raised concern about Nvidia's move last year. Nvidia's prerogative is it can release its Founders Edition products one month before its third-party partners could launch their own equivalent GPU products.
Nvidia shared the Founders Edition reference design to its partners. However, one month of exclusivity certainly gives Nvidia the big edge. Having the first-to-market advantage assures protects Nvidia's success as a retailer. The best thing that third-party GPU card makers could do is to offer improved versions of a Founders Edition product.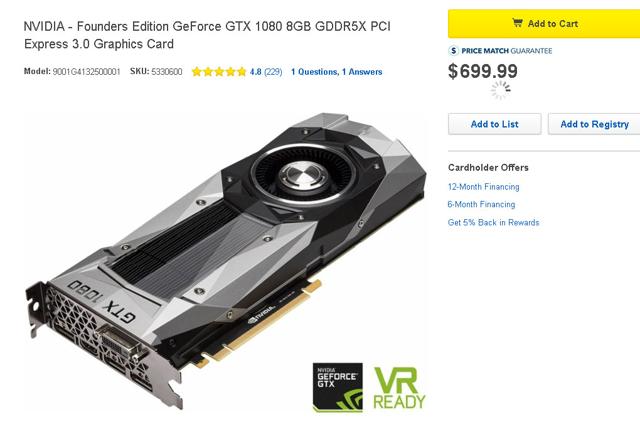 (Source: Nvidia)
Some PC gamers are probably aware that benchmark tests done last year that revealed third-party brands offered slightly better performance than Nvidia-branded Founders Edition Reference GTX 1080/1070.
EVGA GTX 1080 FTW Stock and Overclocked Versus Nvidia's Founders Edition Reference GTX 1080 Versus Powercolor Fury X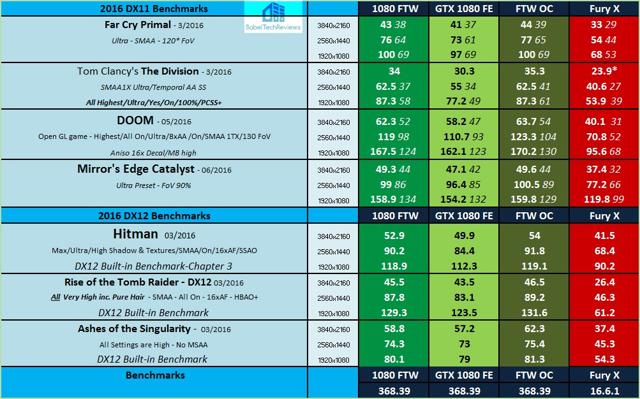 (Source: babeltechreviews.com)
GTX 1070 Founders Edition Versus Third-Party Counterparts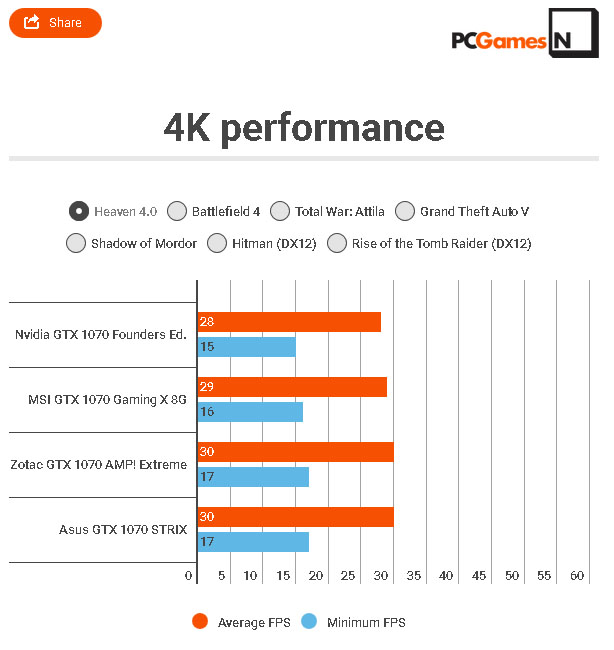 (Source: PCGamesn.com)
Nvidia's behavior is easily explained. It wants a bigger share of the $30 billion/year PC gaming hardware market. Nvidia's high-end $400-plus Founders Edition video card products are perfect for the current trend in the PC gaming hardware industry. High-end products account for 43% of purchased PC gaming-related devices last year. Thirty-five percent of this particular industry's revenue is also from mid-range products.
Growing Global PC Gaming Hardware Market 2016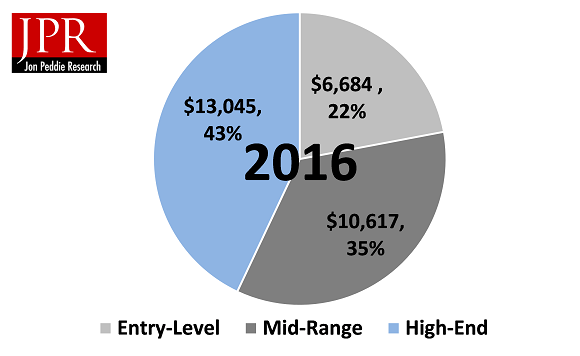 Source: Jon Peddie Research
Furthermore, Jon Peddie Research predicted the PC gaming hardware industry will grow with a 6% CAGR until 2019. Nvidia therefore has compelling economic reasons to sell its own brand of high-end and mid-range GPUs. There are probably millions of PC gamers who are willing to buy the newest $400-plus GPU as soon as they are released.
More than 34% of shipped personal computers in Q3 2016 were equipped discrete video cards. IDC's Q3 2016 PC report said there were around 68 million PC units shipped.
34% x 68 million = 23.12 million
Out of that 23.12 million we can guesstimate that 10% are gaming machines with high-end GPUs. Nvidia could make some decent new revenue if it could sell 300k units quarterly of its Founders Edition GTX 1080 to games-centric PC vendors and assemblers.
Nvidia may earn a few million in net profit from competing with its third-party partners. It also will encourage GPU card makers to keep improving on Founders Edition reference design to retain the loyalty of their customers.
Conclusion
There is little risk of third-party partners buying less Nvidia GPU chips because of this recent move of Nvidia. Gamers around the world have different favorite brands of video cards. Yes, some impatient gamers will buy Nvidia's early releases of Founders Edition video cards. However, other PC gamers will try to wait for their favorite brands to release their own versions.
Nvidia still owns 70% of the discrete video card market. Third-party video card assemblers will likely continue to release most of their products with Nvidia GPU chips.

Source: Jon Peddie Research
Unless Advanced Micro Devices (NYSE:AMD) offer deep discounts for its upcoming Vega GPU chips, third-party video card manufacturers will continue to favor Pascal or Volta GPU chips for their higher-priced video card products.
I rate NVDA as a Buy.
Disclosure: I am/we are long NVDA, AMD.
I wrote this article myself, and it expresses my own opinions. I am not receiving compensation for it (other than from Seeking Alpha). I have no business relationship with any company whose stock is mentioned in this article.