The United States exports $2.3 trillion in goods and services and imports $2.8 trillion. The figures for goods alone is $1.5 trillion in exports and $2.3 trillion in imports. Trade is vital to the U.S. economy.
The inauguration of Donald Trump has ominous consequences for the companies involved in either side of trade, as "America First" takes hold and has the inevitable consequence of retaliation by trading partners. Who wins and who loses is a key factor for investors to consider.
A possible border tax on imports can have dire consequences for importers. Major commodities imported by the U.S. are: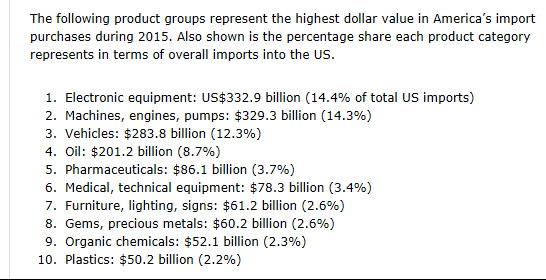 Source: World's Top Exports
A border tax on imports can spur inflation of these commodities to the extent they continue to be imported, offset to a degree by a stronger U.S. currency. Higher prices generally lead to declining demand. The companies most likely to be affected are those who populate the list of largest importers. They are: Wal-Mart (NYSE:WMT), Target (NYSE:TGT), Home Depot (NYSE:HD), Dole (NYSE:DOLE), Lowe's (NYSE:LOW), Sears (NASDAQ:SHLD) and Chiquita (NYSE:CQB). These are retailers and distributors so their profit may benefit as they pass on price increases to customers while holding margin rates. Customers are the ones who will suffer. Higher prices do not seem to be consistent with "Make America Great" but seem almost certain to result.
Not surprisingly, despite early comments to the contrary, the administration seems to have dropped interest in a "border tax" although it remains one option in respect of Mexico to "pay for" Trump's wall.
Exports have a different dynamic. A higher U.S. dollar hurts exporters and the prospect of trade wars cannot be ignored, something that will make competing abroad even more challenging. The largest exporters are Apple (NASDAQ:AAPL), Exxon (NYSE:XOM), Johnson & Johnson (NYSE:JNJ), and Pfizer (NYSE:PFE) to name a few. It is hard to see "America First" benefiting these companies.
Donald Trump seems to have a gap in his understanding of economics. It seems to be he is unaware of The Theory of Comparative Advantage. First postulated by David Ricardo in 1817, there is ample empirical evidence that the theory of comparative advantage plays out in practice.
In the interdependent world of international trade today, the United States may have been better off to play "no trump" rather than hand leadership of the world's most powerful country to a poorly informed and unpredictable "suit"!
Despite the Trump rally which is continuing today, there is every reason to believe the poorly thought through policies espoused by Trump without the benefit of careful review or expert analysis will encounter economic landmines in the near term. If they do, and I expect they will, markets will take a bath and smart money will already be safely sitting on the side lines.
Today, we have stock markets touching all-time highs; interest rates near all-time lows; and, U.S. employment close to full employment. Stocks are not cheap by any means, with the Shiller Cyclically Adjusted Price to Earnings Index at nose bleed levels almost 72% higher than its historical mean.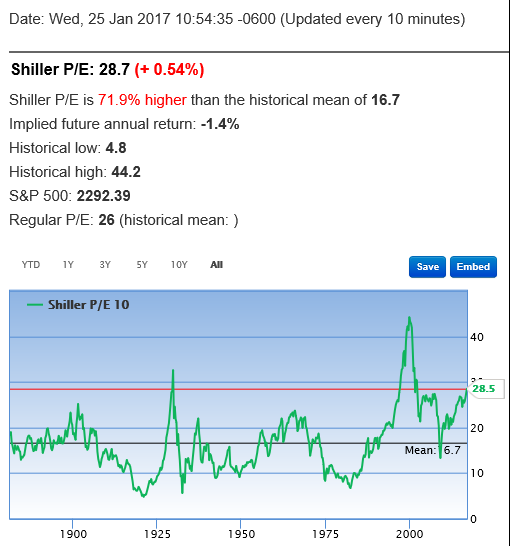 Source: gurufocus.com
This has all the makings of a market top. Smart money holds a lot of cash.
Companies that are vulnerable to a market correction are often those that have had the best runs. That suggests taking profits or buying puts on the following:
Netflix (NASDAQ:NFLX) - high multiple and expectations of very high rates of growth make this one risky.
US Steel (NYSE:X) - High sensitivity to steel prices which can fall quickly in a softer economy although likely to enjoy a short-term bounce as Trump funds infrastructure projects and insists they use domestic materials.
AK Steel (NYSE:AKS) - More a turnaround story than a value play and like X sensitive to steel prices.
Navistar (NYSE:NAV) - Low unemployment in the U.S. suggests pressure on wages will dampen this turnaround.
NVIDIA (NASDAQ:NVDA) - serious competition from Intel (NASDAQ:INTC), Qualcomm (NASDAQ:QCOM) and AMD (NYSE:AMD) make a bet on NVIDIA at this lofty price a risky bet.
Whirlpool (NYSE:WHR) - I believe a trade war will have devastating consequences for Whirlpool which has half of its revenue from overseas and particularly high exposure to Latin America, which seems to be one target of the Trump administration.
The effects of "Trumponomics" on technology companies is harder to call. For example, Apple and Microsoft (NASDAQ:MSFT) source most of the hardware they sell abroad but develop their software and services largely in the United States. At the same time, they have billions tied up offshore which might be freed up by a "tax holiday" on its repatriation, and they benefit directly from lower tax rates should these emerge.
Notwithstanding, I am bearish on stocks generally. Momentum players will laugh at me for this bearish view with each of the six companies I listed as vulnerable enjoyed extraordinary gains last year. But, in the cruel world of stocks, massive gains are difficult to repeat and the prices of these stocks are more vulnerable than most.
It is dangerous to short a momentum stock and even more dangerous to short into a bull market that seems unstoppable. Accordingly, I suggest taking profits and increasing cash is the best way to protect a portfolio today and buying a few puts (even if they expire worthless) provides an element of insurance.
I hold 60% cash today and am likely to increase that percentage over the short term. I hold none of the stocks I have mentioned.
Disclosure: I/we have no positions in any stocks mentioned, and no plans to initiate any positions within the next 72 hours. I wrote this article myself, and it expresses my own opinions. I am not receiving compensation for it (other than from Seeking Alpha). I have no business relationship with any company whose stock is mentioned in this article.