Canada has vast amounts of natural resources which are yet to be explored. The country is rich in oil and natural gas reserves, as well as precious and essential commodities. According to the country's official statistics, revenue from natural resources constitute more than 11% of Canada's GDP. Companies in this sector generated revenue of $133 billion in 2009 alone. A significant portion of the productivity in the natural resource field is exported to the U.S. and other trading partners. In 2009, the natural resource sector contributed almost $70 billion to Canada's trade balance.
There are more than 100 Canadian natural resource stocks that trade within the U.S. markets. These stocks offer U.S. investors an opportunity to profit from Canada's vast amount of natural resources. However, some of these stocks are priced with hefty premiums, whereas others are trading at a discount. Over the next few articles, I am planning to examine these stocks from a fundamental perspective, adding my O-Metrix grading system (Out of 10) and FED+ Valuations, where possible. This is the fourth article on this series. Here is a list of 5 Canadian basic material companies. Based on my analysis, I rate 3 of them as buy, and 2 of them as sell:
| | | | | | | |
| --- | --- | --- | --- | --- | --- | --- |
| Stock Name | Yield | EPS Growth Estimate | O-Metrix Score | FED+ Valuation | YTD Return | My Take |
| Potash (POT) | 1.2% | 9.6% | 4.23 | $53 - $62 | 14% | Buy |
| Cenovus Energy (NYSE:CVE) | 2.27% | 16% | 5.22 | $40 - $53 | 17% | Buy |
| Silver Wheaton (SLW) | 0.9% | 21% | 4.56 | $38 - $45 | 38% | Sell |
| Agrium (AGU) | 0.53% | 22.4% | 12.40 | $209 - $250 | 27% | Buy |
| Ivanhoe Mines (IVN) | N/A | N/A | N/A | N/A | -3% | Sell |
Data from Finviz/Morningstar, and is current as of February 29. You can download O-Metrix calculator, here.
Potash (POT) - Buy
Since reaching its dip of $40 in mid December, Potash is on the bounce. The stock returned 14% in this year alone. However, the annual return of -23% has lagged broad market indices.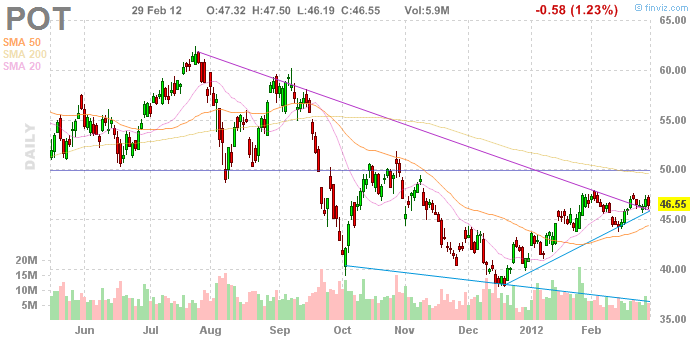 Potash Corporation of Saskatchewan is one of the largest fertilizer companies in the world. Established in 1953, the Saskatoon-headquartered Potash is known as the world's largest potash producer. Morningstar offers a four-star rating to the company, suggesting that Potash has a great moat in the business. I agree with Morningstar.
Potash is the market leader in a pretty concentrated industry. While the short-term fluctuations in agricultural prices can affect the fertilizer prices, Potash has been a long-term winner. The long-term investors have enjoyed triple-digit returns over the last decade. The stock is still trading at an attractive forward P/E ratio of 12. As world population grows, the demand for fertilizers will keep increasing, boosting the company's profits. Therefore, I rate it as a buy with a target price of $53.
Cenovous Energy (CVE) - Buy
Cenovous Energy is an integrated oil and gas company with headquarters in Calgary. The company operates in Oil Sands, Conventional, and also Refining segments. The stock is in high momentum for the last 3 months. Since December, it returned almost 30%. The year-to-date return is 17%.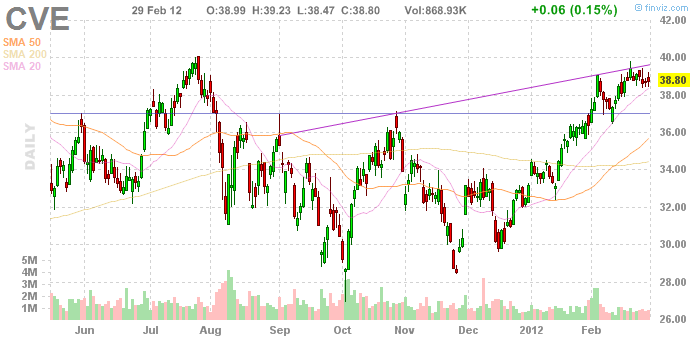 Cenovous is a rising star among Canadian energy stocks. It is trading at a trailing P/E ratio of 19.9, but the forward P/E falls to 15.2. The company was able to boost its earnings by 36% in this year. Analysts are still bullish on the stock, expecting an EPS growth of 16% in the next 5 years. Based on this estimate, my FED+ Fair value range is $40 - $53. Cenovous looks a little bit more expensive based on the book value. However, considering the yet-to-be discovered oil-rich fields of the Canadian sands, the premium over the book value is quite justified.
Silver Wheaton (SLW) - Sell
Silver Wheaton is one of the largest producers of silver and gold. The company has 14 long-term silver purchase agreements and 2 long-term precious metal purchase agreements with counterparties distributed around the world. The stock has been one of the top performers this year, returning 38% since January.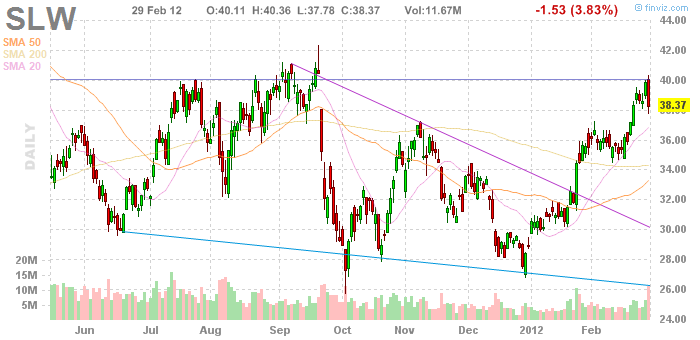 I think precious commodities are in a huge bubble, and the related stocks are significantly overpriced. Analysts have an extremely bullish EPS growth estimate of 21% for the next 5 years. Even if we assume that this estimate holds, it is already more than fairly priced by the market. I am not expecting a capital gain this year, but if you are fine with the yield, it is alright to hold the stock. Silver Wheaton is a great company, but I think a pullback might create a cheaper entry point.
Agrium (AGU) - Buy
Agrium is another Canadian fertilizer company. The Calgary-headquartered Agrium is founded in 1931 under the initial name of Cominco fertilizers. It changed its name to Agrium in 1995. The stock has been a strong performer in this year, returning almost 27% since January.
Agrium offers a yield of 0.53%. It was able to increase its earnings at an annualized rate of 98% in the past 5 years. In the last year, earnings increased more than two-fold. Analysts expect the earnings to grow at an annualized rate of 22% in the next 5 years. Based on this estimate, my FED+ fair value range is $209 - $250. At a price of $85, the stock has a lot of upside potential. Based on the book value, it is also trading at a heavy discount compared to the industry leader, Potash.
Ivanhoe Mines (IVN)- Sell
Ivanhoe Mines is probably the riskiest stock on this list. Ivanhoe looks like a relatively diversified precious metal and mineral producer. However, its primary property is the Oyu Tolgoi copper-gold-silver field in Mongolia. This field is claimed to be one of the world's largest precious metal mining fields, but nothing is certain in this industry.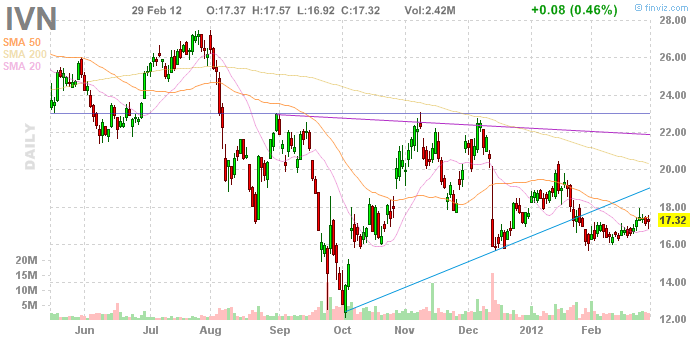 Rio Rinto (OTCPK:RTPPF) is the largest shareholder, with an interest of near 50% in the company. There are rumors that Rio is considering to increase its share in the company. However, chairman, David Huberman suggests that all Ivanhoe shareholders will be treated fairly. Rio Tinto and Ivanhoe turned into arbitration due to managerial issues. Apparently, there are some disagreements at the management level. Therefore, I rate it as a sell.
Disclosure: I have no positions in any stocks mentioned, and no plans to initiate any positions within the next 72 hours.