In the New York Times yesterday there was an article describing previous attempts to build a wall across the U.S./Mexico border. The article, titled Trump Sees a Wall, Contractors See Windfalls, explains that "in 2006 Boeing and a team of other companies won a federal contract to construct a wall" that cost taxpayers "five years and $1 billion."
According to the New York Times, "nearly all of (that) money had been spent on just 53 miles of the border in Arizona."
Last week President Trump said that the wall was moving forward and Senate majority leader Mitch McConnell said that Congress "would move ahead" with plans to build the wall at an estimated cost of $12 billion to $15 billion.
Some believe that the cost to construct a massive wall would be much more than $15 billion, the New York Times cited an M.I.T. report that suggested that a 1,000 mile, 50-foot high steel-and-concrete wall would cost taxpayers around $40 billion.
While the cost for the massive wall (and whether or not Mexico will pay for it) remains up in the air, there is certainly going to be companies that benefit from the design and construction. As the New York Times suggests,
That is good news for cement and materials companies with significant operations in the United States, including Vulcan Materials (NYSE:VMC), Martin Marietta Materials (NYSE:MLM), and German-based HeldelbergCement Group, as well as Mexico's Cemex (NYSE:CX) and Grupo Cementos de Chihuahua (OTCPK:GCWOF).
The New York Times also suggested that companies that specialize in surveillance technology or even virtual barriers could also benefit. In addition, I believe that there is a REIT that is likely to benefit from Trump's "build the wall" promise and that's the subject of my article today.
Easterly Government Properties
Back in July 2015 I wrote on Easterly Government Properties (NYSE:DEA) and explained that "regardless of who is in the White House, DEA sticks to critical missions of the federal government that don't go out of favor: agencies like the Federal Bureau of Investigations and the Immigration and Customs Enforcement."
Little did I know (and much of the world) that Donald Trump would be elected President of the United States. In 2016, I attended dozens of Trump rallies and while I could recite his campaign slogans in my sleep, I never imagined that Trump would develop the largest deal in his career.
Obviously, DEA will not profit from the actual design or construction of the wall; however, it's clear that the REIT will benefit from the critical mission properties that it owns.
More specifically, DEA is the only internally managed REIT with a focus on investing in U.S. government-leased buildings. In other words, DEA only deals with the U.S. federal government, and the company does not have an interest to work with any other government, state or local because they are not backed by the full faith and credit of the U.S.
Its usual tenants are subject to annual appropriations from capricious state governors and governments and DEA underwrites the agency and the importance of the building within the hierarchy of the agency.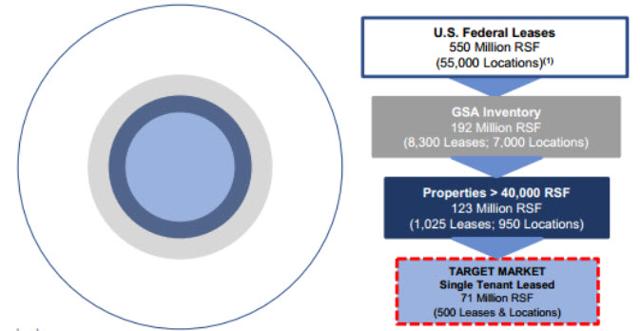 Roughly, 96 percent of DEA's current lease income is derived from the federal government and its full faith and credit. Here's a snapshot below of the top tenants: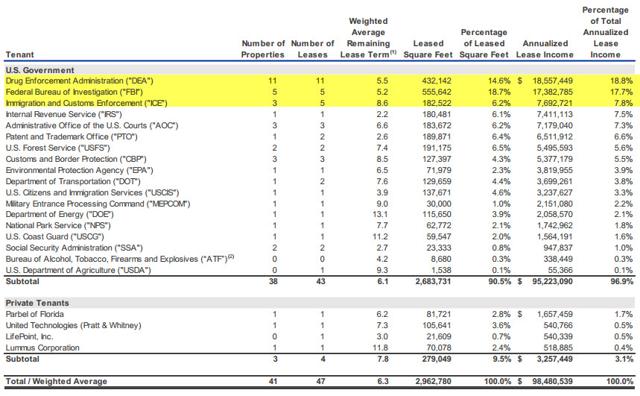 As you can see, DEA derives around 43% of revenue from its top 3 tenants: Drug Enforcement Administration (18.8%), the Federal Bureau of Investigation (17.7%) and Immigration Customs Enforcement (7.8%). All three of these agencies are centered around President Trump's safety and protection policies and this is obviously going to benefit DEA since it derives a bulk of income from these agencies.
Note: DEA's ticker was selected because that is the same as the company's top tenant and also because the "FBI" ticker was not available. DEA has the largest portfolio of Drug Enforcement Administration buildings in the world.
When modeling portfolios of buildings, occasionally DEA will acquire non-government buildings; however, the company targets pure-play in the government space - around 60 percent of DEA's portfolio is leased to security-related agencies.
DEA owns 41 buildings with different expirations within the lease contracts. Here's a snapshot of the portfolio metrics: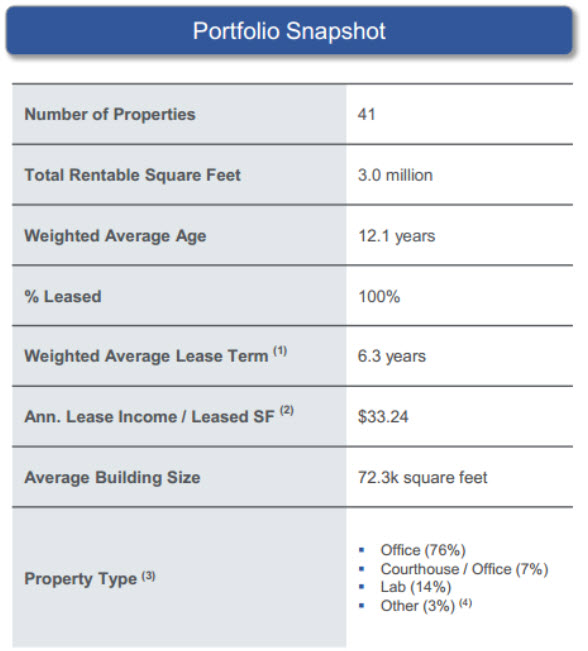 DEA is based in Washington, D.C., and the company has 25 employees. Here's a snapshot of the geographic diversification: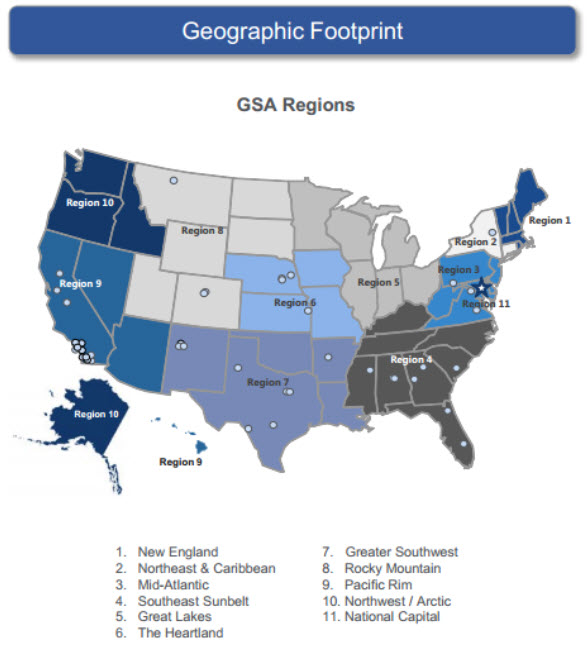 DEA's average lease term is 12.1 years so I decided that it is appropriate to include the company in a broader Net Lease REIT peer group. I also decided to include the direct peer, Government Properties Income Trust (NYSE:GOV), even though the lease term for the company is 5 years. Here's a snapshot of DEA and my selected peer group:

Almost Like a Laddered Bond Portfolio
As stated above, DEA's portfolio is around 96 percent backed by the U.S. government. GSA has never financially defaulted on a lease throughout its history, and because DEA does not lease to state agencies, there are no risks related to appropriations.
The portfolio consists of 76% office, 7% courthouse/office, 14% lab space and 3% other.
The U.S. Government is the largest employer in the world and the largest office tenant in the U.S and the GSA-leased inventory has grown 27.4% since 1998 (as compared to a 1.4% decline for GSA-owned), and the GSA now rents more than it owns.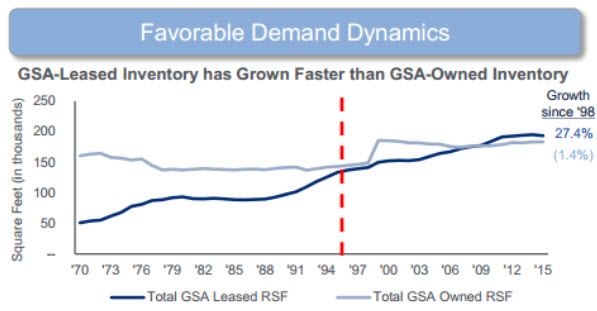 Given recent federal budget constraints, it is likely that the U.S. Government will continue to grow its leased portfolio of assets (keep in mind that The Trump Organization leases the Old Post Office site in Washington, D.C., for a Trump hotel).
The ten largest owners of GSA-leased assets own approximately 18.4% in aggregate, with no single landlord owning more than 3.4%. There is no national broker or clearing house for GSA-leased properties.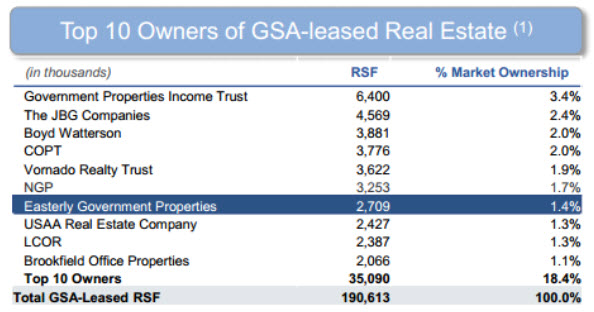 Basically, the General Services Administration is in charge and signs on behalf of the U.S. federal government and acts as its landlord. When DEA underwrites it is interested in about 500 buildings of the 8,500 buildings in the 200-million square feet that the GSA leases. Those 500 buildings are usually build-to-suit, more than 40,000 square feet, class A and single-tenant occupied.
As noted above, DEA's average lease term is 12 years and the company only considers minimum 10-year lease terms. Alternatively, GOV's average lease term is 5 years and the company owns higher risk buildings that are leased to state agencies. GOV portfolio by category: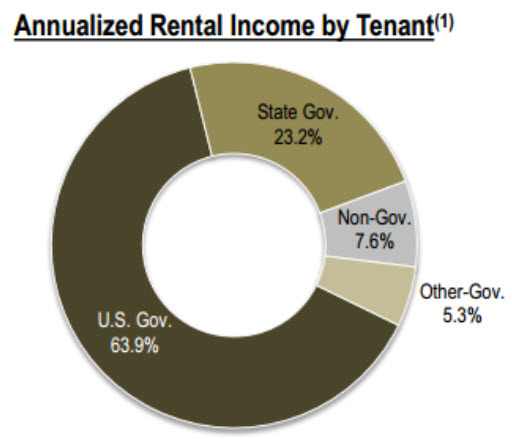 Here's a snapshot of DEA's lease expirations (only 4.4% expiring in 2017 vs. 7.7% for GOV).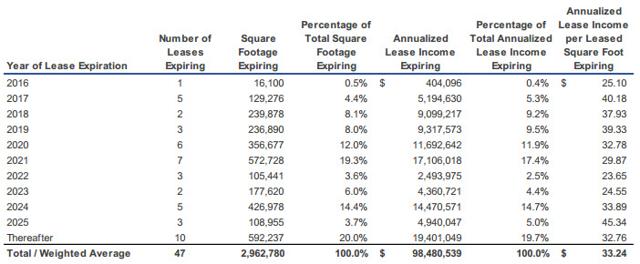 DEA uses modified growth leases instead of triple-net leases - meaning they protect against inflation. Operating expenses for a DEA-owned building are agreed upon in the first year and every subsequent year the federal government pays an increase based on the consumer price index.
If you take a lease term of 10 to 15 years, the rent will move up, on average, 17.7% when it rolls. If the lease term is 15 to 20 years, rents will rise a little more than 26%. So instead of getting it every year, or every three years, you're going to get it at the end of the lease term. Also, the average age of the DEA portfolio is 11 years (compared with 24 years for GOV) - half the average age of DEA's competitors' product.
Most importantly, because DEA's buildings are mission critical, the basis for rent renewal is replacement cost. As long as the construction costs are meeting inflation, those rolls will ultimately catch up with growth. It's not lodging, but the rents catch up over time.
The building needs to be relatively new and important within critical missions and will be able to serve the particular agency for decades. No matter what happens within the agency, in other words, the building will be part of it.

The Balance Sheet
At the end of Q3-16, DEA had $207 million outstanding on its revolving line of credit and total debt of $288 million. Availability on the line of credit was $193 million. In terms of leverage, net debt to total enterprise value was 25%.

Compared with GOV, DEA is in much better shape, from a balance sheet perspective. As you can see below, GOV has 46% total debt (to book value):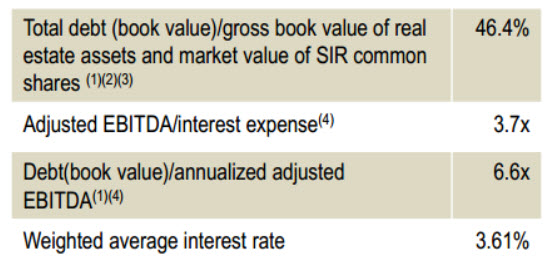 At the end of Q3-16, DEA entered into a $100-million, seven-year unsecured term loan facility with a 180-day delay-draw period. Subsequent to quarter-end, DEA entered into forward starting interest-rate swaps with an aggregate notional value of $100 million to effectively fix the interest rate on future drawdowns under the term loan facility at a rate of 3.12% annually, based on DEA's current leverage ratio.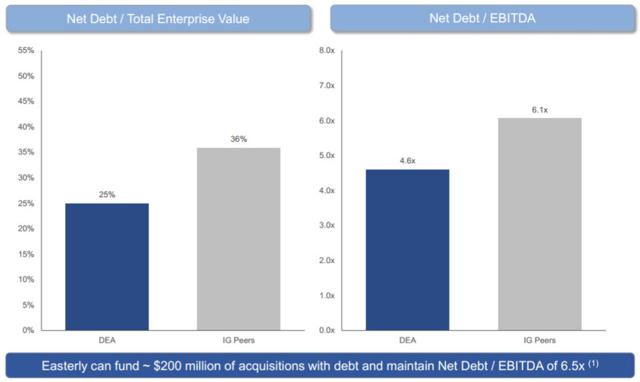 At the end of Q3-16, DEA said it had acquired four properties: FBI Birmingham, DEA Birmingham, EPA Kansas City and FBI Albany, and that they "all fall squarely in line with Easterly's goal of acquiring only mission-critical properties for agencies that serve essential functions for the U.S. Federal Government."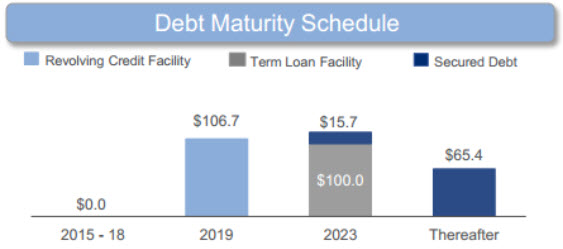 This REIT Stands To Profit
One key differentiator for DEA is that the company is one of the few build-to-suit REITs for the U.S. Government. Generally, DEA obtains a premium yield on cost (+50 bps) for build-to-suit development and it appears that President Trump will be increasing costs related to homeland security. Here's what DEA's CEO, Bill Tremble, said on the last earnings call,
I think there has certainly been plenty of discussion in this campaign. The one thing that the two candidates have agreed on has been an increase in need for federal infrastructure where it's important. And if you really think about what we're providing, it is federal infrastructure. So we would be fairly sanguine about the prospects for build-to-suit projects going forward.
In 2015, DEA acquired around $170 million and the company estimates it will grow by another $160 million in 2016. The company said on the last earnings call that it was comfortable with the heightened range of $150 million to $200 million) in 2017.
For the third quarter, DEAs' FFO per share was $0.30 and FFO as adjusted per share was $0.29. For the 12 months ending December 31, 2016, DEA is reiterating its expectations for FFO per share on a fully diluted basis in the range of $1.19 to $1.23. Here's our FFO Model compared with the selected peers: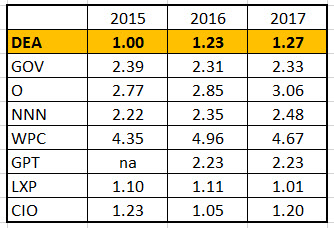 Here's the FFO growth model: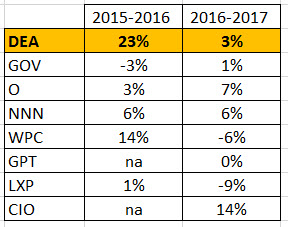 While DEA's forecasted FFO is modest, we believe AFFO is the better metric and here's the projected forecast for 2017 and 2018 (source: consensus estimated via FAST Graph):

In November, DEA's Board of Directors declared a Q3-16 dividend of $0.24 per share, that translates to an annualized dividend of $.98 per share. Here's a forecast for dividend growth (source: FAST Graph):

Given the fact that DEA's leases are longer duration (~12 years) and the portfolio is mostly investment grade rated, we are comfortable with the payout ratio (as modeled below):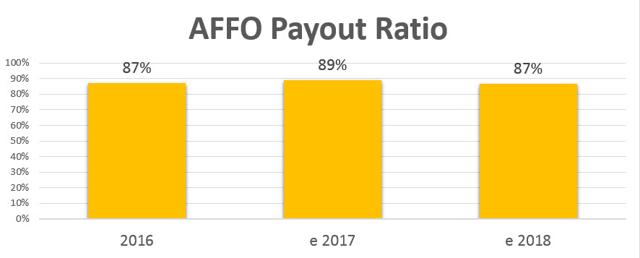 Protect Your Principal At All Costs
DEA should benefit from the Trump Administration's policies and specifically the infrastructure spending measures. Although GOV pays out a higher dividend, investors should recognize it is riskier (externally-managed, higher leverage and higher state exposure). The most troubling metric, as it relates to GOV, is the payout ratio: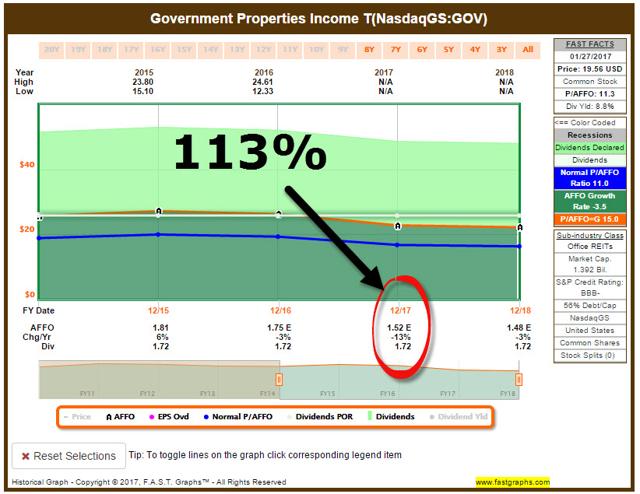 Be careful, even though GOV's dividend yield is high, it does not mean it's sustainable:

Now let's examine DEA's P/FFO multiple:

As expected, DEA is valued appropriately - the income being generated is highly predictable and so are the dividends being paid. We believe that shares are soundly valued and investors should expect to see steady dividend growth and price appreciation.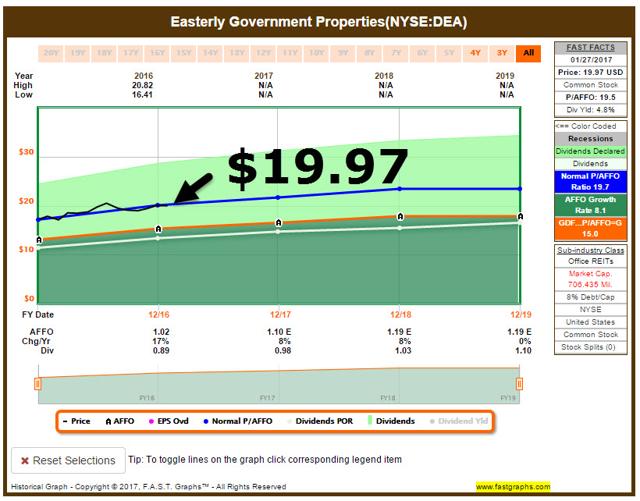 DEA has limited history to rely on, but we like the prospects for the future. Given President Trump's focus on safety and infrastructure spending, we suspect that DEA is well-positioned to generate steady growth over the next few years. Although DEA will not benefit directly from the construction of the proposed wall, the agencies will increase in size. DEA appears to be a likely benefactor and we are initiating a BUY at $20.00.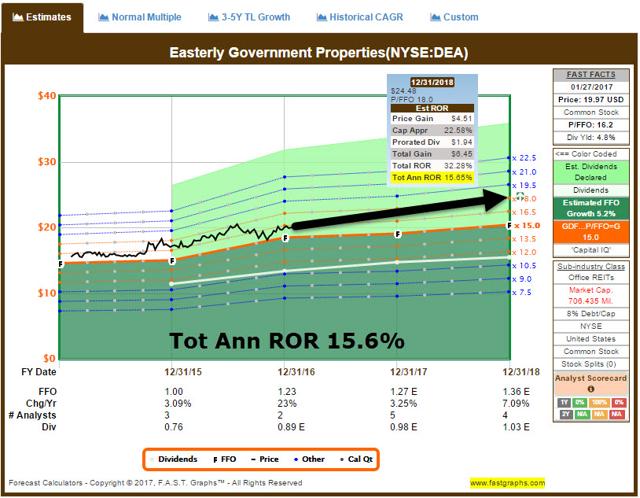 See my recent Small Cap REIT article HERE.
Check out The REIT Beat if you'd like to get more of my ideas, including early access to my highest-conviction REIT plays, access to Q&As with management teams, weekend REIT reports and more. We'd love to have you on board, so have a look.
Source: FAST Graphs and DEA.
Other REITs mentioned: O, NNN, WPC, GPT, LXP and CIO.
Author Note: Brad Thomas is a Wall Street writer and that means he is not always right with his predictions or recommendations. That also applies to his grammar. Please excuse any typos, and be assured that he will do his best to correct any errors if they are overlooked.
Finally, this article is free, and the sole purpose for writing it is to assist with research, while also providing a forum for second-level thinking. If you have not followed him, please take five seconds and click his name above (top of the page).
Disclaimer: This article is intended to provide information to interested parties. As I have no knowledge of individual investor circumstances, goals, and/or portfolio concentration or diversification, readers are expected to complete their own due diligence before purchasing any stocks mentioned or recommended.
Disclosure: I am/we are long APT, ARI, BXMT, CONE, CORR, CCP, CCI, CHCT, CLDT, CUBE, DLR, DOC, EXR, FPI, GPT, HTA, HASI, KIM, LADR, LTC, LXP, O, OHI, QTS, ROIC, STWD, SNR, STAG, SKT, SPG, STOR, TCO, UBA, VTR, WPC.
I wrote this article myself, and it expresses my own opinions. I am not receiving compensation for it (other than from Seeking Alpha). I have no business relationship with any company whose stock is mentioned in this article.