Fannie Mae (OTCQB:FNMA) and Freddie Mac (OTCQB:FMCC) are run by the government as two off-balance sheet government agencies that are technically private companies. The government has negotiated over the last 8 years an agreement with itself on its own behalf in order to redirect all of Fannie's and Freddie's profits to US Treasury. In addition, the government has increased this source of tax revenue by increasing the guarantee fees that these two private businesses charge to insure American mortgages. This additional cost for taxpayers has hurt taxpayers and benefited tax collectors. Steve Mnuchin, the incoming Treasury Secretary nominee, has expressed an interest in closing out conservatorship during his term should he become Treasury Secretary. I have studied everything he's said so far and to me it all but forecloses on all possibilities that do not result in me becoming a wealthy man. His Senate Finance Committee Hearing gets voted on Monday. The preferred shares have soared last week and went up big when Trump won the election and when Mnuchin was nominated.
Investment Thesis: After eight years of pillaging two Fortune 50 companies, a new president is in charge and a new secretary is en route. The actions of the previous administration have resulted in dozens of active lawsuits that are pending. The previous administration fought tooth and nail to prevent disclosing 11,292 documents revealing the true intent behind actions that they took to devastate equity shareholders during conservatorship. It has been hypothesized that Trump may elect to stop this fight, but I'm not betting on the documents either way. A new treasury secretary has the power to end the net worth sweep and permit the enterprises to retain earnings. If done, the only action left is to begin the recapitalization and this starts with a legal victory or legislation. As a preferred shareholder I'm hoping for a win on contract claim in the Perry Capital Appeal. In a recapitalization scenario where the preferred dividends get turned on there is 3x return upside in short order.
Mulvaney Bill - HR 491
Mulvaney has proposed a bill. This bill reverses the zeroing out of shareholders imposed by the net worth sweep:

Mulvaney is the Budget nominee.
Ackman Commentary - Common Shareholders
Bill Ackman is a common shareholder with an active lawsuit in the Court of Claims. He mentioned Fannie and Freddie in his recent update to shareholders:
Despite significant share price appreciation in 2016, we believe the shares of a reformed Fannie and Freddie will be worth a multiple of their current price.
I've looked at the Ackman slides of time past and he was assuming guarantee fees higher than they have been historically and a complete exercise of the warrants to arrive at a share valuation of $23-47. He still seems to be expecting an exercise of the warrants: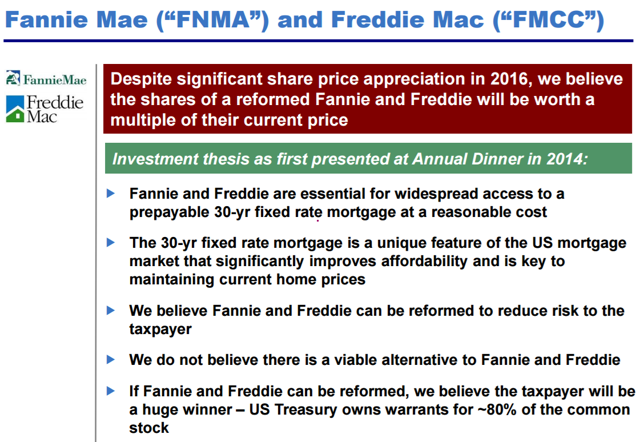 I continue to receive messages from people saying that the warrants are illegal and that they won't be exercised and it is true that Washington Federal has a lawsuit contesting the conservatorship. I think that the original deal that created the warrants in 2008 was part of a plot to destroy equal opportunity affordable housing and transfer the profits of Fannie Mae and Freddie Mac elsewhere. The 11,292 documents may have value in this regards if the lawsuits in the Court of Claims can get amended perhaps to show that the warrants were made on false pretenses. I don't know, I'm not a lawyer. More interesting to me as a preferred shareholder is what Ackman included about Mnuchin: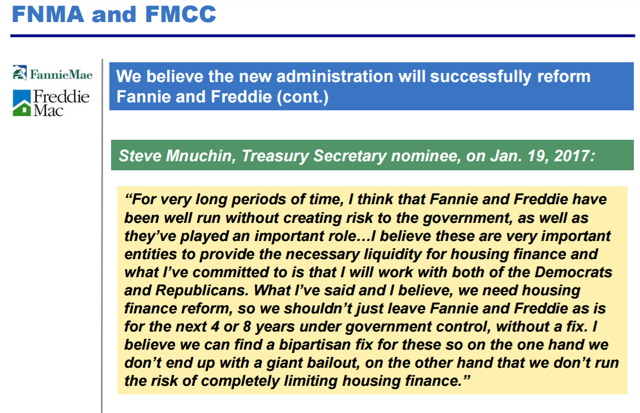 Mnuchin appears to want to do something quickly and seems to think that historically the GSEs haven't been a problem. The trick is figuring out how to get them out of government control: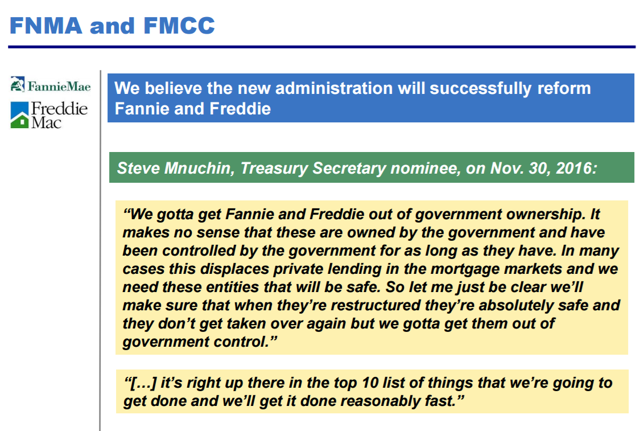 Ackman also highlights what we all seem to agree on: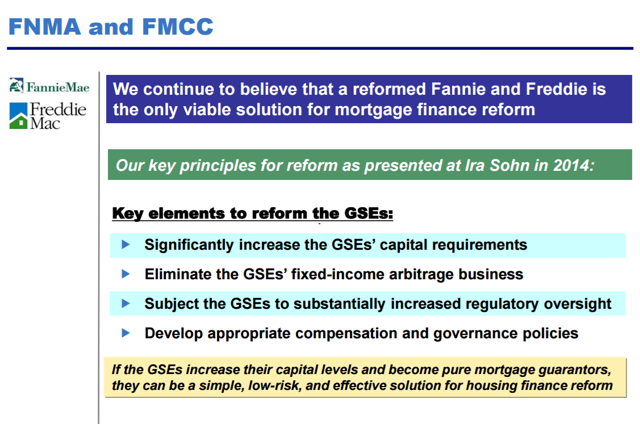 Frankly, given Ackman's perspective I'm kind of surprised that he's so bullish. Then again, I think it's more likely that guarantee fees return to historical norms whereas he is forecasting an increase. Ackman was also forecasting in his earlier models capital being raised organically over time as opposed to on a more accelerated basis.
Mnuchin - GSEs being capitalized properly = FNMAS Goes To Par
Mnuchin recently responded to Senator Sherrod Brown. His position on the capital of the GSEs is the polar opposite of the existing administration. The existing administration has defended itself in court saying that they have a new paradigm where capital does not matter. Remember that they are running off balance sheet government agencies. Mnuchin says any solution would be dependent upon the GSEs being capitalized properly:

The controls that eliminate risk to taxpayers would effectively be restricting their business activities. These restrictions are not new concepts and are the same that have been advocated by Bruce Berkowitz and Bill Ackman.
Summary & Conclusion
I've been swapping around preferred shares. I figure that the whole par less cumulative dividends legal scenario is off the table assuming Mnuchin becomes Treasury Secretary. I don't know, I could be a big idiot. I was looking at the valuations of preferred shares in various dividend categories in this current low interest rate environment and it seems true that the lower risk higher yielders trade at a stark premium to par. As a result, the trades that I've been making may not actually make me more well off when this plays out. In fact, in certain forecasted legal scenarios I would have made myself less well off.
I have exhausted the majority of my tax-loss carryforwards at this point and I own 4050 FMCCH, 17238 FMCCP, 7370 FMCCT 1341 FMCKO, 17885 FMCKP, 14062 FNMFN and 5 FNFMO making a total par value of $3.5M. In effect I was able to increase my par by over $100K this last week by trading out of higher yielders at higher prices into lower yielders at lower prices. If at the end of the day these all trade on a yield basis then I am an idiot. If, on the other hand, their par values rein in some of their yield adjusted upside then I look marginally smarter. Also, my swapping was mostly Fannie for Freddie so it is possible albeit I think unlikely that one pays and the other does not.
I own preferred shares because I think if you're going to raise capital quickly and not void the entire conservatorship, they have more upside to my estimated intrinsic value than common shareholders. I will be wrong if guarantee fees do not return to historical norms or if the government doesn't exercise the warrants. I'm not a lawyer and since I am borrowing over two hundred thousand dollars to make my positions possible, I'm more comfortable in what I consider to be the safer play. As a preferred shareholder, exercising the warrants does not help me as it makes capital harder for the enterprises to raise. The last thing to look forward to is I would say sometime this week Berkowitz's annual FAIRX report will come out and we'll possibly get his latest perspectives on how the lawsuits are coming along and maybe his views on what may come of the new administration. Get excited people!
Disclosure: I am/we are long FMCCH,FMCCP,FMCCT,FMCKO,FMCKP,FNMFN,FNMFO.
I wrote this article myself, and it expresses my own opinions. I am not receiving compensation for it (other than from Seeking Alpha). I have no business relationship with any company whose stock is mentioned in this article.
Editor's Note: This article discusses one or more securities that do not trade on a major U.S. exchange. Please be aware of the risks associated with these stocks.