When exploring for hydrocarbons, producers are likely to find a mix of products. If you find oil, you will likely find natural gas and natural gas liquids (NGLs). Looking for natural gas, you will find natural gas liquids. Producers, wanting to maximize their profit, look for ways to use all these products. In the early days of drilling, many of these products were wasted. Some were burned off and some were allowed to evaporate into the atmosphere. Eventually producers found a business niche for all the products, and now, producers work hard to find a home for everything they pump out of the ground.
NGLs have a variety of uses, and producers will look to maximize their profit when planning their marketing of products. NGLs are used heavily in petrochemical plants, and it is the rapid growth in petrochemical plants that will lead to higher NGL process.
What Are NGLs?
Oil and natural gas are covered widely on Seeking Alpha and other media outlets, but NGLs are often forgotten about. As such, I thought I would provide a brief explanation of what NGLs are.
Natural gas extracted from the ground normally contains many by-products. The dry natural gas everyone is familiar with is methane. That is the product that is used to heat your home. However, when natural gas is extracted from the ground, other hydrocarbons come with it, and these are referred to as NGLs. There are five NGLs; ethane, propane, normal butane, isobutane, and natural gasoline (also known as pentane). These five products are normally separated from the methane (dry gas), before the natural gas is injected into the pipeline. NGLs are used in petrochemical plants, as additives in gasoline, propellants for sprays, cigarette lighters, propane for backyard barbecues, as well as other uses.
The chart provides a breakdown of the various NGLs and their characteristics.
Note - NGL #6 Pentane Plus is actually a blend.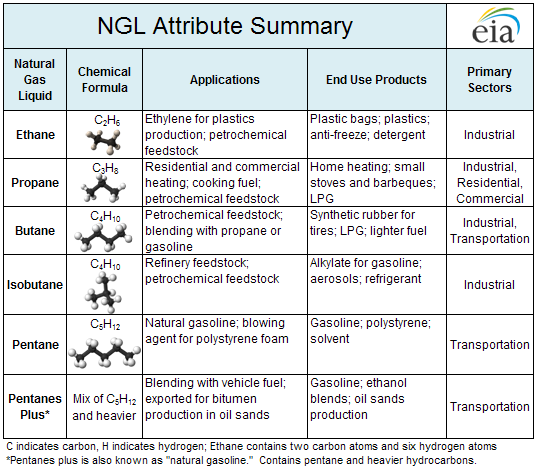 Similar to the various qualities of oil, natural gas will have various quantities of impurities. Sometimes the natural gas is relatively pure, often called "lean", and can be pumped directly into the pipeline. Other times, the natural gas will be "wet" or "rich", which means it has a high quantity of NGLs. In that case, a gas processing plant will be used to treat the natural gas, so that the NGLs can be removed. The gas processing plants super-cool the natural gas until the NGLs becomes liquid while the natural gas (methane) remains a gas. The methane is then piped to its destination while the NGLs are mixed together and shipped to another location for further processing.
The majority of NGLs, 80%, comes from natural gas extraction. The other 20% comes from refineries.
It should be noted that a producer may at times "reject ethane" thereby mixing the ethane back into the natural gas rather than separating it. This is done when prices are very low for ethane and the producer would get more by selling it as natural gas. The producer must be careful not to mix too much ethane, as the natural gas being purchased must be of a certain quality. Mixing too much ethane could upset the quality standard.
Ethane rejection is likely to decrease going forward, because I see ethane prices rising.
What will Drive the Growth in NGLs
All NGLs have their uses and in some manner, all can be used as feedstock for chemical plants, but it is ethane that will be the most sought after NGL.
Ethane's primary use is as a feedstock for petrochemical plants. Ethane is used to make ethylene, which is used to make plastics and ethylene glycol, or anti-freeze, among other products.
The fracking revolution has greatly increased natural gas production in the United States. As I mentioned, NGLs, including ethane, are a by-product of natural gas. The more natural gas that is developed in the U.S., the more ethane there will be. Keep in mind, that natural gas is a by-product of oil drilling, therefore, ethane would also be a by-product. Put simply, the more producers drill for oil and natural gas in the U.S., the more NGLs, especially ethane will be produced.
The increase in drilling throughout the country has created a surplus of NGLs, which has, in turn, reduced the price. The chart below shows the composite pricing over the last eight years. All prices from EIA:
| | |
| --- | --- |
| Month/Year | Price per mmBTU |
| June 2009 | $9.35 |
| June 2010 | $10.93 |
| June 2011 | $15,23 |
| June 2012 | $8.70 |
| June 2013 | $9.06 |
| June 2014 | $10.17 |
| June 2015 | $4.78 |
| June 2016 | $5.75 |
As I mentioned, the pricing chart above is the NGL Composite (mix) pricing. However, if you look at each NGL price separately, you will see ethane has been the laggard.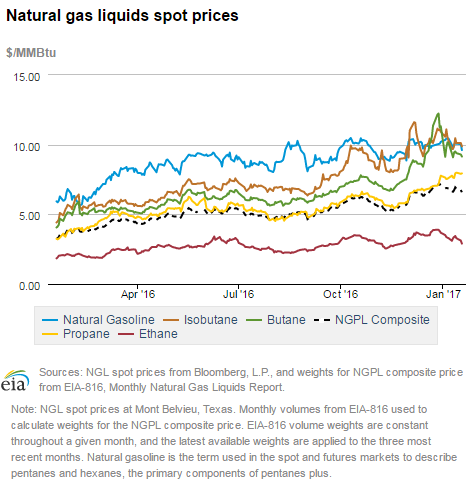 However, I think that is about to change.
Petrochemical Demand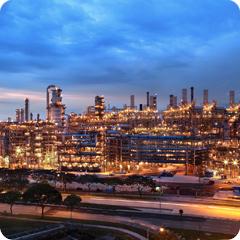 The NGLs' low price and vast supply has caught the attention of petrochemical companies worldwide, and we are about to see a large number of plant openings, or expansions of existing facilities, making use of the low cost supply of ethane. According to the American Chemical Council, companies are spending more than $170 billion on at least 268 manufacturing projects. Some 60% of that spending is direct foreign investment. Below is a chart showing just a few of the plants that are set to open in the next several years:
Information from Enterprise Products Partners (EPD)
| | | | | |
| --- | --- | --- | --- | --- |
| Company | Capacity billion lbs/yr | Ethane Consumption | Est Completion | Location |
| Occidental (NYSE:OXY) | 1.2 | 33 MBPD | 2017 | Ingleside, TX |
| Chevron Phillips (NYSE:CVX)/(NYSE:PSX) | 3.3 | 90 MBPD | 2017 | Cedar Bayou, TX |
| Exxon Mobil (NYSE:XOM) | 3.3 | 90 MBPD | 2017 | Baytown, TX |
| Dow Chemical (NYSE:DOW) | 3.3 | 90 MBPD | 2017 | Freeport, TX |
| Indorama (OTCPK:INDOY) | 1.1 | 30 MBPD | 2017 | Lake Charles, LA |
| Shintech | 1.1 | 30 MBPD | 2018 | Plaquemine, LA |
| Sasol (NYSE:SSL) | 3.3 | 90 MBPD | 2018 | Lake Charles, LA |
| Formosa Plastics | 3.5 | 95 MBPD | 2019 | Point Comfort, TX |
| Axial (NYSE:AXLL)/Lotte | 2.2 | 60 MBPD | 2019 | Lake Charles, LA |
| Total (NYSE:TOT) | 2.2 | 60 MBPD | 2019 | Port Arthur, TX |
| Shell (NYSE:RDS.A) (NYSE:RDS.B) | 2.2 | 95 MBPD | 2019 | Monaca, PA |
| Total | 28.0 | 763 MBPD | | |
All these plants are coming online because petrochemical products are expected to grow from 2013's $558.61 billion to $885.07 billion by 2020. Exxon Mobil sees petrochemical demand rising 4% a year.
The petrochemical products that are in demand include ethylene, propylene, butadiene, benzene, xylene, toluene, vinyl, styrene and methanol. Ethylene accounted for 25% of the total global market consumption in 2014. Ethylene is used in the production of polypropylene and propylene oxide. Polypropylene is used in packaging, stationery, textiles, automotive parts and laboratory equipment.
With petrochemical demand set to expand, it appears ethane exports are also set to grow.
Ethane Export
Shipping ethane is not an easy task, ethane has to be put under heavy pressure, or greatly cooled to ship safely. The difficult shipping and high cost of ethane, limited ethane export. However, with the large fall in prices, the export of ethane has been on the increase. The U.S. now has two export facilities.
Marcus Hook Terminal is located in Pennsylvania. It has an export capacity of 35,000 bpd (barrels per day) and is owned by Sunoco Logistics Partners (NYSE:SXL). The terminal is expected to benefit from strong NGL supply from the liquid-rich Marcellus Shale.
Morgan Point was opened by Enterprise Products Partners earlier in 2016. It has 200,000 bpd of ethane export capacity. Morgan Point is the first US ethane terminal in the Gulf Coast region.
The chart below from the EIA shows the expected rise in ethane export: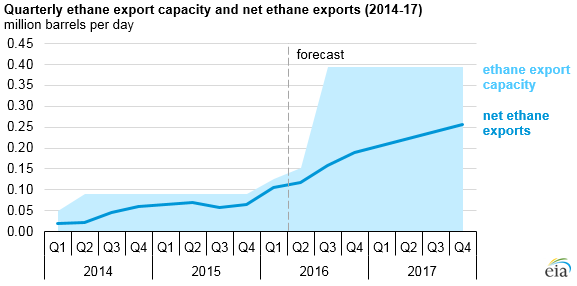 With the expected rise in petrochemical demand and ethane export, the ethane market is going to get very tight. The chart below from the EIA shows the expected balance between supply and demand in the next several years: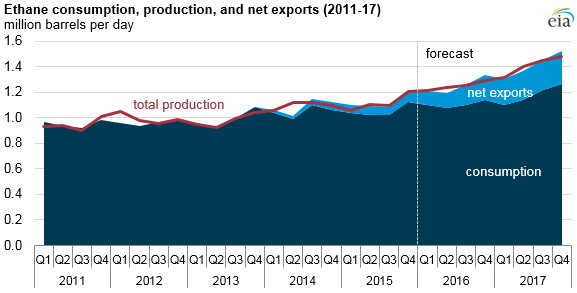 Going out to 2018, the market remains very tight.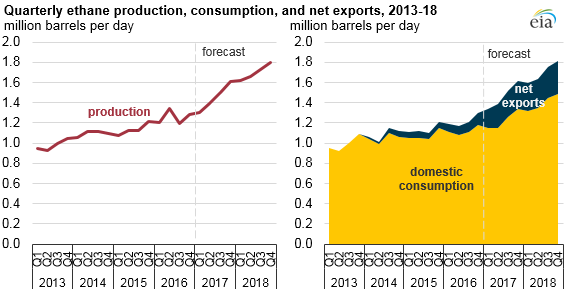 For anyone still having doubts, here is another chart from Genscape, which is actually more bullish for demand: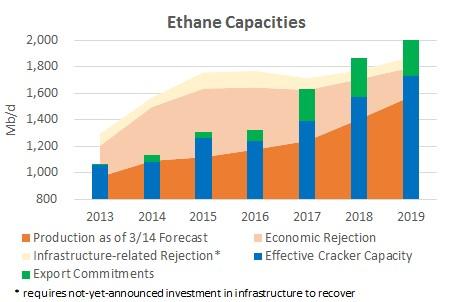 Propane
Propane export is also growing rapidly. U.S. propane exports increased from 562,000 b/d in the first half of 2015 to 793,000 b/d in the same period of 2016. Exports to Asia and Oceania accounted for 94% of this growth. Japan imported the most U.S. propane at 159,000 b/d in the first half of 2016. The chart below from RBN Energy shows the rise in exports and who is benefiting: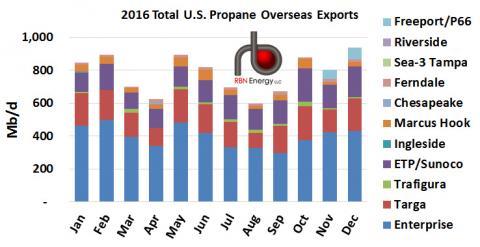 Phillips 66 recently opened its Freeport propane export facility in Freeport, Texas. That facility can export 150,000 bpd.
ICF International (NASDAQ:ICFI) expects steady growth in consumer propane demand, increasing from 9.2 billion gallons in 2014 to 10.1 billion gallons in 2025.
Dominos
A series of events have created the potential for improved NGL pricing. It started with the increase in drilling for shale natural gas. The huge increase in drilling for natural gas created an abundance of NGLs, especially ethane, which reduced prices. The low price in ethane created the opportunity for export and the growth in petrochemical plants that make heavy use of ethane. This will create a large demand for ethane, which will tighten supply, and ultimately, in my opinion, raise prices. The same holds true for propane and the other NGLs, low U.S prices. will create international demand.
Investing Ideas
I am going to provide a couple names that I am confident will benefit from the increase in demand for NGLs, especially ethane. These names are just suggestions, not immediate buy recommendations. Everyone should do their own due diligence.
Enterprise Products Partners
Enterprise Products Partners is one of the largest publicly traded partnerships of midstream energy services. EPD has 19,300 miles of NGL pipelines, natural gas processing plants, product storage facilities, 15 NGL fractionators, and an NGL import and export terminal operation. NGL pipelines and services are 56% of its business.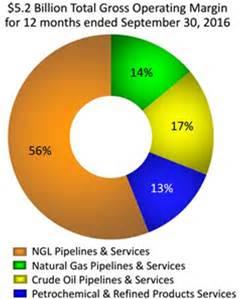 The map below shows its assets; note how much is related to NGLs: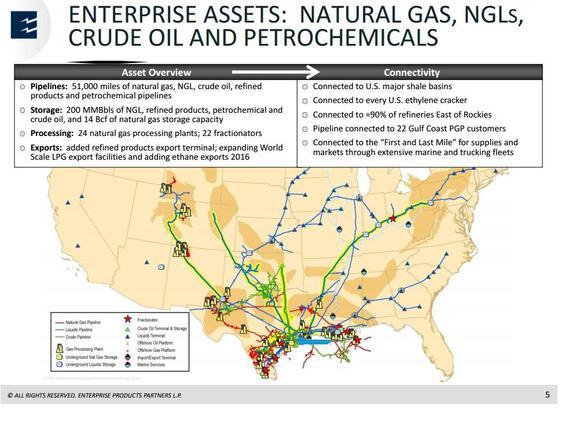 EPD is the largest exporter of ethane in the U.S. In 2016, EPD exported about 20 MBPD, but will grow this to approximately 125 MBPD in 2017 and 175 MBPD in 2018.
EPD has a large amount of fractionation capacity which is needed for processing NGLs. EPD likes to control the entire process of a hydrocarbon's journey. The NGLs come out of the ground and are processed at an EPD natural gas processing plant. The product is then shipped on an EPD pipeline to an EPD fractionation facility, where it is processed further. Then it is sent on to the final leg of its journey on another EPD pipeline to be exported at the export facility or transported to a petrochemical plant. All along the way, EPD is getting paid.
The chart below shows the EPD fractionation facilities: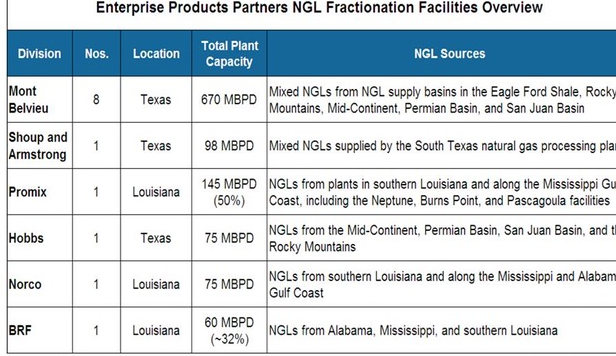 EPD also has a marine terminal located on the Houston Ship Channel that can load cargoes of fully refrigerated, ethane, propane, and/or butane onto multiple tanker vessels simultaneously. In December 2015, the terminal's loading rate was increased from 16,500 barrels per hour to approximately 27,500 barrels per hour. Overall loading capability at the terminal is 16.0 MMBbls (one million barrels) per month.
EPD also sees opportunities in the propylene market for polymer grade propylene. EPD is expanding a facility that will ultimately be able to export 1.65 lbs a year of polymer grade propylene.
When it comes to transporting and processing NGLs, I do not think there is any other midstream company that is more involved than EPD.
What I have always liked about EPD is it manages the company's financials conservatively. It always retains some of its distributable cash flow for use in funding future projects. 50 consecutive quarters of increasing distributions is testament to its conservative management.
EPD has a yearly distribution of $1.64, which is a yield of over 5%.
DCP Midstream
DCP Midstream (NYSE:DCP) is actually the largest NGL producer and natural gas processor in the United States. DCP gathers and/or processes about 12 percent of our nation's natural gas.
DCP has 61 natural gas processing plants, 12 fractionators, 59,700 miles of natural gas pipelines, 4,600 miles of NGL pipelines, and can process 7.8 Bcf/d of natural gas.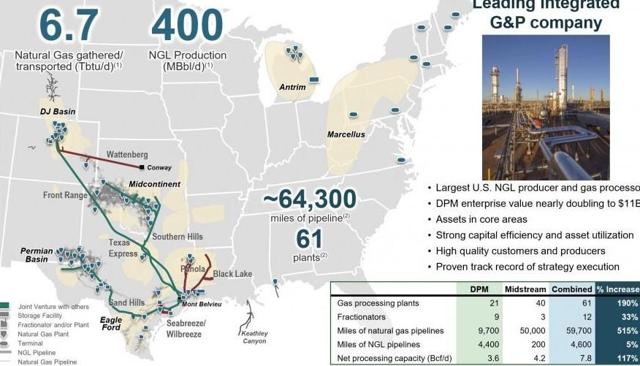 DCP is active in all the liquid-rich plays, including the Eagle Ford, the DJ Basin (Colorado/Wyoming), the Permian Basin and the SCOOP/STACK (Oklahoma).
So with all those great assets, let me explain why I like EPD more and consider DCP a riskier bet. DCP is owned by Phillips 66 and Spectra Energy (NYSE:SE) in a 50/50 joint venture. The structure of this arrangement was recently simplified in an effort to improve the financial situation of the company. Below is a chart showing the recent change: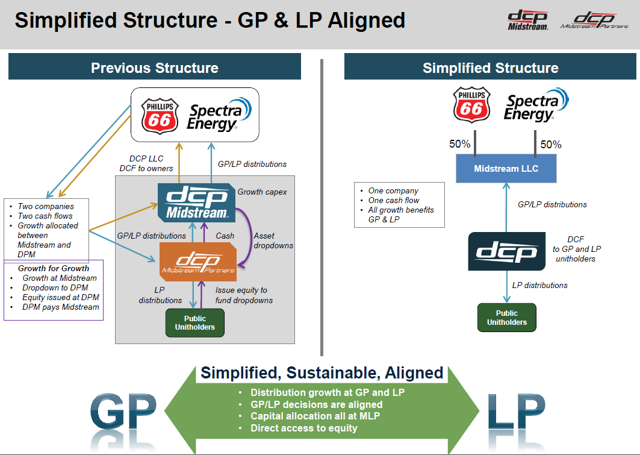 Despite this change, the financial situation at the company is less than ideal with thin coverage of the distribution. As such, DCP is expected to keep its distributions flat for all of 2017, even after the simplification transaction. The partnership has declared a flat distribution of $0.78 per unit, or $3.12 yearly, for the past several quarters. In an investor presentation, DCP noted that its sponsors, including Phillips 66 and Spectra Energy, plan to provide "$100 million IDR giveback annually through 2019", if necessary, to maintain at least a minimum 1.0x distribution coverage.
So why would I mention a company in a weak financial situation? Because I think the financial situation is getting better, and I believe the NGL market is improving.
DCP is moving to a more fee-based business model, less exposed to commodity prices. In 2016, DCP was 55% fee, 40% commodity and 5% hedged. In 2017, it will be 60% fee, 30% commodity, and 10% hedged. The goal is to get to a 70% fee business. Cash flows and profits should improve. And, increasing demand for NGLs should result in more business for DCP and more fees collected.
As mentioned previously, DCP pays a $0.78 quarterly distribution, which is a yield of over 7%. Collecting a 7% yield while you wait for improving business operations and commodity markets is not a bad thing. As a reminder, the distribution is thinly covered and requires the support of the owners. There is risk in DCP, but also potential, so anyone owning DCP should keep a close eye on the operations and finances.
Summary
I have tried to show that demand for NGLs will be increasing and as such, the companies that are heavily involved in the NGL process should do well. Ethane and propane will see export numbers grow and the petrochemical demand will ultimately increase demand for all NGLs. One thing investors must keep an eye on is the cost of product. If the cost of ethane and/or other NGLs were to rise greatly, it is possible for naphtha, an oil product, to be substituted. However, as the market currently stands, NGLs are set for a large increase in demand.
Disclosure: I am/we are long XOM.
I wrote this article myself, and it expresses my own opinions. I am not receiving compensation for it (other than from Seeking Alpha). I have no business relationship with any company whose stock is mentioned in this article.