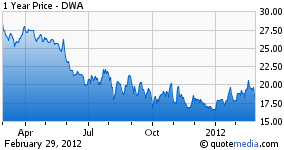 Dreamworks Animation (NASDAQ:DWA) shares were pushed down eight percent initially in after hours trading Tuesday after the company reported poor earnings and guidance. The shares ended Wednesday down over 12% from Tuesday's closing price. For anyone who believes in the company or sees a bargain in share price, now might be the time to take a chance and invest in the company.
For the fourth quarter, Dreamworks Animation reported net income of $24.3 million on revenue of $219 million. The net income was down from $85.2 million the year before and the revenue was a decrease of 21% from $276 million the prior year. Earnings per share for the quarter were reported as $0.29, compared to $0.99 the prior year's fourth quarter. The company missed analyst's targets on net income and earnings per share but did meet their target of $206 million in revenue.
For fiscal 2011, Dreamworks Animation earned $87 million in net income off of $706 million in revenue. Earnings per share for the year were $1.02. The company finished the year with $116 million in cash and no long term debt. The company expects the cash position to stay the same until the release of Madagascar 3.
Analysts on Yahoo expect earnings per share of $1.11 in 2012 and $1.13 in 2013. These numbers are both slight increases over 2011. For the first quarter, analysts expect earnings of $0.16. This quarter will show no movies and have DVD sales from Puss in Boots. While the first quarter could be hard to beat, I think Dreamworks can beat the annual earnings expectations with slight increases in box office revenue from Madagascar 3.
In 2011, Dreamworks Animation released two movies with Kung Fu Panda 2 and Puss in Boots. The prior year the company released three movies, which led to part of the decrease in revenue. Kung Fu Panda 2 has made $665 million in box office revenue since its release. Puss in Boots to date has made $525 in box office revenue. Both movies made significantly more in international release than during their domestic runs. Puss in Boots, which recently crossed the $500 million box office mark, is still set to be released in Japan on March 17th. Also, more than 50% of box office revenue came from 3D showings of both movies.
One of the biggest negatives taken away from the earnings report and conference call was the fact that 2012's two movies will cost more to make. The rise in price is due to changing release dates and higher production costs. Chief financial officer Lew Coleman said that the costs would return to normal in 2013. Marketing costs will stay in the $150-$175 million range as other movies released have been in. The two movies are expected to cost $145 million each to make, compared to the company's average range of $130 million.
The DVD segment has been a struggle for Dreamworks Animation and was one of the biggest cause for concerns raised during earnings. Kung Fu Panda sold 5.1 million copies on DVD, compared to Shrek Goes Forth's 7.2 million in 2010. Dreamworks cited both Netflix (NASDAQ:NFLX) and Redbox (NASDAQ:CSTR) as reasons why people are not buying as many movies.
Netflix, while cited as a negative in terms of DVD sales, was also discussed during the conference call in a positive sense. The company has purchased the rights to four of six television specials from Dreamworks Animation.
In the television segment, Dreamworks Animation had two of the top four animated shows in the ages 2-11 demographic for the fourth quarter. Both Penguins of Madagascar and Kung Fu Panda: Legends of Awesomeness were ranked high in terms of viewership amongst kids. The shows are both aired on Nickelodeon. How to Train Your Dragon will be launched as a television show in the second half of 2012 airing on the Cartoon Network.
One positive for Dreamworks was a brief discussion of a joint venture signed in China earlier in February. The deal is a joint venture with China Media Capital, Shanghai Media Group, and Shanghai Alliance Investment Limited. The deal will help Dreamworks create Chinese animated and live action movies to show in China. The movies will also be exported to other regions if successful. Dreamworks will own 45% of the joint venture. The deal will likely not produce a movie until 2015 or later but could be the company's ticket into increasing box office revenue inside the most populous nation.
The two movies being released in 2012 are:
Madagascar 3: Road to Europe - June 8th
Madagascar 3 will be shown in 3D for the first time in the series history. This should provide a nice bump in box office revenue, as 3D movies command a slight premium in ticket prices. Another positive for the company is that Madagascar 3 will be the third animated movie released in the year, which is showing that the number of animated movies released in 2012 may be down from previous years.
Rise of the Guardians - November 21st
The movie will be an original release from Dreamworks Animation. Based on a book, the movie takes several fictional heroes (Santa Clause, Tooth Fairy, Easter Bunny) to fight against the Boogeyman.
Shares of Dreamworks Animation are still slightly above where they started the year at ($16.60). In my annual top ten stock list, I included Dreamworks shares for the second year in a row. After a disappointing year, I though shares were due for a rebound because of three key things:
1. New distribution deal
2. Licensing power
3. Shares at all Time low
The company has yet to announce a new distribution deal but CEO Jeffrey Katzenberg said a deal would be announced by Fall as the company is exploring several options. The licensing power remains strong with deals to bring How to Train Your Dragon to television, create new television specials, and new mobile games. Shares continue to be close to an all time low and look like a bargain at these prices and future earnings.
Disclosure: I have no positions in any stocks mentioned, but may initiate a long position in DWA over the next 72 hours.