The outlook for Canadian cannabis stocks is constantly changing. This is an update of the outlook for 2017. (read full report here)

The Toronto Stock Exchange Composite Index moved higher to start 2017 following in the wake of the Dow Jones Industrial Average that closed above 20,000 for the first time ever. As with the marijuana stocks and the Licensed Producers in particular, the pundits argue these broad equity measures are overvalued even as they persistently move higher. We view this dynamic of investor psychology as positive because stocks must climb a wall of worry and this is happening in the major market indexes.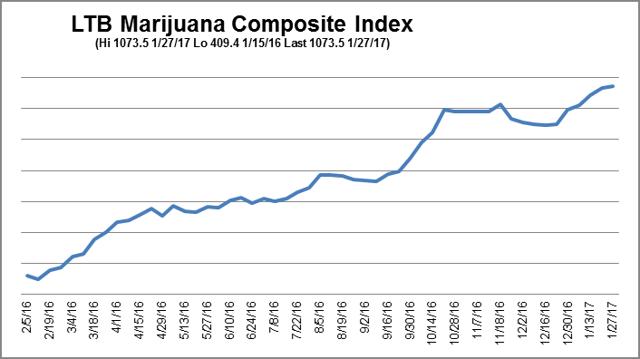 The Let's Toke Business Marijuana Composite also moved on to new highs as we expected. Investors can't overlook the fact that time is passing quickly. Canada's Health Minister promised cannabis legalization legislation in the "spring of 2017" which is between March 20th and June 19th. The earliest date is now less than two months away. If the government follows the task force recommendations, there will be many exciting new opportunities available. Also legalization will go to parliament where approval will be an historic event. This should keep marijuana stocks moving higher. Also I expect U.S. investors to shy away from domestic opportunities if the new administration begins to act on their deep seated negative attitudes toward cannabis.
Another technical plus is the ongoing support of market momentum as marijuana stock prices move higher. This is a recent change we have patiently awaited. This has not been the case for most of the past three years. If momentum follows the direction in prices, it means the majority of cannabis stocks are participating in the trend. I liken it to a football team winning with good offense and defense. If you win games with only one group performing well, it is less likely you will win the Super Bowl.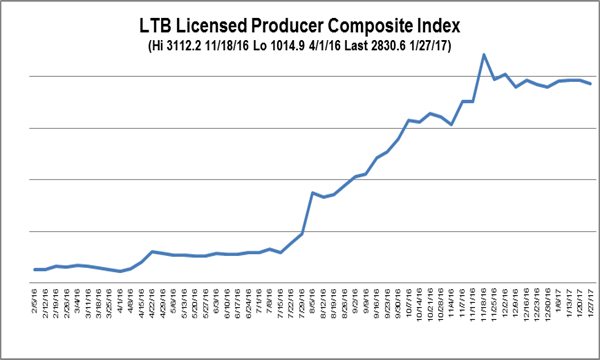 One subset of the marijuana stocks in Canada is the Let's Toke Business Licensed Producer Composite Index. (This index is currently comprised of the ten growers licensed by Health Canada that are trading on public markets. These are: Aphria Inc. (OTCQB:APHQF), Aurora Cannabis (OTCQB:ACBFF), Canopy Growth (OTCPK:TWMJF), Emblem Corp. (OTCPK: EMMBF), Emerald Health (OTC:TBQBF), Mettrum Health (OTC:MQTRF), Organigram Holdings (OTCQB:OGRMF), PharmaCan Capital (OTC:PRMCF), Supreme Pharmaceuticals (OTCPK:SPRWF) and THC Biomed Int'l (OTCQB:THCBF) I have posted specific reports on TWMJF (read full report on TWMJF here) and OGRMF (read full report on OGRMF here). For most of 2016, this was my preferred investment group but my expectations were reduced moving into 2017. I think investors will still do well but on a more selective basis. I see two issues holding back performance moving forward. One is the nearly $300 million in equity financing the LPs did in the final quarter of 2016 with more financings being announced in early 2017. The second is the many LPs planning to go public including: CanniMed Therapeutics, parent of LPs CanniMed and Prairie Plant, Hydropothecary, MariCann, The Green Organic Dutchman, United Greeneries and WeedMD. In addition, AB Labs, an LP, has agreed to sell a one-third interest to Invictus Strategies (OTC: IVITF). We expect excellent performance from the group in 2017 but probably less than last year. The LTB Licensed Producer Index so far this year reflects this expectation.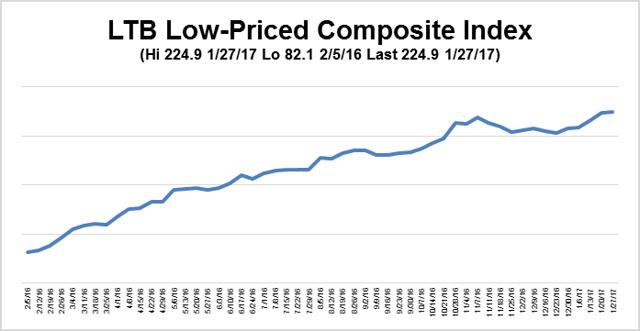 The group I think will produce the best performance in 2017 is the smaller companies as reflected by the LTB Low-Priced Composite Index. This index is made up of stocks trading at less than $.10 per share as a mandate for the more junior and speculative Canadian marijuana stocks. We expect to see this group mimic the licensed producers in 2016. Look for IPOs, equity offerings by existing companies and perhaps some merger and acquisition activity.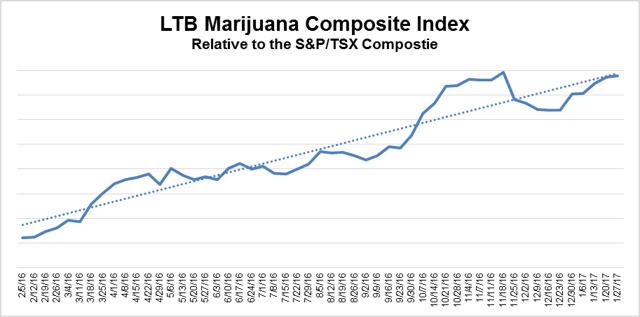 This chart compares the LTB Composite to the TSX Composite Index. It shows cannabis stocks have outperformed the average Canadian blue chip stock by a wide margin. In other words, if you have a Canadian equity portfolio, some exposure to the cannabis group will raise your overall rate of return substantially. Using index returns, a typical Canadian equity portfolio would have returned 22.9% over the previous twelve months. A 20% diversification into marijuana stocks would have more than doubled your portfolio return to 48.9%. With all the qualifications about past performance not guaranteeing future results, if you believe cannabis will be a leading growth sector over the next few years, exposure to the group should be rewarding.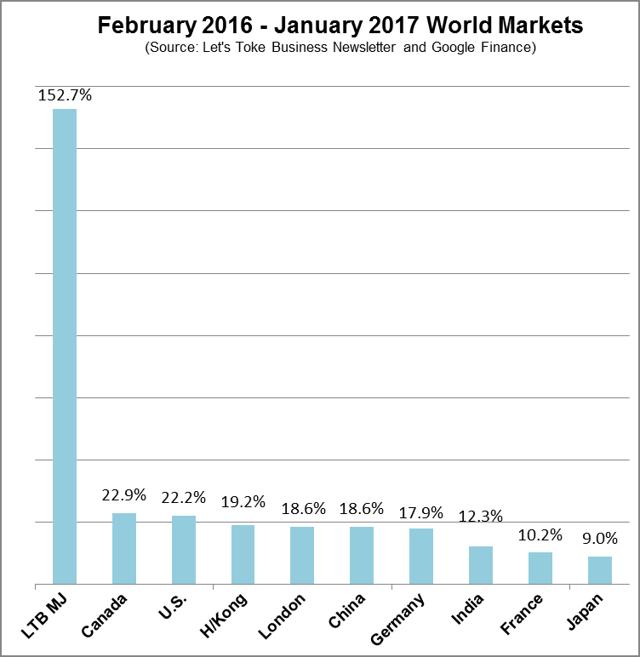 The next chart compares the one year return from investment in the major world markets compared to the Let's Toke Business Marijuana Composite Index the year from February 2016 to January 2017. This provides additional evidence of the advantage of having exposure to the cannabis stocks in your portfolio.
As the chart shows, there was not a major world market that provided returns anywhere near the Canadian marijuana stocks. As a result, diversification into the cannabis sector would have increased portfolio returns substantially. In addition, the factors impacting the performance of marijuana stocks are quite different. For example, world markets are currently worried about poor economic performance in China and the possibility of rising interest rates. We don't believe factors such as these will hurt the performance of cannabis stocks in the foreseeable future.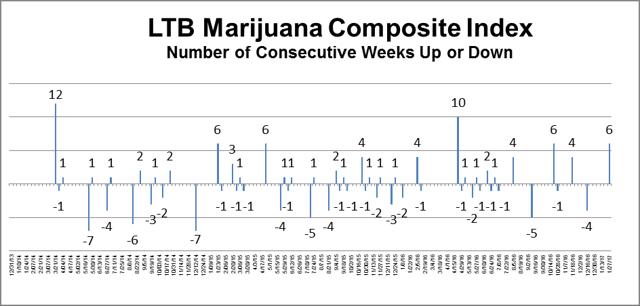 It is difficult to provide short term forecasts for a stock or a market sector. However, the next chart shows the length of rallies and reactions in the marijuana stocks. The current rally in marijuana stocks is now 6 weeks long and the chart shows that in the past 3+ years, only 2 out of 30 rallies have lasted longer: in early 2014 and 2016. So it would not be surprising to see a small correction as we enter February but I view that as a buying opportunity and nothing to be concerned about.
Conclusion: my outlook for Canadian marijuana stocks is for further gains with total returns outperforming all the major world market indexes and perhaps lagging only the marijuana stock returns posted in 2016. The markets are off to a good start along these lines.
In summary:
Canadian marijuana stocks: I expect the strong uptrend in marijuana stocks to continue. Investment drivers include: introducing and enacting legalization regulations in the first half and the developments surrounding provincial and municipal regulations that will pave the way for legal operations to begin. Before the necessary laws are framed and passed, I think there will be more mergers and acquisitions among the existing companies and IPOs of companies seeking to capitalize on opportunities allowed by the new regulations.
Canadian Licensed Producer stocks: I expect this group to continue to do well over the balance of the year with the LTB LP Index in line with the LTB Composite. Investments in the sector should be more selective and my picks are OGRMF and TWMJF. Investment drivers include: additional mergers and acquisitions, successful expansion of production capacity for dried marijuana and oils, export sales and the leading role these companies will play in the upcoming legalized environment in Canada.
Canadian marijuana stocks relative to U.S. marijuana stocks: I continue to believe Canadian stocks will outperform their U.S. counterparts moving forward based on the political winds blowing in America. Although cannabis has not been a major topic during senate confirmation hearings, I think this will simply embolden the likes of Jeff Sessions and Dr. Tom Price, assuming they are approved. Almost as important is the natural inclination of Republicans to be a more conservative leaning group that I think will mean a less positive overall attitude toward cannabis over the next four to eight years.
Low-Priced Canadian marijuana stocks will likely lead the parade: as I said in Canadian Cannabis Stocks: 2017 Outlook (read full report here) look for the small cap Canadian marijuana stocks to lead the way this year. I expect 2017 to be for small cap companies what 2016 was for Licensed Producers. I expect several existing small cap companies to finance in 2017 and I see many new companies entering the public markets though doors opened by the task force report. (see 7 Winners Identified by the Canadian Cannabis Task Force) I think existing small cap companies, especially those with revenues, will find a much improved investor sentiment to facilitate financing. Regular readers know I like Lexaria BioScience (OTC: OTCQX:LXRP) which has done very well since I first reported on it (Lexaria - the Best Cannabis Technology You Can Eat) and it's not over yet. LXRP is just getting started in my view.
Disclosure: I/we have no positions in any stocks mentioned, and no plans to initiate any positions within the next 72 hours. I wrote this article myself, and it expresses my own opinions. I am not receiving compensation for it (other than from Seeking Alpha). I have no business relationship with any company whose stock is mentioned in this article.
Editor's Note: This article covers one or more microcap stocks. Please be aware of the risks associated with these stocks.