This weekend, I finally found a 45 minute block of time in the car to catch up on a few week old Tom Ashbrook On Point podcast: "Forget Your Troubles, Come On, Get Hygge". I'm glad that I did, as this is a fabulous and offbeat episode that expanded my horizon, both culturally and imaginatively. It was a nice reprieve from thinking about our highly divided political atmosphere, financial markets, and the economic uncertainty of our times. Within the segment, Tom interviews New York Times columnist Penelope Green as she discusses excerpts from her December 24, 2016, article on "Hygge". I must admit, I am not nearly as well read or culturally aware as some of Seeking Alpha's writers, so the Danish word (pronounced Hoo-gah) and phenomenon was new to me. Per Penelope's in-depth reporting (see below), I am once again reminded I am nowhere near the cutting edge of recognizing cultural movements.
Hygge is already such a thing in Britain that the Collins Dictionary proclaimed it one of the top 10 words of 2016, along with Brexit and Trumpism.
Another of Tom's guests was Meik Wiking (translated to Mike Viking in English), who is the founder of the Happiness Institute, a Copenhagen think tank exploring societal happiness across countries. Meik recently published The Little Book of Hygge. The precise definition of Hygge, or its adjective form Hygglig (pronounced Hoo-gah-lee), is hard to pin down. It can be loosely translated into a small cozy gathering with friends, surrounded by an atmosphere of candles, a fireplace, some hot beverages and comfortable food, questing for presence in the moment, protected from the harsh elements, and not distracted by electronics or technology. Activities can include board games, thoughtful conversations, or time spent with family and friends. Given that Denmark consistently occupies the coveted top spot on the world's happiness surveys, perhaps there is something to this concept of Hygge.
Here are the World Happiness Rankings, where Denmark ranked first and the U.S. was 13th.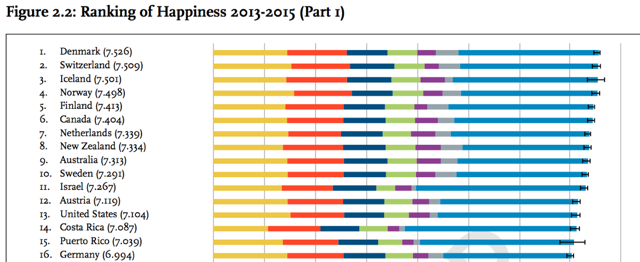 (Source: Business Insider)
Although, I acknowledge, Denmark's population is only 5.2 million compared to 318 million for the U.S., its population is much less diverse than the U.S., and it has a social democratic economic model (with high marginal tax rates, but lots of public benefit and social services) compared to the U.S.'s hard-nosed capitalistic system, this is an interesting concept. I don't know enough about Denmark and haven't visited, so I am going to refrain from making any sweeping opinions or declarative statements.

(Source: Trading Economics)
Perhaps the U.S. ranks in the 13th slot because of these major concerns, or at least partially so.
The overall U.S. Poverty Rate in 2015 was 13.5%. So for a country with a population of approximately 318 million, roughly 43.1 million people live in poverty.
With the rise of Donald Trump as our 45th president, I started to put stock into the considerable amount of wood Mr. Trump need to chop to Make America Great Again. If Mr. Trump wants to help the downtrodden and forgotten, like he repeatedly trumpeted on his campaign trail, then his work has a number of key metrics to be measured against.
As of 2015, 43.1 million people (or 13.5%) of the U.S. population is living in poverty. In some states, like New Mexico, Kentucky, and Mississippi, the rate exceeds 19%.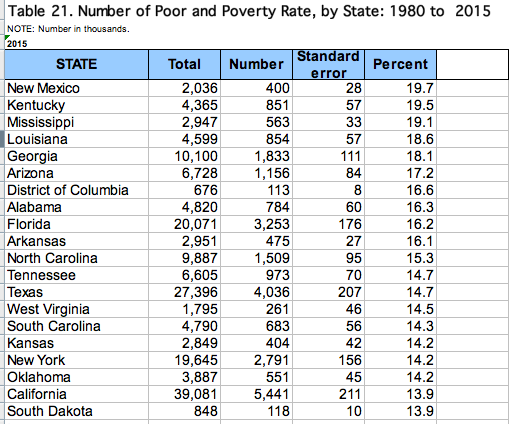 (Source: U.S. Census (Table 21))
Your next question might be: how is poverty defined? Here is the threshold for poverty by dollar value and adjusted for family size.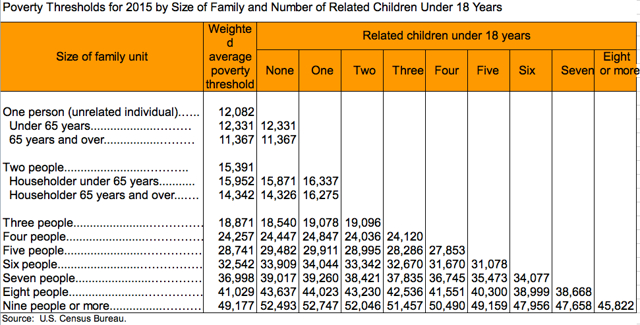 (Source: U.S. Census Bureau)
Next, we have the student debt problem. As WSJ research coverage on this topic has pointed out, we have way too much student debt, and too many Americans have neither the ability nor the willingness to pay for it. This is a major headwind, as these folks may be putting off marriage, buying a home, having children, and trying to save, due to limited job prospects and high debt service costs as a percentage of their disposable income. Many are also confronted with the challenge of - depending on their major, where they live, and level of collegial achievement - high rents and limited job prospects. This is a major issue that awaits Mr. Trump's administration.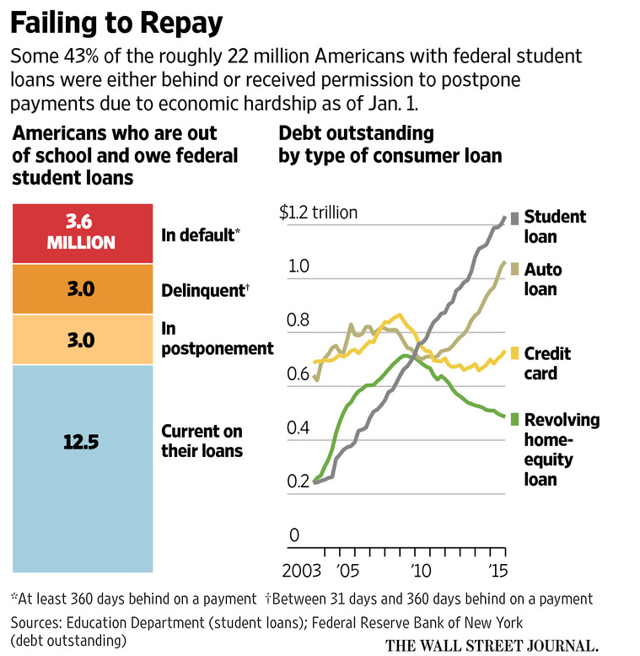 (Source: WSJ, Josh Mitchell (April 7, 2016))
Another issue is the wealth inequality in the U.S. There are only so many mansions, luxury cars, and vacations - and their commensurate multiplier effect - that the wealthy can buy. Therefore, most of their capital gets redeployed and recycled back into some form of reinvestment in securities, real estate, NFL teams, wine, gold, or other vehicles that store wealth. It isn't rocket science to understand that at the margin, the lower and middle income folks spend nearly 100% of their resources simply to navigate through life.
Fortune author Erik Sherman wrote an interesting piece chronicling the world's total personal wealth using data from Allianz's 2015 Global Wealth Report. In the aggregate, world personal wealth was estimated at $153.2 trillion, with the U.S. ranking highest both on absolute percentage and wealth inequality.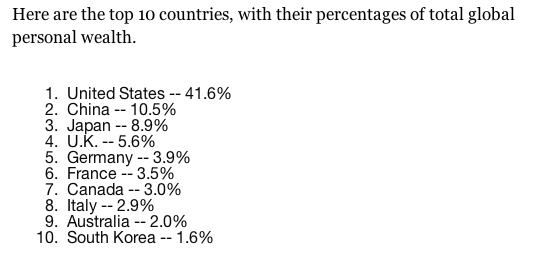 Highest Wealth Inequality

(Source: Fortune)
Another troubling statistic that came out in 2016 was the gap in life expectancy between the top 1% of Americans compared to the poorest 1% of Americans. In April 2016, author Michael Specter published an article in the New Yorker covering this topic. It is safe to say most people would find a 14.6-year gap way too high a figure.
It will surprise nobody to learn that life expectancy increases with income. Coming, however, in the midst of a Presidential campaign in which the corrosive effects of income inequality have been a principal debate topic, the data and its implications for public policy are particularly striking: the richest one per cent of American men live 14.6 years longer on average than the poorest one per cent. For women, the average difference is a just over ten years.
Well, some readers might suggest that given the anemic demand post the 2008-09 recession and lack of emergence of a breakthrough new industry or technology with the potential to create millions of good paying jobs, perhaps we could just run big deficits to stoke demand.
We already did that and it didn't work so well, and we still have a nasty hangover and $20 trillion in U.S. government debt tab. This doesn't include off-balance sheet stuff like Social Security and Medicare shortfalls, which are forecasted way out in the 2030s.
For perspective, U.S. government debt stood at $5.6 trillion before George W. Bush entered office in January 2001. When he left office, the debt was $10.7 trillion. As Barack Obama leaves office, U.S. government debt is projected to be close to $20.1 trillion. So in the George W. Bush era we added $5.1 trillion, and during the Barack Obama era we added $9.4 trillion. These are massive debt increases in 16 short years.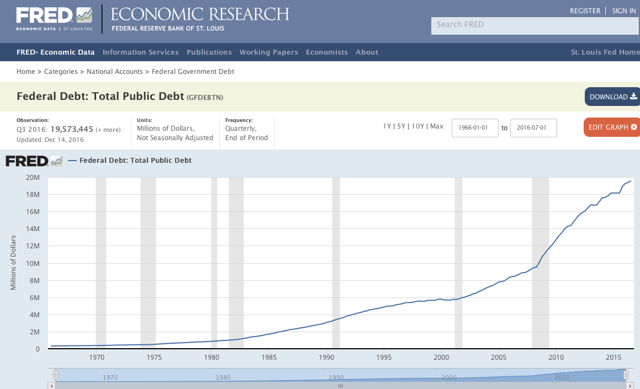 (Source: St. Louis Federal Reserve)
Before you accuse me of skewing the statistics or cherry picking so I can spin the narrative the way I want, if we look at debt as a percentage of GDP, the relationship has also gone parabolic, especially in the Obama era.
(Source: St. Louis Federal Reserve)
Moving along, let's switch gears to the technology Fab Five and job creation. And no, I am not referring to the University of Michigan's 1991 Fab Five college basketball team, I am referring to Tech's Fab Five.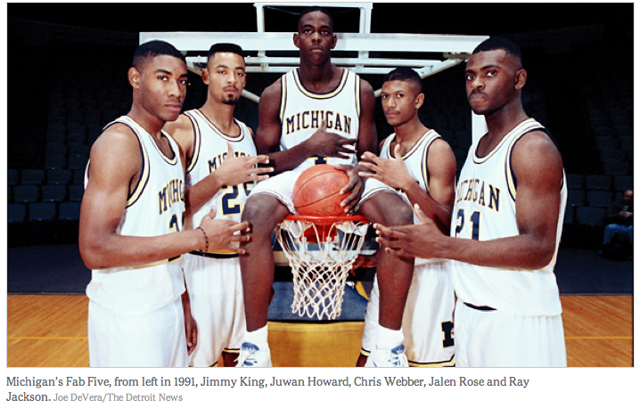 (Source: New York Times)
As of January 27, 2017, the U.S. technology Fab Five by market capitalization are Apple (NASDAQ:AAPL), Google (GOOGL, GOOG), Microsoft (NASDAQ:MSFT), Amazon (NASDAQ:AMZN), and Facebook (NASDAQ:FB). Collectively, the market capitalization of these companies has recently topped $2.5 trillion.


President Trump has his work cut out for him, as the "Tech Fab Five" currently command market capitalizations of $2.5 trillion, and yet, they only employ 535K people. Also, Apple and Amazon are very guarded as regards how they report their employee numbers, so Apple's figure is probably inflated by its 430 global retail stores and Amazon by its seasonal workforce during the holiday seasons.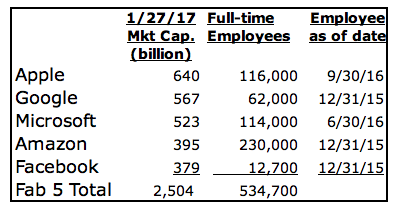 For perspective, the size of the U.S. labor force is 159.6 million people, and despite the $2.5 trillion collective market capitalization of the Fab Five, these companies employee a measly 0.33% of the population.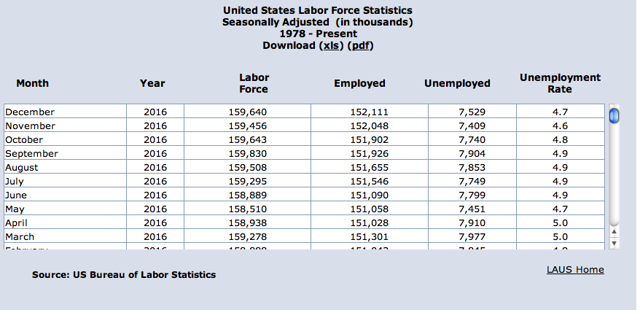 (Source: RI Department of Labor and Training)
Also, I like referring to the U6 index, as the unemployment rate is artificially low because people in the labor force are no longer counted if they give up their job search. The U6 unemployment figure is 9.2%, well off its high watermark of 17.1% (given the inherent lag of the 2008-09 housing crash), but still way too high considering the extraordinary measures enacted by the U.S. government in the form of fiscal and monetary policy.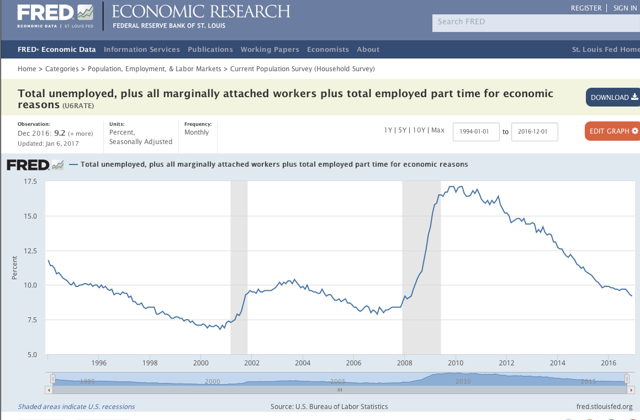 Maybe the record S&P 500 (NYSEARCA:SPY) is simply a function of record stock buybacks and dividends. Yardeni Research has published some great slides on this topic. Per Yardeni, as of Q3 2016, on an annualized basis, S&P 500 dividends and buybacks totaled $547 billion. As of December 31, 2016, the S&P 500 had a total market capitalization of approximately $20 trillion. So, a $547 billion buyback and dividend figure is meaningful.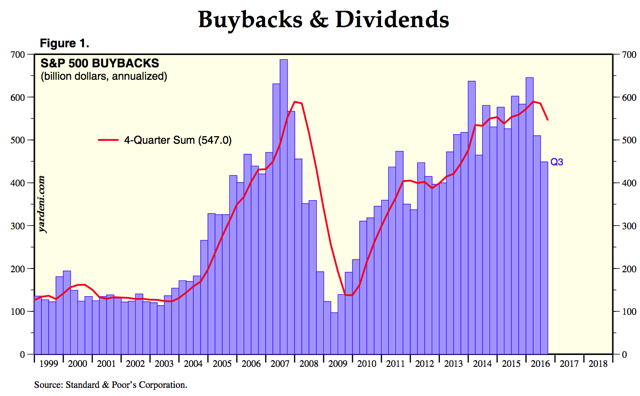 (Source: Yardeni.com)
Perhaps the record stock market is simply a function of the animal spirits in anticipation of President Trump's pro-growth economic plans? However, when I look at the underlying data and wrap my arms around the challenges, I am tempted to simply bury my head in the sand. That said, despite the persistent challenges, there have been so many well-credentialed experts who have been trying to call the top on this market since 2014. The wall of worry continues to mount, and the market continues to grind higher. Outside of a trade war with China, the threat of rising interests is my biggest concern, because this make stocks less attractive on a relative basis and creates big bond losses, not to mention higher borrowing costs.
President Trump has his work cut out of him. As for trying to call the top this bull market, I realized a few years ago, albeit later than I should have, that this is a fool's errand. I have enough trouble trying to find undervalued, high-potential turnaround securities. Some days, I just want to have a hygglig weekend.
Disclosure: I am/we are long SPY.
I wrote this article myself, and it expresses my own opinions. I am not receiving compensation for it (other than from Seeking Alpha). I have no business relationship with any company whose stock is mentioned in this article.