One year ago, Cedar Fair, LP (NYSE:FUN) was added to the Goldman Sachs conviction buy list with a 12-month target price of $69. At the time, the unit price was around $53, and I wrote an article titled "Invest In Cedar Fair For Yield, Not The Goldman Sachs $69 Target."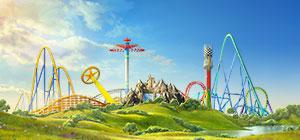 There were many reasons cited to explain why I expected the price appreciation would be less than anticipated by Goldman, and I concluded the article with the following:
I am comfortable with recommending that an investor take a position in Cedar Fair because of the distribution and the current yield, but there are just too many headwinds and uncertainties to rate it a "Conviction Buy". While I wouldn't be surprised to see the shares exceed the all time high of $60.64 set last year, the expectation of a 30% increase to a $69 price appears to be well out of reach.
The unit price did exceed the $60.64 price reached in 2015 and set a new all-time, intra-day high of $65.23 within the past two weeks, but fell short of $69. And while looking at the past to see how valid one's price prediction turned out can be interesting, it is far more important to correctly assess how the company will perform in the future and whether the price reflects that performance.
The Company
Before going further, it should be noted that Cedar Fair trades as a Limited Partnership with units rather than shares and a "distribution" rather than a dividend. At this time of year, when investors are receiving 1099s from their brokers, Cedar Fair won't be included. Instead, they will receive a K-1, and it will frequently arrive later than a 1099. It will include information about the investor's share of the company's income (or loss) for both Federal and state filings, as well as the distribution and information about the amount of Unrelated Business Gross Income. And while many of the tax software packages make it fairly simple to enter the information, there may be special reporting that needs to occur when the units are held in tax-sheltered accounts like IRAs.
Cedar Fair is one of the largest regional amusement park operators in the world, with eleven amusement parks, three separately gated outdoor water parks, one indoor water park and five hotels. The parks are located in Ohio, California, North Carolina, Virginia, Pennsylvania, Minnesota, Missouri, Michigan, and Toronto, Ontario. Although most of its parks face relatively little direct competition, there are exceptions.
The company's largest park in terms of visitors is Knotts Berry Farm in Southern California. It draws more than 5 million visitors annually, and is its only park that remains open all year. The park's location places it in direct competition with Disneyland (NYSE:DIS), which is only minutes away. In addition, it is not far from other major tourist attractions, including Universal Studios, Six Flags (NYSE:SIX), Sea World (NYSE:SEAS), the San Diego Zoo and Legoland.
Another park, Dorney Park in Eastern Pennsylvania, draws on the same population as Sesame Place, Hershey Park (NYSE:HSY) and Six Flags Great Adventure. Although its other parks may not have the same type of direct competition, the company still must compete for that portion of people's budget allocated for entertainment.
(While Cedar Fair may compete for visitors with Disney or Hershey or Universal (owned by Comcast (NASDAQ:CMCSA)), it should not be compared to these companies as an investment, as they have far more diversified businesses. A more appropriate comparison would be with Six Flags or Sea World, although those companies are not examined in this article.)
Reason No.1: The Distribution Yields ~5.5%
As noted, the company pays a distribution rather than a dividend. That $3.42 distribution currently yields ~5.5%, and it's a distribution that I expect will increase in the future. It's a primary reason why Cedar Fair is in my portfolio, even though the history of its growth has been erratic.
After showing steady growth to a peak of $1.92 in 2008, it rapidly declined to $0.25 by 2010. Since then, the distribution has exhibited remarkable growth: $1 in 2011, followed by annual payouts of $1.60, $2.575, $2.85, $3.075 and $3.33 last year. I fully expect another increase in Q4 of 2017 and increases to continue for the foreseeable future.
Reason No.2: The Expected Growth of the Distribution
Management has stated that the rate of growth of the distribution should be in line with the growth in Adjusted EBITDA. Unfortunately, that same management team has ceased giving specific annual guidance, and instead, gave investors a longer-term growth target. In May 2015, Cedar Fair issued its long-term goal of $500 million, or more, of Adjusted EBITDA in 2018. Earlier this month, the company again reiterated that it expects to exceed those projections one year early: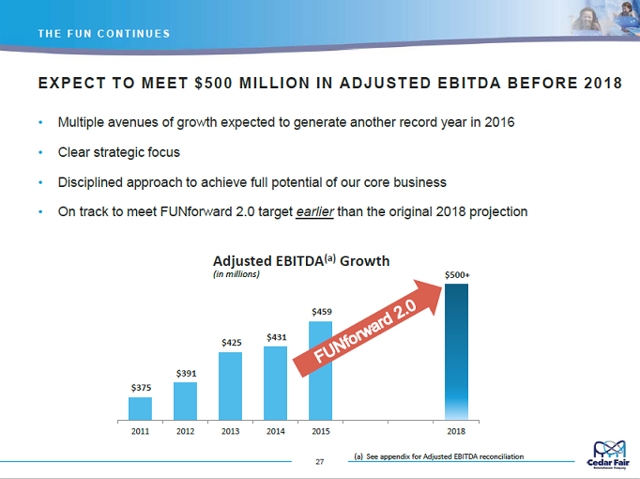 The same presentation also noted that the company has had compounded EBITDA growth of ~4% per year since 2007 and 5.3% per year since 2011. There is no question that Cedar Fair will once again have record attendance and revenue when it reports 2016 year-end results next month. We know this because at the time the company released its Q3 report (through September), it also reported certain results through the end of October. Those results included the following:
Net revenues through October 30, 2016, were up 4%, driven by a 2% increase in attendance, a 1% increase in in-park guest per capita spending and a 6% increase in out-of-park revenues, including resort accommodations
We also know that in the past, the end of October marked the conclusion of the company's Halloween Haunts events, and only Knotts remained open. That would be enough to ensure new records would be set. However, in 2016, Cedar Fair experimented with WinterFest at its Great America park near San Francisco. This holiday-themed event added an additional 21 days to the calendar in late November and December, which should add incremental attendance and revenue.
Cedar Fair management has stated that it expects to grow the distribution in line with the long-term growth in EBITDA - growth that was projected to be at a 4% rate during the FUNforward 2.0 four-year period ending in 2018. The 3.6% increase in quarterly distribution from $0.825 to $0.855 does round up to a 4% increase and reflects the company's long-term projection. Unfortunately, it is also well below the increases seen in the past few years. Whether it is an indication that growth may become increasingly difficult or a reflection of a conservative management remains to be seen. Regardless, it is expected to grow.
Reason No. 3: Expected Top Line Growth
Cedar Fair has been growing its top line by steadily increasing the number of visitors to its parks and generating more revenue from each of those visitors. When CEO Matt Ouimet was hired earlier this decade, he also brought a host of programs that increased the revenue from each visitor. It began with simple programs like introducing laser light shows in the evening to encourage visitors to stay longer and consume more food. There was Fast Lane and Fast Pass, expensive ways to get to the head of the line for those visitors who came to ride a few of the very popular thrill rides and then spend the rest of the day elsewhere. He introduced pre-paid parking, recognizing that when that was paid in advance, visitors would have that much extra money in their wallet when they entered the park.
Ouimet also introduced CRM systems to track repeat visitors and suggest additional packages based on their profile and history. To help pay for tickets or season passes, installment sales were introduced. Later on, he added premium food service options and free in-park wi-fi, recognizing the need for visitors to stay connected. He introduced in-season events to draw visitors who might otherwise never consider visiting or to make additional trips. He has embraced digital technology, merging it with traditional rides into a form of "techtainment."
This past year, it was WinterFest, and if that is successful, it will probably be expanded to an additional park. There was also FunPix, introduced at the company's five largest parks, where guests can purchase photos in advance. And while it is difficult for an outsider to assess the impact of each of these introductions, the net result has been a steady increase in the in-park and out-of-park spending per visitor.
This coming year, Cedar Point opens its sportsplex, and it expects to draw 100,000 amateur athletes to tournaments and competitions. While each participating athlete gets a free ticket to the park, the big win should come from selling tickets to other family members who accompany the athletes. Potential expansion of this idea to its Carowinds, Charlotte NC park could be next.
Since the company has separately named and geographically dispersed parks, it can test out new ideas before rolling them out to other parks. If the new ideas don't work out, the cost and fallout is minimized. And as long as these ideas can keep coming and are successful at driving incremental visits and extracting more dollars from each visitor, revenue will continue to climb.
Reason No. 4: Recession Resistant Business
While Cedar Fair is not a recession-proof investment, it has proven to be remarkably resistant. After the 2001 recession drove revenue down by 6.1%, it snapped back 11.4% the following year. After the financial crisis resulted in a decline of 11.0% in 2009, it came back 13.2% the following year: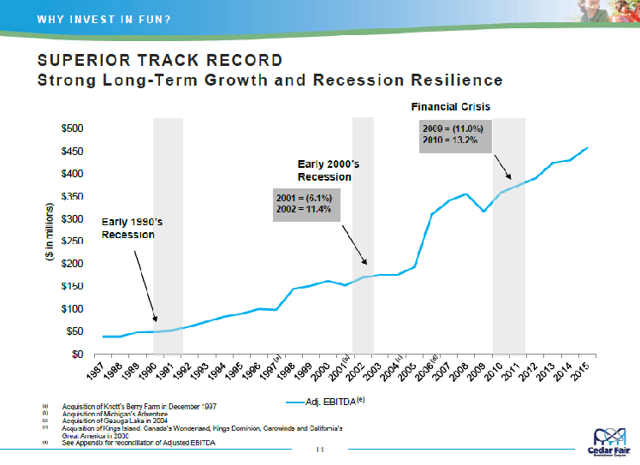 While families have the option of trading down to less expensive forms of entertainment during a recession, a visit to a Cedar Fair park can also be a trade down from a traditional one- or two-week vacation.
Summary
Is Cedar Fair a perfect investment? Far from it. Some may not want to be bothered with owning a publicly traded Limited Partnership. (I have to keep track of the units I own in an IRA to avoid the UBTI issues.) Its consolidated leverage ratio of 3.4x may be too high for some. Others may not want to invest in a company that depends on discretionary spending.
For this investor, the current yield was enough of a reason to own it. The fact that the distribution is back on a growth path that, I believe, is sustainable is another. Ouimet's focus on growing the top line is yet another reason to own the stock, and the limited downside from a potential recession is the icing on the cake.
Personal trading details: Authors are often accused of biases in their articles, so, in the interest of full disclosure, I am including this section as part of the article. I often sell covered calls against my long positions and could do so at any time. As I noted at the start of this article, I thought the Goldman $69 price target was too high. Backing that up, in June I sold a December $65 covered call option for $1.25. It expired worthless, as expected, and I am now trying to decide which strike price and expiration, if any, to sell. The issue? I would not be surprised to see FUN exceed the Goldman $69 target at some point in 2017, and it may occur as early as mid-year.
The options on FUN only go out to September at this time. The $65 strike price has a decent premium, ~$2, but it seems likely that $65 would be exceeded and the units would be lost. Meanwhile, the $70 strike price presents less of a risk, but just doesn't offer enough of a premium to compensate for that risk. Should the price move higher based on the Q4 call next month (or at any other time), and the premiums improve, I could become a seller a call option against my FUN position.
Disclosure: I am/we are long FUN, DIS, CMCSA.
I wrote this article myself, and it expresses my own opinions. I am not receiving compensation for it (other than from Seeking Alpha). I have no business relationship with any company whose stock is mentioned in this article.
Additional disclosure: I DRIP both FUN and DIS, and I may sell a covered call against FUN at any time. I have no positions in any of the other companies mentioned in this article, and no plans to open positions in those companies.