Eldorado Gold: Time to Buy?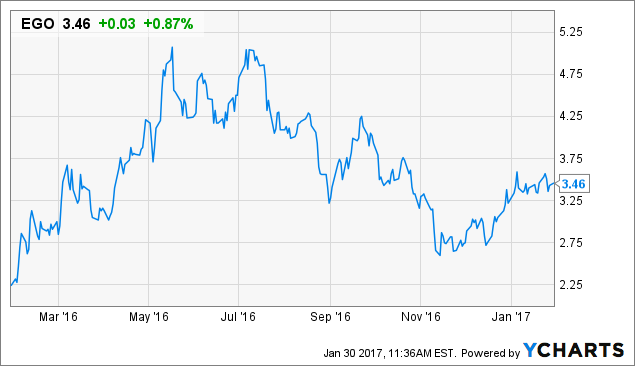 Eldorado Gold (NYSE:EGO) is one gold miner that I believe is in the middle of a big turnaround. The company has had issues with permitting in Greece where it looks like build a new mine, however, I believe the stock remains seriously undervalued, and the positives here outweigh the negatives. This is a low-cost gold miner that has arguably the strongest balance sheet in the mining sector, and recently released some positive production news which I will discuss in detail below.
No, I didn't include Eldorado Gold on my top gold stocks list for 2017, however, that doesn't mean I'm not bullish on the shares. For example, back in September of 2016, I called the stock an impressive long-term opportunity and then doubled down on my call when shares traded at $2.72, as I stated the stock would outperform.
Not including Eldorado on this list could end up being a mistake, I admit. The company recently announced its preliminary 2016 operational results and gave 2017 guidance, and I think shareholders should be quite happy with the news. If the company can deliver on its guidance, I think shares will continue to outperform.
For 2016, Eldorado says it produced 485,994 ounces of gold. Yes, this is slightly lower than the guidance given in the third quarter (495,000). However, Eldorado's 2016 cash operating costs finished at $578 per ounce, and this is lower than the original guidance of $585-620 per ounce. All-in sustaining costs (which include all costs like sustaining and expansion capital) finished at $915 per ounce, which is lower than original guidance of $940-980 per ounce.
Here is where things get even more interesting. Eldorado says it finished the year with massive liquidity of $1.1 billion, which includes $880 million in cash, cash equivalents and term deposits, and a $250 million undrawn line of credit. Part of this is due to the company's completed sale of its non-core Chinese assets for $600 million. This is arguably one of the strongest balance sheets in the gold mining sector.
For 2017, Eldorado is guiding for 365,000 to 400,000 ounces of gold, and this is much lower than 2016 due to the sale of the two producing Chinese mines. However, the company expects its cash operating costs to decline significantly in 2017 to $485-535 per ounce, with all-in sustaining costs falling to $845-875 per ounce.
When it comes to expected capital expenditures, EGO says it will spend $425 million as it advances Olympias to Phase II production (commissioning on target for Q1 2017) and as it brings the Skouries mine in Greece to production (targeted for 2019). This is a very reasonable amount to spend on capital expenditures, and with Eldorado's expected profitability and strong balance sheet, the company should have no problem funding the expenses.
Eldorado also says it will defer a decision to commence construction at Tocantinzinho in Brazil until it receives all of it permits. This is a smart move, because it reduces the company's 2017 capital expenditures at Tocantinzinho from $95-105 million to just $35 million in 2017. Once the permits have been received, the company can make the decision to proceed with the project.
As mentioned in a previous article, I think Eldorado's most important project is the Skouries mine in Greece (the company received permission to build the mine last November). Phase I production will see this mine produce 2.8 million gold equivalent ounces in the first nine years at negative cash operating costs (due to high recoveries and copper by-products). Over the life of the mine, it's expected to produce 6.4 million gold equivalent ounces.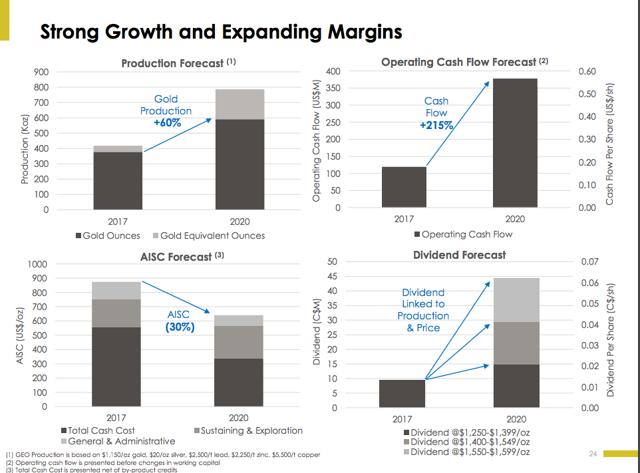 (Credit: Eldorado Corporate Presentation)
Yes, production will decline in 2017 due to the sale of the Chinese mines. However, by the year 2020, Eldorado expects its gold production to increase by 60% from 2017 (from just under 400,000 ounces to approximately 590,000 ounces), with new production from Skouries and the Olympias mine. Production of gold equivalent ounces should nearly double in that time frame.
In addition, the company is estimating a 30% drop in all-in sustaining costs to just over $600 per ounce and a 215% increase in operating cash flow to more than $350 million by 2020 (forecast based on $1,150 gold).
Since Eldorado's dividend is linked to both its production and the price of gold, you'll see in the above chart the potential dividend increase by 2020. In the more bullish scenario, the dividend could be close to $.06 per share with gold trading above $1,550 per ounce; using current gold prices, the dividend would grow to $.02 per share.
In conclusion, I felt Eldorado's operational results and 2017 guidance was mostly positive news for the company as it expects much lower costs in 2017. Meanwhile, the balance sheet is flush with cash and liquidity tops $1 billion. Eldorado is in an excellent position here, and I think the stock will outperform peers for the reasons mentioned above.
Disclosure: I/we have no positions in any stocks mentioned, and no plans to initiate any positions within the next 72 hours.
I wrote this article myself, and it expresses my own opinions. I am not receiving compensation for it (other than from Seeking Alpha). I have no business relationship with any company whose stock is mentioned in this article.