In Brief
In this article, I explain why I think Baidu (NASDAQ:BIDU) is a compelling buy at the current levels. The stock is still trading 30% below the top reached in November 2014 and shows a relative valuation gap that should disappear in the near future. While there are some macro risks to take into account, the company has a stable and growing core business with many growth options in other segments. The sale or spin-off of one of the unprofitable divisions could be a very strong catalyst, but also some slow improvements in such divisions could help unlock the stock price.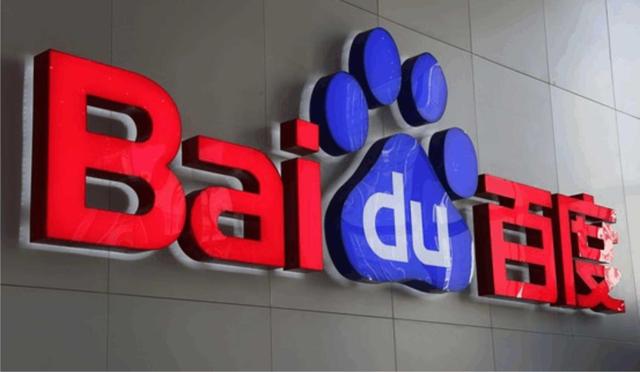 Why the stock price has declined
I have been bullish on Baidu for many months, and I disclosed my long in several articles. I still think the stock is one of the most attractive longs in the stock market today.
The stock is trading at very low multiples, considering its profitability and competitive position. The reason is that a mix of external weakness and company-specific issues weighed on market sentiment towards the company's short-medium term prospects. In particular:
- A slowdown in the Chinese economy and a strong appreciation of the dollar triggered weakness in many Chinese stocks, with fears that cyclical weakness could affect companies exposed to the advertising industry, such as Baidu.
- The growing operating losses of Baidu's unprofitable divisions have led to increasing pessimism about their future prospects. iQiyi and O2O Services are two growing divisions where Baidu is investing a significant amount of money and, while the company was heavily investing in those segments, revenue didn't grow at the same pace, leading to increasing operating losses.
- Concerns that the new regulation of Chinese online advertising practices (for healthcare services in particular) could lead to a significant loss in the number of customers, with a negative effect on sales.
Based on the company's valuation, competitive strengths and growth prospects, I thought the market mispricing was significant and decided to go long. The stock hasn't appreciated a lot in the last few months, but I am not less bullish than before.
Growth Prospects: Increasing Options
The main reason why I am long Baidu is that I think the company's core search business is still strong and not properly valued in the current stock price. Baidu's core search business can still benefit from the low penetration on internet among Chinese population (roughly 52%) and is clearly protected by a wide moat based on economies of scale, brand awareness and switching costs.
The increasing penetration and utilization of the internet among Chinese population and the leading position of Baidu search engine are factors that should guarantee decent growth in the future. Besides those factors, the company is trying to diversify its business in some related segments, although those divisions are still unprofitable at the moment.
iQiyi - This is an online video platform that includes licensed movies, television series, cartoons, variety shows and other programs. The platform has been seeing users double every 6 months and has already more than 20 million subscribers (as of June 2016). According to iResearch, the online video market in China is expected to grow by 40% in the next two years, and I expect iQiyi to fully exploit this growth trend.
O2O services - It includes services to connect users to merchants such as online travel, ticket booking, entertainment, food delivery, grocery and other services. This market is expected to grow at a 20% CAGR rate for the next few years (eMarketer) and Baidu can leverage its position in the search business to reach a high number of potential customers.
Autonomous Cars and AI - We know the company has been active in this business recently, partnering with Nvidia (NASDAQ:NVDA) in order to "build a self-driving car platform whose algorithm-based operating system would include cloud-based, high-definition maps and the ability to perceive and react to different road environments." Baidu declared the intention to start the mass production of driverless cars in 5 years. Moreover, the company has recently developed an AI chatbot that supports doctors and help them in the diagnosis of diseases and a software to help banks prevent fraud.
Besides those main segments, some recent developments indicate a further diversification of the business, through the expansion in Augmented Reality and an important partnership in the maps business.
Augmented Reality - Baidu is increasing its involvement in this business and has recently launched an AR lab to focus on new technologies. The company aims at developing AR services in education, healthcare, marketing and tourism, and it's already collaborating with L'Oreal (OTCPK:LRLCF), BMW (OTCPK:BMWYY), KFC and Lancôme to make AR-based advertisements. So far, Baidu has introduced a few AR applications in partner's stores, such as an AR smartphone game to 300 KFC outlets in Beijing. In the future, the goal is to integrate these applications into Baidu search, Baidu maps and Nuomi.
Baidu maps - This is not a new segment, but the company has recently announced that international expansion will be supported by a partnership with HERE maps. Actually, HERE has already powered Baidu maps for South-East Asia, and the company will start using HERE map content to expand in Europe and Rest of the World too. The company's goal is to double the number of customers by 350 million by 2020, which means twice the current amount.
Relative valuation and catalysts
Before the collapse started in 2015, Baidu was trading at premium over Alphabet (NASDAQ:GOOG) (NASDAQ:GOOGL). We can easily understand why. Although it still has great growth prospects, Google is more mature in comparison to Baidu, and the latter has been reporting higher growth and margins for several years. The situation hasn't changed - Baidu is still enjoying higher margins and has better growth prospects, even if the losing divisions are weighing on overall profitability.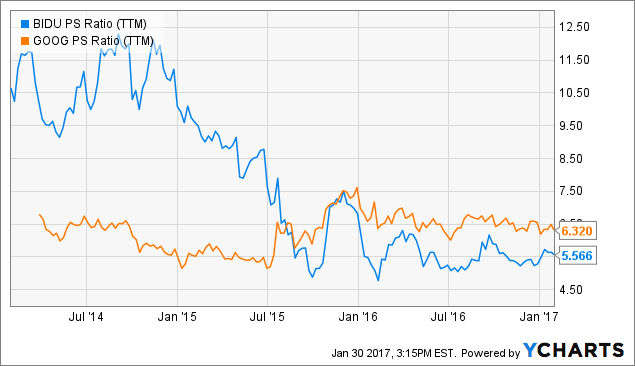 BIDU PS Ratio (TTM) data by YCharts
As we can see, after the sharp drop that took place in 2015, Baidu has been trading at a discount to Alphabet, but correlation between the two stocks has been very high.
I think there is a good probability that this valuation gap will disappear in the near future. BIDU deserves to trade at a higher multiple, and I think the stock just needs a catalyst to unlock significant upside.
There are a few catalysts that could unlock the stock price in the near future. In general, I think that all Chinese stocks are still lagging because of concerns that a trade war with the U.S. would hurt both economies and trigger a strong recession in China. I think the probability of this event is very low, due to the negative effects it would have on the United States. But if it happens, Baidu could experience some short-term weakness, considering the company's exposure to the advertising industry.
What I am waiting for is a signal that things are getting better for the two unprofitable divisions. I think this is what would change the sentiment and unlock a massive upside. Growth numbers for both iQiyi and O2O are very good, and I expect the strong revenue growth to slowly dilute operating costs.
Besides improving performance in those divisions, there are other catalysts that could unlock the share price. A spin-off or sale of one of the unprofitable divisions would be a strong catalyst, as I think the market would start to price the business according to a sum-of-the-parts valuation, where the core search business alone should grant a nice premium over the current price.
Takeaway
Baidu is still suffering from an excessive level of pessimism related to its unprofitable divisions. The stock is trading at a discount to GOOG, a condition that could reverse fast if the company announced the sale or spin-off of iQiyi or Transaction Services. Without this kind of catalyst, the stock could still start a slower uptrend if operating losses in the two divisions started to decline.
I think an investment in Baidu at the current price has an attractive risk/reward. There is a wide moat protecting the core search business, while growth options are constantly increasing beyond iQiyi and O2O services and now include segments such as artificial intelligence, autonomous cars and augmented reality.
The only big risk I see at the moment is related to the possibility of a trade war between the U.S. and China, which would be a strong bearish factor for the whole market.
Thanks for taking the time to read the article. If you liked it, click on the follow button at the top of the page. You will get my articles as soon as they are published.
Disclosure: I am/we are long BIDU.
I wrote this article myself, and it expresses my own opinions. I am not receiving compensation for it (other than from Seeking Alpha). I have no business relationship with any company whose stock is mentioned in this article.