Revenue = Ad load X CPM/CPC
Recent news about the proliferation of fake news on Facebook's (NASDAQ:FB) platform has sent shock waves and headwinds into Facebook's momentum. Since then, the company has stepped up the effort to make the social media platform free of misleading news.
From a high in October, the stock has since fallen amidst rising bearish views. However, most of the lost weight in market cap has been added back. Short interest has declined to signal a renewed interest and belief in Facebook's growth story.
While more of these uncertainties have been driven by management's initial guidance to expect slower growth in ad revenue, the company's fundamental growth story remains intact. Revenue from new forays (WhatsApp, Instagram) will balance the headwinds and catalyze a resurgence in coming quarters.
Facebook's big story is its ability to help advertisers achieve their marketing objectives.
Key marketing objectives include:
Increase in brand awareness
Lead generation
Sales growth
App Install
What separates giants like Facebook & Google (NASDAQ:GOOGL) (NASDAQ:GOOG) from the rest includes their wide reach, low CPC (eqiv = CPM, CPI) and better ROI.
A high user experience, audience retention rate, and engagement will ensure Facebook continues to optimize ad load to drive revenue.
Aside from a peak in ad load, the second major revenue driver is the ARPU.
ARPU is driven by user growth and revenue growth. Higher user growth = higher revenue growth = higher ARPU.
However, while user growth is set to stabilize, this is going to affect ad load as earlier announced.
Since the announcement was made, investors have had a one-dimensional view of FB's ad growth. Meaning, no growth = stagnant ad revenue. The only growth story now is Instagram, WhatsApp, and VR.
However, there is a hidden driver of Ad revenue that is yet to be unearthed.
Revenue = Ad load X CPC/CPM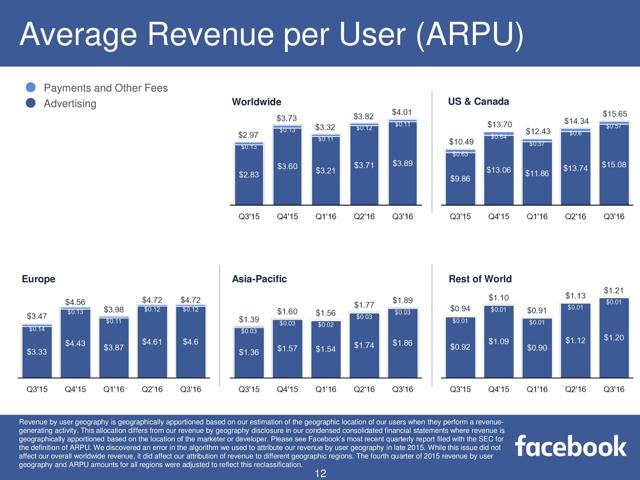 Source: Facebook
Worldwide revenue has been driven by MAU growth. However, this doesn't factor in the power of the average CPC trend. The rapid user growth has buried the effect of the average CPC/CPM in total ad revenue collected every quarter.
Essentially, a lower CPC = higher ROI. The less we spend on advertising, the lower the profitability threshold. More advertisers and brands flock to the ad platform.
Using blended industry data from Salesforce marketing cloud and Nanigans, I projected the current average CPC, CPM, and CTR for FB ads. This data represents the global average benchmark (using hundreds of millions of ad impressions and engagements) from the two ad platforms. While the estimate may differ slightly from Facebook's internal data, the important takeaway is that we can double revenue if we double our CPC as you will see later in the projections.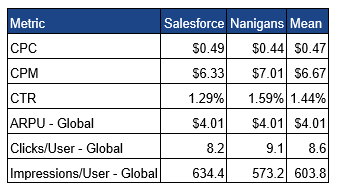 ARPU, Clicks/User & Imp/User are quarterly estimates
In the US, the figures are higher.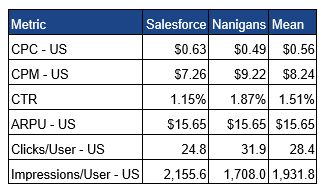 If the argument that Ad load and user growth holds true, then the only way for Facebook to keep the ad revenue growth story intact is to increase average CPC that advertisers pay to display their ads.
However, FB is absolved of the hassle of sacrificing ROI because peak ad load means more competition. i.e. they don't have to crank up the ad algorithm to increase avg. CPC. Competition will ensure a continuous upward ramp in CPC. This will be mostly effective in developing countries.
The way the Facebook ad auction works, CPC is naturally driven up by competition. The more advertisers are competing for an ad space, the more valuable the ad space and higher the cost per impression (CPM/CPC).
Using the magic formula of Ad revenue = Ad load X CPC/CPM, all Facebook needs to do is to get more advertisers to join the FB ad network. Mostly in developing countries where ARPU is ridiculously low, doubling the number of advertisers competing per auction has the potential to increase CPC/CPM by 2-fold. A 2-fold increase in CPC/CPM is a 100% growth in revenue.
With that simple formula, FB's growth is bound to continue until doomsday, unless ROI per ad space goes so bad that advertisers pull out and jump on other bigger platforms which currently do not exist.
Moreover, given its competitive moat derived from a combination of its unique features, Facebook is set to sustain its growth story. This means more total return to shareholders. The only downside is how much of the future expectation has been priced into the stock.
We can test that with its current peer valuation and the future forecast of ad budget in the advertisement industry.
For a perfect comp analysis, we can leverage key financial ratios which can be compared with each market player's ability to sustain a high ROIC.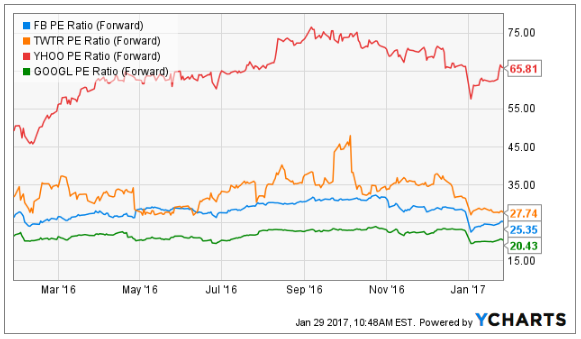 Facebook is fairly valued using a forward PE ratio. However, this might not be sufficient to represent the unlimited upsides.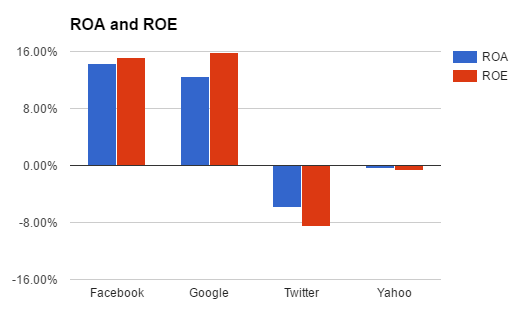 It is generating more return at a lower cost of capital reflected by its huge ROA and ROE compared to competitors.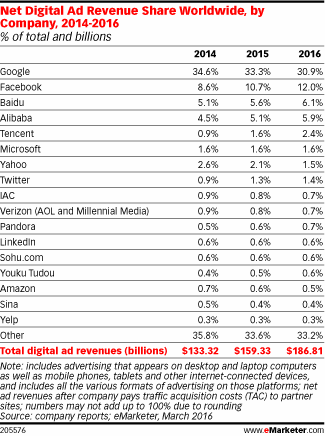 Source: eMarketer
Going by the chart above, Facebook is projected to continue to grow market share. This projection is clear using the ad load formula since we can grow revenue by simply adding more advertisers to the network.
When will the growth story end?
A combination of a relatively lower reach, high cost per click and lower ROI has prevented a competitor like Twitter (NYSE:TWTR) from catching up with the duo-poly of Facebook & Google. This means the growth story currently fueled by the explosion of mobile devices will continue until a new force renders Facebook obsolete.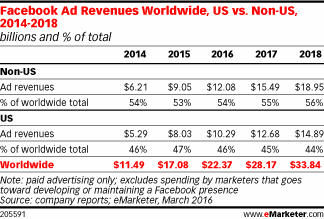 Source: eMarketer
Recently, Facebook made more strides in audience reach when Instagram crossed the 600K mark. That's an increase of 100M users within the last 6 months. If Twitter and Instagram are to go pound to pound, that's a gain tantamount to a third of Twitter's MAU.
If the market is to value that gain alone in line with Twitter's current valuation, that would be a far cry from the swan song bears have been playing of recent.
A recent study by Nanigans revealed that ROI and ad spend have been trending up in 2016.

Source: Nanigans
While CPC declined Y/Y, this didn't affect revenue because of the recent growth spate. When you look closely at Q4 2016, CPC grew QoQ, driven largely by events like the US elections and heavy media buying during the holiday season. This proves the positive effect of competition in the ad auction on CPC/CPM.
In the absence of ad load growth, FB's eagle eye should now be on CPC.
Conclusion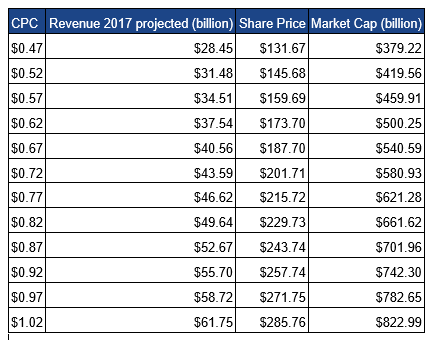 Ad Revenue = CPC x Clicks/User X MAU (assuming MAU is constant)
Facebook is a long-term buy with a PT of $140 on increase in ad revenue (ex WhatsApp & VR), driven by an upward trend in CPC/CPM due to increased competition in ad auctions.
This is further propelled by its monopoly and huge ROIC, which is protected by a competitive moat that is yet to be penetrated. Its pool of talents is capable of matching any new wave of innovation threatening its business model and its strong leadership means little Enron-like risk in the near future.
Disclosure: I/we have no positions in any stocks mentioned, and no plans to initiate any positions within the next 72 hours.
I wrote this article myself, and it expresses my own opinions. I am not receiving compensation for it (other than from Seeking Alpha). I have no business relationship with any company whose stock is mentioned in this article.
Additional disclosure: If you like my article and would like to stay up-to-date on the next one, click the "Follow" button.