Roughly 500 companies have reported earnings so far this season (which began on January 9th), and believe it or not, more companies have raised guidance this earnings season than lowered.
While you might think that a positive guidance spread isn't a big deal, it is when you look at the data over the last six years. Below is a chart showing the quarterly guidance spread (% of companies raising guidance minus % of companies lowering guidance) for each earnings season going back to 2001. As you can see, just two out of the last twenty-one earnings seasons have finished with a positive guidance spread.
This season, the guidance spread is positive not so much because companies are raising guidance at a higher clip, but more because less companies are lowering guidance. Even still, the spread is currently just barely positive. There's still a long way to go before this earnings season ends.
Given the big jump in economic and stock market sentiment measures following the election, we've been curious to see how corporate America would respond as well. Guidance that's released along with quarterly earnings numbers is one way to track this. Should this season's spread finish in positive territory, it could be a sign that companies are finally coming out of a six-year funk.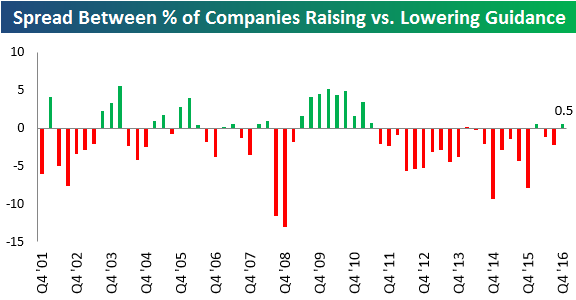 Thanks for reading the article. Follow our account to get our articles as soon as they're posted to Seeking Alpha. To get our full newsletter, sign up for Bespoke Newsletter PRO. Subscribers to that service get access to Bespoke's model stock portfolios, actionable data-driven insights, and in-depth analysis of everything that drives the markets, among other things.