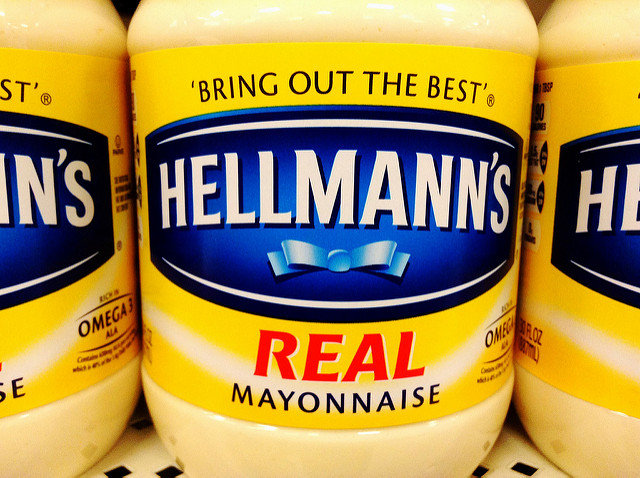 Unilever's (NYSE:UL) share price has been on something of a rollercoaster of late. This has been especially the case since the June Brexit vote after which investors both quickly ran to defensive shares and then subsequently ran from them as we edged towards the end of 2016: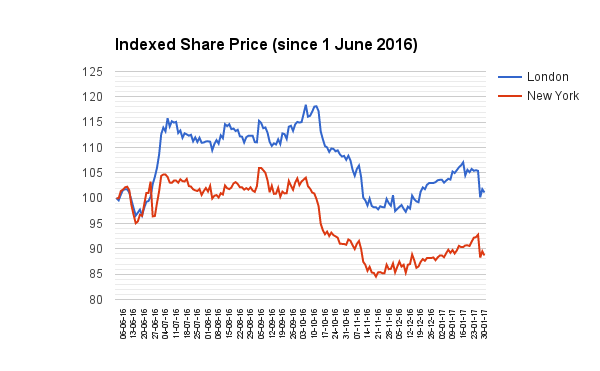 Nonetheless, since the start of 2017, the trend has been (generally) upwards as investors have turned back towards defensive companies. At least this was the case until Unilever released their FY2016 results on January 26: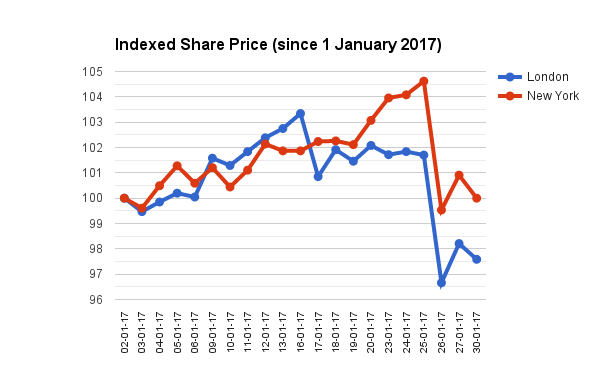 The result was a share price fall of about 5% (in contrast to a 3% lift on FY2015's results) in both their London-listed and New York-listed ADRs. Despite a modest recovery on January 27, their share price has remained noticeably depressed.
So has that reaction been fair? I'd argue not. Although clearly reflecting what remains a tough environment, Unilever's Q4 and FY 2016 results remain very impressive and continue to bode well for their long-term future growth.
Revenue Declines: Currency Headaches
The most striking aspect of the results for many was a reported revenue decline. Yet, in reality, it was hardly a surprise. The biggest influence on the decline was that of currency fluctuations which took a massive 5.1% off FY2016's results compared to FY2015.
Operating across the globe in a wide variety of currencies, Unilever is always exposed to significant currency risk. Yet, 2016 marked a particularly hard-hit one for them.
Yet, taking a look at the other contributors to revenue change, it was clear that Unilever managed to generate solid growth from 2016 when you set aside currency effects (Data source: FY2016 Company Presentation):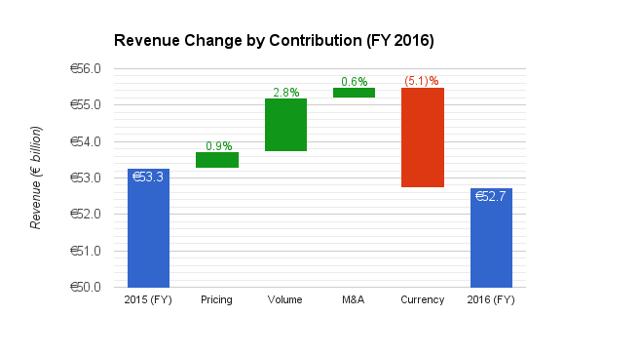 Pricing, volume and acquisitions all helped shove constant-currency revenue 4.3% higher. Even without the assist from acquisitions, organic growth was a solid if unspectacular 3.7% for the year. A robust looking result and hardly a good reason to send their shares down over 5% perhaps.
Pricing Continues to Power Growth
Yet investors did, maybe, have more cause for concern when you break it down a little further. Investors appeared to be reacting more to the specific Q4 2016 side of the results than the broader FY 2016. In particular, a standout part was related to volume growth.
At Q3 2016 time, I noted that Unilever was increasingly resting on pricing rather than volume growth. Come Q4 results, it is clear that this has continued: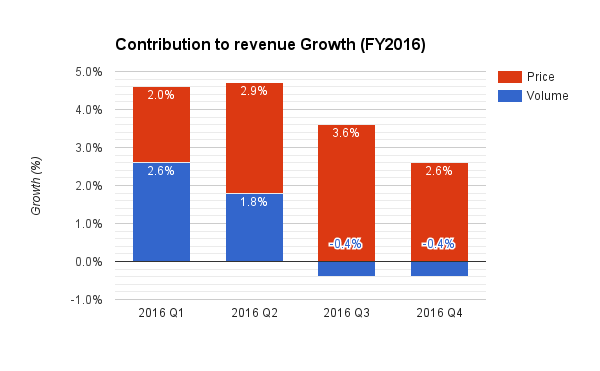 Again Unilever saw total volumes decline 0.4% on last year. The result of this is despite a strong start to 2016, full-year volume growth ended noticeably behind that of recent years: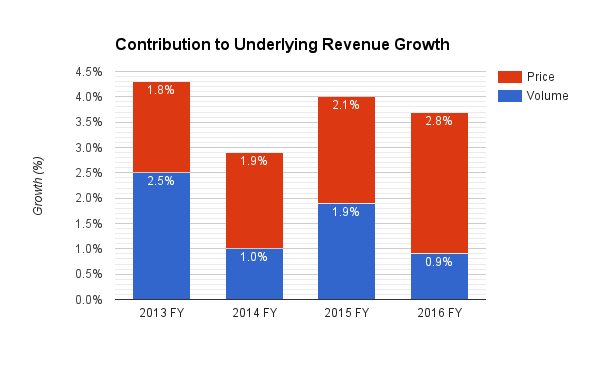 Fundamentally, this does give me the jitters a little too. At least, it does so until you dig just a little bit deeper. Unpacking FY2015's quarterly results shows that year's volume growth was disproportionately H2 weighted (and, in particular, Q3 weighted):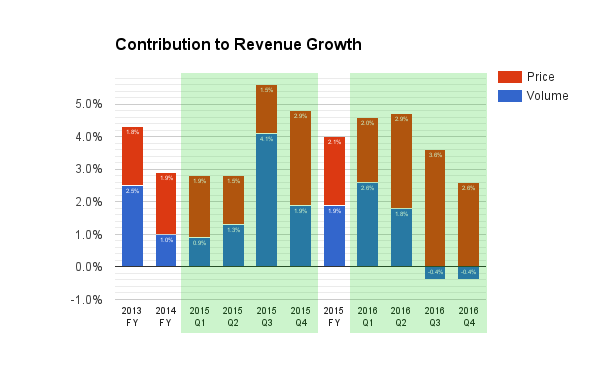 As becomes obvious, therefore, both Q4 and (more significantly) Q3 2016 had very tough comparators. What is more, the heavy price increases in Latin America had led to a hefty volume increase in late-2015 (due to stocking prior to hikes) and then the dramatic price hike in late-2016 (as prices were reflected in comparative results). Back at Q3 2016 time, the company pointed out that a variety of items affected volume (Source: Q3 2016 trading statement):
Volumes were significantly boosted by three similar-sized effects: a soft comparator in China, a strong ice cream season and sales phasing effects in Latin America that include announced price increases.
Unilever's CFO, Graeme Pitkethly, provided additional explanations for weaker volume performance in H2 2016 in their Q4/FY 2016 results presentation:
It is worth reflecting a little on the reasons why underlying sales growth-and volume growth in particular-were stronger in the first half of the year and weaker in our second half. Now, there are two parts to this. Firstly the comparators from 2015 when our growth was weighted to the second half of the year. Secondly the impact of the country-specific, external shocks. These particularly affected volumes in some of our largest markets in the fourth quarter.
The company highlighted some of the more striking examples in this presentation (Source: FY2016 Company Presentation):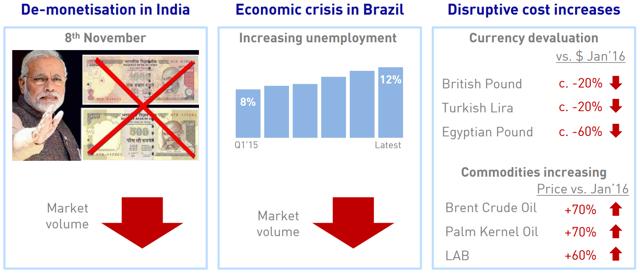 Countries like India and Brazil are seeing volumes fall as consumers are being squeezed either by economic hardship or weak currency availability. These are, naturally, matters outside the control of the company. Yet, Unilever is trying to mitigate against them. In Brazil, for instance, they are actively promoting their brands lower down the price bracket to try and capture the downtrading moves of consumers.
Nonetheless, Latin America continued to present the greatest volume weakness of Unilever's regions as currency and general economic weakness forced them to hike prices (restraining volumes performance in itself) as well as seeing consumers change consumption habits: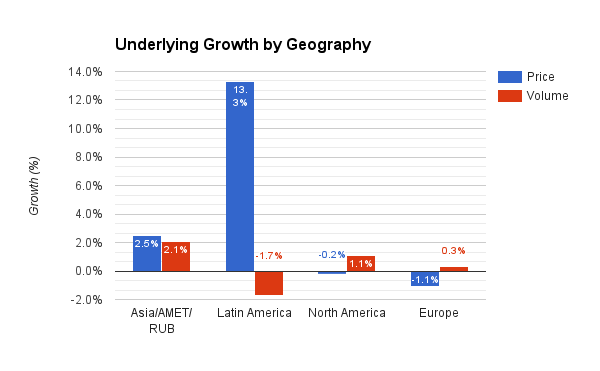 Yet there is little doubt that the volume performance in light of the pricing hikes and other additional pressures is impressive. As the company reported:
Latin America delivered double-digit underlying sales growth underpinned by pricing to recover higher input costs. The business demonstrated resilience with volumes holding up relatively well against contracting markets that faced substantial currency devaluation, high inflation and low consumer confidence.
Other price (and thus volume) pressures also hit Unilever. The rise in commodities pricing (also highlighted above) means a lift in pricing for Unilever and thus also an effect on volumes as consumers adjust to the new pricing environment. As Pitkethly explained:
As cost increases are put through there is often a reduction in promotional activity for a period of time. If competitors increase their promotions during the transitional period, it impacts our volumes. We see that at the moment in laundry in the UK, for example, and skin in the US.
As the company emphasizes they look to maintain competitiveness as seen through "volume and value share." As a result, we should expect to continue to see a very variable shift between focus on volume or pricing, as the company pulls the underlying revenue growth lever that best suits the environment.
All told, Unilever's performance emerges as an impressive read considering the company-specific pressures of tough comparators and country-specific issues of varying economic fortunes. These are not likely to disappear overnight. As we move into FY2017, we should expect to see a tough H1. As Pitkethly highlighted:
The country-specific factors which affected the latter part of 2016 are likely to persist to varying degrees at the start of 2017 before progressively improving in the remainder of the year. Q1 will also be affected by the later Easter and the one less day in the calendar.
Nonetheless, this should not distract from what remains a compellingly healthy picture emerging from the consumer giant.
Food Growth Strengthening
Indeed, a good example of this healthy picture can be seen from the improving performance of their Food segment (something I have been watching carefully in recent quarters). The importance of the Foods segment - which includes the Hellman's/Best Foods, Flora, Knorr and many more brands - to Unilever has been diminishing for some years now. Indeed, FY2016 saw the trend continue with Foods delivering 23.7% of total revenue down from over 30% in 2011:

Nonetheless, it remains a sizeable chunk of the business. Its consistent underperformance in recent years has, therefore, been a headwind for results progress across the company as a whole. Foods performance has been improving, however. Again this is a trend which has continued in FY2016. Underlying revenue growth has accelerated in Q4, leaving FY2016 growth at over 2%: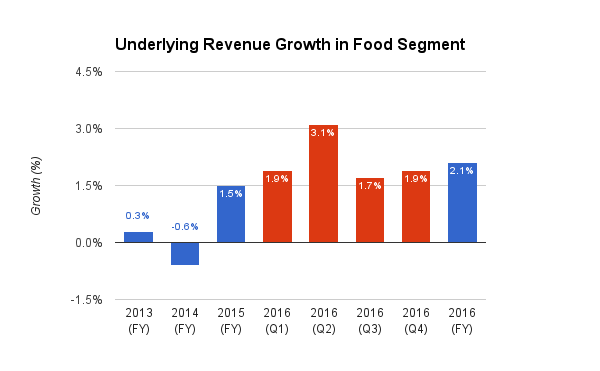 This is great news in itself. Yet more encouraging still is that although volume growth in the Foods segment for FY2016 remains negative, Q4 saw volume growth shift back into positive territory (if only modestly):

This is welcome news which hopefully will mark positive volume momentum being carried into 2017. Resting on pricing to drive revenue growth as well as compensate for declining volumes is sustainable in the short term, yet eventually volume growth had to return for the long-term health of the Foods segment to look truly sustainable. Q4 2016 seemed to provide investors with the tantalizing signs of the green shoots of a volume recovery.
Consolidating Capex (and Cash Flow) Levels
All told, trading performance was pretty solid to my mind. What is more, financial performance was even more attractive especially from the perspective of cash flow. Unilever's cash flow performance has been under pressure in recent years from what has been a particularly high level of capex the company was having to pursue to catch up with historic underinvestment in the business.
Now this catch-up investment has largely been completed, capex has been shrinking with it set to level off in coming years (Source: Adapted from 2016 Full Year Results Presentation):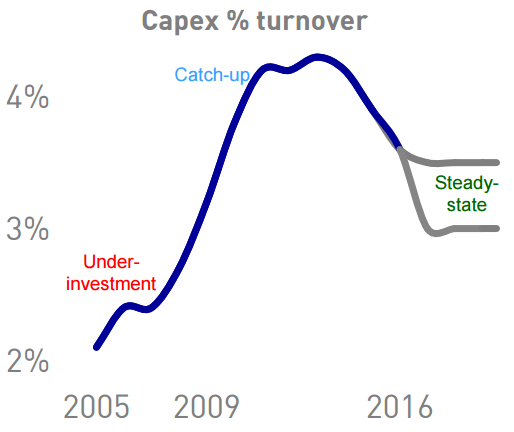 This is certainly true. In recent years capex has been running high. It has been reducing in recent years and they plan to see a capex to revenue figure around the 3% to 3.5% level in the future. Despite this, the most impressive part of it is simple: Unilever has continued to be a cash flow king despite high capex. Capex has certainly risen significantly, yet (courtesy of strong operating cash flow growth too) the company's FCF performance has been staggeringly solid: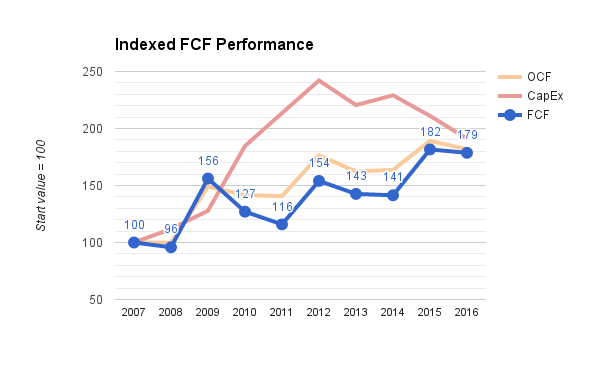 This is wonderful to see and bodes well for cash flow performance in future years as capex continues to settle into a new, lower range.
Strong CROIC Performance
Unilever's cash flow performance already keeps me very happy, however. This is clear from their CROIC-cash return on invested capital-performance. Calculated by dividing their FCF by their capital invested (that is, total debt and shareholders' equity) it gives us a good indication of how efficiently they are generating their FCF.
In Unilever's case, they are generating cash very efficiently indeed. To me, anything above 10% suggests a company is generating very high-levels of FCF. Unilever left 2016 with a strong CROIC of 15.7% (in line with their 10-year average of 15.7%):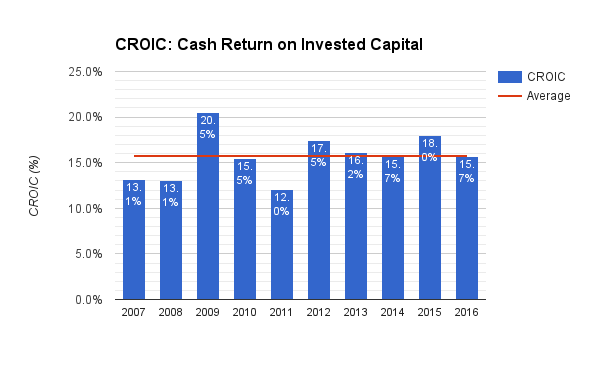 This is despite the high levels of capex noted above depressing FCF and growing levels of both debt (from €10 billion in 2012 to over €16.5 billion in 2016) and equity in recent years: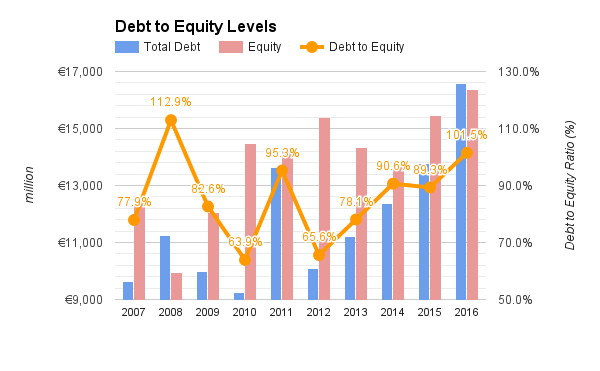 Debt growth is hardly unusual amongst their peer group and is something I have highlighted as a minor niggle in reviewing many consumer goods companies of late. Yet, what remains clear is that the debt situation at Unilever still remains very generous, courtesy of the strength of their FCF. Despite debt growth, total debt levels are over 31% covered by FCF: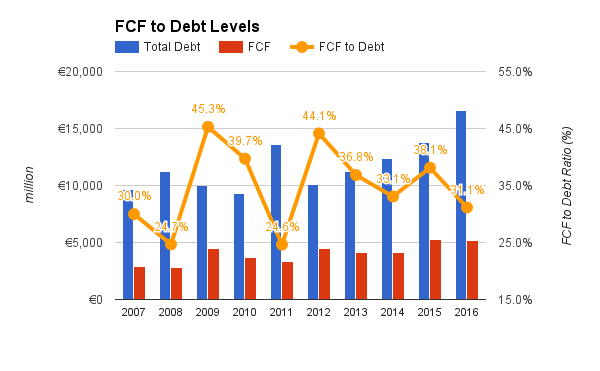 This means that - in theory - they could repay their entire debt load using FCF alone in a little over three years. That is, for me, a solid level of debt coverage though I will be watching to see whether it can keep above my ideal level of 25% or above.
Conclusion
Overall I remain highly impressed by Unilever's Q4 and FY 2016 results in light of what remains challenging conditions. Despite very strong pressure on both their ability to lift prices and volumes, they have managed to deliver in FY2016. True, volumes have struggled somewhat in H2 2016 but have done so largely due to tough comparators.
The company has understandably stressed that 2017 looks set (at least to begin with) to present similarly tough conditions for them. Nonetheless, looking more closely at their performance shows just how solid this consumer giant is and why so many investors continue to hold the business. So was the immediate post-results share price drop unwarranted? I think it was and, arguably, probably reflected the general nervousness of investors more than any specific worries about Unilever's results.
So should we be looking at picking up some shares in Unilever at current prices? Well, running my simple three-part valuation method over Unilever's shares suggests a fair value price around the $42.75.* That is about 5% above Unilever's current share price. They currently seem to present some value for investors right now as a result. What is unclear, however, is whether the share price has further to fall due either to continued general market nervousness or on reaction to forthcoming Q1 and Q2 2017 results which - as Unilever has already highlighted - will likely look more in line with H2 2016's weaker results than the stronger H1 2016.
Nonetheless, if I did not have a full position in Unilever already I would seriously consider topping up my holding at current prices. It remains an attractive, stubbornly consistent performer with a strong, global market position and proven management. Combined with cash flow which continues to impress and looks set to strengthen further as capex levels continue to fall, it is hard to ignore. Even if investors continue to pivot away from defensive, "bond-proxy" companies like Unilever in 2017, there still appears to be a strong long-term value case for Unilever at their current share price.
Notes
All graphs, tables and the calculations contained within them were created by the author unless otherwise noted. All data was collected from publicly accessible company filings and reports. Creative Commons image reproduced from Flickr user Jeepersmedia.
* For their London-listed shares this would be a price of around £34.15 and their Amsterdam-listed shares around €40 per share.
Disclosure: I am/we are long UL.
I wrote this article myself, and it expresses my own opinions. I am not receiving compensation for it (other than from Seeking Alpha). I have no business relationship with any company whose stock is mentioned in this article.