Caterpillar (NYSE:CAT) looks set to break through $100 a share despite lowering its 2017 guidance by $500 million. In fact the heavy machine builder is expected to report declining revenues once again in 2017 ($37.5 billion) which, if achieved, will come in almost $30 billion shy of what the company sold in its fiscal 2012 year. Caterpillar's share price when it finished its 2012 fiscal year (when its pulled in $5.6 billion in net income) was also slightly under $100 a share. However the difference nowadays is that we have had 49 consecutive months of declining retail sales and there appears to be no end in sight.
This is how erratic modern markets have become. Caterpillar's share price has predominantly risen due to rising commodity prices and bullish infrastructure calls from Donald Trump. Furthermore as the chart illustrates below, it is Asia that is leading the charge at present when it comes to eking any bit of growth out of the company. It just goes to show that the time to be in commodity based stocks is when the commodity cycle changes and not when the company's fundamentals turn around.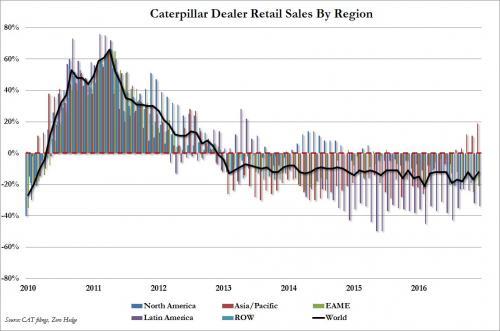 Source : Zero Hedge
Caterpillar bottomed out about 12 months ago at under $60 a share. The easy money has now been made in this stock. Could there be more upside? Of course but now Caterpillar will at least need a continuation of the commodity rally and for Donald Trump to come good on his election promises. Even if these events transpire, Caterpillar isn't projected to report significant growth until 2018. Hype and confidence can only last so long.
Caterpillar will sooner or later have to convince the market that its earnings are on their way back. Its payout ratio is nonexistent at present: the company paid out $1.8 billion in dividend income last year but reported a loss of $67 million. Yes the company can dress up the financials by stating that free cash levels remain robust but the fact of the matter remains that more dollars are going out than going in. Although Caterpillar has done an excellent job on cutting its costs, investing in this name still involved company risk. I would be lightening up here for a number of reasons.
As you run through the company's latest earnings report, it is quite evident that sales declines in its heavyweight divisions (Construction, Resources & Energy) were all because of lower volume. In construction, lower volumes were particularly apparent in the Americas and Europe/Africa and the Middle East. China bucked the trend to an extent but this was only due to government support which means it probably will be a temporary measure. The combination of weaker economies and contractors preferring to keep using used equipment is keeping a lid on sales in this division. Housing shortages are definitely springing up in different markets but either the capital or the will don't seem to be there at present. Furthermore with a raft of interest rates expected to come this year, credit will get more expensive going forward. Can Trump's infrastructure spending take place in an environment of rising interest rates in the US? I wouldn't be too hopeful.
The resource industries side was also weak due to cash strapped mining companies again sticking with their used equipment to keep costs under control as much as possible. Caterpillar needs commodities not only to keep rising but also to stabilise. Miners are not going to invest unless they know for sure they can extract metal at a solid profit. Therefore industrial commodities and precious metals will need to remain strong in 2017 as there is a lead-in time before machinery gets ordered. Quoting for machinery improved in the fourth quarter but many metals including gold (NYSEARCA:GLD) are well down from their 2016 highs.
On the energy side, I believe crude oil will decline from current levels which is bearish for Caterpillar. There is the other side of the argument though. Many expect Trump's reduced regulation in the oil patch will encourage fracking. Trump wants the US to become energy independent in the next few years so fracking should be at the fore. However the crude oil price is still too low for Caterpillar to really take advantage of more drilling and well servicing. Oil companies need higher prices to really return in spades to their shale sites and I don't foresee higher prices in the near future.
Finally you have stock market risk. Equities in the US are at all time highs and definitely due a correction. Sentiment is ultra bullish which to me means lower prices are on the horizon. Caterpillar stock has a present sales multiple of 1.5 - not cheap when compared to historic valuations. This makes me believe if we did indeed get a correction in equities, Caterpillar will move swiftly to the downside.
Therefore to sum up, there are no valid reasons to be long this stock at present. The easy money has been made. With stocks are all time highs and Caterpillar having a huge run up in its stock recently, the risk has to be to the downside here.
Disclosure: I/we have no positions in any stocks mentioned, and no plans to initiate any positions within the next 72 hours.
I wrote this article myself, and it expresses my own opinions. I am not receiving compensation for it (other than from Seeking Alpha). I have no business relationship with any company whose stock is mentioned in this article.