My dividend income is a simple status report started in 2010 when I switched to dividend investing. The intention is to show proof in what dividend investing can do in the long run.
By my estimates, using my dividend tracker, I should be earning at least $1,000 per month for the full year. If you read my previous update, I am estimating my full-year dividend income to be at $15,000. I am off to a good start for the year, as I have added some new money to complete the contributions for my TFSA and RRSP.
I am now on a mission to fill up our spousal TFSA. My goal is to tackle that bit by bit with $1,000 deposit whenever I can. The amount is the minimum investment I have decided to invest through a discount broker due to the 1% trade fee I incur, which I feel is an acceptable cost.
Stock Trades
I started the year with some house cleaning. Canadian Utilities (OTCPK:CDUAF, TSE:CU) was not providing the performance I expected, even though it's a Canadian Dividend Aristocrat with 44 years of dividend increases. That just goes to show you it's important to look past the dividend increases. I kept the money in the utility sector and purchased Brookfield Infrastructure Partners (BIP, TSE:BIP.UN). Brookfield is an impressive business. Below are the transactions I have made.
Sold Canadian Utilities in my TFSA
Purchased Brookfield Infrastructure Partners
Purchased TD Bank (TD, TSE:TD) in my RESP account.
Added to Telus (TU, TSE:T) in my TFSA account
Dividend Income
My January dividend income adds up to $1,002.24. Starting the year with a $1,000 minimum feels good considering I earned $861.05 last year in January. I have not put any effort in assessing whether the growth comes from the dividend growth or my new investments, but I am assuming the new money I add is having a large contribution to the growth as you would expect.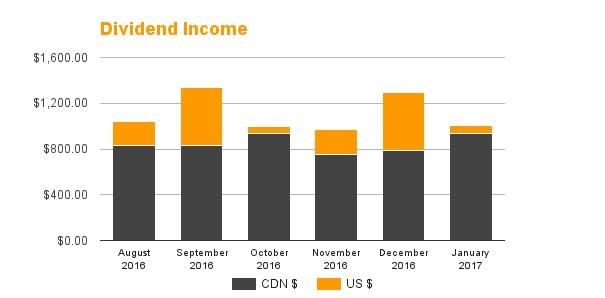 Disclaimer: Please note that this blog post represents my opinion and not an advice/recommendation. I am not a financial adviser, I am not qualified to give financial advice. Before you buy any stocks/funds consult with a qualified financial planner. Make your decision at your own risk - see my full disclaimer for more details.
Editor's Note: This article discusses one or more securities that do not trade on a major U.S. exchange. Please be aware of the risks associated with these stocks.