Last week, Juniper (NYSE:JNPR) reported 4Q16 results that failed to impress, sending share prices down about 5% since the earnings release. Results for the quarter beat top- and bottom-line expectations, but the 1Q17 guidance range landed just short of consensus.
The focus of this article, however, is not to assess what the results might mean for Juniper itself. Instead, I am curious to explore how some of the key takeaways from Juniper's quarter might be relevant to its biggest competitor, Cisco (NASDAQ:CSCO).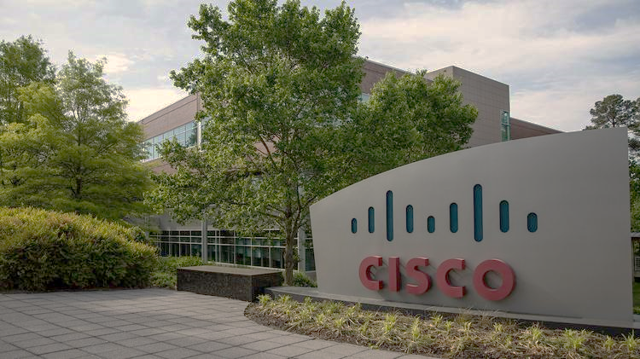 Credit: bizjournals.com
Cisco is scheduled to report earnings on February 15th. Looking at how Juniper has performed in 4Q16 and how the management team sees 2017 might help to identify some key themes that could impact Cisco as well. After all, both companies are market-dominant forces in the switching, routing and network services industries.
The image below summarizes Juniper's position in the market, compared to its big brother from San Jose, California.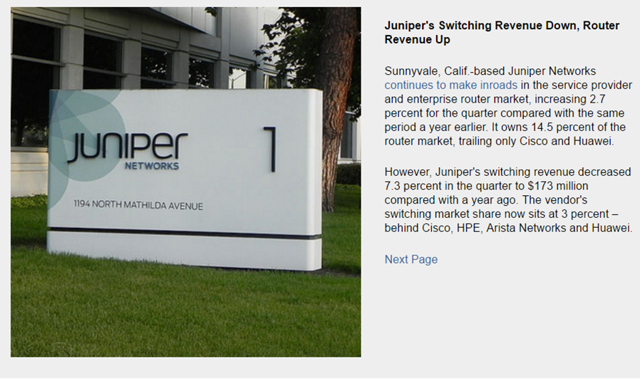 Source: crn.com, using research data from IDC
Below you will see several comments made by Juniper's CEO during the company's earnings call held on January 26th. After each statement, I will add my take on how I believe those key topics of discussion might impact Cisco. I will conclude this article with my views on whether owning CSCO shares make sense.
Let's examine a few of the key topics
Juniper CEO Rami Rahim, on cloud and switches: As we look to 2017 we are energized by the opportunities we see from the shift toward the cloud and network automation. Our focus on the cloud opportunity has resulted in a fast-growing data center switching portfolio.
More important than the realization that 2016 was a year of relative stability in the industry was the observation that cloud-related spending may help to fill a demand gap left by reduced service provider capex - you may remember the unwinding of Cisco's traditional route-and-switch business just a few years ago (see revenue and stock price dip below).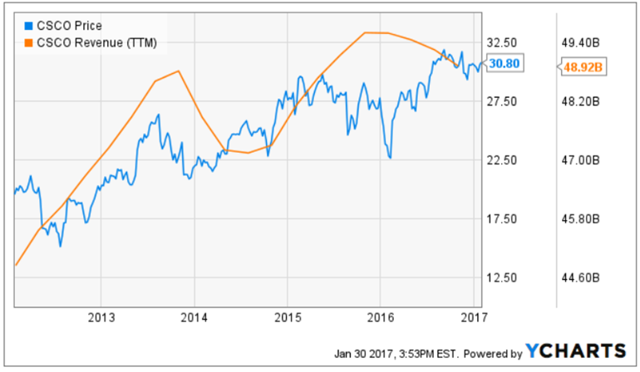 Source: YCharts
If Juniper's optimism about the cloud infrastructure build-up in fact translates into higher demand for switches, this could bode very well for Cisco's stagnant switching business. According to IDC, Cisco had lost 4% market share by mid-year 2016, while the overall market had grown only a timid 1.4%. Last fiscal year (ended June 2016), Cisco's switching revenues were only flat YoY.
CEO Rahim, on cloud and routers: Our routing business continues to perform well. We have been particularly pleased to see the healthy growth of the routing business in our cloud vertical and view that as proof of our differentiation across both the MX and PTX product families.
Here is yet another area in which Juniper seems to believe that cloud will come to save the day.
Routing has been a key area of weakness for Cisco as of late. The business was down -4% in FY16 - the worst-performing segment of all, despite a modest bounce back last quarter. Routing has become fiercely competitive and price sensitive, as discount supplier Huawei continues to grow its business at a double-digit pace.
I don't quite buy Juniper's argument that its MX and PTX product lines are or will be differentiated enough to outperform the competition. The business is commoditized and, if anyone might have an upper hand, it would likely be Huawei with its aggressive pricing strategy. I continue to believe that Cisco and its Western peers will have a rough few quarters ahead in routing.
CEO Rahim, on the telecom vertical: The outlook [for the telecom carrier vertical] is still somewhat challenged. We see the same reports that CapEx spending is essentially stabilized - i.e. the declines that we had seen historically are pretty much behind us at this time. We're not expecting in our full-year outlook any sort of major recovery in carrier spending.
This is an area in which I believe Cisco can shine - whether telco revenues pick up soon or not.
The company is the undisputed king of networking solutions in the enterprise vertical, as the graph below illustrates. While carrier spend will continue to be an important driver of revenues for Cisco, the company is diversified enough to weather potential weakness in the telecom vertical. For this reason, I also believe that spending in private and hybrid cloud infrastructure is more likely to benefit Cisco most than other players.
If or when telecom spending turns the corner, the rising tide is likely to lift all boats. In either case, Cisco seems to be better positioned, from a client mix perspective, than its key competitors.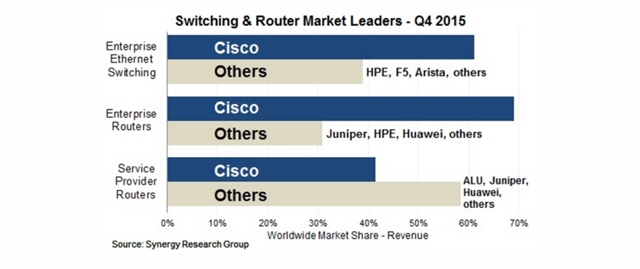 Source: market research by srgresearch.com
CEO Rahim, on security: Security in 2016 did worse than we expected and that's because we missed time to transition. Security remains challenged but we are confident in our new products and our strategy. We have plans to refresh entire portfolio of security products because […] all of our hardware was older and it was not price-competitive.
Security has been a big driver of growth for Cisco in the past few quarters. In FY16, this segment grew 13%, more than any other, to become a $2 billion/year business. Security also outperformed last quarter. But now, Juniper is ready to fight for its share of the cake.
Cisco bulls might say that Juniper has recognized the opportunity too late, and that Cisco's market position today will allow it to better fend off newcomers. Bears may think that Cisco's comfortable position in security may be threatened by a significant new player like Juniper, and that the space is only likely to become more crowded and competitive.
I tend to think that Cisco's early start in the security business, coupled with its culture of growing through strategic bolt-on acquisitions, will be enough to ensure another strong year for the San Jose company. Juniper will probably see fast growth, if it can bring high-end solutions quickly enough to the market (it already has product offerings to the low- and mid-markets) - but I don't think the move will be enough to bother Cisco at this stage.
Is CSCO a buy?
In my view, yes.
Over the longer term, as the table below indicates, CSCO continues to look undervalued compared to its network equipment peers. Trading at 12.4x next-year consensus EPS, CSCO is valued below the peer group's median 13.9x. On a cash-adjusted basis, CSCO trades at a forward P/E ex-cash multiple of only 9.6x, 17% lower than the peer median of 11.6x. And on the EPS growth front, only Nokia (NYSE:NOK) has more optimistic expectations.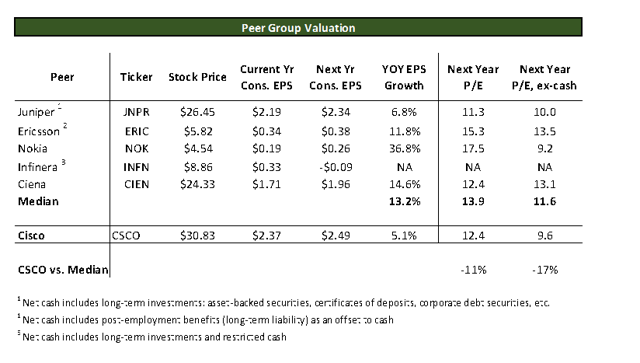 Source: DM Martins Research, using data from Company Reports, SEC filings, and Yahoo Finance.
As a result, and considering the 3.5% dividend yield, I continue to see CSCO as a solid, albeit conservative, investment option for those willing to dip their toes in the networking equipment pool. Cisco is an industry leader that continues to execute well on its non-core businesses while mitigating the negative impact of its slowly-shrinking routing and switching segments.
The stock price, however, does not yet seem to properly reflect Cisco's superior fundamentals, in my view.
Note from the author: I would like to invite you to follow me as I build a risk-diversified portfolio designed and back-tested to generate market-like returns with lower risk. I call it the Storm-Resistant Growth portfolio. The very early results have already exceeded my expectations. Take advantage of the 14-day free trial, and get immediate access to all the premium material that I have published recently.
Supporting Documents
Disclosure: I am/we are long CSCO, NOK.
I wrote this article myself, and it expresses my own opinions. I am not receiving compensation for it (other than from Seeking Alpha). I have no business relationship with any company whose stock is mentioned in this article.