Enterprise Products Partners: Time to Buy?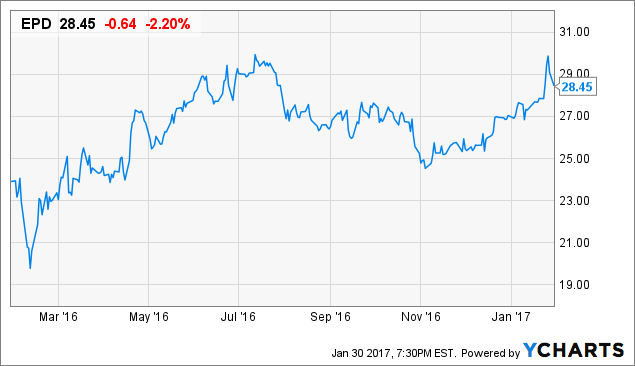 EPD data by YCharts
Enterprise Products Partners (NYSE:EPD) certainly has had a nice run over the past year or so, and it has been one of my most successful holdings in that time frame, especially when you factor in distributions to the stock's total return. Despite the strong rally, I think the stock could have further room to run in 2017.
For some background, in my last article on Enterprise, the stock traded at $24.13 per unit following Q3 2016 earnings; I also previously listed the stock as my #1 top oil stock to own for 2016 when units traded at $22.76 earlier on in the year. Over the past year, the stock has gained 19% (not including distributions), outperforming the S&P 500 (NYSEARCA:SPY).
As of writing, the MLP is one of my largest holdings outside of my precious metals portfolio. Since first investing in units early last year, I've only added to my position and re-invested all dividends. This buy-and-hold strategy will not change following Enterprise's Q4 and full-year 2016 financial results. While the units no longer have the same juicy 7-8%+ yield they did last year, the units still yield 5.76%, and I remain convinced that Enterprise will deliver market-beating returns going forward.
First, a quick word on Enterprise. It operates as a master limited partnership. As I mentioned in past articles, profits generated by the company are only taxed when unitholders in the partnership receive distributions. MLPs pay no corporate income tax as unitholders of the MLP are only personally liable for income taxes on their portions of the MLP's earnings. You'll need a file schedule K-1 if you buy MLP's like Enterprise. I recommend talking with your accountant or tax professional for further information.
In Q4, Enterprise reported $670 million in net income or $.31 per unit on a fully-diluted basis, down from $694 million and $.34 per unit a year ago. However, in my opinion the more important metric to follow with MLPs is distributable cash flow, as this figure represents the amount of money Enterprise can distribute back to its shareholders.
In Q4, distributable cash flow was $1.03 billion, just a small decline from $1.089 billion last year. This cash flow provided 1.2 times coverage of the $0.41 per unit cash distribution; after paying the distribution, Enterprise was left with $159 million in retained cash flow.
Enterprise had a strong performance from its natural gas and liquids (NGL) pipelines and services business in Q4, as this segment contributed $784 million in gross operating margin for 2016, a 7% increase. Gross operating margin from the NGL pipelines and storage business increased 10% to $413 million for Q4 compared to $375 million for Q4 2015.
The company clearly benefited a bit from higher natural gas prices, as prices climbed over $3 in Q4 and almost touched $4 at one point. The one lagging business this quarter was the crude oil pipelines and services business, as it added $221 million in gross operating margin for Q4 2016, compared to $258 million for Q4 2015. The lower earnings were blamed mostly on a $27 million decrease in gross operating margin at Enterprise's South Texas and Eagle Ford Crude Oil Pipeline Systems, due to lower volumes and average fees. But overall, Enterprise performed just as I had expected this quarter.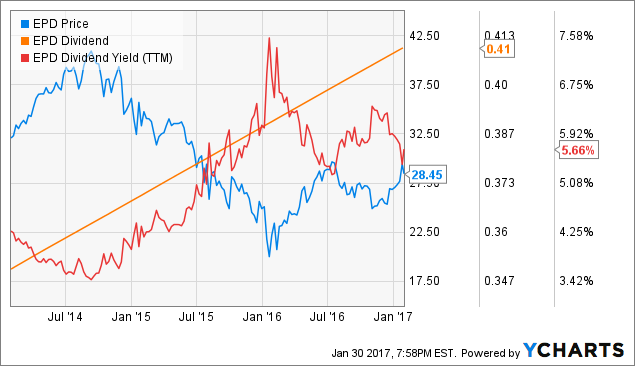 EPD data by YCharts
Enterprise continues to pay a solid distribution to unitholders. For the full-year 2016, distributions totaled $1.61 per unit.
Meanwhile, the company also managed to complete $2.2 billion in organic growth projects in 2016, which should provide more cash flow and distributions to shareholders in the coming years. Currently, $5.3 billion worth of capital growth projects are under construction.
You'll see above the steady trend of distribution increases. On Jan. 5, this distribution was increased to $.41 per common unit, a 5% increase from last year. This represents the 59th distribution increase since Enterprise's IPO back in 1998, and its the 50th consecutive increase.
Note: A history of Enterprise's distributions can be found at this link.
| | | | | |
| --- | --- | --- | --- | --- |
| | EPD | KMI | WMB | SE |
| P/E | 23.2 | 33.91 | 45.97 | 95.98 |
| Forward P/E | 20.4 | 27.82 | 27.89 | 29.72 |
| Price/Sales | 2.64 | 3.76 | 3.15 | 5.91 |
| Total Debt | $23.98 billion | $40.05 billion | $24.72 billion | $15.2 billion |
| Debt/Equity | 108.79 | 115.08 | 173.78 | 126.85 |
(Source: Yahoo Finance, Nasdaq)
Finally, Enterprise still looks attractively valued compared to some of its peers. I've updated this table above, as I compared the same companies back in my original article on Enterprise [please note that this list does not include another favorite MLP of mine, Magellan Midstream (NYSE:MMP), which I will be covering in another article]. The stock also has a higher yield than all of its peers mentioned above.
In conclusion, I thought Enterprise had another solid quarterly earnings in Q4, and even after some nice gains over the past year, I'm not selling my holding. I plan on re-investing all distributions and may even buy more Enterprise on any future dips.
Disclosure: I am/we are long EPD, MMP.
I wrote this article myself, and it expresses my own opinions. I am not receiving compensation for it (other than from Seeking Alpha). I have no business relationship with any company whose stock is mentioned in this article.