Gold (NYSEARCA:GLD) is trading up past $1,200 this morning in pre-market. The yellow metal definitely seems to be trading inversely to the stock market (NYSEARCA:SPY) so it will be interesting to see if equities markets can keep rallying in the US. Yesterday the S&P500 dropped to 2,268 which was a downside move of 25 handles before bouncing back to the 2,280 level. It will be interesting to see how it opens today. I have said for months now that the S&P badly needs a correction.
Sentiment is sky high in stocks and these V shaped recoveries that we have been having as of late do nothing to reset sentiment. For markets to grind higher over the long term, both buyers and sellers are needed on mass. Although most investors are watching the main indexes for clues as to where stocks and gold are going, the small caps Russell 2000 (NYSEARCA:IWM) has now lost its 50 day moving average after undergoing an almost vertical move north since November last. Will this loss of momentum come into other indexes like the S&P? We shall know soon enough.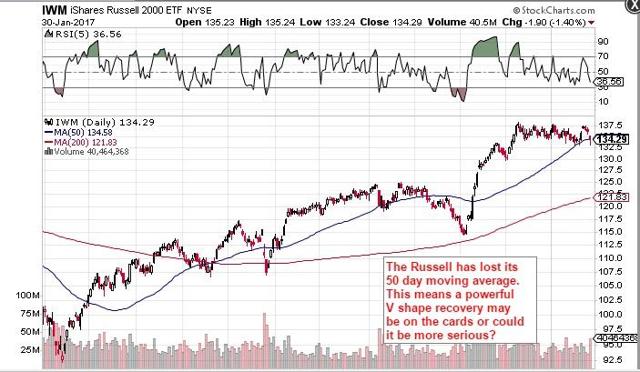 Gold will find it much easier to rally if the stock market drops off meaningfully from its highs. Nevertheless the correction in gold we had as of late doesn't look over in my book as we didn't get to significant oversold levels on the RSI index. I mentioned in previous articles that one should have a core position in gold and add on corrections. This way you don't miss out on any upside surprises which invariably take place in bull markets. We now are on day 27 of this daily cycle. Daily cycles in gold can usually last up to 40 days.
Whether the top last week in gold at around the $1,220 mark was a daily cycle top remains to be seen. What I do know is that all long positions should get corrected in bull markets. The 50 day moving average put a floor under gold last week. I believe there is a good possibility to briefly revisit those levels but traders should not be relying on this. Cement your core position and add on weakness is the best strategy. Trying to trade this asset class over the next few years will be very difficult as there are a host of moving parts such as stocks, the dollar and bonds affecting how gold will trade over the short term.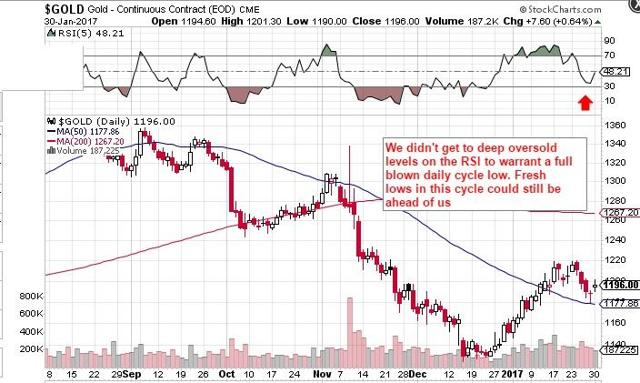 The US dollar definitely has helped gold over the past month and I believe the trend will continue. In fact, if we look at a chart of the dollar, we can see that as the dollar has dropped, sentiment has not dropped to the same degree. This means that there are still more investors bullish on the dollar rather than bearish. I use this as a contrarian setup which means the dollar should have much further to fall in my opinion. This is what happens when a currency has rallied significantly for close to 30 months now. Everybody gets on the same side of the boat only to get surprised when the currency drifts lower and lower. The longer sentiment stays this high, the more inclined I am to believe that the dollar has printed a multi-year top here. Dollar weakness will end up being a natural tailwind for gold.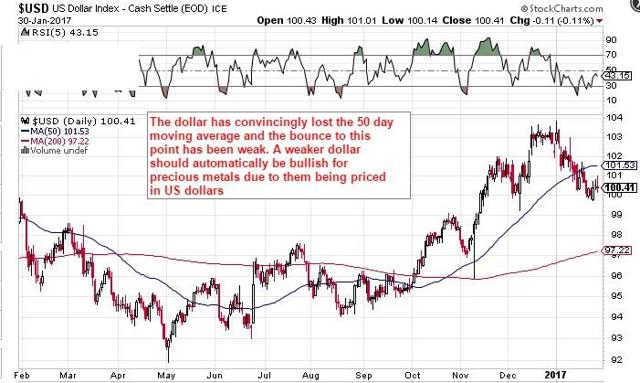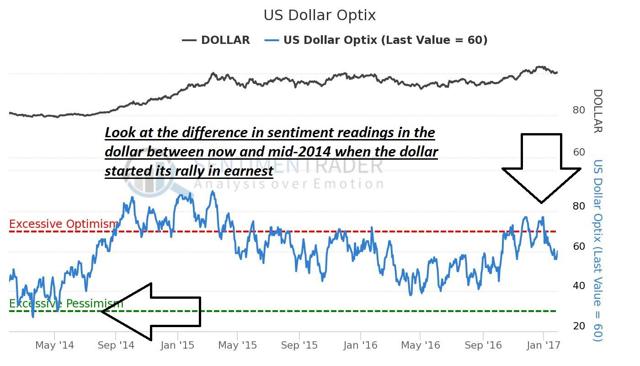 Source : Sentimentrader.com
Therefore everything is going nicely at present for gold. If we do dip down below the 50 day moving average, I still maintain it will only be a daily cycle low and a buying opportunity for investors who missed the initial rally over the past month or so.
Disclosure: I am/we are long JNUG.
I wrote this article myself, and it expresses my own opinions. I am not receiving compensation for it (other than from Seeking Alpha). I have no business relationship with any company whose stock is mentioned in this article.