After many years of attempting to reach their inflated GDP targets, China may finally be coming to grips with its debt. Over the past several years, China's printed GDP numbers are definitely too good to be true for the maturing economy. For a country whose officials seem to continuously defy and show total lack of disregard for basic macroeconomics, it seems to be coming back to earth, much like Japan did in the 1990s. However, the scale of China's debacle is far greater than that of the Japanese.
Chinese debt levels are expected to rise additionally, reaching levels exceeding 300% of GDP in the next two years. With continuing reliance on credit-fueled investment to achieve lofty GDP targets and keep the country afloat, the country's debt/GDP will continue to grow unless there is some form of debt restructuring. China's debt/GDP increased to 277% at the end of 2016, up from 254% the prior year. Numerous countries have experienced a debt crisis with levels that are far below that of China. However, the potential for a crisis in China is highly mitigated.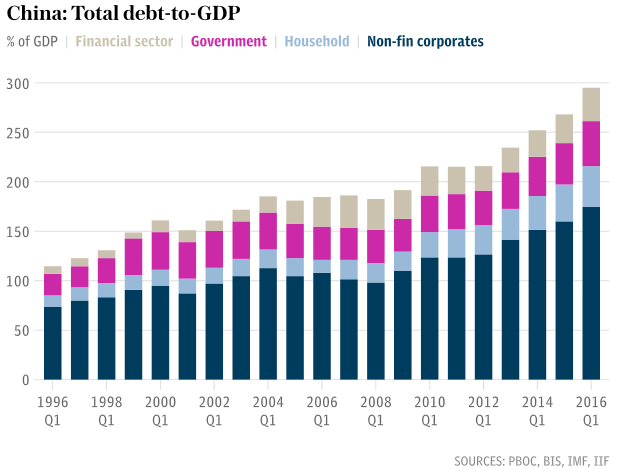 There are several features that make China less prone to a debt crisis than its counterparts. To start, China implements fairly strict capital controls to keep funds within the country; this prevents a dramatic exit of the country by investors, thus sapping the liquidity from the market. Of the debt outstanding, 95% of it is domestic which was financed largely by banks. The Chinese have a very high domestic savings rate (as illustrated in the chart below), which provides a large pool of deposits in the banking system to finance the debt.
Nonetheless, although a debt crisis seems to be avertable, misuse of debt by improper allocation of capital is a waste of resources. To put this into perspective, according to Fitch, Chinese debt grew by 16.1% the previous year, all whilst obtaining a nominal GDP print of 8%. As is already evident, blatant misallocation of resources will dampen the prospects of long-term productivity, which, in turn, will depress economic growth outlooks. Maintaining short-sighted economic goals, China will continue to issue debt that is not being used to finance anything that would potentially benefit the economy.
Thus, with the aforementioned features of the country, China's ubiquitous credit-cycle looks to be entering a massively drawn out loop. Long-term, as macroeconomic ideologies hold, this will hinder corporate profitability and lessen investments. The inevitable result will be a massive flight of capital out of China, unless further capital restrictions are introduced (we could see a repeat of August 2015 at that point). Unless government officials take their eyes off of short-term, pointless goals, China will be a hopeless investment.
Disclosure: I/we have no positions in any stocks mentioned, and no plans to initiate any positions within the next 72 hours.
I wrote this article myself, and it expresses my own opinions. I am not receiving compensation for it (other than from Seeking Alpha). I have no business relationship with any company whose stock is mentioned in this article.