Great Panther Silver: Will 2017 Be a Good Year?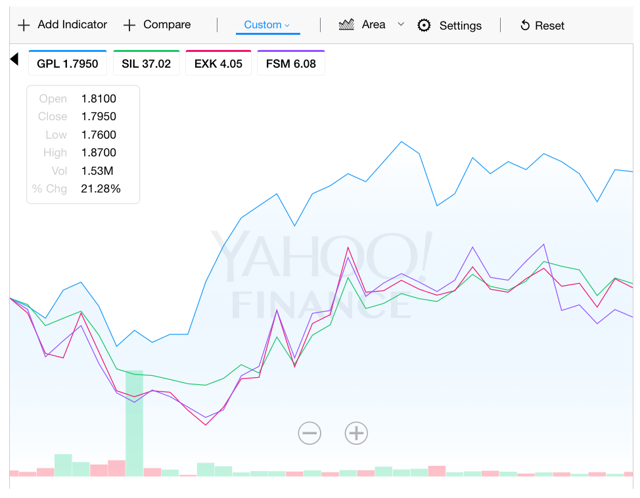 (Great Panther Silver has outperformed peers since my article publication of the top silver stocks to own in 2017. Credit: Yahoo Finance)
Great Panther Silver (NYSEMKT:GPL) is off to a good start in 2017. Over the past month, shares are only up 3.16%. However, since listing the silver miner as my #3 overall silver stock to own this year, shares have advanced 28.21%, easily outpacing the benchmark silver miners' index (NYSEARCA:SIL), which is up 21.28%, as well as peers Endeavor Silver (NYSE:EXK), up 21%, and Fortuna Silver Mines (NYSE:FSM), up 18%.
Well, Great Panther recently announced its fourth quarter and 2016 annual production results, plus gave guidance on what to expect in 2017. At first glance, it may not appear as a positive update, but I'll explain my bullish view below.
In Q4, Great Panther says that its total metal production fell 12% year over year to 883,772 silver equivalent ounces (SEOs). That includes a 17% drop in silver and an 8% drop in gold production.
For the full year 2016, Great Panther's total metal production dropped 7% to 3.88 million SEOs, with a 14% decline in silver output and a 2% increase in gold output.
Here's why it actually wasn't a bad year for Great Panther. The company's production was affected temporarily by two plant shutdowns at the Topia Mine in the third quarter. Meanwhile, Topia is currently undergoing a three-month processing suspension as it upgrades the mill and transitions to a new tailing storage facility. The Topia mine saw its 2016 production fall by 17% as a result, from 1.07 million SEOs to 897,886 SEOs. Production at Topia should restart in a few months, so this isn't a big deal.
The company's Guanajuato mine complex fared much better in 2016. Production only fell slightly, by 3%, with output falling from 3.08 million SEOs to 2.98 million SEOs.
The other reason it wasn't a bad year? Great Panther's costs fell considerably in 2016. The company managed to reduce its all-in sustaining costs by 31% for Q1-Q3, as costs have averaged just $9.23 per ounce for the first nine months of 2016 (Q4 results are due out soon and investors should expect costs to come around the same figure).
Now, for 2017, Great Panther does expect slightly higher production, but also slightly higher costs. The company says investors can expect production between 4 to 4.1 million SEOs, up from 3.88 million this year.
That's great news, but for 2017, expect all-in sustaining costs to average between $14-$16 per ounce. The reason, however, is not due to higher labor costs or cash operating costs. The company is ramping up definition drilling, as well as spending on its development and capital projects, including the new tailings facility at the Topia mine (this is a one-time expense, so costs should fall once completed).
Investors can also look forward to advancement of the Coricancha project in 2017. This is a historic, fully permitted, gold-silver-lead-zinc-copper mine and mill complex that was acquired just a month ago when Great Panther acquired Nyrstar Corichancha S.A., a subsidiary of Nystrar. The deal cost Great Panther just $100,000 on closing, while it has to pay out 15% of annual free cash flow up to $10 million. The deal is expected to close shortly.
It will take at least a year to bring the mine back to production and cost approximately $25 million. However, with more than $52.9 million in cash as of writing and no debt, Great Panther is well-funded and in a great position to advance this project. The project contains more than 13 million SEOs in proven and probable reserves, plus 21.96 million SEOs in measured and indicated resources and 124.6 million SEOs in inferred resources.
Once in production, Great Panther says there is the potential for approximately 3 million SEOs of production annually, which would boost Great Panther's production by 75%. Cash costs are likely to be low, given the mine's high-grades (4.35 g/t gold and 149 g/t silver in reserves) and the by-products of copper, zinc and lead. Simply put, I think this is a project investors should be excited about, especially given the very minimal upfront investment required by Great Panther.
In conclusion, I think it's a great time to be a Great Panther shareholder. Investors have a lot to look forward to in 2017, and I think shares will outperform peers. Keep an eye on exploration results at Corichancha, as well as drilling results from the earlier-stage El Horcon project.
Disclosure: I/we have no positions in any stocks mentioned, and no plans to initiate any positions within the next 72 hours.
I wrote this article myself, and it expresses my own opinions. I am not receiving compensation for it (other than from Seeking Alpha). I have no business relationship with any company whose stock is mentioned in this article.