On January 31, 2017, Seadrill (NYSE:SDRL) announced the status of discussions between the Company, secured lenders, unsecured bondholders and Hemen Holdings ("Hemen"; SDRL Chairman John Fredriksen's holding company). While it appears the conversations are serious and material, the "bid and ask", at this point, appears to be large. The target date for announcing a restructuring agreement continues to be April 30, 2017. The overall tone bore a similarity to that of a pre-packaged Chapter 11 filing, with competing presentations from both the Company and the bondholders, included.
Restructuring
The over-riding goal of both proposals is to push debt out into the future. Positively, both groups focus on raising new capital (minimums of $700 million to $1.0 billion) and maturity/amortization postponement. As might be expected, the "devil is in the details". Also, please note that the voice of the senior secured lenders is not included (except by reference by SDRL) in the position disclosures. Both the company (shown below) and the Bondholders stress pushing maturities out beyond 2020, presumably to a point where a recovery has occurred and cash flows are robust enough to handle material maturities and debt payments. Neither proposal tangibly addressed the $1.9 billion shipyard obligations.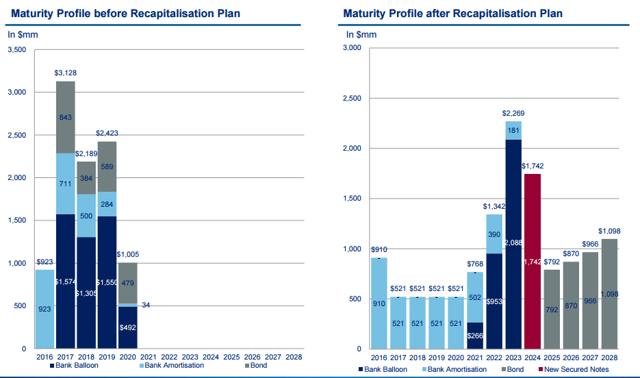 Source: Seadrill
Bondholders
The bondholders hired Moelis & Company (UK) in October 2016 as well as Akin Gump, a US law firm noted for its lobbying activities and expertise in energy (as well as other areas). The advisors are serious, professionals and will not be "rolled" by SDRL. However, they appear to be realistic in understanding there is $8.2 billion in secured debt that stands before the $2.3 billion in Bondholder debt.
Shareholders, New Liquidity and a Really Complicated Chart
While it has not been a focus of the proposals, it appears existing shareholders will be left with little more than a sliver of equity and perhaps out-of-the-money warrants. For example, the bondholder group mentions the "significant equitization ( substitution of equity for debt) of the Unsecured Seadrill and NADL Bonds." The Company proposal is less blunt, but also makes reference to new equity and warrants. Shareholders were only mentioned one time in both the Bondholder and SDRL presentation and the generic term "equity" was used 13 and 10 times, respectively.
The company's proposal is shown below: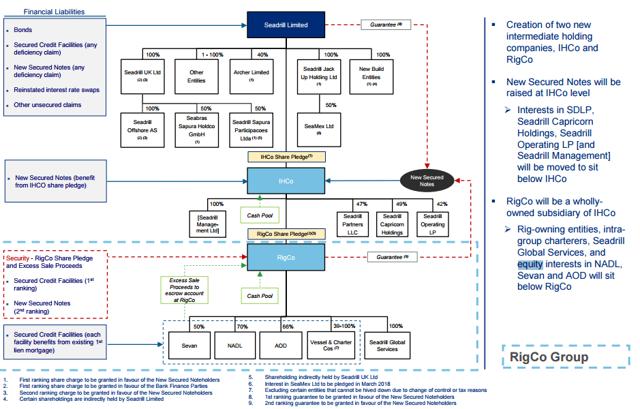 Source: Seadrill
The company has proposed raising up to $1.25 billion, and no less than $1.0 billion, in new capital in the form of a secured note with equity or warrants (almost certainly equity and warrants). This money would be senior to all not specifically secured debt. At a future point, SDRL also contemplates repaying the new notes with the proceeds of an equity issuance.
The bondholder group, as part of a restructuring of $2.3 billion of bond maturities currently due between 2017-2020 has proposed the equitization of $1.05 billion in bonds and receiving $1.25 billion in new Convertible Secured Bonds ("CSB"). The new bonds could be converted into equity at a +/- 33% premium to the "implied equity market price at completion of restructuring". The bondholder proposal also calls for $700 million in new debt liquidity from existing bondholders, including the John Fredriksen entity, Hemen. Current shareholders, under the Bondholder proposal, it is implied will be left with 0-10% equity post-restructuring and receive a "nominal amount of out of the money warrants".
Bottom Line
As mentioned above, the perspective of the senior secured creditors has not specifically been noted. However, it appears the primary objective of all parties is to push material payments to 2021 and beyond. As expected ("Seadrill Restructuring: What To Expect"), shareholders will, under almost any scenario, be the biggest loser. My estimate is shareholders will have an effective interest of between 5%-10% (taking into account a long-dated recovery making newly issued warrants of value).
There is a lot of work that must occur, including the raising of new liquidity and agreeing upon its rights, consideration and source, between now and the end of April. Because there is so much value (in equipment, contracts and the entity as a "whole") as well as highly motivated parties, I fully expect an agreement to be reached (though potentially after April 30). I also expect existing shareholders to wind up with next-to-nothing.
Disclosure: I am/we are long SDRL.
I wrote this article myself, and it expresses my own opinions. I am not receiving compensation for it (other than from Seeking Alpha). I have no business relationship with any company whose stock is mentioned in this article.