What Just Happened?
The news that Tempur Sealy (NYSE:TPX) and Mattress Firm have terminated their contracts was surprising to say the least. Mattress Firm was Tempur Sealy's largest customer in 2016, representing approximately 21% of total revenue.
According to the press release, Mattress Firm representatives approached Tempur Sealy and demanded concessions from them. These concessions were deemed too much by Tempur Sealy management and the two were ultimately unable to reach a deal. Formal termination notices have been sent and the two parties expect to be completely done doing business with one another before the end of the first quarter. It looks like we have passed the point of no return.
As expected, Tempur Sealy's stock was crushed following the release of the news: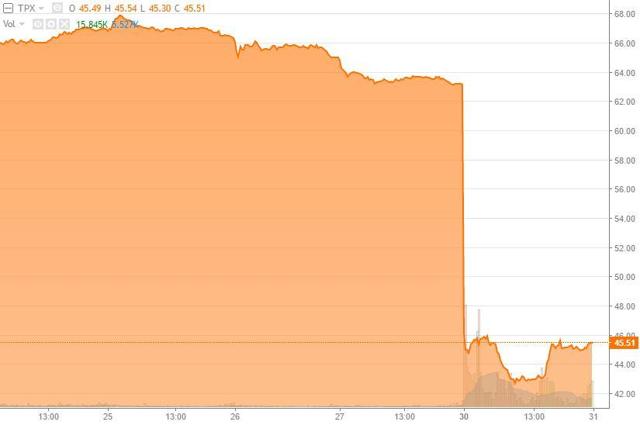 After analyzing the effect of this news, we believe that today's drop was not nearly enough. This change will fundamentally affect Tempur Sealy's business for the worse, and even using fairly optimistic assumptions we struggle to justify any valuation of the stock price over $20. Our price target for Tempur Sealy is $15.00, and represents downside of over 60% from today's close of $45.49.
Why Did It Happen?
It isn't clear why Mattress Firm went to Tempur Sealy demanding such major concessions that the two companies would end up dissolving their relationship altogether.
Our best guess, though, is Mattress Firm has been feeling increasing competitive pressure from new and fast-growing online, direct-to-consumer mattress companies.
Take Casper, for example. This online startup offers relatively high quality memory foam mattresses from $500 - $950 with free shipping, returns, and pickups. In less than two years since its launch, the company now has over 100 employees and racked up an impressive $100 million+ in total sales (Source).
Casper is far from alone in attempting to disrupt the mattress industry. Similar start-ups like Tuft & Needle, Leesa, and Saatva all have also grown rapidly by offering quality mattresses, at much lower prices than Mattress Firm or Tempur Sealy, directly over the internet with easy return policies and no pushy salesmen.
For more info on why online mattress shopping is growing so quickly, check out these articles in: The Wall Street Journal, LifeHacker, and Inc.
In addition to offering the convenience of shopping from the comfort of your home, these online players have significant cost advantages over a company like Mattress Firm. Not only do they not have the overhead associated with operating brick and mortar stores, but they also exclusively sell their own mattresses that they manufacture.
Mattress Firm, on the other hand, not only has to pay for all the costs of operating a store, they also need to pay Tempur Sealy a markup on each mattress. This cost structure is simply not sustainable for Mattress Firm in the long run.
So, Mattress Firm made the decision to approach Tempur Sealy. Either Tempur Sealy would agree to large concessions on price, or Mattress Firm would be forced to source all of their product from private label mattresses they manufacture themselves or cheaper OEM's. They couldn't afford the status quo for much longer.
How Will It Affect Tempur Sealy?
It is hard to imagine any worse outcome for Tempur Sealy than what just happened. Mattress Firm was both their largest customer, and by quite a bit. The company estimates that in 2016 Mattress Firm was responsible for over 21% of total revenues.
It would have been better for Tempur Sealy if Mattress Firm had just gone bankrupt and shut down. At least in that outcome, people who would otherwise have gone to Mattress Firm might have picked another mattress store that Tempur Sealy sold to. Instead, Mattress Firm will still be the largest and most prominent place for in-store mattress purchases, they just won't carry Tempur Sealy.
Some customers might actively go out of their way to buy a Tempur Sealy. However, as we have seen from the explosive growth of no-name online startups, there really doesn't seem to be much (if any) brand loyalty in the mattress market these days. Such customers will most likely represent a meaningless percentage of the company's total revenue.
What seems most likely is Tempur Sealy will just see a drop in sales of roughly 21% (all else equal) due to this development. This comes on top of a business that was already seeing very real pressure from online competition. Even with the strong US economic recovery and housing recovery over the past few years, Tempur Sealy saw a 1% decrease in sales in 2016 not even factoring in this new problem.
We attempted to calculate the impact of this news for Tempur Sealy's Income Statement for 2017 and 2018 under a Base Case, Bull Case, and Bear Case. Our Base Case is what we believe to be most likely to occur, and it is how we derive our price target of $15.00.
The Base Case includes a scenario where, once accounting for the loss of Mattress Firm: Tempur Sealy sees revenue growth of 1.5% per year over the next two years. The 1.5% number is higher than the 1% decline in 2016 due to stronger US economic growth both overall and in housing. Gross margins will decrease slightly as online pricing pressure weighs on margins to some extent. Also included in this scenario is Tempur Sealy finding over $50 million (6%) of SG&A to cut in 2017 due to the major customer loss. SG&A is also able to be slightly reduced into 2018.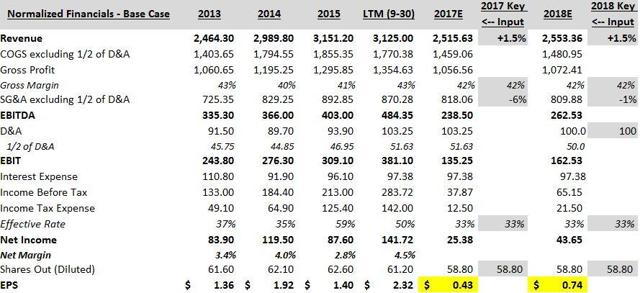 Source: Company Filings, Author Adjustments, Author Projections
The Bull Case is what we believe to be the best case scenario for Tempur Sealy assuming that they do not re-negotiate a deal with Tempur Sealy. This scenario looks at annual revenue growth of 3.5% over the next two years, margins staying at the top of their 5 year range, and significant cost-cutting ability in SG&A while maintaining growth in other channels. SG&A is flat in 2018 due to the need to invest in the relatively fast growth in non-Mattress Firm channels. We even include a significant reduction in their tax rate: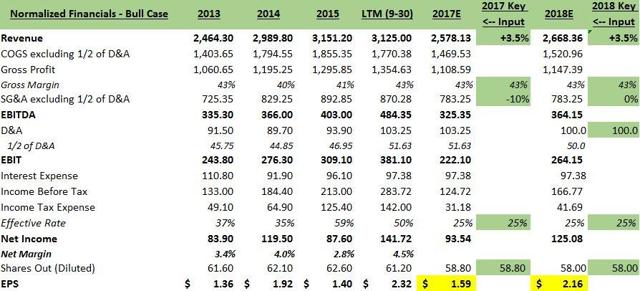 Source: Company Filings, Author Adjustments, Author Projections
The Bear Case reflects what we believe to be reasonable worst-case outcomes for Tempur Sealy in the normal course of business over the next two years. This scenario reflects continued decreases in revenue and margins due to intense competition, and limited opportunities for the company to slash fixed costs without hurting day-to-day operations: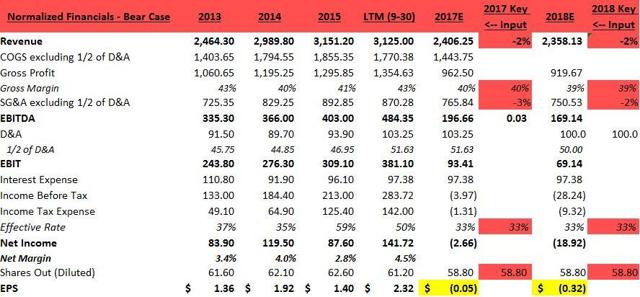 Source: Company Filings, Author Adjustments, Author Projections
As you can see, our base case implies a huge decrease in Tempur Sealy's earnings ability going forward as a result of the Mattress Firm customer loss. However, this is due to Tempur Sealy's high fixed costs and fixed interest payments. We believe our assumptions are slightly optimistic even in the Base Case. This is just what happens when a business with Net Margins varying between 2.8% and 4% over the past three years loses their largest and most profitable customer overnight.
Valuation
Our price target of $15 is the result of applying a 20x two year forward P/E multiple to our Base Case 2018 EPS of $0.74. With almost $100 million of interest expense, largely-fixed SG&A expenses of over $850 million, and the sudden loss of their most profitable customer representing over 20% of 2016 revenue, it seems to us that the only reasonable outcome is for Tempur Sealy's earnings to be severely depressed in the coming years.
We believe both our assumptions in the Base Case and the P/E multiple afforded to Tempur Sealy are reasonable given how difficult it is to cut SG&A in a company of their size and the industry-wide pressures due to online competition. Even our Bull Case, which we believe to be highly unlikely, would imply a fair value of just $43.2 using the same 20x two year forward multiple.
By far the biggest risk here is that Tempur Sealy and Mattress Firm ultimately reinstate their contract. We believe the likelihood of this is low given the economics of Mattress Firm overall, and it is a risk we are willing to take given the expected downside we see for Tempur Sealy absent such an agreement.
Disclosure: I am/we are short TPX.
I wrote this article myself, and it expresses my own opinions. I am not receiving compensation for it (other than from Seeking Alpha). I have no business relationship with any company whose stock is mentioned in this article.