Employing contrarian investing tactics is exceptionally difficult. Evolutionarily speaking, we are inclined to follow the majority and not stray from the pack. However, in investing, it can be extraordinarily lucrative to deviate from the consensus. The consensus view of Fitbit Inc. (NYSE:FIT) is that the company faces several headwinds and is operating in a commoditized industry, which will cause stagnating growth and cause the stock price to languish.
Early yesterday morning, Fitbit Inc. announced Q4 preliminary results and full year 2017 outlook that was significantly below expectations. As such, FIT dropped precipitously yesterday and now stands at a fresh 52-week low. Nonetheless, the market is overly discounting shares of FIT and is providing an undervalued opportunity.
"Be fearful when others are greedy and greedy when others are fearful." - Warren Buffett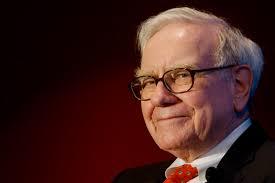 Source: Photo Credit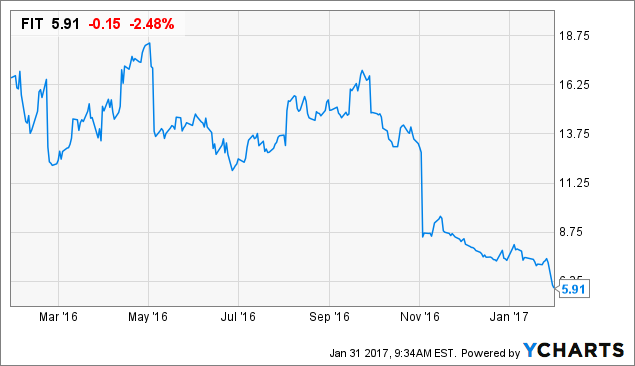 Seeking Alpha was quick to report on this development and here are the most salient segments of FIT's Press Release:
Preliminary Q4 2016 results - revenue $572M-$580M (prior guide $725M-$750M, consensus $738.16M), net loss per share -$0.51 to -$0.56 (prior guide $0.14-$0.18, consensus $0.17), gross margin "materially below" prior 46% forecast, devices sold 6.5M

Preliminary FY 2017 projections - revenue $1.5B-$1.7B (consensus $3.9B), net loss per share -$0.22 to -$0.44 (consensus $0.64), free cash flow -$50M to -$100M, gross margin 45% (vs. prior 50% expectation)

Workforce reorganization - Reducing global workforce by approximately 6% (110 employees), cost of which is projected at $4M for Q1 2017.

Targets $200M decrease (to approximately $850M) of 2016 exit operating expense for 2017 through realignment of sales and marketing spend and better optimization of R&D investments
Management cited softer-than-expected holiday demand for trackers in their most mature markets, especially during Black Friday. However, as a positive, FIT grew rapidly in select markets such as EMEA, where revenue grew 58% in the fourth quarter. However, with a much lower base revenue in these select markets, this revenue growth was not enough to offset the lower-than-expected sales in the U.S.
CEO James Park also said, during the release, that FIT will focus on investing in their core product offerings, but will also expand into the $10 million global smartwatch market to diversify their revenue. This pivot into the smartwatch category was expected, as FIT has recently acquired Pebble, Vector Watch, and Coin.
I will admit that as an investor, the results seem to be quite disheartening. Additionally, entering the competitive smartwatch market isn't a compelling proposition to me. However, when considering the downside at this level, as compared to the potential upside, I am bullish on FIT, as I believe it represents an asymmetric risk/reward opportunity.
Why I'm Bullish
Inherent Safety Level from Assets
I believe the most compelling reason to buy FIT is based on its current valuation. As of the last quarter (October 1st, 2016), FIT held $1.43 billion in current assets compared to just $519 million in current liabilities. Moreover, their total assets stood at $1.69 billion compared to $573 million in total liabilities. Additionally, management gave guidance that at the end of Q4, FIT had approximately $700 million in cash, cash equivalents, and marketable securities on the balance sheet, which represents slight growth from the prior quarter.
With a market capitalization of around $1.3 billion, FIT is an extremely attractive takeover target. This is especially true when you consider that cash, marketable securities, and net accounts receivable represent the majority of their current assets, $1.13 billion to be exact, as of October. With cash increasing from last quarter, this argument is even more compelling from a valuation perspective. Therefore, the effective takeover price for an acquirer is much lower than the actual market capitalization of the company.
With management cutting expenses and FIT being close to profitability with FY revenue expected to be between $1.5 -$1.7 billion next year, I am bullish on FIT's value proposition.
Healthcare Partnerships
Furthermore, FIT is creating a competitive moat by entering into a number of partnerships. Insurance companies are increasingly adopting programs to allow members to wear fitness trackers and get rewarded with premium discounts or HSA account bonuses if they meet certain criteria.
For example, on January 3rd, it was reported that Qualcomm (NASDAQ:QCOM), UnitedHealthcare Group Inc. (NYSE:UNH), and Fitbit have set up a program to offer financial incentives to get employees moving. Specifically, Qualcomm and UnitedHealthcare said they will expand UnitedHealthcare Motion, which is a wellness program that offers financial incentives to employees of up to $1,500 per year. With a Fitbit Charge 2 costing $149.95, an employee can ultimately save $1,150 in the first year of the program alone. That provides a significant incentive for employees to purchase a Fitbit.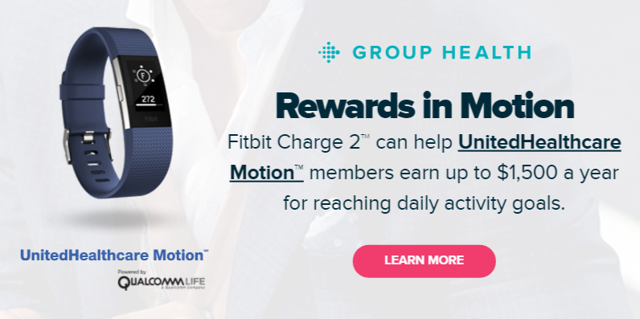 Source: Fitbit.com
Additionally, it is important to note that other fitness trackers are not eligible for United's Motion Program since FIT's Charge 2 tracker is custom integrated into the program. Moreover, the United's program will be available to any employer with more than 100 employees in 40 states. This custom integration partnership is the first that Fitbit has entered into.
FIT also partnered with medical technology pioneers, such as the recent deal with Medtronic (NYSE:MDT) to leverage automatic activity tracking from Fitbit with MDT's technology to provide meaningful insights into how exercise impacts glucose levels to create more effective diabetes care management.
Along with partnerships with insurance companies and medical technology companies, FIT has also partnered with brands Habit, Peloton and VirZoom. Habit is a personalized nutrition system, and will leverage Fitbit data to create customized food recommendations and nutrition plans. Peloton, a high-end stationary bike company, will automatically share post-ride metrics to your Fitbit app. VirZOOM offers a similar experience. A platform for online multiplayer virtual reality sports games, VirZOOM lets players strap on a VR headset and ride a bicycle in the physical world, while flying like a Pegasus or rumbling in a tank in the virtual world, gamifying your workout goals.
Getting into these partnerships is a prudent way to create a moat to its products, prevent a commoditization of the wearable market, and make FIT a more attractive takeover candidate.
Short Squeeze Potential
If there are any positive developments for FIT, the stock may experience a significant pop. The reason for this is two-fold. First, 14% of shares are held by insiders, which represents a pretty sizeable chunk. Secondly, and more importantly, FIT has been heavily shorted, with roughly 25% of its shares outstanding being held short. Therefore, positive news, such as takeover rumors, coupled with the limited liquidity, can lead to a short squeeze, in which case the stock would ratchet upwards.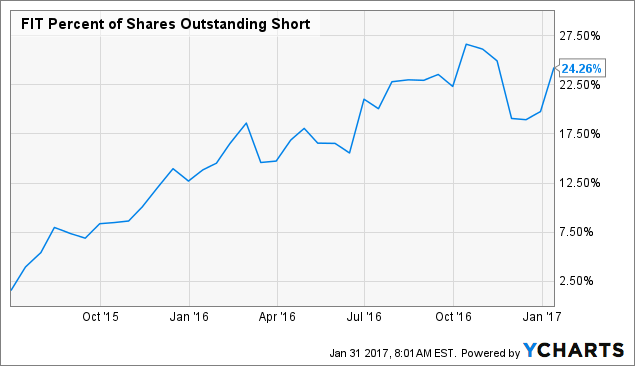 Conclusion
FIT has fallen out of favor with investors and has been in a downward spiral since its IPO in 2015. However, the most recent sell-off, with a fresh 52-week low, has created an asymmetric risk/reward opportunity. FIT is trading at an extremely low price compared to its assets. As such, its takeover value could be quite compelling to competitors. Even without a takeover, with FIT cutting expenses and entering into partnerships to grow sales, I believe that it can be profitable in the future. Therefore, I believe FIT is ripe for the picking. Be greedy when the market is fearful.
Disclosure: I am/we are long FIT.
I wrote this article myself, and it expresses my own opinions. I am not receiving compensation for it (other than from Seeking Alpha). I have no business relationship with any company whose stock is mentioned in this article.