Crude oil has been trading in roughly a 6% range for the past week or so. On the Daily charts, momentum has been fading despite prices staying at their current levels, which may be a bullish sign. On the weekly charts, the bullish trend is still in place, but momentum is starting to fade a little bit.
In the charts below, we'll look at how crude oil can retrace in the days ahead and yet still maintain the weekly bullish trend, which started following the bounce from the February 2016 lows.
If you follow my articles, I've written a couple of pieces focusing on this pullback on the Daily chart. However, that doesn't mean the move is over. As long as we maintain higher highs & higher lows, the trend will remain intact.
For those invested in crude like The United States Oil ETF, LP (NYSEARCA:USO), it's important to reevaluate and identify the risks to crude utilizing both the daily charts while watching the weekly charts to determine where oil prices are trading today versus the long-term trend.
Please bear in mind, the charting analysis provided here will not focus on oil inventories, production, supply, or the OPEC deal struck last year. Those fundamentals and many other factors drive the oil market, and it's my view, the charts simply give evidence to the momentum from those fundamentals or other market-moving events.
Here's another look at the Daily chart showing breakout levels:
A range break lower to the $47.50 area is possible (red arrow).
MACD is divergent; meaning momentum is going lower, while price is not. This signifies fading momentum.
RSI or relative strength is still above 50, which is bullish but broke the red trendline connecting the lows of the recent rally.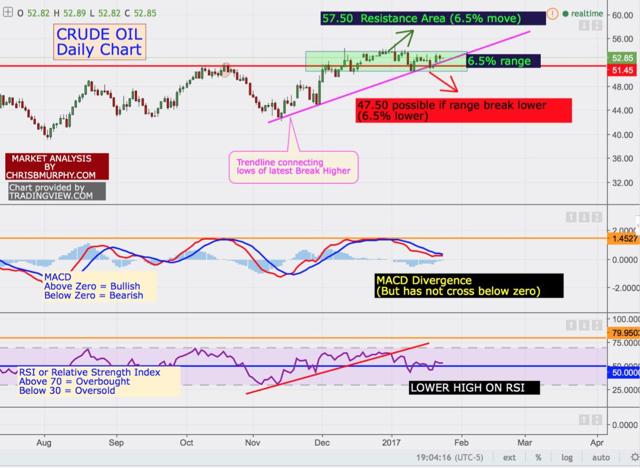 Weekly Chart Shows Bullish Trend Still In Place:
Here are the bullish indicators on the weekly chart.
Higher lows since the February 2016 low indicating bullish trend still in place.
Crude has NOT broken the red trendline connecting the lows of the bullish move.
A break of $43 would be troubling and would likely see a lot of volatility and stops triggered.
A break lower of $42 would end the streak of higher lows and would signal the end of this current move higher.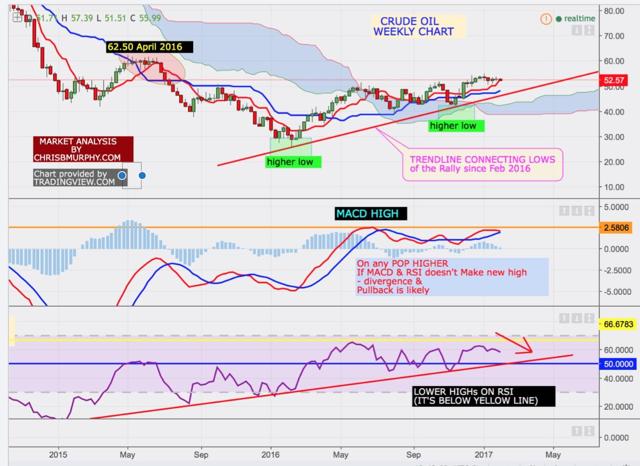 The fact that oil is above zero on MACD and above 50 on RSI is bullish but here are a few indicators showing that a bearish pullback is possible:
RSI has turned lower after failing to break the prior highs.
MACD also failed to break its prior highs signaling fading momentum.
This doesn't mean the bullish move is over. Instead, we may simply see a pullback to the $47.50 area and perhaps farther. As long as we don't break $42, this bullish trend remains intact.
Here's a Possible Path to $60 even with a pullback:
On the chart below in the price action section, the red and green arrows show how crude oil prices can retrace and bounce off the red trendline for another move higher. Of course, we don't know if and when or at the exact level that'll happen.
Momentum may pull MACD lower (on the Daily chart too). However, momentum could very easily bounce before breaking the zero line, sending crude higher.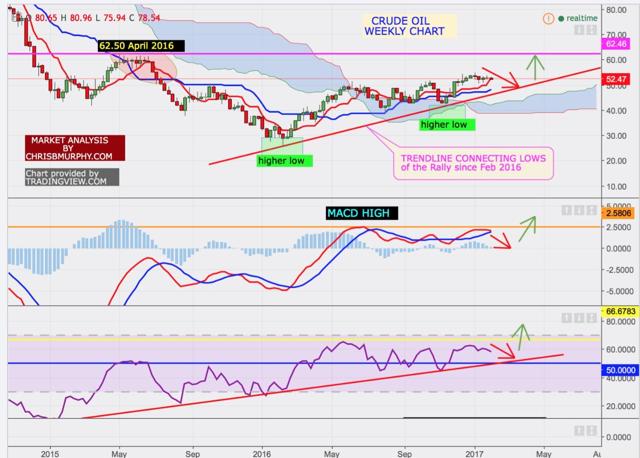 RSI may pull lower following the red arrow and look for a bounce off the 50 line and the trendline for crude oil prices to follow.
We have not yet reached the 70 mark on RSI (oversold area) and may indicate this rally has more room to run.

Watch out for the April and June highs of 2016 which comes in at $61 to $62.50 area. We're likely to see a lot of resistance and take profit orders triggered in this zone, for those who have been long crude.
Going forward, the Oil Production cuts and inventory and production levels will ultimately drive the market. Ideally, we'd like to see the charts and momentum supporting those fundamentals. It's those times that the moves are most substantial.
On any pullback, the trend may remain bullish as long as we don't break the key levels outlined earlier.
Good luck.
Here's my prior article for Crude oil using the Daily Charts:
Crude Oil Charts Show Momentum Fading And A Possible 6% Move
Disclosure: I/we have no positions in any stocks mentioned, and no plans to initiate any positions within the next 72 hours.
I wrote this article myself, and it expresses my own opinions. I am not receiving compensation for it (other than from Seeking Alpha). I have no business relationship with any company whose stock is mentioned in this article.