Though Apple's (NASDAQ:AAPL) earnings may not be as much of a circus as it has in the past, this particular earnings report is shrouded in many issues around the company. Analysts and bankers and their recommendations will always be a topic for consideration, but we would like to focus this earnings preview on a handful of subjects: debt, the dollar and bullish momentum.
Foreign Exchange
As the US remains the most fertile country to do business, having weathered the economic catastrophes of 2008, the strength of the dollar has not abated. The confidence it shows in the continued economic growth of the country is reassuring; earnings growth is expected to coincide with the stronger US dollar. For US multinationals that sell products overseas, however, the strong US dollar makes these products more expensive and less competitive in the foreign marketplaces. Especially for Apple, which sells products that are already notoriously expensive, the potential impact of a strong dollar compared to international currencies smacks the bottom line.
In last quarter's earnings report, Apple's management spoke about foreign currency:
During the last two years, the U.S. dollar has appreciated by 15% over the basket of currencies where we do business. And we're a company that generates two thirds of our revenues outside the United States, 15% appreciation of the U.S. dollar. So on a year-over-year basis, just 2016 over 2015 was 340 bps impact from foreign exchange. This is something that we have offset almost entirely through a number of initiatives going from pricing actions to cost initiatives to our hedging program, but at some point, the strong dollar becomes the new normal and we need to work with that
This context is extremely helpful for investors so as to not view Apple in a vacuum. The FX impact has been real, and it seems as though management is running out of ways to mitigate the damage the strong dollar is wreaking on profits. How real is this problem?
the foreign exchange environment remains difficult, and we expect FX to be about $650 million headwind on a year-over-year basis into the December quarter."
That's over half a billion dollars getting blown up by the dollar.
Remember, however, that this strong currency dynamic cannot be understood myopically. A rising US dollar has coincided with the economic recovery, where millions of jobs have been recovered since the recession, wages have gone up, unemployment has gone down, and there seems to be no foreseeable calamity that will reverse the US economic fortunes.
So consumers have more money in their pockets, more disposable income, and in turn more opportunity to purchase Apple products and services. Consequently, although hundreds of millions are to be lost because of currency exchange, it is hard to predict how the underlying strength of the US economy is in turn bolstering Apple's sales as well.
Simple Moving Averages
Along with insider transactions, we believe SMAs have the potential to anticipate a stock move. Sometimes when the 50-day average falls below the 100-day average (a bearish crossover), a stock may trend down for some time to come as the average stock price is continuing downward. With Apple, however, we are focusing on a bullish crossover that occurred around October of last year, when the stock was at $108: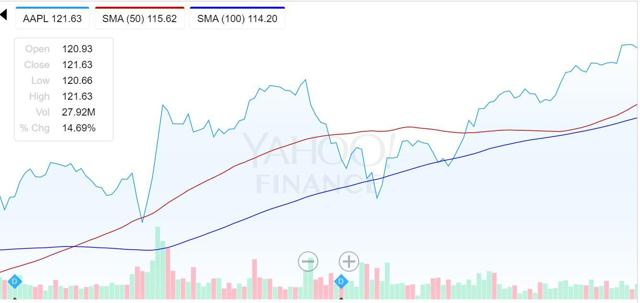 Since that time, Apple has moved higher as the results of the election and a report that was largely in-line with expectations. Today, with Apple over $120, we can see that the bullish crossover in August proved to precede a rise of around 10%.
Going forward, with the 50-day remaining above the 100-day, there is no indication from the moving averages that the momentum behind the stock shows any signs of fading. Notably, a bad earnings report can begin the bearish crossover process, so we are remaining vigilant on the price action.
Debt
Apple's debt has exploded. True enough, commenters will likely point out that it is has been a great time to take on debt, that Apple's cash position can buoy the debt load, and with rates low over the last few years, it was a fortuitous moment in time to do so. Still, Apple has $80bn in debt, which since 2012 is essentially an increase of $80bn. That's right, a few years ago, Apple had near-zero debt levels and now has a solid $80bn worth.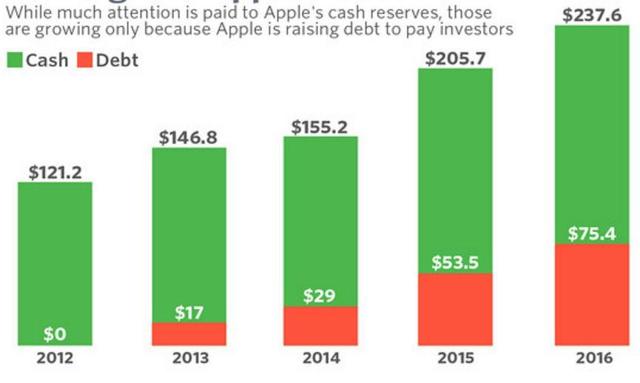 Another sobering fact: Apple added more debt than cash last quarter.
In the background, though, are the rumblings of a potential tax repatriation bill coming out of the Republican-led Congress and signed by President Trump. This could allow Apple to bring some cash home, pay off debt, reward shareholders, and get it all for a lower rate than expected. This no doubt is a reason we see a basically progressive CEO Tim Cook hold a fundraiser for Speaker of the House Paul Ryan. Chances are, Cook is hoping for some favorable legislation that can help Apple bring some of its cash and marketable securities back to the U.S.
Conclusion
The gloom of the US dollar will be hanging over Apple's earnings report. The stock remains higher as the momentum analysis indicated, with no signs of reversing. We are hopeful that management will continue to address these poignant issues and give investors answers as to what they are doing about it.