I expect Procter & Gamble (NYSE:PG) to announce a dividend increase in April, so now is a good time to buy before the announcement pushes the price higher.
What were my concerns from last time?
I last wrote about PG in this article. Just after its previous earnings report I concluded that PG was at about the right price to buy. My biggest concern was that the strong dollar was causing earnings and sales to lag. The organic sales growth was reasonable and the dividends predicted for the future put the market price at the time within a good range to buy.
What I want to see when I look at the latest earnings report is that organic sales continue to grow at a rate consistent with guidance, that currency issues don't erase all the sales gains and that EPS continues to grow. As the earnings report out in January will also be right around the time of the dividend payment, and that payment should be the last before the next increase, I also want to see some information on what I can expect the dividend raise to be.
What new information do we have?
Looking at the latest earnings announcement here, I see several interesting things. PG beat on earnings by 2 cents and by $90M on revenue. Even though revenue was down a small amount, the beats were important. Looking at the full earnings presentation here, I see several of my concerns from last time addressed.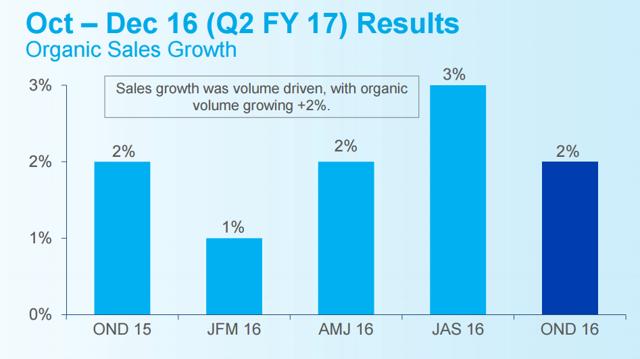 I wanted to see continued organic sales growth and this slide shows ongoing growth over the last 5 quarters. It isn't huge growth, but its steady growth and that will allow revenue and earnings growth over time.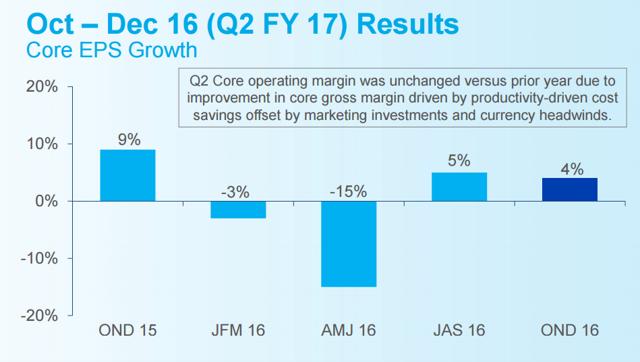 Next I wanted to see continued growth in Core EPS, and here we see that Q2 of 2017 is the second quarter in a row with such growth. I'd like more than 4%, but mid-single digit growth is acceptable and is in line with guidance.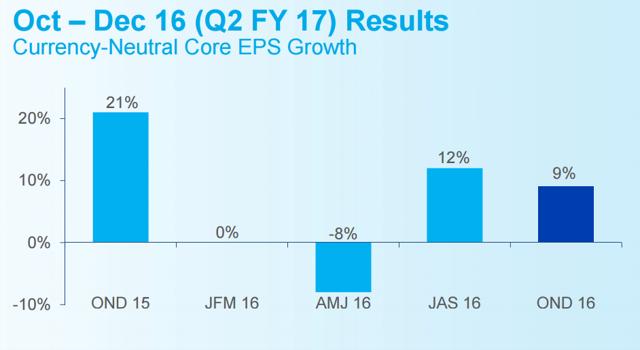 My next concern was how much exchange rate issues would cut into EPS growth. It's clear that this is still an issue as the strong dollar cut off 5% of the EPS growth. On a positive note, I see that this is a lesser impact than in previous quarters when the strong dollar cut off 7%.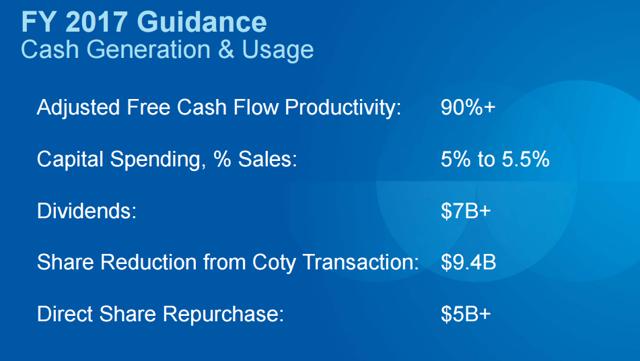 This last slide gives me an idea of what management is planning for the dividend. I expect them to announce a dividend increase in early April as is their typical pattern. Given the plan to spend around $7 billion on the dividend and having 2.56 billion shares outstanding, I calculate the new dividend per share to be around $2.74. I am assuming that the share reduction due to the Coty transaction is already reflected in the 2.56 billion share count and that the $5 billion buy back will mainly offset shares issued as part of compensation packages. If however the buyback manages to reduce the share count to about 2.51 billion shares that would add about between 4 and 5 cents to the dividend PG could pay.
What's a good price?
To figure out a good price, I do a DDM calculation using my Excel® based DDM calculator (you can see the web-based calculator I based it on here and read a discussion on how the formulas were developed here).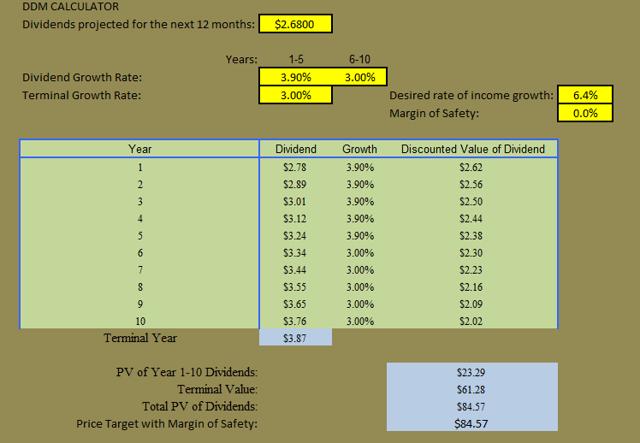 First, I repeat the calculation I did before, where I take the current yearly dividend of $2.68 with a growth rate of 3.9% (that is the slowest of the DGR rates from the CCC List). Since PG is a consumer staples company I assume they can grow earnings close to the long term inflation rate, so I use 3% for the terminal dividend growth rate. That gives me a PV for the predicted dividend stream of $84.57.
The latest ex-div date was less than 2 weeks ago on January 18th. That is the last payment before PG typically increases the dividend. Using their projected total dividend payment of ~$7 billion and total outstanding shares of 2.56 billion, which will allow a dividend payment of approximately $2.74 per share, not counting on how effective their buy back spending of $5 billion will be. I think not counting the number of shares that might be retired due to the buyback plan gives me an additional margin of safety in making my dividend prediction.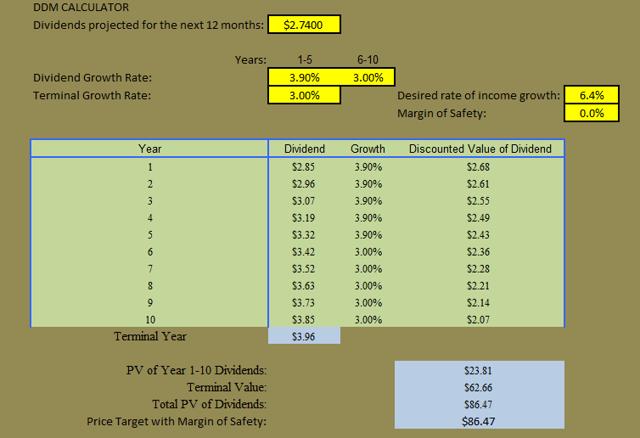 Using my prediction of the new dividend payment, with all the parameters the same gives me a PV number of $86.47. Given that Morningstar thinks that fair value is $92, I think a buy target of $86.50 is reasonably prudent. Right now the market price is about $86.75, so while that is higher than I like, I think it's not a bad price to buy. Options might make the price more attractive.
Can options help?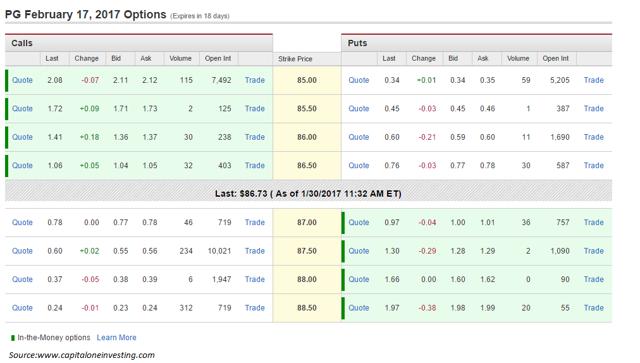 Looking at the February monthly expiration date (18 days away), I see several attractive option contracts. The $86.50 put contract has a very nice premium of $0.77 while the $86 put will save you $0.50 on the price of the shares but still pays $0.59 premium. In terms of getting the shares, I don't see a lot of difference between the chances of either one, with the $86 strike having about a 35% chance and the $86.50 strike having a 42% chance of getting exercised. You end up a little better off with the lower strike if the price by February 17th is below $86, but a little better off with the higher strike price if the shares on the expiration date are trading above $86.50.
As for call contract, there are 3 that look attractive, the $87, $87.50 and the $88. The chance of the shares getting called away ranges from a high of 50% to a low of 30%. It's just a matter of deciding how much risk to take versus the reward. I tend to like to write calls where the odds of losing the shares is about 1 in 3, so for me I like the $88 strike best.
What does Simply Wall St say?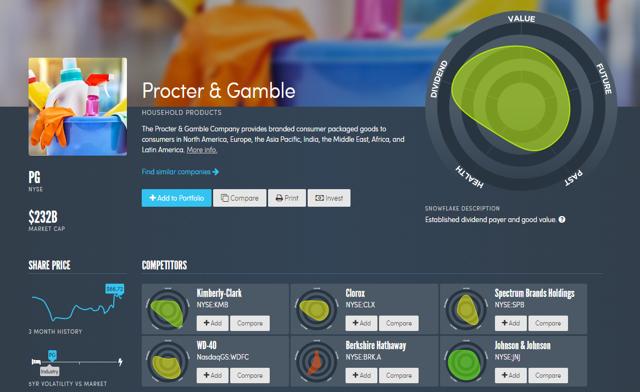 Simple Wall St has some very useful graphics which I think are summed up well by the summary/snowflake portion of its analysis. The green color of the snowflake indicates that the company is generally doing okay with very good dividends and value, future performance and past performance all okay. The financial health indicator shows some struggles, but that is to be expected.
I like the comparisons to competitors. Kimberley-Clack (NYSE:KMB) looks to be doing okay as does Johnson & Johnson (NYSE:JNJ), but Clorox (NYSE:CLX) seems to be having some trouble (as indicated by the yellow color).

What to look at going forward?
Given the latest earnings report, what I want to see in the next report is that they keep to their guidance of 2%-3% organic sales growth. I want to see core EPS growing in the mid-single digit range (not that I wouldn't be happy with a bigger increase of course). A string dollar remains a concern, so I'd like to see PG do something to mitigate the impact perhaps by focusing on buying raw materials that are priced in dollars. I like that the impact was less this quarter than in the past two, so I would be concerned if the strong dollar had a bigger impact next quarter. I also want to see a dividend increase announced in April and I want it to be fairly close to what I have predicted.
Conclusion
With a dividend increase announcement expected in the next few months, the current market price of PG is about right to make a purchase. Making a purchase now before the announcement might get the shares at a better price. I fully expect the price to go higher when the dividend increase is announced, especially if it is $2.74 as I have calculated from management statements.
Note: I hope you all got something out of this article. I do appreciate the time you took reading it. If you are one of those who follow me here, I appreciate it; if you'd like to include yourself amongst those individuals, please hit the "Follow" button next to my name as well as following other contributors whose work you enjoy. As always, please leave any feedback and questions you may have in the comments below.
Disclaimer: This article is intended to provide information to interested parties. As I have no knowledge of individual investor circumstances, goals, and/or portfolio concentration or diversification, readers are expected to complete their own due diligence before purchasing any stocks mentioned or recommended. The price I call fair valued is not a prediction of future price but only the price at which I consider the stock to be of value for its dividends.
Disclosure: I am/we are long PG, KMB, JNJ.
I wrote this article myself, and it expresses my own opinions. I am not receiving compensation for it (other than from Seeking Alpha). I have no business relationship with any company whose stock is mentioned in this article.