Bed Bath & Beyond (Nasdaq: BBBY) metrics have been beefed up due to consistent share buybacks. For a long-term hold, BBBY's financials appear great and near a fair value level. The P/E on BBBY has decreased, but only due to a reduction of outstanding shares. The P/E had initially been higher, and should have remained so for a growth stock. Again, when looking at BBBY's financials, everything seems to be in great shape and looks set to drive higher. Investors clearly see BBBY as a potential growth value stock given the P/S ratio of less than one. But the embellishment of the company's performance could make BBBY a potential value trap.
Firstly, the fantastic metrics for BBBY are important to discuss. Although many investors are already aware of its performance metrics, this will help bring to light my reasons for considering the company a value trap.
Great Looking Financials On The Outside
The company's financial health, profitability, and growth metric make the stock look even more enticing. Returns on capital, and interest and debt coverage are high enough for the company to withstand any temporary drawdowns. The only numbers that have looked lower than average were the cash to debt and equity to asset ratios. Since the beginning of second quarter of 2015, BBBY began to take on debt from its capital, showing the beginning of aggressive financing, or so I thought.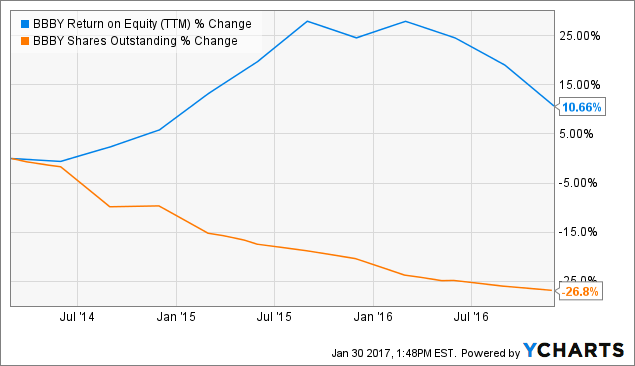 BBBY Return on Equity (NYSE:TTM) data by YCharts
Due to BBBY aggressively spending their cash while accumulating debt, the ROE and ROA are showing 28.03% and 10.64%, respectively, justifying the debt they are taking on. It looks like the company has invested heavily in land and improvements in 2016 and increased their inventory. The company's current debt to equity is still small enough for the company to take on the amount of debt they currently hold. Although BBBY looks convincing given its a low P/S and P/B ratios, it has some warning signs that an investor should take into account.
Recent Buybacks on Stock
Buybacks have been a consistent choice for the board of directors since 2013. Buybacks have many useful and beneficial methods that the company can use to its advantage. A traditional repurchase plan is implemented when the company cannot find any other investments that can provide better returns than its stock. However, I find that hard to believe when the overall market has produced much better returns than the stock itself.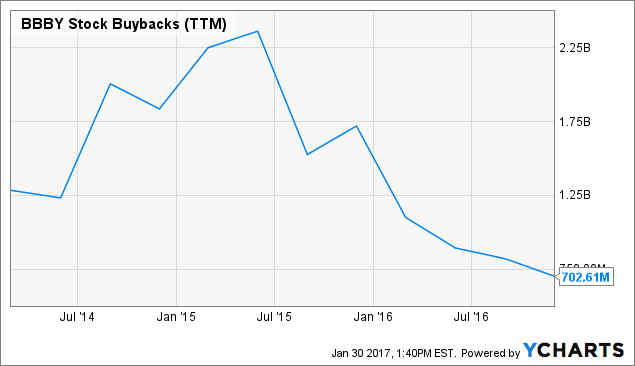 BBBY Stock Buybacks (TTM) data by YCharts
When companies perform buybacks, metrics become unduly embellished. As they buy back shares in the open market, they decrease the number of outstanding shares of the stock. Some parameters are directly affected by the buyback, causing unwarranted changes in the stock's performance. BBBY's most recent financials show a buyback of 703 million dollars worth of stock. The cash that has been depleted hasn't come from investments but repurchases.
Metrics That Are Directly Affected
The most important ratios that get embellished are the P/E, EPS, ROA, ROE, and PE to name a few. When companies buy back their shares, the outstanding shares decline to allow the ROE to rise. The ROA increases, as the cash spend caused the assets to decrease. When BBBY began to use up their money in 2015, the metrics began to rise to levels that were inappropriate for the stock, thus causing it to become a value trap. Additionally, when lowering the outstanding shares, with everything else constant, the decrease in shares allowed the EPS to increase without any substantial reason.
The most common metric used in regard to evaluating whether a stock is under or overvalued as well as its potential growth in the future is the P/E ratio. Share buybacks allow for a decrease in the P/E ratio, making the numbers less credible. The buybacks to me seem to be unjustified, and businesses usually tend to do buybacks at undervalued levels when its best appropriate. I still like BBBY as a company that has growth potential, yet I think the best option is to wait until the stock is at a lower price when it becomes more undervalued. It should act not only as a buffer for the embellishments, but for the purpose of waiting out the potential market correction from the ongoing rally.
Closing Arguments
Overall indexes coming off new highs and back into consolidation range, and could help bring BBBY's price down momentarily to levels that would be considered a fair price to buy. The weekly chart of BBBY has a long term trend in place since 1996. Only one time since then has it overshot below the trend line before reversing heavily to continue up to new highs in 2013.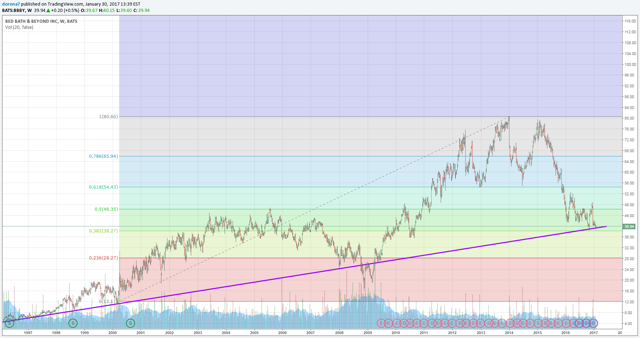 The stock price is currently at trend line levels, possibly looking to create another overshoot below the trend line before picking up. I believe a great buy opportunity would be near the .236 Fibonacci level which is at $28.27. Anywhere from $28 to $34 can be considered a good price level where the value would then make sense.
Disclosure: I/we have no positions in any stocks mentioned, and no plans to initiate any positions within the next 72 hours.
I wrote this article myself, and it expresses my own opinions. I am not receiving compensation for it (other than from Seeking Alpha). I have no business relationship with any company whose stock is mentioned in this article.